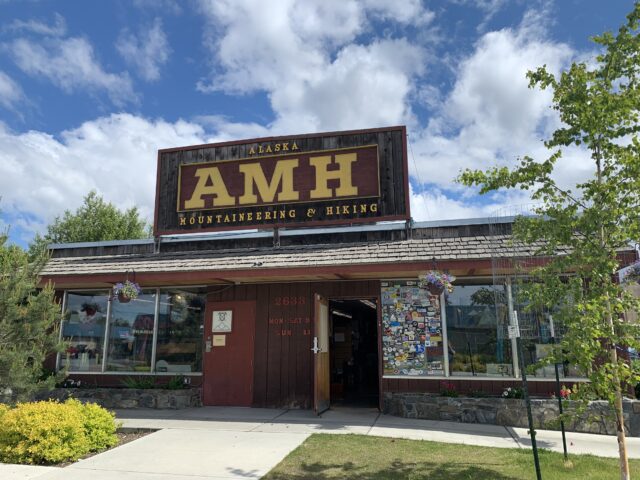 Intro
Since opening its doors in 1974, Alaska Mountaineering and Hiking has been supporting adventures in the fabled Alaskan backcountry by offering a curated selection of products and employing deeply knowledgeable and experienced staff. While ownership has changed hands since its founding, the shop is still independently owned and operated and the original ethos and mission have continued on.
AMH began as a skiing and climbing shop, but nowadays they stock a wide range of equipment for outdoor pursuits ranging from packrafting, camping, climbing, hiking, nordic skiing, running, ski-mo, and backcountry skiing. But it's not just the gear that makes AMH a must-visit when in Anchorage. The AMH staff are friendly, experienced backcountry users, and they are eager to share their knowledge and know-how.
Shaped by the unique demands of the surrounding landscape, AMH upholds the ideals of what it means to be a hyper-local store, and as such, is our recommended shop in Anchorage. If you're in the area, we encourage you to stop by, and see for yourself!
Brands
As a result of the intimate size of their shop, AMH has hand-selected the brands and products that work best for their area. They prioritize selling well-built products from reputable brands, suited to a variety of outdoor activities. Just in their skiing hardgoods department, they sell items from a huge range of brands, including Atomic, Salomon, Faction, Blizzard, Rossignol, Dynafit, Black Crows, Voile, DPS, Scott, Scarpa, Technica, La Sportiva, Fischer, G3, ATK/BD, Marker, G3, and Pomoca. And in softgoods, AMH sells pieces from Arcteryx, Patagonia, Rab, Mountain Equipment, Dynafit, Outdoor Research, and Norrona.
Services
AMH offers year-round binding mounts, edge sharpening, waxing, and repair services, for both nordic and downhill skis. They also have multiple Masterfit-certified bootfitters on staff capable of molding, punching, grinding, or shimming away any fit issues you have. In addition, they make custom insoles and include any fitting needed (within reason) when you purchase a new boot from them. AMH also offers curbside pickup and shipping.
Ski Demos
An impressive and uncommonly diverse range of touring skis mounted with lightweight pin bindings are available to rent, as well as pre-cut skins, beacons, shovels, and probes. And to relieve some of the stress of a ski vacation, AMH takes reservations on rental gear, as well as walk-ins.
Online Presence
AMH sells products on its website, and what is listed is reflective of what they currently have in stock. On their website you can also find a few excellent interviews with local guides, authors, and explorers.
Bottom Line
With its knowledgeable staff and welcoming atmosphere, Alaska Mountaineering and Hiking is a reminder of what the retail experience can be. We'd say that we left feeling nostalgic about that oldschool spirit of intrepid and ambitious adventuring, but with their rigorously chosen selection of the most cutting-edge and high-quality equipment, in reality, we felt prepared and excited to take on the demands of the Alaskan wilderness in modern style.
When in Anchorage, paying AMH a visit is an absolute must — not only to support a local business and pick the brains of their employees, but also to ensure you've got everything you may or may not know you need. We are confident you'll leave with a smile on your face, we know we did.