Ski: 2020-2021 Rossignol BLACKOPS Sender Ti, 187 cm
Available Lengths: 180, 187, 194 cm
Blister's Measured Tip-to-Tail Length: 186.2 cm
Stated Weight per Ski: 2200 grams
Blister's Measured Weight per Ski: 2153 & 2184 grams
Stated Dimensions: 138-106-128 mm
Blister's Measured Dimensions: 137.5-104.3-127.3 mm
Stated Sidecut Radius (187 cm): 21 meters
Measured Tip & Tail Splay (ski decambered): 55 mm / 18 mm
Measured Traditional Camber Underfoot: 4 mm
Core: poplar (PEFC certified) + titanal underfoot + carbon & fiberglass laminate
Factory Recommended Mount Point: -7.6 cm from center; 85.5 cm from tail
Ski: 2020-2021 Rossignol BLACKOPS Sender Ti, 180 cm
Blister's Measured Tip-to-Tail Length: 178.2 cm
Blister's Measured Weight per Ski: 1999 & 2020 grams
Stated Dimensions: 138-106-128 mm
Blister's Measured Dimensions: 137.5-103.4-127.6 mm
Stated Sidecut Radius (180 cm): 18 meters
Measured Tip & Tail Splay (ski decambered): 54 mm / 18 mm
Measured Traditional Camber Underfoot: 3 mm
Core: poplar (PEFC certified) + titanal underfoot + carbon & fiberglass laminate
Factory Recommended Mount Point: -6.9 cm from center; 82.2 cm from tail
Boots / Bindings: Nordica Strider 120, Salomon S/Max 130 Carbon, Head Raptor 140 RS / Tyrolia AAAttack2 13 AT
Test Location: Crested Butte, CO
Days Skied: ~17

Intro
Rossignol has announced one of the biggest moves in the ski industry: they are discontinuing their extremely popular "7" series of skis, which included the men's and women's versions of the Sky 7 HD, Soul 7 HD, Super 7 HD, and Super 7 RD.
There's no denying that this series of skis played a huge role in shaping the industry over the last ~6 years, and the intuitive nature of those skis was a big part of why you see them all over the world.
So, what do you do as a follow up to the Soul 7? Apparently, you go in the opposite direction.
(Fittingly, we just had Thor Verdonk on the Blister Podcast talking about pendulum swings in the ski industry. Check it out to hear Thor talking about his work on the development of the Rossi S7 and Soul 7, plus 25 years of ski and ski boot design with Rossignol and Lange.)
All of Rossignol's 20/21 freeride skis will now fall under the "BLACKOPS" name, including 5 brand-new men's models, 6 brand-new women's models, and a few junior / "tweener" skis.
Below we'll go over the entire BLACKOPS lineup, and then in this First Look, we'll home in on the new BLACKOPS Sender Ti.
2020-2021 Rossignol BLACKOPS Lineup
First, for those who were worried (and I admit that I may have been the most worried), the excellent Black Ops 118 is returning unchanged for 20/21, apart from a graphic update, and a name change to the "BLACKOPS Gamer."
The current Black Ops 98 also comes back unchanged except for a new graphic and name, and for 20/21, it's called the "BLACKOPS Holyshred."
(Ok, yeah, we're a bit confused by the naming schemes here, too.)
Rossi is also introducing several other skis under the BLACKOPS name, and they look much more directional than the more freestyle-oriented 118 & 98.
On the men's side, there's the new:
90mm-wide BLACKOPS Smasher
94mm-wide BLACKOPS Escaper
104mm-wide BLACKOPS Sender
106mm-wide BLACKOPS Sender Ti
All of these skis have much flatter tails and more directional designs than the BLACKOPS Gamer & Holyshred.
Rossi is also launching the 86mm-wide BLACKOPS Alpineer, which is designed for ski touring, features a slot at the tip for skins, and comes in at a very low stated weight of 1250 grams per ski for the 168 cm length.
On the women's side, Rossi is offering the:
86mm-wide BLACKOPS W Trailblazer
90mm-wide BLACKOPS W Dreamer
94mm-wide BLACKOPS W Stargazer
98mm-wide BLACKOPS W Blazer
102mm-wide BLACKOPS W Rallybird
102mm-wide BLACKOPS W Rallybird Ti
All of the new BLACKOPS skis feature similar shapes and rocker profiles, and none of them look like the "7" skis they replace.
We have several of the new skis in hand, and will be posting First Looks of many of them over the coming weeks.
But now, let's take a closer look at their new flagship model, the BLACKOPS Sender Ti.
What Rossignol says about the BLACKOPS Sender Ti
"The spearhead of the new BLACKOPS range, the Sender Ti is the ultimate freeride ski. Its PEFC certified poplar wood core is combined with the latest incarnation of Rossignol's flagship technology — LCT ABS — to deliver unlimited speed and power. A Damp Tech insert and Carbon Alloy reinforcement add the perfect finishing touches to this ski, creating a lighter snow feel for extra refinement together with top performance in powder. With the rallying cry: Ride Free."
Well, Rossignol certainly went Full Send / FULL SEND with this product copy. The Sender Ti is supposed to be the "ultimate freeride ski" and offer "unlimited speed and power." We're still waiting on more info regarding all the tech and acronyms that Rossignol mentioned in that description, but the bottom line seems to be that the Sender Ti is meant to, well, send.
Let's see how that translates to its design.
Shape / Rocker Profile
In what will be a theme here, the BLACKOPS Sender Ti looks nothing like the Rossignol Soul 7 HD that it effectively replaces. The Soul 7 was a very tapered ski, the Sender Ti is not.
For a ~106mm-wide ski (ours measure closer to 104 mm wide), the Sender Ti has very little tip or tail taper. Overall, its shape is very traditional, and really is basically the opposite of the Soul 7's shape. The BLACKOPS Sender Ti looks pretty similar to the BLACKOPS 118 / Gamer, with the Sender Ti having a less symmetrical shape with a more blunted tail shape.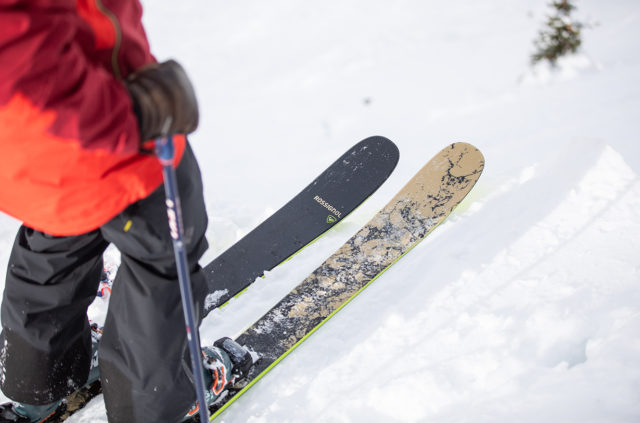 Looking at the rocker profile of the BLACKOPS Sender Ti, it's also pretty traditional. This ski has tip and tail rocker and camber underfoot, but its tip rocker line is not all that deep, its tail rocker line is notably shallower, and its tail is pretty flat.
Overall, the Sender Ti's rocker profile looks fairly similar to the Head Kore 105 and 4FRNT MSP 107, but both of those skis have deeper tail rocker lines and more tail splay. That said, the Kore 105 is so different in other regards (particularly its shape & taper), that we doubt it'll feel like a great comparison.
Flex Pattern
Here's how we'd characterize the flex pattern of the 187 cm BLACKOPS Sender Ti:
Tips: 7
Shovels: 7
In Front of Toe Piece: 7.5-9
Underfoot: 10
Behind the Heel Piece: 9.5-9
Tails: 8.5-9
And here's how we'd characterize the flex pattern of the 180 cm BLACKOPS Sender Ti:
Tips: 7
Shovels: 7
In Front of Toe Piece: 7-9
Underfoot: 9.5
Behind the Heel Piece: 9.5-8
Tails: 7.5-8.5
Both the 187 and 180 cm BLACKOPS Sender Ti are pretty strong skis. The two lengths feel nearly identical in the front half, with fairly strong shovels and a slow-and-smooth ramp-up in stiffness as you move to the middle of the skis.
Both lengths of the Sender Ti have tails that are stiffer than the tips, but the 187 cm version of the Sender Ti stays significantly stiffer behind the bindings than the 180 cm version.
The flex pattern of the 187 cm BLACKOPS Sender Ti is pretty similar to the 188 cm Black Crows Corvus, though the Sender Ti is a bit stronger in the shovels and finishes with a slightly stronger tail.
Compared to the Rossignol Soul 7 HD, the 180 and 187 cm Sender Ti are far stiffer at the tips and shovels, but similar through the rest of the ski.
Mount Point
Both lengths of the BLACKOPS Sender Ti have mount points around -7 cm from true center. That's more forward than most directional skis, but not quite in the realm of most freestyle skis. This mount point is interesting, given the very directional shape, rocker profile, and flex pattern of the Sender Ti, and we're curious to see how this ski will respond to different skiing stances.
Weight
The Soul 7 HD was quite light for its size. The BLACKOPS Sender Ti is significantly heavier, though it's not at the upper extremes of the spectrum in terms of weight. At an average weight of ~2170 grams per ski for the 187 cm length, the Sender Ti is much heavier than skis like the Soul 7 HD, Line Sick Day 104, Elan Ripstick 106, etc., but it's notably lighter than some all-mountain chargers like the ON3P Wrenegade 108, Blizzard Cochise, Prior Husume, and Fischer Ranger 107 Ti.
For reference, here are a number of our measured weights (per ski in grams) for some notable skis. Keep in mind the length differences to try to keep things apples-to-apples.
1755 & 1792 Line Sick Day 104, 179 cm (17/18–20/21)
1787 & 1793 Fauna Pioneer, 184 cm (19/20)
1806 & 1862 Armada Tracer 108, 180 cm (19/20)
1814 & 1845 Elan Ripstick 106, 181 cm (17/18–19/20)
1848 & 1903 Line Sick Day 104, 186 cm (17/18–20/21)
1849 & 1922 Elan Ripstick 106, 188 cm (17/18–19/20)
1883 & 1898 Rossignol BLACKOPS Sender, 178 cm (20/21)
1996 & 2012 Dynastar Legend X106, 188 cm (17/18–19/20)
1999 & 2020 Rossignol BLACKOPS Sender Ti, 180 cm (20/21)
2005 & 2035 Liberty Origin 106, 187 cm (19/20)
2006 & 2065 Head Kore 105, 189 cm (19/20)
2011 & 2028 Moment Wildcat 108, 184 cm (19/20)
2030 & 2039 Rossignol Soul 7 HD, 188 cm (17/18–19/20)
2079 & 2105 Kastle FX106 HP, 184 cm (19/20)
2097 & 2113 DPS Alchemist Wailer 106, 189 cm (19/20)
2101 & 2104 Fischer Ranger 102 FR, 184 cm (18/19–20/21)
2110 & 2119 Moment Wildcat 108, 190 cm (19/20)
2112 & 2125 4FRNT MSP 107, 187 cm (18/19–19/20)
2120 & 2134 Blizzard Rustler 10, 188 cm (19/20–20/21)
2143 & 2194 ON3P Wrenegade 108, 184 cm (18/19–19/20)
2153 & 2184 Rossignol BLACKOPS Sender Ti, 187 cm (20/21)
2165 & 2211 K2 Mindbender 108Ti, 186 cm (19/20–20/21)
2165 & 2219 Icelantic Nomad 105, 191 cm (19/20–20/21)
2177 & 2180 Moment Commander 108, 188 cm (19/20)
2182 & 2218 Nordica Enforcer Free 110, 185 cm (17/18–20/21)
2188 & 2190 Prior Northwest 110, 190 cm (19/20)
2190 & 2268 Armada ARV 106Ti LTD, 188 cm (18/19–19/20)
2202 & 2209 Shaggy's Ahmeek 105, 186 cm (19/20)
2218 & 2244 Volkl Mantra 102, 184 cm (19/20–20/21)
2232 & 2244 ON3P Woodsman 108, 187 cm (19/20)
2233 & 2255 Nordica Enforcer Free 104, 186 cm (19/20–20/21)
2250 & 2307 Argent Badger, 184 cm (19/20)
2283 & 2290 ON3P Wrenegade 108, 189 cm (18/19–19/20)
2312 & 2386 Prior Husume, 188 cm (17/18–19/20)
2318 & 2341 J Skis The Metal, 186 cm (16/17–19/20)
2321 & 2335 Fischer Ranger 107 Ti, 189 cm (19/20–20/21)
2376 & 2393 Blizzard Cochise, 185 cm (15/16–19/20)
Some Questions / Things We're Curious About
(1) The BLACKOPS Sender Ti and the Soul 7 HD it effectively replaces are quite different in terms of their design. So will those who loved the Soul 7 love the Sender Ti? Or the non-Ti version of the Sender? Will the Senders share some? many? any? similarities in terms of their on-snow feel and performance?
(2) The BLACKOPS Sender Ti has a pretty strong, pretty flat tail, so how punishing or how forgiving will it feel?
(3) Given its lack of taper and fairly shallow rocker lines, how maneuverable will the BLACKOPS Sender Ti feel? And what about edge hold on firm snow?
(4) With a pretty strong flex pattern, minimal rocker & taper, and solid weight, how stable will the BLACKOPS Sender Ti feel at high speeds in rough snow?
Bottom Line (For Now)
Rossignol appears to have moved in a very different direction with their new BLACKOPS skis. The BLACKOPS Sender Ti ditches the Soul 7's dramatic taper and rocker in exchange for a much more traditional shape and rocker profile, and the resulting ski looks like it may suit a very different audience than the ski it replaces.
We were just out on the 187 cm Sender Ti yesterday, and Blister Members can check out our Flash Review of the ski for our initial on-snow impressions, and stay tuned for our full review.
Flash Review
Blister Members can now check out our Flash Review of the BLACKOPS Sender Ti for our initial impressions. Become a Blister member now to check out this and all of our Flash Reviews, plus get exclusive deals and discounts on skis, personalized gear recommendations from us, and much more.
FULL REVIEW
So far, we've had four reviewers on the 187 cm BLACKOPS Sender Ti, with Eric Freson, Luke Koppa, Jonathan Ellsworth, and Drew Kelly all spending a bit of time on it. Here we're talking about the 187 cm version, and then once we've spent more time on the 180 cm version, we'll update this review with our thoughts on it.
Powder & Softer Snow
Eric Freson (5'10", 180 lbs): At ~105 mm underfoot with a bit of rocker and a strong (but not super stout) shovel, the Sender Ti is a ski that I've gotten along with quite well in softer snow, but I wouldn't say that it's absolutely blown my mind, either. I didn't plane to the top of the snowpack the minute I pointed the tips into the fall line, but neither did the Sender Ti torpedo me to the bottom.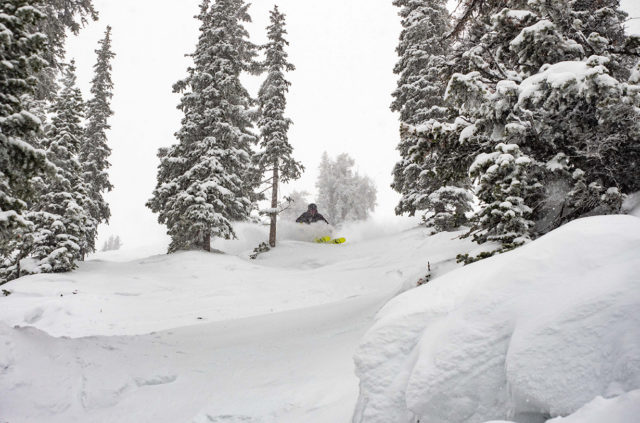 So in my mind, it's a ski best suited to the 3"–12" / ~7–30 cm of soft snow that's pretty typical of most inbounds "pow" days. And when things get deeper than that, you can expect to find yourself more "in the snow" rather than "on it" until you hit Mach 1.
Then again, for most of us, inbounds skiing is not all untracked, top-to-bottom runs with a consistent pitch and terrain, so most of my favorite inbounds "pow" skis are versatile enough to still be fun whether I'm hitting tracked-out or untracked lines, and the Sender Ti works well in this regard. Overall, it feels comfortable handling frequent starts and stops and speed fluctuations, pushing through piles of soft snow; crossing other skiers' tracks; and slashing untouched pockets of pow. In short, the Sender Ti doesn't exhibit any surprising or erratic behavior, and this consistency helped me quickly get comfortable and in a rhythm with it, as if after just five runs, I'd already had fifty days on it.
Luke Koppa (5'8", 155 lbs): As a smaller, less directional skier than Eric, I definitely agree with his take on the 187 cm BLACKOPS Sender Ti in powder, but I will add some caveats.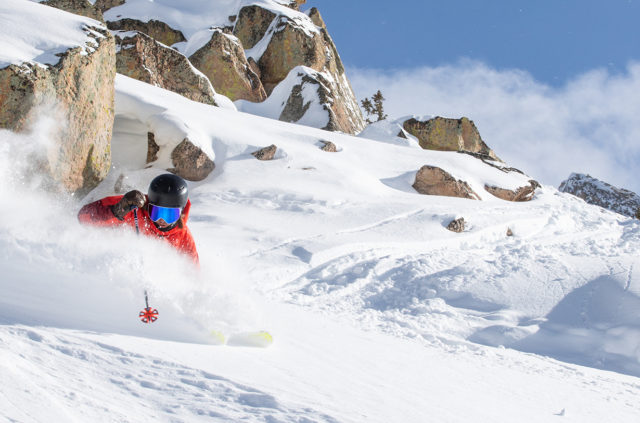 For me, the Sender Ti felt most comfortable when I had a bit of room to run. My first day on it was when they opened Peel, Forest, and Flatiron at Crested Butte, all of which are zones with fairly tight terrain and lots of trees, bumps, rocks, etc. to maneuver around. Since it was the first day this terrain was open, it meant lots of heavier pow and dense chop.
In this scenario, it was immediately obvious that the Sender Ti is not a ski that loves being skied with a centered stance, and particularly in deep and steep conditions. If I stayed over its shovels, it was pretty easy to pivot around. But unlike the many skis I use that have much more tail rocker and / or more tail taper, the Sender Ti's tails are not easy to release from a centered or (god forbid) a backseat stance.
But, when the terrain is more open and I could get some speed going without worrying about needing to immediately shut things down, I began to enjoy the Sender Ti much more. Its tips planed up quite well in about a foot of snow, and the more speed I had and the more forward my stance was, the easier it was to slash around.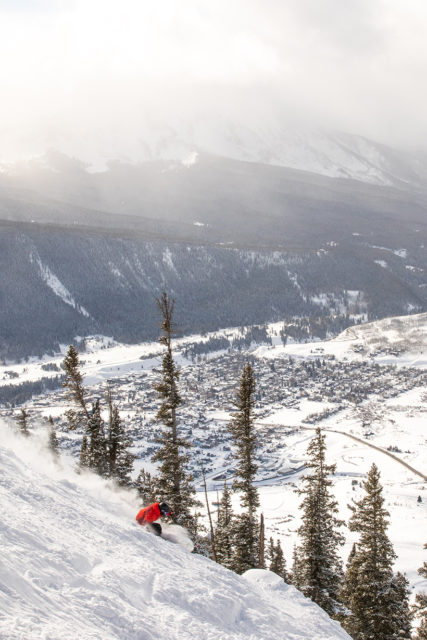 So I guess my point is that, if you ski a lot of tight terrain and you prefer to ski that terrain a bit more centered / neutral, I think you'd be better off on a ski with more rocker, taper, and / or a softer tail. But if you're in scenarios where you can link some turns, or you've got good technique, I think the Sender Ti is totally adequate for most inbounds pow days.
Jonathan Ellsworth (5'10", 175 lbs): Here's my biggest takeaway so far: I think that I am a bit more impressed than Eric is by the powder performance of this 104mm-wide ski, and, while I don't disagree with any of Eric's descriptions, I'd say that (for its width) the Sender Ti is one of the better directional, strong-ish skis in this category for use in deeper snow. And then once things do start to get tracked out, the Sender Ti isn't the strongest chop & crud destroyer on the market, but it is probably better in deeper snow than those skis that are even more composed than the Sender Ti in chop. In other words, in varying depths of powder / soft snow, I really like the 187 cm Sender Ti, and I can't think of too many (or maybe any?) skis this wide that are as comfortable in chop and powder.
That said, Luke has been spending time on some easier-going, softer, more playful skis, so I suspect that's why he is talking about the Sender Ti not being the easiest going ski out there — and he's not wrong. But again, I'm speaking from within the category of 105mm-wide directional, kind-of-strong skis, and I think the Sender Ti is a really nice performer.
Chop / Crud
Eric: With a middle-of-the-road weight, radius, and flex (for a directional ski in this class), the Sender Ti was a perfect companion for the times when my patented Torksmash™ energy output index was in the 4-8 range. In case you're not familiar with this extremely common [editor's note: my extremely dorky] grading system, the Torksmash™ energy output index is a personalized 1-10 scale, with "1" representing the effort I put forth when skiing to the lift with my boots unbuckled, and "10" being when I'm about to ski a line where I've put my mouthguard in and have clenched my jaw real tight.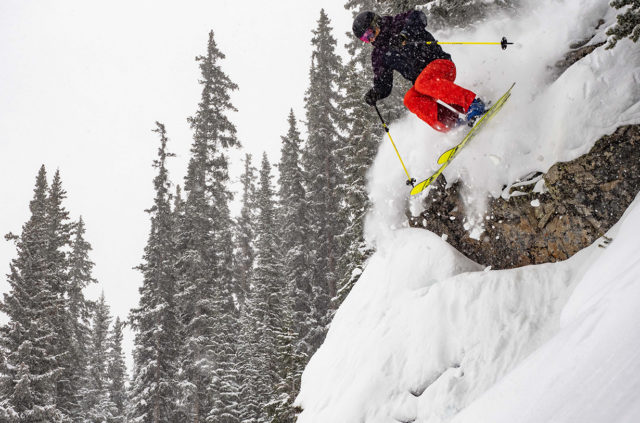 I found the Sender Ti to be happiest when I was operating in that middle range of output. This is definitely a pretty powerful ski that you need to actively drive, but I would say that this power is pretty easily accessible. You don't need to be on the edge of control to get the Sender Ti to respond.
My suspicion is that, for many skiers — especially those coming from something lighter and looser and more forgiving like the 7 series — the Sender Ti might cause you to ski a bit more powerfully. In the way that I suspect that Rossi's "7" series inspired many to leave groomed runs for new adventures off piste, the BLACKOPS Sender Ti may push some of those same skiers to realize that they're capable of skiing even harder and faster than they realize.
Again, I found the Sender Ti to be happiest when I was skiing aggressively and I was flexing the ski, but I wasn't on the edge of control and chaos. In this range, the Sender Ti's suspension and rebound felt spot on, and the sweet spot of the ski felt wide and forgiving.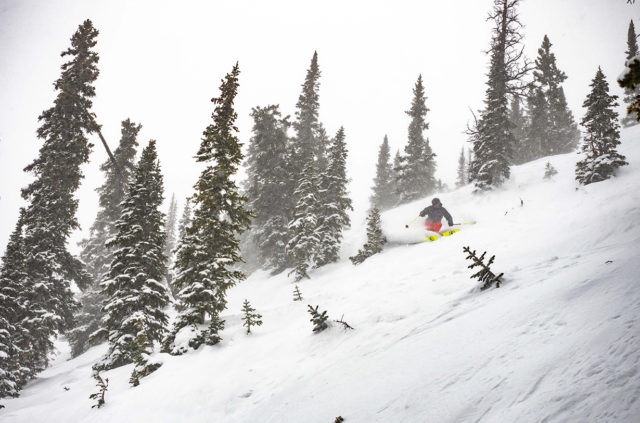 When things did get intense and I found myself pointed downhill with nowhere to turn, the Sender Ti held up, but not with the same level of composure as some heavier skis. I.e., the Sender Ti isn't the best for someone who wants the ski to do all the work for them — you need to be the driver in this relationship. But it's also not a ski that is especially punishing or demanding. So while it won't allow you to get away with being super lazy on it, as long as I wasn't *really* pushing the envelope and nuking, I thoroughly enjoyed the Sender Ti's consistency and predictability. It exhibits good edge hold, has a powerful shovel, and a tail that is happy to hold on to a turn, but that also doesn't fight you when it is time to transition.
Luke: Yep, I think Eric's pretty spot-on here. I wouldn't say that the Sender Ti is a ski that needs to be pushed hard all the time, and I wouldn't say that it's some super easy ski (especially compared to the "7" series).
As someone who prefers more playful skis, the Sender Ti encourages a more aggressive, directional style than most of the very rockered skis I spend a lot of time on. It can slash and slide through soft chop, but it wants to do so with a pilot that's steering it from a pretty forward stance.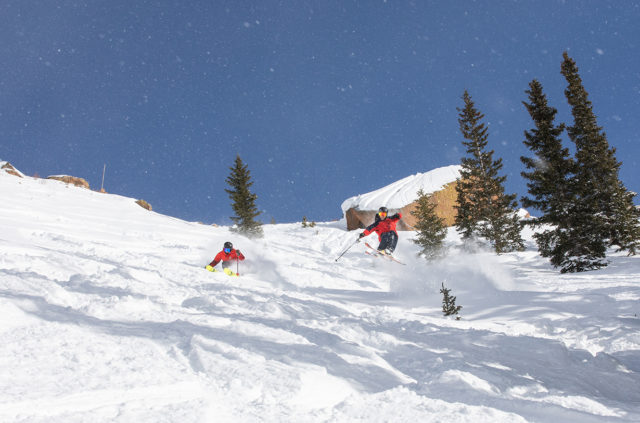 As Eric noted, the Sender Ti is neither super heavy nor super light, and I feel that its stability is in line with its moderate weight. It isn't a ski that will blast through chop and crud on its own, but under the feet of an advanced or expert skier, it can be skied quite hard through these sorts of conditions.
The Sender Ti is nowhere near as easy and forgiving as something like the Soul 7, and I wouldn't recommend it to beginners or most intermediates. But it's also not as sluggish and cumbersome to ski as some of the more stable, heavier chargers in this category, and I think that'll make it appealing to advanced and expert skiers seeking a ski that they can push hard when they feel like it, but one that doesn't demand doing so all of the time.
Jonathan Ellsworth: Mostly, I just want to say here that it's a good thing that Eric skis hard, because damn, that Torksmash shit of his is dorky AF. Beyond that, I'm in agreement with his and Luke's assessment here, and I personally really like this ski in the conditions Eric and Luke have been describing. So yes, while some people might personally prefer a little 'less' ski, and some might prefer a little 'more' ski … I think Rossignol really nailed the particular blend of stability, maneuverability, predictability, and power in the Sender Ti, so that regardless of whether you personally might want a little more or a little less, this ski feels very easy to adapt to and go have fun on. And they deserve credit for that.
Moguls, Trees, & Tight Terrain
Eric: In tighter terrain, the Sender Ti behaves about as I'd expect of a fairly traditionally shaped ski that doesn't have an exorbitant amount of tip or tail rocker. The Sender Ti is not a ski that wants you to initiate turns from your heels. You will need to be forward over the shovels, driving through your boots, and generally finishing your turns to be able to easily and quickly initiate the next. In other words, it strongly prefers a more traditional form and technique, yet it isn't so unforgiving that if you happen to fall into the backseat, you're going to be locked into a turn, shooting across the hill, unable to regain control.
In mogul fields and other high-compression scenarios, I found the Sender Ti to be happier when used as more of a precision instrument than a blunt object. It's capable of both, but I had more fun when working to slice and dice terrain rather than taking a straight line to the bottom. The Sender Ti definitely doesn't dampen out all of the terrain "noise," but rather, transmits a high level of it through its combination of minimal camber, torsional stiffness, and quick rebound (I'd stop short of calling this ski "snappy"). As a result, I tended to choose smoother lines that allowed me to scrub speed without trying to smash the top of a mogul off the mountain.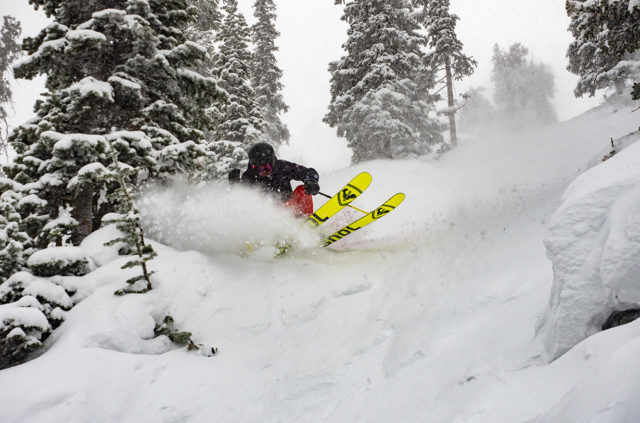 The Sender Ti also brought back my love of the "shovel pivot." Load up those tips in tight and steep spaces, unweight your heels, and pivot the tips to your new desired direction. So satisfying. This does require you to be committed to the fall line and picking up speed quickly, but the Sender Ti's tail is powerful enough to handle those hard slashes to shed speed when needed without folding underneath you.
In mellower, tight terrain where you aren't fighting with gravity quite as much (such as lower-angle gladed areas), the Sender Ti is happy to let you back off a bit and just cruise. I would not call navigating these situations mindless or effortless, but it's not a ski that needs you to be in #maximumattack mode to get it to respond.
In general, I found the back half of the ski to fall somewhere in the range of being "supportive without being punishing." It does like you to transition your weight to the shovels to unload the tails in preparation for your next turn, but it's not so stout that it will highside you and send you flying over your shoulder if you don't execute or time it perfectly (a la the Fischer Ranger 107 Ti).
I would not call the Sender Ti especially maneuverable in tight spaces when compared to something very rockered and tapered like the Rossi Soul 7, but when compared to other current, directional skis (like the K2 Mindbender 108 Ti, 4FRNT MSP 107, and Fischer Ranger 107 Ti), the Sender Ti falls somewhere in the middle.
Luke: Again, I'm a lighter and smaller guy than Eric who prefers softer and more rockered skis in tight terrain, so while I don't disagree with his take, I do want to add my own.
I definitely agree that the Sender Ti isn't a totally effortless and mindless ski in tight spots (like the Soul 7 was). And I also agree that it's not extremely punishing. But if you tend to like to slither your way through tight spots from a centered stance, I would look to other options. In tight terrain, I definitely noticed the Sender Ti's preference for a forward stance. Get backseat or even neutral, and its tails had a tendency to dig in and remind you that you're not on a Soul-7-esque ski.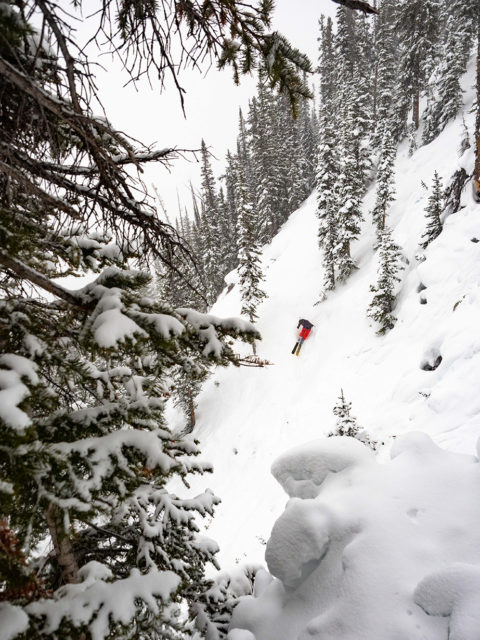 But stay forward and get your weight off those tails, and the Sender Ti is pretty easy to flick from turn to turn. I liked the rebound it provided when I really pushed it, and overall, I enjoyed this ski more the harder I was skiing.
In short, skiers with good technique have a lot to like about the Sender Ti — it's pretty precise for its width, it's not super heavy, and it's got decent suspension for when the bumps and trees are super firm. But those (like myself) who are prone to a more centered or backseat stance in tight terrain should look to skis with more rocker, taper, and / or softer flex patterns.
Jonathan Ellsworth: If Eric was less long-winded (well, and if I happened to disagree with him), I'd have more to say here. But know that I'm signed off on and in agreement with what both Eric and Luke have to say.
Groomers
Eric: On corduroy, packed powder, or other highly edgeable snow surfaces, I think the sweet spot of the Sender Ti for grip (in terms of edge pressure and weight distribution) is huge.
But in instances where I find myself on firmer or scraped-off surfaces, I initially struggled with edge hold on this ski. So a bit of experimentation commenced, and what I found was that I really needed to consciously weight and load my downhill ski. When doing so, the grip returned in earnest, and I could find bite just about anywhere. So what's going on here? To me (at least) the Sender Ti feels very torsionally rigid so when I wasn't skiing with "classic" technique and really loading my downhill ski, that stiffness was keeping the Sender Ti from finding as much grip as possible (in the way that a torsionally softer ski can).
So while many instructors would tell us that we should be loading our downhill edge at all times, I often have more of my weight on my uphill ski than I should. The Soul 7 is much more forgiving in regards to body position and weight distribution than the Sender Ti, and I have a feeling that the increased importance of technique is going to be one of the most important things to be cognizant of for individuals transitioning from the Soul 7 to the Sender Ti. Just something to keep in mind.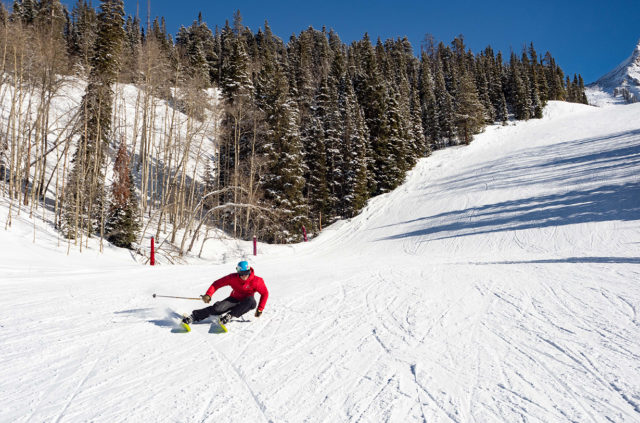 Luke: Overall, I just really liked the Sender Ti on groomers. I guess I tend to put a lot of pressure on my downhill ski anyway, but I never found myself struggling with getting the ski to dig in and grip on most groomers.
One thing I love about minimally tapered skis like the Sender Ti is how easy they make it to initiate a carved turn. Just put a bit of pressure on the Sender Ti's tips, and it starts gently pulling you across the fall line. I had no trouble making everything from short GS turns to Super G turns on the Sender Ti.
With the factory tune, I did find it a bit tricky to subtly feather turns on the Sender Ti, but lightly detuning the tails (starting at the contact point and detuning from their back) alleviated this. On Eric's note about torsional rigidity, I think the main thing I noticed was that the Sender Ti did require a bit more "commitment" on my end; it was great and predictable as long as I was driving it, but it didn't dig into firm snow super easily when I was skiing it from more of a centered stance.
But as long as I was driving it, I'd say the Sender Ti was one of the better carvers I've used in this width class.
Mount Point
Eric: The Sender Ti's recommended mount point is -7.6 cm from true center, and in that location, it has the personality of a very directional ski that is a bit more forgiving in mellower terrain, or when working to pivot the ski in tighter terrain. You can stand a bit more upright and don't have to work quite as hard to flex the shovel as a ski with a mount point that's set farther back.
The Sender Ti does require you to commit to a turn in the fall line when things get tight or steep, so if you are someone who defaults to a pivot and slides your skis in such situations, or if you like to ski with a more upright / neutral stance, you will probably find the Sender Ti to be a bit of handful.
Luke: Yep, agreed on all fronts. Despite having a mount point that's a bit more forward than many directional skis, the Sender Ti is far from some super playful ski that you can just stand on and ski from your ankles or heels. If anything, I think some people might prefer it mounted back a cm or two.
Jonathan Ellsworth: For what it's worth, I liked this ski a lot on the line, and am not terribly tempted to move forward or back. Those coming from skis with -11 cm mounts might want to move back 1 or 2 cm (and here, I can see Luke's point; mounting back could give you a bit less tail to deal with). But I would encourage people to try the line, and adjust your skiing a bit if need be. Frankly, I think that if you are dead set on a more traditional mount point, you might just be happier / more comfortable on a different ski.
Playfulness
Eric: I would not call this a playful ski. It's also not a punishing ski, but it's not what you'd grab to go get loose with, either. The Sender Ti has a huge operational sweet spot, but it's not a mindless ski in the way that many "playful" skis often are. It's not going to turn left because you looked left. In the realm of directional skis, I'd still call it pretty quick and responsive but it lacks that "easy" mode that I so often associate with "playful" skis, and that large margin of error which allows you to experiment with body and ski position isn't here in the way it is with more playful skis.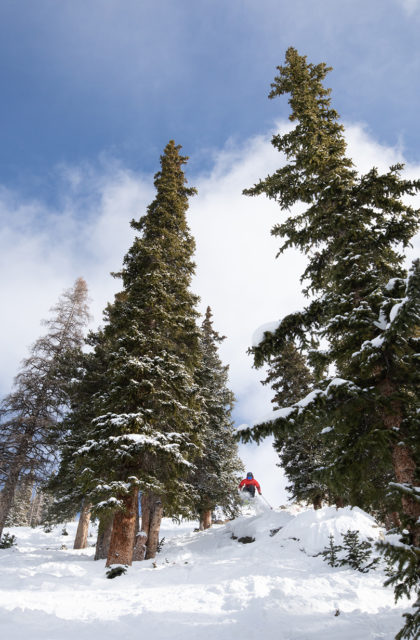 Luke: Yeah, this thing isn't playful. As we've now said approximately a million times, it prefers a forward stance. And it doesn't feel very balanced in the air, nor does it ski switch well at all, nor is it super easy to slash and slarve around from a centered stance. While you can throw tricks on this ski, that's not what it was made for.
Length
Eric: I found the 187 cm length very manageable in soft conditions, with a good mix of stability and maneuverability for a ski that has "Sender" in its name. It's not quick in the way a <100mm-wide ski is, but it's also not a chore to get moving in a new direction. I believe a bit of this has to do with the mount point being a bit forward of "traditional," which helps the ski to cross the fall line quickly or back off the aggression when things mellow out.
[Jonathan Ellsworth: Ding Ding! Totally agree.]
If you typically ski on more traditionally shaped skis and already enjoy those in the high 18Xcm range, I think you will be right at home and quickly get in step with the 187 cm Sender Ti. If I weighed 200lbs+, skied more open terrain, or was going to use the Sender Ti as a comp ski, I would definitely reach for the 194 cm size. For me, the 187 cm size was what made the ski so approachable and useful for the typical resort day. But if I was in a comp mindset, I personally would want more ski.
If you are someone coming from more center-mounted, shorter-effective-edge, or more rockered skis (such as the Soul 7), I don't feel overall length may be the best metric to use when choosing which size of Sender Ti to try out. I would look at the shape, rocker profile, weight, and stiffness of the skis to better gauge what size of Sender Ti you might prefer. The differences in flex profile and taper between something like the Sender Ti vs. Soul 7 mean that, even if the overall length is shorter than your last ski, you're going to be clicking into a ski with more stability and power than what you might expect to find relative to overall length.
Luke: At my height and weight (5'8", 155 lbs) and where I ski (lots of tight terrain), I think I'm a bit between sizes here. I need more time on the 180 cm Sender Ti to make my final conclusions, but I've been preferring the 180 cm Sender Ti for everyday conditions, while I find it a bit short for softer snow or when my own Torksmash index is up around the 7-10 range.
But more importantly, I totally agree that those who are used to very tapered and rockered skis like the Soul 7 will likely want to size down. The 187 cm Sender Ti feels much longer on snow than a 188 cm Soul 7. And given that I'm generally quite happy on more playful skis in the 185–190 cm range and have been preferring the 180 cm Sender Ti for most conditions, I think those like me would be fine sizing down if caught between lengths.
Jonathan Ellsworth: If I read the term "Torksmash" one more time in this review, my own Torksmash level is going to be up around 13.
I haven't skied the 180 cm Sender Ti yet, nor have I really felt compelled to. And I think that if you tend to get along with other directional, ~100-108mm-wide skis (see our Deep Dive Comparisons) in the ~185 – 187 cm length, I would be surprised if you were super tempted to size up or size down on this ski.
Who's It For?
Eric: The Sender Ti is a very appealing option for those interested in a directional ski that you don't have to work to reign in all day but that also allows you to ski hard without desperately wishing for another ski. It's a great fit for the person with good technique who might spend just as much time skiing with the family as (quickly) chasing the homies around.
I would not call this a ski for beginners or low intermediates.
I think that it could be an excellent foundation for a 1- or 2-ski quiver (either the narrower or fat ski in a 2-ski quiver, depending on location), and I would ski it at any resort in North America (including the East Coast, where I grew up). If I skied the Sender Ti primarily on piste, I suspect that I'd wind up with much better form than I began the season with given the way in which I found it to reward proper technique.
Luke: Yep. The Sender Ti is a pretty versatile ski, both in terms of conditions and its ability to handle both aggressive and slower skiing. But I think the important caveat for many people — especially those coming from something like the Soul 7 — is your technique. I agree that this is certainly not a ski for beginners, and I'd be pretty hesitant to recommend it to intermediate skiers who aren't comfortable maintaining a forward stance most of the time.
But if you've got decent technique, the Sender Ti is worth considering. It offers pretty good suspension and stability, yet it's not very physically taxing to ski. And if you stay on its shovels, it is happy to make big turns through open bowls or quickly hack through tight bump lines. Finally, it feels very versatile and I think it could be a good 1-ski quiver for areas that don't see a ton of truly icy snow. It is comfortable in everything from pretty deep snow to firm groomers, and I think it really excels in the conditions that fall between those ends of the spectrum.
Bottom Line
Eric: What I enjoyed most about the Rossignol BLACKOPS Sender Ti was just how willing it was to meet me at my level of energy output for the day. It was nice to click into a ski that I knew wouldn't be working to kick my ass all day long, but that also wasn't going to leave me wanting.
It's certainly not the first ski I'd grab if I was going to be primarily skiing on-piste all day, but of my options in 2020, the Sender Ti will be one of the first skis I reach for on a day I'll be skiing off piste and looking to see where the day and the snow takes me.
The Sender Ti is a versatile ski for the technically proficient skier looking for precision, power, and a big sweet spot. It has the weight, flex, and versatile shape to handle groomers, chalky conditions, and softer, deeper snow. Skiers who appreciate a high ceiling of performance but don't want to have to be "game on" all the time should check out the Rossignol Blackops Sender Ti.
Luke: I guess I'll close it out like this — the BLACKOPS Sender Ti is not a Soul 7, and while I wouldn't recommend it to those who loved the Soul 7, it's certainly worth checking out for those who did not.
Jonathan: I think Rossignol has made a very good ski here, and the Sender Ti should be on the radar and probably the short list of anyone who likes and is looking for a fairly substantial ski in the ~105 mm range. And I think our Deep Dive Comparisons will get you quite clear on which one of these ~105 mm wide skis will work best for you.
Deep Dive Comparisons
Become a Blister Member or Deep Dive subscriber to check out our Deep Dive comparisons of the BLACKOPS Sender Ti to see how it compares to the Black Crows Corvus, Nordica Enforcer 104 Free, Folsom Blister Pro 104, Fischer Ranger 102 FR, Volkl Mantra 102, Fischer Ranger 107 Ti, Nordica Enforcer 100, ON3P Woodsman 108, ON3P Wrenegade 108, Moment Wildcat 108, Blizzard Cochise, Salomon QST 106, K2 Mindbender 108 Ti, Moment Commander 108, Blizzard Rustler 10, and 4FRNT MSP 107.