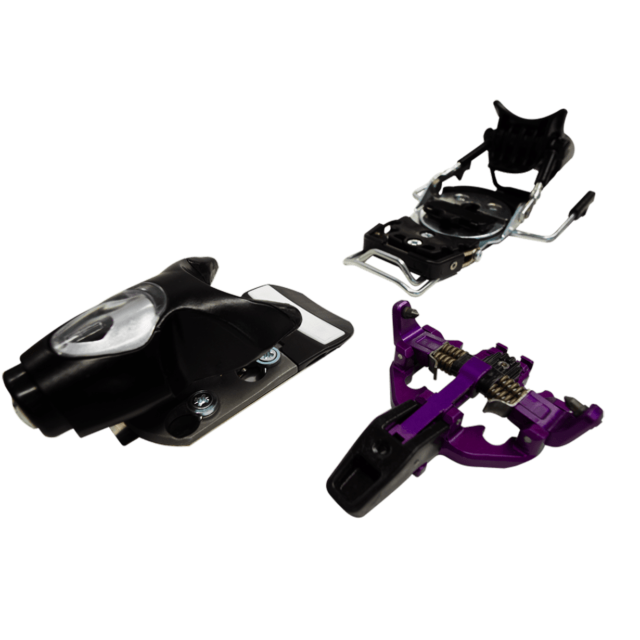 2021-2022 CAST Freetour Upgrade Kit
Release Value Range: 8-18 (6-15 available as well)
Climbing Aids: Flat, 8˚, and 12.5˚
Toe Stand Height: 20 mm
Boot Sole Compatibility: WTR; ISO 5355, GripWalk
Available Brake Widths: depends on the Pivot brakes you use
Stated Weight: 1000 grams (touring weight)
Blister's Measured Weight (18-DIN version):
Alpine Toe pieces: 530 & 532 grams
Touring Toe pieces: 125 & 127 grams
Alpine Heel, climbing bail, & toe platform w/ 110 mm brakes (with screws): 870 & 872 grams
Total Weight per Binding (All Parts Included): 1525 & 1531 grams
Total Weight per Binding (On Ski While Touring): 995 & 999 grams
MSRP: $375 USD (plus the cost of Look Pivot 18 or 15, which is ~$300-400)
Skis Used: Moment Deathwish
Boots Used: Full Tilt Ascendant 10
Test Locations: Grand Teton National Park, Grand Targhee Resort, Teton Pass, & Jackson Hole Mountain Resort, WY
Days skied: 10
[Note: For the 20/21 season and beyond, the CAST Freetour will also work with the Look Pivot 15 (DIN range of 6-15).]
Intro
In the spring of 2017, CAST announced their new Freetour system, which they said would finally give backcountry skiers the efficiency of a pin binding to skin up, and the security of a dedicated alpine binding (the Look Pivot 18) for the down.
That's the holy grail for a lot of skiers, and before we get into the nitty gritty of this review, it's worth noting a couple of things:
(1) In our First Look at the CAST Freetour system, I called Lars and Silas Chickering-Ayers "the mad scientists at CAST." That was an understatement, both on the "mad" and the "scientists" part. These guys have a unique combination of drive, experience, and technical skills that's rare in the ski industry — starting an indie ski brand is a huge and terrifying undertaking, but it's a whole 'nother thing to start an indie binding brand.
(2) Somehow, two brothers operating out of the business park behind a gas station / burger joint in the tiny town of Driggs, Idaho managed to beat Salomon and Atomic to the punch on the whole "tours like a pin binding, skis like an alpine binding" thing, and various iterations of the CAST binding system have been on the market for several years now. (We reviewed the original CAST Si&I system back in 2013.)
(3) Last season, CAST's manufacturing ran into several delays, with many people not receiving the bindings until months after they ordered. CAST has since been focusing on dialing in their manufacturing process and expediting construction and shipping. They're accepting pre-orders for the next production run on September 1st, and say the kits will start shipping on December 1st.
(4) The Freetour system requires modifying a standard Look Pivot 18. You can either do this yourself (which we'll discuss below), or have CAST perform the upgrade for you. For 20/21, you'll also be able to use the slightly lighter and lower-DIN Pivot 15, which is coming back for the 20/21 season.
Deep Dive Comparisons
Become a Blister Member or Deep Dive subscriber to check out our AT Binding Deep Dive where we directly compare the CAST Freetour, Marker Duke PT 16, Salomon Shift MNC 13, Fritschi Tecton 12, Fritschi Vipec Evo 12, Dynafit ST Rotation, G3 ION 12, & Marker Kingpin, and discuss what you tend to gain and give up by going to much lighter AT bindings.
How It Works
The Freetour is not a traditional ski binding system, it's more of a conversion kit that turns a Look Pivot 18 or Pivot 15 into a touring-friendly tech binding. The system features a toe plate with shoulder screws that mounts to the ski, and then you can swap out a tech toe for skinning up, and use the Look Pivot toe piece when you're ready to ski down.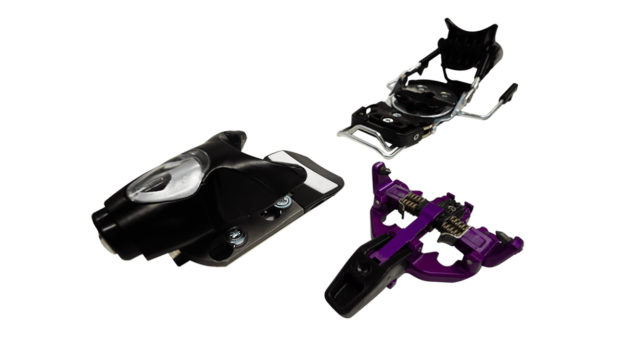 CAST often offers Pivot 18 or Pivot 15 bindings at a discount to add on to your kit, or you could convert your own bindings. The conversion is relatively quick and easy — you just need a #3 Pozidrive screwdriver, and CAST provides step by step instructions here. CAST is not currently selling Pivots to go with the Freetour kit, but they say they'll be available again before the 20/21 winter in the Northern Hemisphere.
And again, if you'd prefer to have CAST handle the conversion, they will do the upgrade for you if you send in your pair of Pivot 18 or Pivot 15 bindings.
A couple more things to note:
The CAST conversion does not work with the 12- or 14-DIN versions of the Pivot. You need to use the metal-toed 18-DIN or 15-DIN versions.
The folks who make Pivot bindings don't want you to take them apart. Adding the CAST system voids the warranty. CAST warranties their own hardware against manufacturing defects for two years, but they also say they will consider warranty issues past the standard two-year term.
Mounting and Swapping the Toe Pieces
Once you've converted the toe, you simply drill your skis for Pivots at your BSL like you normally would, with the addition of two more holes to hold the Freetour's heel riser kit (CAST supplies a handy template for this). You then mount the heel and heel riser, and then mount the toe shim with the shoulder screws. Overall, this process is not much more involved than your typical Pivot mount job.
Once you've mounted the binding, you can swap the toes by pushing a small lever and sliding them off, as demonstrated in the video below.
For the way up, you slide on the touring toe, flip up the brake lock that's attached to the heel risers, and skin up. When you get to the top, slide off the touring toe, throw on the alpine toe, release your brakes, and go send.
Transitioning
Let's get this out of the way: if your priority is super fast transitions, then this is not the binding for you. To transition, you have to take your foot out of the toe piece, then swap out the toe pieces. That takes a lot more time than just unlocking the toe and switching the binding heel piece as you would on many other tech bindings.
But the Freetour obviously isn't aimed at the "multiple laps of low-angle, meadow-skipping" crowd, it's aimed at skiers who want a dedicated alpine binding on the way down, not just one that transitions quickly.
There were a few times while transitioning where the toe piece didn't slide off the shim plate easily, and required a little muscle to break loose. But a hit of lube on the plate and shoulder screws really helped there.
The brake lock on these bindings is awesome. I wish every binding used something similar. It's simple, it never released when I didn't want it to, and it's easy to activate with a pole.
Climbing Bails
Like the brake lock, the Freetour's climbing bails are awesome. Their 8° and 12.5° options hit my sweet spot for a variety of skintracks, they didn't fall down while I was climbing, and they were easy to actuate with my pole. These things set the Freetour apart from the two other bindings that let you skin up in pin toes and ski down in an alpine binding (which only have a single climbing riser). Plus, the Freetour also has a truly flat option. Well done.
Touring Toes
CAST did something remarkable with their touring toes. On their old Si&I system they used converted Dynafit toes. For the Freetour, they fabricated their own tech toes. And that fact still blows my mind a little every time I transition on the Freetour.
That said, the finish and tolerances of the Freetour's tech toes I tested aren't as tight as you'd expect from a typical touring toe, and I did run into some issues. If the touring toe isn't settled perfectly on the shoulder screws, it's impossible to lock your boot into the toe. That's really, really frustrating when you're trying to transition on a perfect pow day, your friends are all way ahead of you, and your ski keeps falling off when you try to step into it. CAST suggested doing a little work to the problem areas with a Dremel, and this helped, but even so, these toes caused a lot of hassle.
It's important to note that CAST says they did a small redesign on the tech toes that reportedly fully addresses the tolerances issues I ran into, so we'll update this review if / when we're able to test out the redesigned tech toe. But from all the reports we've heard, the current tech toes are notably easier to use than the ones I tested.
But again, the Freetour isn't aimed at skiers who prioritize simplicity, low weight, and quick transitions. It's aimed at people who want to ski on burly, dedicated alpine bindings in the backcountry.
And on that note…
Downhill Performance
Let me put it this way: if you were to drop me on top of a steep, beat-up, cliffed-out, tracked-out, firm-snow Freeride World Tour venue, the Freetour is the only touring binding I would want to be in. It skis just like a Pivot 18.
The Pivot 18 has a cult following for a reason. It's sturdy, reliable, it's made out of metal, it has a bunch of elastic travel, and it has a comforting "SNAP" when you step into it. Sure, it's hard to get into when the heel has pivoted too far, it's a pain to adjust for different BSL's, and if you're smaller and lighter its DIN range (8-18) might not work for you (though the 6-15 DIN range of the Pivot 15 might). But it is a downhill binding that many skiers count on and refuse to ski anything else.
Again, the CAST Freetour skis just like a Pivot 18, because it's essentially just a Pivot 18 that's mounted on a ~2 mm metal plate. If that's what you want your touring bindings to feel like, the Freetour is your only option.
Compatibility
You can get the Freetour system with an AFD for Alpine soles, WTR soles, or GripWalk soles. They are easy to swap, and they feel solid. CAST also says regarding their WTR AFD: "they are also sized to accommodate boots that fit the ISO 9523 touring boot standard. However, the release and retention characteristics of these boots will be affected by the boot's sole material and tread pattern."
In addition, CAST can also fit tech toe fittings into your alpine boots so that you can use them with the Freetour system. Note: CAST strongly recommends that you do not use such boots (i.e., boots that have been converted for use with the CAST Freetour) with other tech bindings where you're skiing downhill on the toe pins (CAST's inserts are not designed to be skied on, only skinned on). CAST does say that their conversion will work with the Atomic / Salomon Shift binding and Marker Duke PT, since, in that case, you'd only be skinnin on the inserts, not skiing on them.
Weight
Pivot 18's are heavy bindings. The Freetour system uses most of a pair of Pivots, so by default, it's not light. However, that comes with a few caveats:
There are two ways to measure the weight of the Freetour system. You can look at the entire weight of the system, or you can look at how much weight is actually on your skis.
CAST prefers to look at that second number, and I mostly agree.
The weight you're dragging on each foot is much more important than the weight in your pack. Don't believe me? Try skinning your favorite lap with a beer taped to each ski, then do a second lap with those two beers in your pack. You'll have a better time (and less head on your beer) with the beers in your pack.
However, the weight of those alpine toes in your pack still counts for something, and the Freetour is still heavier than most touring bindings. At just under 1000 grams on each ski with the Pivot 18 setup, the Freetour system is ~200 g heavier per foot than the Marker Kingpin 13, and ~120 g heavier than the Shift. In terms of on-ski weight, the Freetour is a bit lighter than the new Marker Duke PT 16 (though the Freetour is heavier in terms of overall weight).
An important thing to again consider, is that the Freetour with the Pivot 18 has a max DIN of 18, while those other options only go to 13 or 16. In fact, the Freetour is the only touring binding out there that has a max DIN of 18.
On the skin track, I can't say I really noticed the weight of the Freetour. Personally, I find that other factors like the weight of your boots, skins, skis — and how much you drank the night before — have a bigger cumulative impact on how heavy your setup feels.
For reference, here are some of our measured weights (average per binding) for a few notable bindings:
626 g Dynafit ST Rotation 10 (105 mm brakes)
638 g G3 ION 12 (105 mm brakes)
682 g Fritschi Tecton 12 (120 mm brakes)
775 g Marker Kingpin 13 (75-100 mm brakes)
886 g Salomon S/Lab Shift MNC 13 (110 mm brakes)
997 g CAST Freetour w/ Pivot 18 (weight on ski while touring; 110 mm brakes)
1074 g Marker Duke PT 16 (uphill mode w/ alpine toe removed; 125 mm brakes)
1383 g Marker Duke PT 16 (downhill mode; 125 mm brakes)
1478 g Salomon Guardian MNC 13 (115 mm brakes)
1530 g CAST Freetour w/ Pivot 18 (all parts included; 110 mm brakes)
Comparisons
The Freetour replaces CAST's Si&I system, and improves on it in almost every way. It's lighter, less fiddly, and you don't have to rubber-band your brakes.
However, the Freetour system has some other big competitors: frame bindings, tech bindings, and the alpine-like AT bindings like the Shift and Duke PT. If you want a very in-depth comparison on how the Freetour compares to the Shift, Duke PT, and several other downhill-oriented touring bindings, you should definitely check out our AT Binding Deep Dive. Here, I'll go over the very brief, general trade offs.
Frame Bindings
The Freetour is a huge improvement on frame bindings. The Freetour tours and skis better than any frame binding on the market. The Freetour is much lighter while touring, it has a lower stack height, a better-optimized pivot point, nothing attached to your heel while touring, and is similarly as fiddly to transition. The Freetour loses on price, but the improvement that comes from touring on a real tech toe is absolutely worth it in my opinion.
Lighter AT Bindings
Compared to all "tech" or pin bindings on the market right now, the Freetour is heavier, has a higher max DIN, skis much better, and takes a lot longer to transition. The Freetour skis better than any tech-toed binding I've been on (including the Kingpin and Fritschi Tecton). The Freetour feels less jarring in rough snow, more secure, offers better power transfer, has much more elasticity, and I'd trust it much more to both release and hold me in when I want it to. But it has a longer and more involved transition process, and it's pretty heavy.
So if you're considering the Freetour, just get very clear on your priorities in the backcountry. For a lot of skiers who aren't pushing their limits while touring, lighter touring bindings will be the obvious answer.
But if you're going out to hit a booter, big cliff, steep spine line, etc. — or you simply want much more elasticity and more reliable release characteristics than any tech binding offers — I think the Freetour is a much better option than any tech binding available.
Who's It For?
The Freetour is a bit of a niche product. Not that many people are looking to go huge in the backcountry. Not everyone needs an 18-DIN or 15-DIN binding. And not everyone has the patience to deal with swapping toes. But if you're filming your movie segment and / or skinning to hit big booters and high-consequence lines, the Freetour makes more sense. Or if you just want a binding that you can have zero qualms about skiing really hard in the resort, but that also makes it easy to tour, there's also a strong argument to made for the Freetour.
And then if you just want to be able to ski Pivots or have an 18-DIN binding in the backcountry, the Freetour system is the only option that you can tour on.
For most other skiers, lighter touring bindings will make more sense, but the Freetour definitely has its place.
Bottom Line
For skiers who want the venerable downhill performance and reliable release characteristics of a Pivot 18 or Pivot 15 and the touring efficiency of a tech toe, the CAST Freetour system is not only the only option, but a well-executed one.
Deep Dive Comparisons
Become a Blister Member or Deep Dive subscriber to check out our AT Binding Deep Dive where we directly compare the CAST Freetour, Marker Duke PT 16, Salomon Shift MNC 13, Fritschi Tecton 12, Fritschi Vipec Evo 12, Dynafit ST Rotation, G3 ION 12, & Marker Kingpin, and discuss what you tend to gain and give up by going to much lighter AT bindings.