If you've been reading our newsletters or listening to our delightful, hilarious, intelligent, charming, and absolutely riveting podcasts (sorry, Jonathan got a hold of this note and added all of those adjectives), then you already know that registration is live for the Blister Summit.
But in this note, we wanted to underscore who the Blister Summit was designed for.
And that's an easy answer: we created the Blister Summit for you, our Blister audience. You know, normal people who might just have an abnormal passion for skiing and riding.
This is not an event for industry insiders.
And you definitely do not need to be an expert skier or snowboarder to come to this event — or have a great time at this event.
Instead, the Blister Summit is our way of letting people who are actually spending their money to purchase equipment get on and try out different gear.
Not only that, but we want you to be a part of the conversations taking place in the snowsports world, and as you'll see for yourself … that is now happening at the Blister Summit.
From the Q&A periods at our panel sessions; to the conversations you'll have on chairlifts with brand managers and product designers and Blister reviewers and professional athletes; to late-night hangout sessions in Blister HQ; to the chance to participate in our consumer gear tests, you will get to see and hear where our snowsports industry is headed; express your opinion about where you think it should be headed; and talk to the brands and the people that are driving it forward.
The feedback we received last year from Summit attendees and brands was fantastic. In fact, one of the head product people at a major brand said to us, "This event is the future."
And the Blister Summit is going to be even bigger and better this year.
So, with that in mind, I'd like to share ideas on how to make the most out of your Blister Summit experience:
Participate in a Backcountry Touring Session
At least 1 backcountry session is included in your Summit registration. The session is a half-day tour with a professional guide.

An experience like this typically runs $200-500 per person, but again — it is included in the price of your Blister Summit registration.

You'll get to test a pair of backcountry skis or a splitboard while you tour the beautiful backcountry of Mt. Crested Butte.
If you don't have your own beacon, shovel, probe, or backpack, we can provide them. We'll also provide transportation to the trailhead (usually a 10 minute or less drive). But you will need your own boots. If you don't have a pair of your own, you can rent them at The Alpineer.
Stay in Mt CB
Ski and Ride with New People, Blister Reviewers, and / or Professional Athletes
You're going to have the opportunity to hit the slopes or backcountry with professional athletes, Blister reviewers, Summit attendees (who were all rad last year), and big names in the industry. Don't be shy, get out there and make some new friends.
We'll have some designated meeting times to help facilitate
Don't worry about whether you're a good enough skier or rider. I worry about this all the time … and it's completely unnecessary. As long as you are at a low-intermediate level, you'll be just fine, you'll have a great time, and we will be psyched to ski with you and show you around!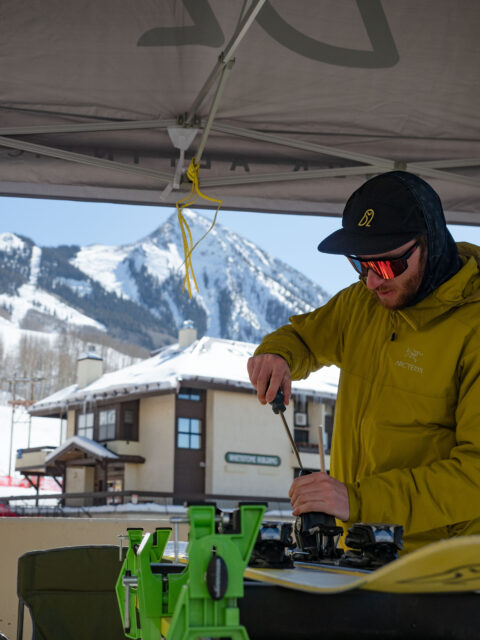 Do Your Homework (or Don't — That's Fine Too!)
There is going to be more skis than there is time so I'd start planning by going through our 21/22 Winter Buyer's Guide and earmarking the gear that sounds interesting to you. Our current line-up (we'll announce more brands soon) includes Moment, Salomon, Renoun, Line, Rossignol, WNDR Alpine, Folsom, 4FRNT, Wagner, Patagonia, and Dynastar.
When making your wish list, keep in mind some vendors will be bringing new-for-next-season gear to test.
Drink Lots of Water
This is very important, especially if you're coming from sea level. The base elevation of Mt. Crested Butte is 9,898 ft / 3,017 m. You aren't going to want to miss a day of the Summit because you have a headache, so drink up (water that is) when you get here.
Tickets are limited and are on a first-come-first-serve basis, so don't wait.