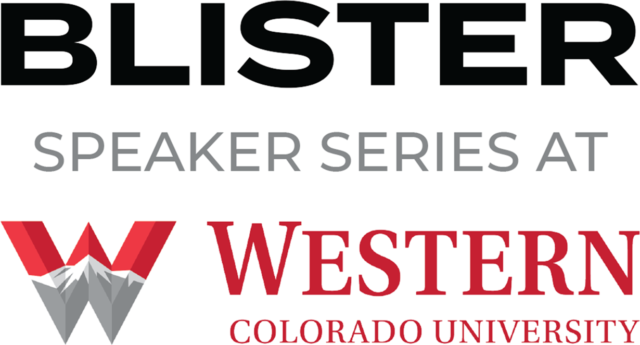 Blister Speaker Series at Western Colorado University: Innovators & Influencers in the Outdoor Industry
We are excited to announce the return of this first-of-its-kind series at Western.
Few universities can match Western's access to world-class outdoor recreation, which is a big reason why Western attracts so many exceptional mountain sports athletes and students interested in careers in the outdoor industry.
Started last year, this new BLISTER Speaker Series at Western will bring to the Gunnison Valley each month during the school year a preeminent athlete, founder, author, activist, filmmaker, or product designer in the outdoor industry, allowing Western students to hear from and interact with those individuals who are currently shaping the industry.
This outdoor industry speaker series, coupled with Western's first-of-its-kind Outdoor Industry MBA program, will further Western's role in cultivating the future leaders of outdoor-oriented businesses and media.
NEXT GUEST:  Wendy Fisher
WHEN: 7 pm TUESDAY, January 21ST
WHERE: University Center Theater at Western Colorado University, Gunnison, CO
Wendy Fisher, one of the all-time greats. She is a two-time World Extreme Skiing Champion, was on the U.S. Ski Team, filmed with Warren Miller and MSP, and played a huge role in showing the world what women could do in big-mountain arenas. Join us at Western next Tuesday at 7pm at the University Theater to hear Wendy discuss her trajectory, talk about the transitions in her career and throughout her life, and share the lessons she's learned (and is still learning) along the way.
WHAT ELSE?
Each month during the school year, BLISTER founder, Jonathan Ellsworth, will lead a free, open-to-the-public Q&A at Western, and there will be additional opportunities for Western students to engage with our speakers in classroom settings, informal group meetings, or out on the trail or ski hill.
Please stay tuned for updates on our upcoming events.
PAST GUESTS