Last Thursday evening we held the 2nd installment of our monthly Blister Speaker Series at Western Colorado University, where we host influential figures of the outdoor industry right here in our home of the Gunnison Valley of Colorado
Our guest this time was Eric Larsen. Eric is a polar adventurer, expedition guide, climate educator, author of the book, On Thin Ice, and more. Eric got his start in dog sledding, and has gone on to forge a career in adventure and advocacy. Among other things, he is the first person to do expeditions to the north pole, south pole and Mount Everest within a 365 period, and he uses his trips as a platform for educating a broad audience about climate change.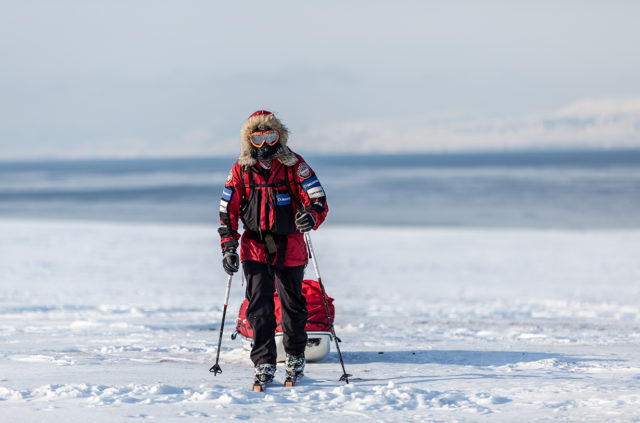 Eric and I had a great time at a couple of classes at Western where Eric was able to address some specific topics and student groups. And then of course we also had our Thursday night main event, where Eric gave a presentation on some of the incredible places he's been and why he goes, then I had a chance to interview Eric, and then we turned the mic over to Western students to let them conduct their own Q&A with Eric.
The event began with Eric giving a presentation that focused on his 2014 expedition to the North Pole, which is the subject of his book "On Thin Ice". On this expedition, he and his partner Ryan Waters crossed 500 miles of broken ice from Northern Ellesmere Island to the geographic north pole. They went unsupported, which means they brought all of their supplies with them on sleds that initially weighed 325 pounds, which they had to drag through snow and paddle across icy waters. Due to climate change's effects on the Arctic, this is expected to be the last human-powered trip to the North Pole ever.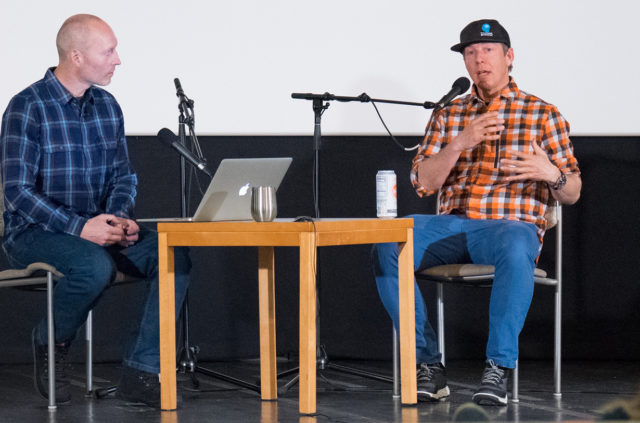 In his talk, Eric goes over the unique obstacles that he and his expedition partner Ryan faced on the trip — navigating the terrain, being stalked by polar bears, running out of food, and — perhaps most difficult of all — remaining optimistic under such harsh, monotonous conditions.
His presentation clearly demonstrates his love of adventure, his desire to help protect these places from climate change, and his ability to persevere while remaining lighthearted. If you're interested in learning more about the details of his adventures — or just seeing some sweet pictures of penguins — the video of his talk will be up on Youtube on March 15th, on Western Colorado University's YouTube channel.
TOPICS & TIMES:
Eric's satellite phone update during his 2014 North Pole expedition (3:25)
Why is it important to do difficult things? (5:40)
The importance of remaining lighthearted (10:15)
Leadership and decision making in life-threatening conditions (12:56)
How have your expeditions informed your perspective on climate change? (18:00)
Lessons from the minimalist lifestyle of expeditions (21:40)
What advice would you give to your undergraduate self? (24:15)
Which books were the most formative for you? (27:55)
Western vs. Proust Q&A (31:38)
Subscribe to
The Blister Podcast
Or subscribe with your favorite app by using the address below