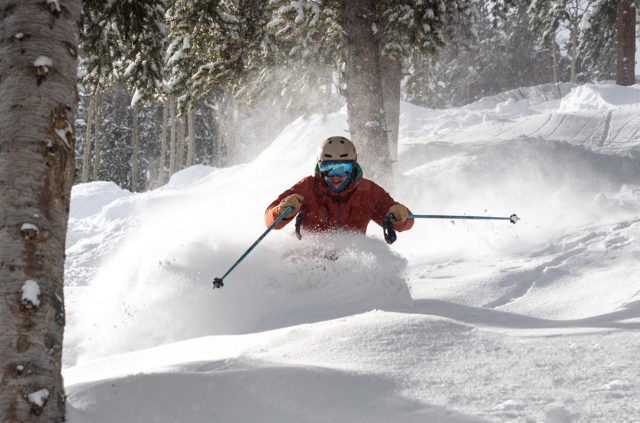 Intro
After spending dozens of seasons and hundreds of days using a whole bunch of ski poles, we can state with certainty that they are not all the same. Some are great for their durability, others their low weight, and others for how small they can pack down. So we're going to talk about several options that range from burly inbounds poles to others that are designed for technical and consequential backcountry terrain. Take a look and see which ones might work best for you.
Fixed-Length Poles
Scott Team Issue Ski Poles
MSRP: $109.95
Available Lengths: 95, 100, 105, 110, 115, 120, 125, 130, 135 cm
Shaft Material: 18 mm Aluminum
Blister's Measured Weight (115 cm): 242 grams

After many years of using them, the Scott Team Issue ski poles have become our reference poles, and won multiple "Best Of" awards in our Winter Buyer's Guides. They've proved to be exceptionally durable, they're not super heavy, and we basically have no problems with them. Our editor-in-chief, Jonathan Ellsworth, has used multiple pairs for several hundred days without any of them breaking. That's right — none of them. That's extremely impressive. If you find yourself breaking poles often, prioritize durability, or simply want to get one pair of poles and stop worrying about them forever, the Scott Team Issue Ski Poles are our top pick.
J Skis Titanal Ski Poles
MSRP: $99
Available Lengths: 95, 100, 105, 110, 115, 120, 125, 130 cm
Shaft Material: ~16 mm Titanal Aluminum
Blister's Measured Weight (110 cm): 215 grams

There are two things about J Skis' Titanal Ski Poles that make them stand out: (1) their low weight and (2) their two-year warranty. First and foremost, the J Skis poles feel super light. While I can eventually get used to a heavier pole, every time I switch back to the J Skis poles, I am amazed by just how light they feel. But unlike similarly light carbon poles, the J Skis Titanal poles have proved to be pretty durable. I've used them for around 100 days inbounds, and while the paint is scratched up, they've otherwise held up well.
I've bent them slightly near the basket, but was able to bend them back without snapping them. That's something I have not been able to do with most aluminum poles, and J attributes it to his poles' titanal construction (the same metal alloy used in some skis).
The one issue I did have was one of the pole basket attachments getting knocked off after around 100 days, but this was covered under the two-year warranty (something that can't be said for most poles on the market).
Another thing I like about the J Skis poles is their grip — it's soft and fully rubberized. Not only does that mean it's easy to hold onto, but it also means that the grip sticks well to binding heel risers and boot buckles, allowing me to easily flip risers or buckles with the end of my pole.
If you want very light fixed-length poles but don't want to get some fragile carbon sticks, I highly recommend the J Skis Titanal Ski Poles.
Zipline Blurr 16.0 Graphite Composite Ski Poles
MSRP: $109
Available Lengths: 85, 90, 96, 102, 107, 112, 117, 122, 127, 132 cm
Shaft Material: 16 mm Graphite Composite
Blister's Measured Weight (112 cm): 234 grams

Zipline's poles use a graphite composite that, at least so far, has proved to be more durable than most of the carbon poles we've used. The Zipline poles aren't crazy light, but they are a bit lighter than thick aluminum options like the Scott Team Issue, making them a solid option if you value low weight but also durability.
We've used three pairs of Zipline's poles for a total of around 30 days and have had no issues with them so far. The paint's chipping a bit, but we haven't used any poles that completely resist chipping. The Zipline poles' grips use a combination of plastic and rubber, which equates to good grip with a variety of gloves. Since the top of the grip is plastic, the Zipline poles' grips aren't quite as good when it comes to flicking up binding heel risers or boot buckles, but the large grip still makes this feasible.
All in all, we have no real complaints about the Zipline poles — they're solid all-round options. The true long-term durability test will have to wait, but so far, they're holding up well, and we'll update this review if anything changes down the line.
Update: After around 30 days using one pair of Zipline's Blurr poles, one of our reviewers ended up snapping one in half. He did this while doing a shifty and hitting the pole with one of his ski edges. The impact put a fairly clean slice in the pole, and it snapped during his next pole plant. While it's difficult to really determine when a ski pole failure is due to the pole itself or unusual circumstances, we would recommend the Scott Team Issue pole if maximum durability is your priority. We're still using three other Zipline poles without any issues, so we'll continue to use them and update this review if we have any other noteworthy updates (positive or negative) down the line.
Zipline Chrome 16.0 Graphite Composite Ski Poles
MSRP: $119
Available Lengths: 85, 90, 96, 102, 107, 112, 117, 122, 127, 132 cm
Shaft Material: 16 mm Graphite Composite
Blister's Measured Weight (112 cm): 243 grams

The Chrome version of Zipline's Graphite Composite Ski Poles are a touch heavier than the Blurr version, but retain the Blurr's comfortable grip, fairly low swing weight, and good durability. The Chrome versions come in a very shiny finish, so if you want to stand out on the hill, the Chrome 16.0 poles are worth a look.
Adjustable-Length Poles
Black Diamond Expedition 3 Ski Poles
MSRP: $99.95
Available Lengths: 57-125 cm; 62-140 cm
Collapsed Length: 57; 62 cm
Upper Shaft Material: 18 mm aluminum
Middle Shaft Material: 16 mm aluminum
Lower Shaft Material: 14 mm aluminum
Blister's Measured Weight (62-140 cm): 260 grams

The Black Diamond Expedition 3 pole is one of the more durable three-piece poles we have tested, and it's still reasonably light and packable. It's not quite as packable as folding options, but we've found the Expedition 3 to be much more durable than those poles. While we've found it to be an excellent pole for splitboarding, you could easily use it year-round for a variety of activities. On top of all that, the Expedition 3 comes in at a pretty reasonable price, especially compared to carbon alternatives. If you want a durable and packable pole for all sorts of backcountry pursuits, we highly recommend the Expedition 3.
Scott Cascade 2-Piece Ski Poles
MSRP: $129
Available Lengths: 100-125 cm; 115-140 cm
Collapsed Length (100-125 cm size): 93.5 cm
Upper Shaft Material: 16 mm Aluminum
Lower Shaft Material: 14 mm Aluminum
Blister's Measured Weight (100-125 cm): 253 grams

The Scott Cascade 2-piece pole is a pretty solid adjustable option if you value durability over low weight and / or packability. It obviously doesn't pack down as small as three-piece options, but at a compressed length of 93.5 cm for the 100-125 cm size, it's still small enough to toss on the outside of a pack without a lot of the pole hanging off the top or bottom of the pack.
The Cascade's cork grip has proved to be surprisingly grippy when wearing gloves, and it makes it a very appealing option if you want to use your poles during the summer when you're not wearing gloves. The grip tape below the cork grip also comes in handy when side-hilling or boot packing when you need to choke up on your grip. It's not the lightest pole, but for a two-piece pole that you can use all year, the Cascade 2-Piece Ski Poles are worth a look.
Black Diamond Whippet
MSRP: $119.95
Available Lengths: 100-140 cm
Collapsed Length: 63.5 cm
Upper Shaft Material: 18 mm aluminum
Middle Shaft Material: 16 mm aluminum
Lower Shaft Material: 14 mm aluminum
Blister's Measured Weight:
Pole only: 330 grams
Whippet attachment: 146 grams
Total weight (pole + whippet attachment): 476 grams

This year Black Diamond revised one of their most iconic products — the Whippet. If you're not familiar, the Whippet was created to provide a bit of extra security for people who were out in consequential terrain (e.g., steep, no-fall couloirs). It's not designed to replace a true ice axe, but for many people, the Whippet's steel pick provides more peace of mind when booting up or skiing / boarding down steep terrain.
With this revised iteration, Black Diamond seems to have solved one of the primary issues with the traditional Whippet. The new version is modular, letting you remove the ice-axe-style Whippet attachment when you don't need it. Given that many of us don't exactly love skiing, hiking, or skinning with a giant metal spike attached to the top of our poles, I think this update is awesome.
The Whippet attachment seats into the top of the pole via metal threads, and taking it off / putting it on takes a matter of seconds. Despite being removable, the Whippet still feels very solid once it's attached. As a result, I no longer hesitate about bringing a Whippet with me on any days when I'm skiing steep, technical terrain. I just keep the Whippet attachment in my pack, pop it on when I feel like it, and take it off for the hike / ski out.
Even without the Whippet attached to the pole, the Whippet pole is very heavy. So if you plan on using only the pole most of the time, you'll want to consider that. But having the option of attaching the Whippet when the terrain gets sketchy is a very nice option to have. It's also worth noting that Black Diamond's new Traverse WR 2 ski poles are compatible with the Whippet attachment. So if you're not sure you really need the Whippet attachment but want the option of adding it eventually, you could always buy the new Traverse WR 2 poles and purchase the Whippet attachment later on.
Apart from the Whippet attachment, the actual pole feels burly, I've never had an issue with the sections compressing when I didn't want them to, the extended grip works fairly well when side-hilling, and I love the half-circle powder baskets when I'm poling on firm snow.
If you ski or board in steep, consequential terrain, Black Diamond's new Whippet makes more sense than ever before.
4FRNT Uptrack Adjustable Poles
MSRP: $99
Available Sizes: 105-135 cm
Collapsed Length: 109.5 cm
Upper Shaft Material: 16 mm Aluminum
Lower Shaft Material: 14 mm Carbon
Blister's Measured Weight: 238 grams

4FRNT's Uptrack poles are light and affordable, making them a good option for budget-minded backcountry skiers. Thanks to their carbon lower shaft, the swing weight on the Uptrack feels incredibly light. That said, I wouldn't recommend them for resort or 50/50 use as they are more fragile than aluminum poles I've used (I broke one of the Uptrack poles after landing directly on top of it during an under-rotated backflip). They're also not the most compact poles at a compressed length of 109.5 cm. But if you're not hucking tricks and tend to be a bit more careful with your poles, the 4FRNT Uptrack Adjustable poles offer low weight and a carbon construction in a more reasonable price point.