Colltex Clariden Climbing Skins
Blister's Measured Weight per skin*: 209.6 g
*(pre-cut for 183 cm Scott Superguide 105 skis, using specialized tip hardware)
Plush: 65% Mohair / 35% nylon
MSRP: $224.95
Test Locations: Front Range, Ten Mile Range, & Elk range, CO; Grand Teton National Park, WY
Days Tested: ~15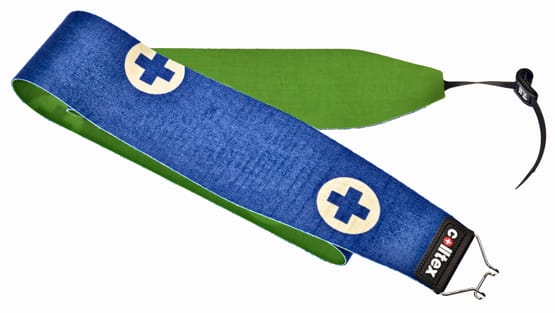 Intro
Skins are typically finicky bits of equipment. Things that may start as minor annoyances can quickly turn into day-ending issues — whether that's a broken tip clip, iced-up glue, or lack of grip that leaves you slipping and sliding up the skin track.
Colltex is one of the oldest climbing-skin brands out there, and they claim to have created the very first self-adhesive climbing skin way back in 1968. And after using the Coltex Clariden skins in a variety of conditions, I think they are anything but finicky. In fact, they are quickly becoming my favorite skin.
Features and Weight
It's important to note that the Clariden skins I tested were made specifically to be used on the Scott Superguide 105 skis, so they don't use the standard Coltex tip clips. But everything else about them (e.g., plush, glue, tail clips) is the same as the standard version of the Clariden. The standard Clariden is available with a few different tip-attachment systems, all of which are pretty similar to the standard bar-style attachments used on skins from Black Diamond, Contour, and Pomoca.
The Clariden skins have a simple, but useful features set: a camming tail clip (which is very similar to options from Contour and Pomoca), waterproof membrane laminated in the skin, 65% Mohair / 35% nylon mix plush, and a glue that can be stored glue-on-glue.
The Clariden's tail clip works well, especially on skis with fairly thin tails (referring to core thickness, not width). In general, I still prefer the G3 tail attachment system as it tends to be more secure on a wider variety of tail shapes, including thicker tails.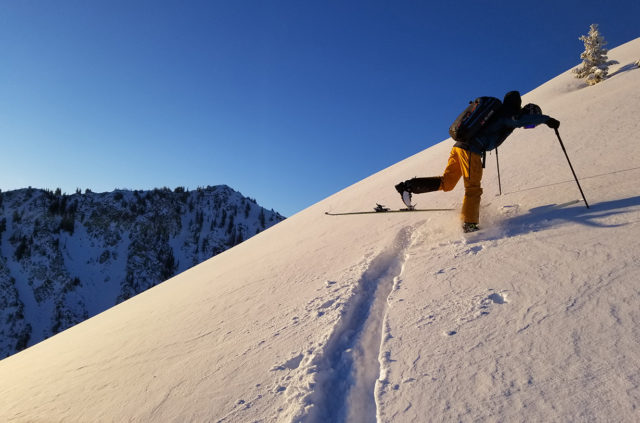 It's difficult to compare skin weights apples to apples because of their various lengths, widths, and attachment hardware. But I can say that, of all the mixed-plush skins I've used (G3, Black Diamond, Contour), the Clariden feels the lightest. And not by a small margin — these skins feel feathery light. When cut for the Superguide 105, each individual Clariden skin weighs about 200 grams. That's about 100 grams less than the G3 Alpinist+ Glide (cut for 185 cm x 115 mm skis) and Black Diamond Glidelite Mix (cut for 175 cm x 99 mm skis).
While its low weight is impressive, I think the best feature of the Clariden is its glue. Technically, Colltex calls it an "acrylic-based coating" as it doesn't use the same types of adhesives used in most glues, but for the purpose of this review, I'm just going to refer to it as glue.
The glue on the Clariden hits, in my opinion, a perfect middle ground of ease of use and security. I can easily pull the skins apart when I store them glue-to-glue and I have yet to experience them icing up or failing to stick to the base of my skis. It is definitely a less tacky glue than most skins on the market, so care must be taken to keep the glue and ski bases dry (there is a membrane in the skin to help keep the glue dry). But the Clariden skins have made transitions so easy and quick for me that I don't at all mind this tradeoff. And unlike the Volkl Vacuum skins, I've so far never had one of the Clariden skins fall off or come unexpectedly unstuck while in the backcountry.
The Clariden's glue has a similar feeling to the glue used on the Contour Hybrid skins, but I ended up preferring the Clariden over the Contour skins. The Contour skins are bulkier and some of their hardware options aren't as streamlined.
Packability
Along with their low weight, the Clariden skins pack down really small. When cut for the 185 cm Superguide 105, each individual skin easily packs down smaller than a 12-oz can. I don't have a single shell jacket where I can't fit the Clariden skins in the pockets — which isn't something I can say for a lot of my skins.
Glide
Another thing that has really impressed me with the Clariden skins is their glide. They glide more like a full-mohair skin than a mixed-plush skin. The Clariden skins are a joy to use on long, flat approaches and probably edge out both the Alpinist+ Glide and Glidelite Mix in terms of glide (though the difference is subtle).
Grip
As with most things in life, all these positive traits come with a tradeoff. The great glide of the Clariden comes at the expense of a bit of grip. I would say the Clariden grips about the same as the Alpinist+ Glide and the Glidelite Mix, but it doesn't match the grip of skins with more nylon in their plush. I've also noticed that, in icy conditions, the Clariden's grip declines more than on the Alpinist+ Glide and Glidelite Mix.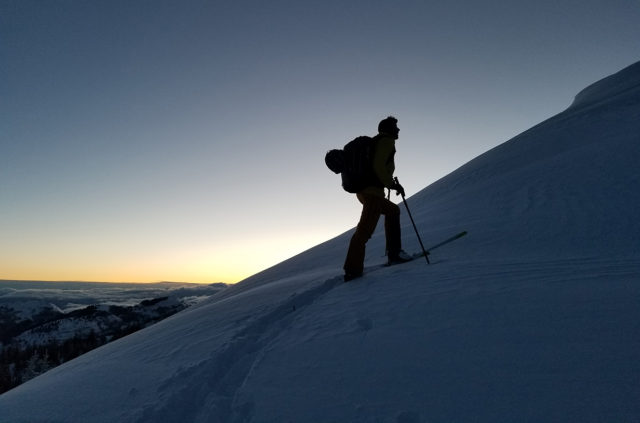 That said, the Clariden's slightly decreased grip hasn't been a big issue for me. I've used the Clariden primarily for ski mountaineering, so usually if things get too steep or icy, I'll be switching to bootpacking anyway. If you find yourself skinning a lot of icy 15-20° skin tracks, then a pure nylon option will probably be better.
Glopping
All skins I've used glop and the Clariden is no exception. I haven't experienced any unusual glopping though, and a bit of Glop Stopper wax can alleviate this.
Durability
After about 15 days of hard ski-mountaineering use, I haven't experienced any unusual durability issues with the Clariden. There are a few marks in the plush where I've skinned over rocks and other debris, and there is a bit of junk stuck in the glue, but nothing out of the ordinary. Like other mixed-plush skins, the Clariden skins won't hold up as well as a pure nylon-plush skin. But they should last a bit longer than pure-mohair options. I'll update this review if I run into any durability issues down the line.
Lastly, it's worth noting that, if the adhesive on the Clariden does eventually start to lose its stickiness, you can purchase a roll of Colltex's acrylate tape for ~$35 to easily re-apply the glue without having to apply heat like most skins with traditional glue.
Who's It For?
The Clariden is a great option for weight-conscious ski tourers and ski mountaineers. Its combination of low weight, excellent packability, and light-tack glue make for a very high-performance skin. If you live in a wet or warmer climate, you might want a skin with more secure glue or a higher-grip plush (check out several options in the "Touring Bindings & Skins" section of our Winter Buyer's Guide).
But for anyone who prioritizes low weight, packability, and glide over maximum grip or durability, the Clariden is a great option.
Bottom Line
The Coltex Clariden is lightweight, minimal, mixed-plush skin that performs excellently as a ski-mountaineering or standard ski-touring skin. Its combination of great glide, acceptable grip, excellent packability, and a light-tack glue make the Clariden a great option in colder, drier climates where the light-tack adhesive is often sufficient.