The winner of our Gear Giveaway this week will get a late-season spring touring prize package from BCA!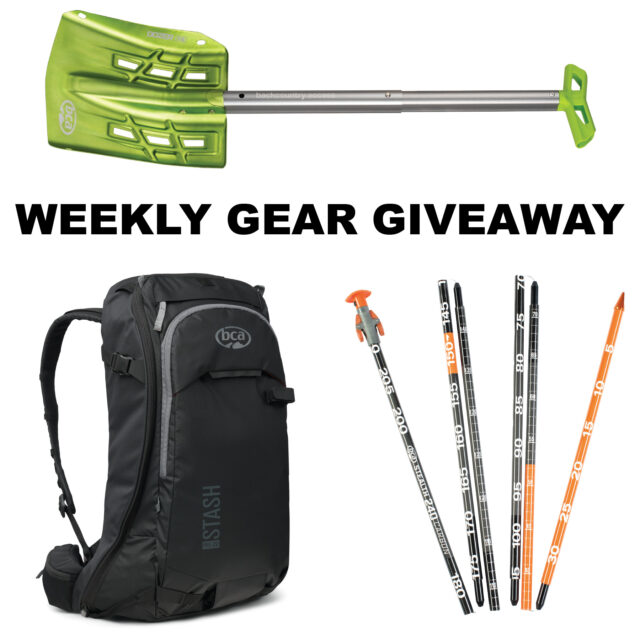 Up for grabs are the all-new Stash Pro 22L Backpack, Dozer 1T-UL Avalanche Shovel, and Stealth 240 Carbon Avalanche probe — a low-profile and lightweight package for those long spring days. Based on the feature set of the excellent Float E2, the new Stash Pro 22L features a slim design, full ski / board / gear carry options, back-stash routing, side-stash pockets, rugged-yet-light materials, and all the features you'd expect from a high-end pack. Paired with the lightweight and efficient Dozer 1T-UL shovel and Stealth 240 Carbon probe, this package is designed for low-volume, low-profile, lightweight travel through the mountains.
Enter below before Friday, May 12th for your chance to win!
(Winners will be chosen at random and announced next Friday in our Blister Newsletter. Must be 18 or older. This particular giveaway is limited to residents of the U.S.)
By entering, you'll receive our tri-weekly Blister newsletter, where we'll (a) announce each week the winner of our previous Gear Giveaway, (b) provide a roundup of the news and our highest-profile reviews of the past few days, and (c) offer sneak peeks of the products we're currently reviewing. It's good times for sure, so don't miss out. You'll also be kept up to date on what's new at BCA.