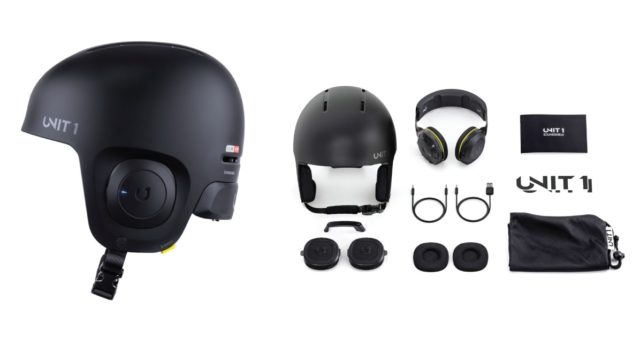 Unit 1 just this year released their latest helmet, which features an integrated pair of over-the-ear Bluetooth headphones. I recently started testing one, and so far, it's probably the best solution I've come across in terms of getting to bring your music with you on the slopes. The audio quality is much, much better than the aftermarket headphone inserts for helmets that I've used in the past, and the Unit 1 headphone's giant exterior button and dial make skipping songs, taking calls (with the integrated microphone), and adjusting the volume super easy — even with big gloves and mittens. And while you can blast the music when it's safe to do so, with the included thinner ear pads you can still hear some outside noise, so I'm less worried about not hearing something than I am when wearing in-ear headphones.
Plus, you can remove the headphones from the Unit 1 helmet to use them when you're not skiing, and you can use the helmet itself without the headphones. Swapping out / putting in the headphones is pretty quick and easy, and the helmet itself has been very, very comfortable (and is, of course, certified to the safety standard for snowsports helmets).
So if you've been searching for that perfect way to listen to music while skiing or riding, enter before Friday, December 20th for your chance to win!
(Winners will be chosen at random. Must be 18 or older.)
By entering, you'll also receive our bi-weekly Blister newsletter, where we'll (a) announce each week the winner of our previous Gear Giveaway, (b) provide a roundup of the news and our highest-profile reviews of the past few days, and (c) offer sneak peeks of the products we're currently reviewing. It's good times for sure, so don't miss out. You'll also be kept up to date on what's new at Unit 1.