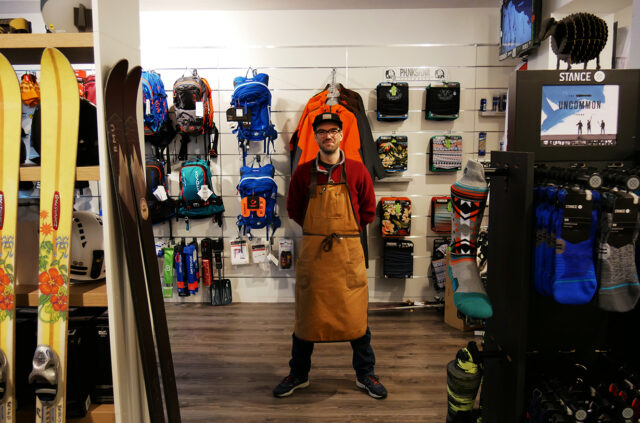 There aren't many freeride-focused shops in Europe, and there certainly aren't many as good as Black Sheep Sports in Munich.
The owner, Sebastian Steinbach, has created a shop that is the center of freeride skiing culture in Munich, with a dedication and passion for skiing, and a top-notch lineup of products on the shelves.
Sebastian has spent the last seven years cultivating a "ski gallery" of the best boutique freeride and touring skis from around the world. Skis from ON3P, Black Crows, DPS, Moment, Armada, RMU, Meier, Fischer, Caravan, Skevik, ZAG, Dynafit and Black Diamond are displayed like works of art as you walk through Black Sheep Sports.
But a massive and unique ski wall is not the only thing that sets Black Sheep apart. Every ski in the gallery is available to demo. Every. Single. One. That's more than 120 skis.
Sebastian is also a MasterFit-certified bootfitter and specializes in freeride and free-touring boots — each of which incorporates different materials and has different fit concerns than race boots. No race-oriented or big-box shop in Munich can match that expertise, and because of that, Black Sheep Sports fits boots for some of the biggest names in freeride skiing.
But one of the coolest things about Black Sheep Sports is the way they support and participate in the freeski community. They are one of the few remaining shops that maintains an amateur shop team — a group of athletes on the cusp of breaking out that contribute to the progression and evolution of our sport. Black Sheep also hosts movie premieres and other local events which all underline the common thread at the shop: the guys at Black Sheep love skiing.
At Black Sheep, you'll find an outstanding ski selection, excellent bootfitting, old-school customer service, knowledgeable shop talk, passionate employees, and … a fridge full of fresh Bavarian beer. Because according to Sebastian: you should "never trust a shop that doesn't have beer."
So check out Black Sheep, and tell them we sent you. Then let us know how it goes — your feedback is an important part of our review process to keep our shops list legit.