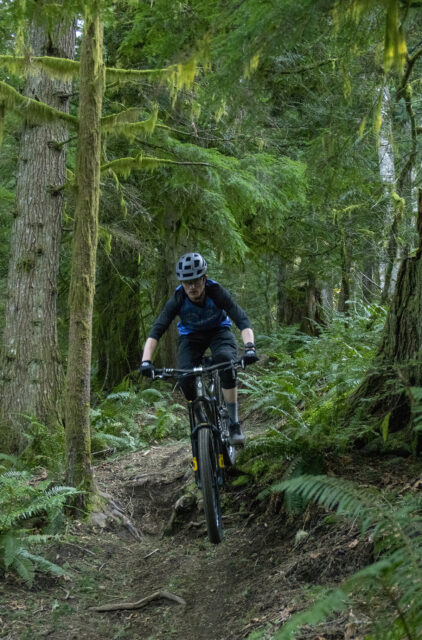 Age: 32 | Vitals: 6'0, 165 lbs | Years biking: 22 | Current Residence: Bellingham, Washington
I grew up just outside of San Francisco and started chasing my dad around on bikes as he dipped his toe into mountain biking back in the late 90s / early 2000s. After he brought me along as a spectator to watch him and his buddies at a few of the old 24-hour races, I was hooked (I took 2nd in the kid's hot dog eating contest at 24 Hours of Tahoe, thank you very much). My first real mountain bike was a 1998 Specialized Stumpjumper Comp hand-me-down, and my dad and I would pour over issues of Mountain Bike Action and do dawn patrol trail rides in the Oakland Hills before school. I nerded out with him over the latest parts and helped him tinker with his bikes, never afraid to try taking something apart to see how it worked.
Fast forward a few years and I gave both Cross Country and Downhill racing a shot at Sea Otter, but my heart was in freeride. I dabbled in some dirt jumping, which was mostly unsuccessful, but was happiest out in the woods building sketch features with improper tools, dropping stumps, and finding trail gaps. My whole world was rocked by a trip to Whistler at age 16 for Summer Gravity Camp, and I knew I had to end up in the Pacific Northwest. After working as a mechanic in the Bay Area toward the end of high school, I settled on the University of Washington as my college of choice, and despite knowing no one in the area, made it my mission to immerse myself in biking culture in the Northwest.
My deep involvement in highly competitive high school sports soured my appetite for competition, but I've continued to ride and explore around the greater Seattle area and beyond. I am most at home on steep, raw terrain, and after a few seasons of holding a pass at the Whistler Bike Park with a few friends, I've offloaded my downhill bike and generally like to earn my turns on the amazing network of trails throughout Western Washington and BC. I love working on bikes as well and find it to be an almost meditative experience for me.
I relocated to Bellingham, WA from Seattle during COVID, and am proud to call this incredible town home.
Some Favorite Bike Equipment:
Artisan steel frames, raw aluminum, burly brakes, ¾-length jerseys