Age: 40 | Vitals: 6'0″, 190 lbs. | Years Skiing: 36 | Current Residence: Girdwood, Alaska
Background
I grew up in Eagle River, Alaska and my parents had various kinds of skis on my feet well before I started kindergarten. Even before I was a teenager, my mind was always wandering to wild places and trying to figure out ways to go on adventures so I gravitated very early to backcountry skiing which, at the time (early 90's), meant that I was spending a lot of time in leather boots and telemark gear. Backcountry skiing was also a lot cheaper than buying lift tickets! Over the years, I started working summer jobs for some extra money and by my later teens I was putting in a lot of time riding lifts as well.
Alaska has always been home and will probably always be my favorite place to ski, but I've dragged a ski bag around various corners of the world and have enjoyed many cumulative months of ski adventures throughout North America, India, South America, Japan, and New Zealand. I absolutely love lift-served skiing but exploring wilderness mountain ranges via skis will always be my favorite. I love spending days or weeks living in tents in remote corners of the world chasing good terrain and conditions. In 2012 I was offered a job guiding heli skiing for Chugach Powder Guides (CPG) in Girdwood, AK. Shortly after that, I moved to Girdwood full time and have worked at CPG from February through April every year since. It's a different kind of backcountry exploration and comes with it's own challenges and excitement both as a skier and a guide, but I absolutely love showing people the Chugach every winter.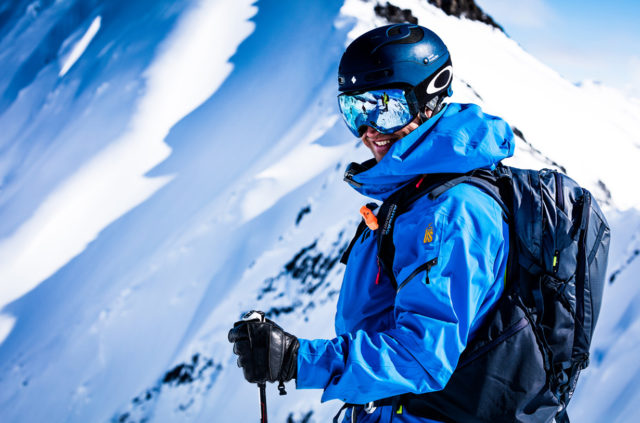 I spend the rest of the year working 7-10 day stints each month as a rural doctor, mostly in the arctic village of Kotzebue, Alaska. In the summer I love whitewater kayaking, which I've enjoyed since the mid 90's. I used to travel around the world pursuing new rivers but these days mostly just hammer out as many laps as I can on my local runs each week.
In the fall I spend as much time as possible living out of a backpack and tent, chasing various Alaskan big-game animals with my wooden longbow in some of the most remote parts of the state. In spring of 2019 my wife, Erin, and I welcomed our son, Ren, who is the most wonderful person I've met. We're looking forward to sharing our love of Alaskan mountains with him!
I started reviewing ski equipment for Blister around 2011 after meeting Jonathan Ellsworth in Las Lenas, Argentina. Jonathan's recollection is that the first time he ever saw me was when I almost killed him. My memory is that I was skiing fast (okay, maybe a bit too fast) above where he had grouped up with a couple of my buddies when I suddenly had a prerelease of my downhill ski after hitting a funny compression. I careened toward the group on the outside edge of my uphill ski and hip checked into the snow right before colliding with them all. I suspect that Jonathan was impressed that I was so dedicated to gear testing that I risked my life (and his) finding the limits of my bindings and felt that he had to offer me a position reviewing ski gear. It's been super fun working with him and the Blister crew ever since!