Open Mic is the series on BLISTER where we invite various people in the outdoor industry to say what they have to say, and share whatever it is they feel like sharing at this particular point in time.
Today, we hear from Brendan Leonard: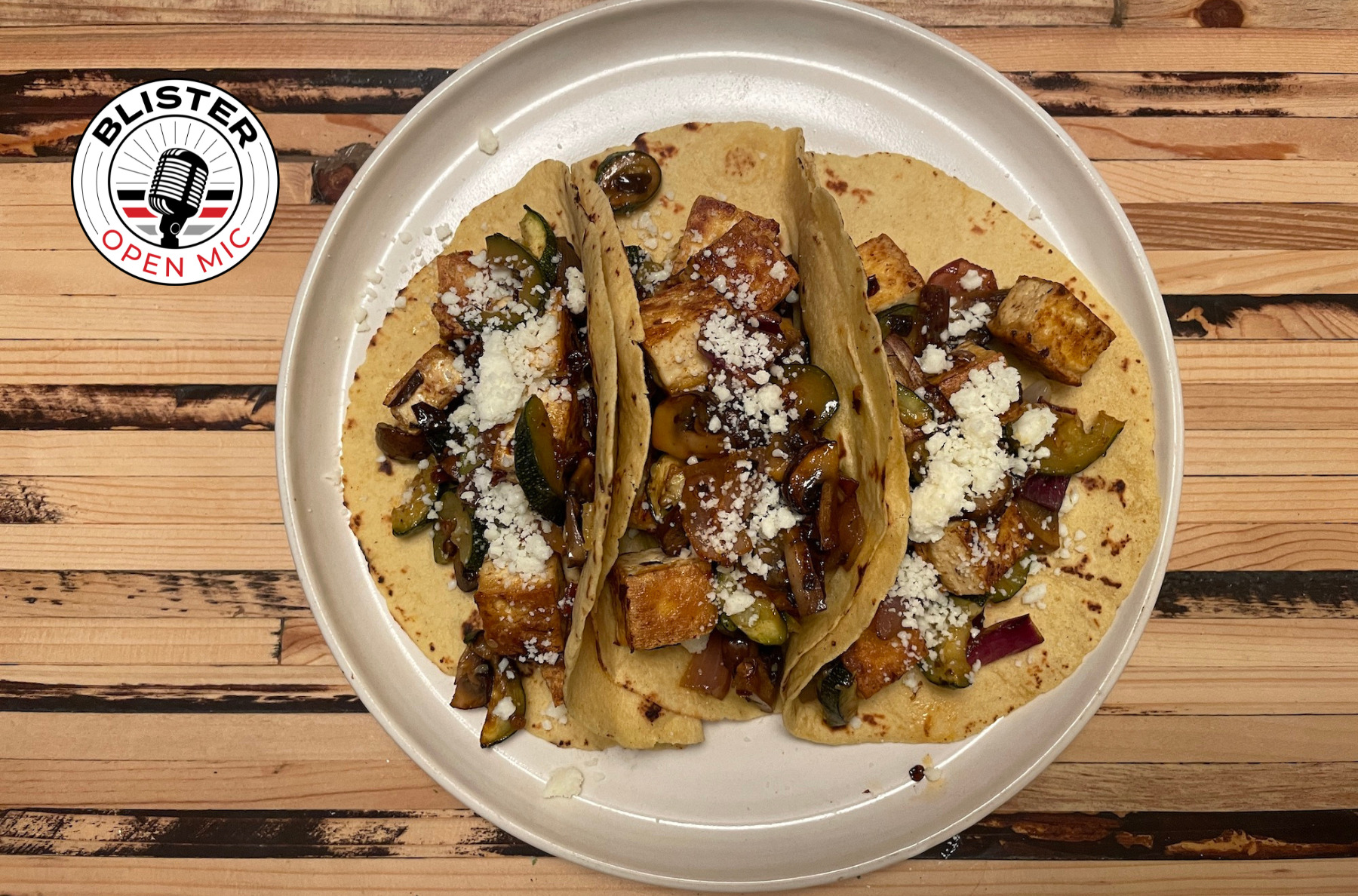 My friend Greg was at a gas station one day a while back, filling up the tank of his Honda Ridgeline, and he heard a kid across the parking lot say, "Dad, is that a real truck?" Greg looked over to see the kid pointing at him and his Honda Ridgeline, and to hear the dad, who was also looking in Greg's direction, say to his son, "Nah."
This was in Montana, where I live — Missoula — which, as one joke goes, "is only 15 minutes from Montana."
INGREDIENTS: CHIPOTLE-ROASTED VEGGIE TACOS
1 zucchini
1/4 large red onion
10 ounces cremini mushrooms
1-2 chipotle peppers in adobo sauce
7 tablespoons olive oil, divided
1 teaspoon kosher salt
4-6 tortillas, corn or flour, or corn/flour mix
1 14-ounce box extra firm tofu
¼ cup Cotija cheese
roasted pumpkin seeds (optional)
The joke about Missoula being "only 15 minutes from Montana" is saying that since Missoula is a bit more liberal, or weird, or whatever, is not really Montana. Rockin' Rudy's, a local music and gift shop, has been selling a t-shirt that says "Missoula: A Place. Sort Of." for at least 20 years now, or as far back as my history with this town goes.
DIRECTIONS:
1. I of course moved here the first time from somewhere else — from Iowa. That was 21 years ago now. Back then, as now, some people would identify as "fourth generation Montanan" or "fifth generation Montanan." My first neighbor here in 2002, a guy named Brandon, who lived next door to me and who I'd chat with every time we were both out on the steps smoking cigarettes, which in those days was about once an hour, was from Browning, Montana. Brandon's family was Blackfeet tribe, which I guess means they'd been in Montana since the 17th century, so I guess Brandon was probably like a 10th or 11th-generation Montanan, but he never really said.
Press the block of tofu to remove the water for at least 30 minutes before you start cooking. Preheat your oven to 450 degrees Fahrenheit.
2. Our son, Jay, was born in Missoula last summer, which makes him a native Montanan. A real Montanan, though?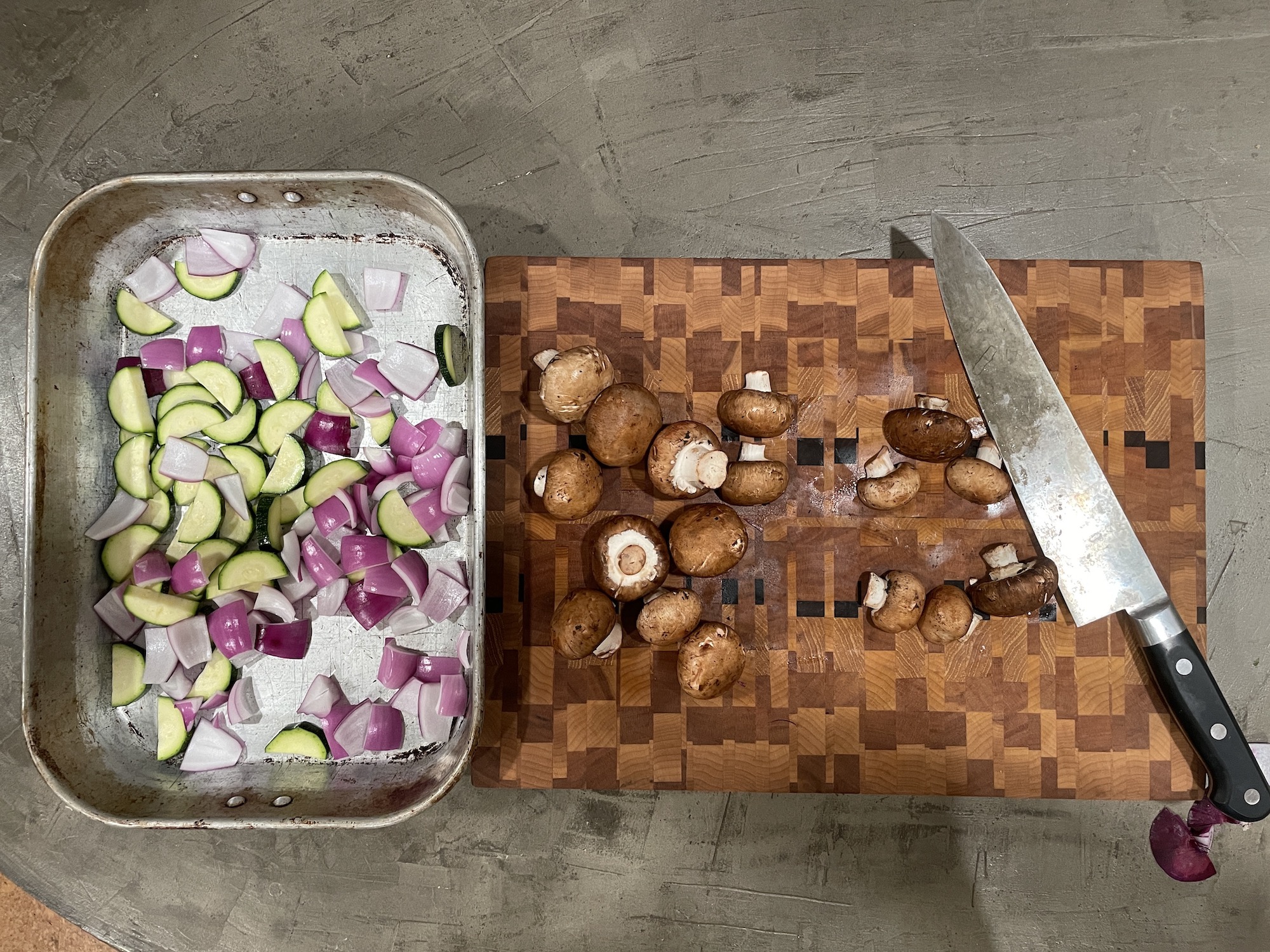 Slice mushrooms, slice zucchini, and cut 1/4 of the onion into 1-inch chunks. Place the vegetables in an 11 x 13 pan.
3. When I lived here the first time, for graduate school, I got a tattoo on my chest, in the same script that would be printed on a nametag for an industrial work shirt, like the kind I wore at a couple summer jobs when I was in college. The further I get from those times, the more those jobs — dishwashing, building road construction signs and barricades, working on an assembly line in a factory, bartending — feel like "real jobs," compared to what I do now, which is making stories out of words and images. That tattoo I got, in the font that's supposed to look like a nametag, says, "Writer." Which is what I wanted to be more than anything when I got here in 2002: A real writer.
Pull one or two chipotle peppers out of the can and mince them. Scrape the chipotles off your cutting board, retaining as much adobo sauce as possible and put them on top of the vegetables in the 11 x 13 pan. If possible, take a small spoon and add 1-2 spoonfuls of adobo sauce from the can to the vegetables as well. Pour the 5 tablespoons of olive oil over the vegetables, add the kosher salt, and mix everything well. Spread the vegetables into an even layer and roast them in the oven, uncovered, for 25 minutes (you don't need to stir them after they go in the oven).
4. After I finished grad school here in 2004, I worked full-time jobs while trying to get a freelance writing career going. I worked at a couple small newspapers, a nonprofit, and as a copywriter for a tech company, all while learning how to explore the mountains and write stories about it. From 2004 until 2011, only a few of those stories got published, despite my dogged efforts. When people asked me what I did for work, I told them my job title, wishing I could just say "I'm a writer." But I didn't feel like a "real writer" when I spent most of my working time doing other things, and my writing only comprised a small part of my annual income, which was also small.
Pan fry tofu while vegetables are roasting. Cut the tofu into cubes 1/2 inch or so. Heat a nonstick or cast iron pan on medium-heat for a few minutes, until a drop of water sizzles on the surface. Add 2 tablespoons olive oil to skillet and fry tofu cubes on one side until golden brown, then flip using a fork or chopsticks (or your fingers if you're brave/dumb) and fry to golden brown on the other side. Remove from heat.
5. In 2012, I finally quit my last safe day job to make a go of it as a full-time writer. I squeaked by for a while, then finally hit a stride and brought in enough money to not worry if I was going to be able to pay my next cell phone bill. I still remember the first time someone asked me what I did for a living, and I said, "I'm a, uh, writer," sheepishly, watching the person's reaction to see if they'd believe me, because I only believed it about 40 percent.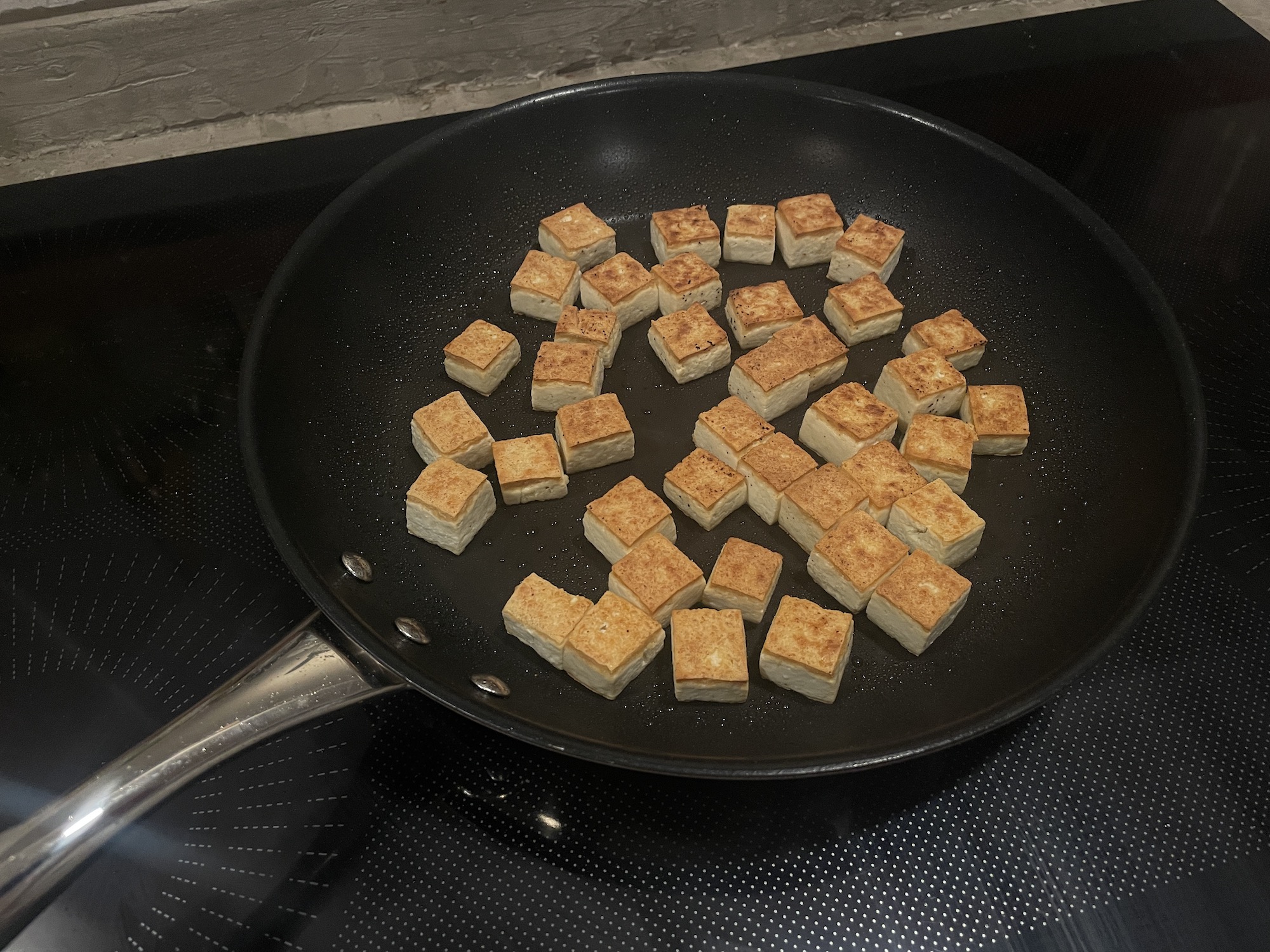 Take your block of cotija, and, using a spoon or butter knife, scrape off roughly a 1/4 cup of crumbles and set aside.
6. I got to write about rock climbing, even though I never felt like I climbed hard enough to call myself a "real climber." Mostly I write about mountain and ultra running now, even though I'm definitely not fast enough to feel like a "real runner." I've even gotten paid to write about skiing, even though no one who has ever skied with me would call me a skier. I've been making a full-time living as a creative storyteller since 2012, and my life just feels like a collection of side gigs and money-making schemes that don't make that much money.
Sometimes when people ask what keeps me motivated to keep hustling and creating, I tell them I am just trying to avoid having to get a "real job." Although I consider it at least a few times a month. I read an interview once where Maya Angelou talked about how, even after writing 11 books, she still had impostor syndrome, like she wasn't a real writer, either.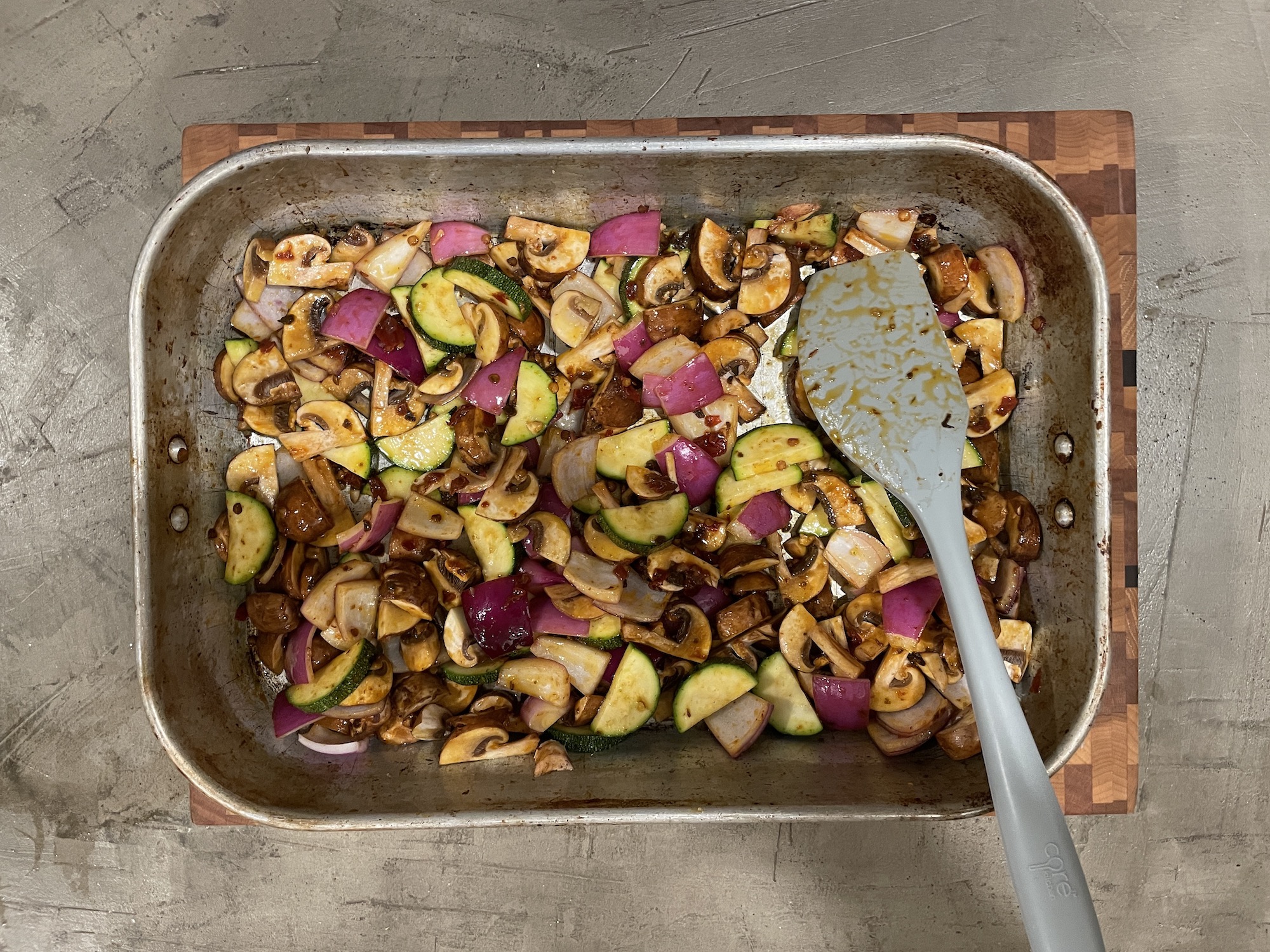 When the vegetables are finished roasting, take them out of the oven and stir them, making sure the sauce is evenly coating everything. Add the tofu to the 11 x 13 pan, and carefully (so you don't break the tofu into a million pieces, stir it into the vegetables so the tofu gets coated in sauce too.
7. I started cooking a lot during the pandemic. We'd moved to Missoula, which does not have the sizable restaurant scene of our old hometown, Denver, where we had our pick of "authentic" Mexican, Ethiopian, Thai, and Indian restaurants. Authentic, of course, being a synonym for "real." So I started getting really into cooking at home, so much so that if my left fingers stopped smelling like garlic because I hadn't chopped any in a few days, I'd be a little sad. Late last year, I started making a concerted effort to create a bunch of "inauthentic" taco recipes, not because I have anything against authentic Mexican food, but because when you're a white dad who's a vegetarian, the authenticity of your Mexican-inspired recipes only goes so far, and you might as well get in front of the joke. One of the recipes includes barbecue tempeh and french fries, another kimchi and tater tots, and then there's this one, which might be as close to an authentic taco recipe as I've gotten on my own.
But are they "real tacos"? I mean, if you google it, the definition of "taco" is pretty wide-open. The word actually comes from the Nahuatl word "tlahco" which means "half or in the middle," which is where the taco ingredients are held in a tortilla. If you've followed the recipe this far, though, maybe the better question is, "What's 'real' anyway?"
Warm tortillas on a hot, dry, nonstick skillet or griddle. Add vegetables and tofu, and garnish conservatively with cotija (too much and it will overpower the flavor of the entire taco). Optionally, if you'd like a little crunch, add a couple dozen roasted pumpkin seeds to each taco.