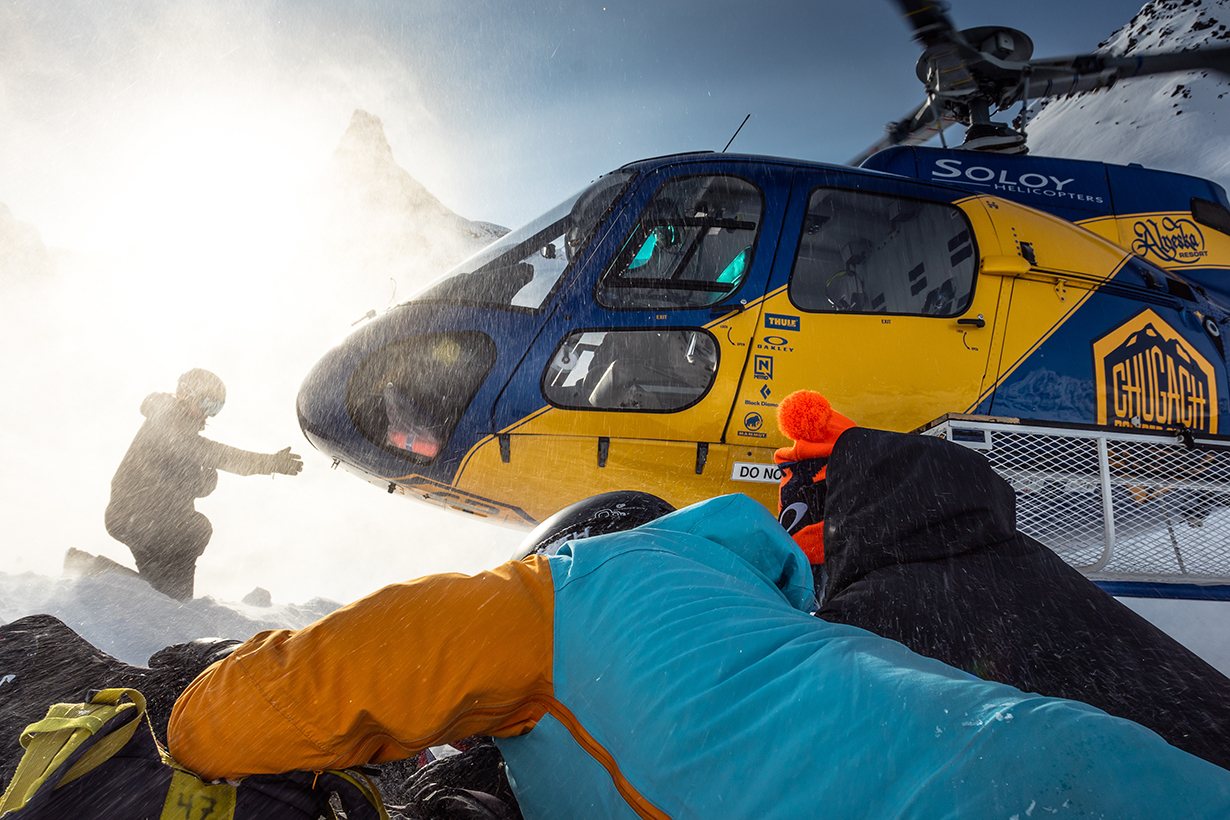 NOTE FROM JONATHAN ELLSWORTH:
On April 8th, I'm heading to Girdwood, Alaska, with a great crew of terrific people — several friends / Blister members, plus Folsom Custom Skis owner, Mike McCabe — to ski with Chugach Powder Guides and have my good friend and Blister reviewer, Paul Forward, serve as our lead heli guide. Paul and I have been talking about this trip for over a decade now, and I can't believe that it's finally happening.
So please enjoy Paul Forward's excellent primer on heli-skiing in Alaska, and let us know what questions you'd like Paul to address in future articles on the topic.
With Jonathan, Mike McCabe, and several Blister members coming to Girdwood to ski with me and Chugach Powder Guides, I thought it would be good to offer some advice on planning for a heli-ski trip in AK.
I've been a full-time guide at CPG for 11 seasons, and I still love showing people what I think is some of the best skiing and most beautiful mountains in the world. Here are some tips that might make your trip a little smoother.
Note: The information below often uses the term "skis" or "skiing," but we take a ton of snowboarders and some of our guides ride more than they ski. There is no bias against boarders here at CPG!
Before you get here:
FITNESS
Life Happens. And I see guests every year who thrive here despite not having a lot of ski / riding days for the season. But for the most part, people who have put in some long days on the hill before their arrival have the most fun. The runs here can be long, and even though we're looking for powder, when we're out in big mountains we can encounter just about every kind of snow all in the same run. So having your ski legs goes a long way toward enjoying the day and preventing injury. I.e., log as much off-piste vert as possible before you get here!
GEAR
Since this is Blister, I'll do a bit of a deep dive here:
Your Clothing System
Any time during the heli season here can either be cold (sub-zero Fahrenheit) or pretty warm (40+F at the tops of the runs) with the likelihood of really cold temps decreasing as we get into late March and April. So come prepared for that full spectrum of temps. Your guide can clue you in to what to bring for any specific day in the mountains, but it's nice if you have a good selection of layers in your room to choose from each day.
Also remember that we're out in the big mountains and high glaciers, and there are times when we might be sitting still for up to an hour waiting for heli shuttles, fuel runs, or having lunch. A puffy in your pack to put on while waiting is never a bad idea.
I'm not sure how they do it at other operations, but at least at CPG, the only place for you to bring extra layers, cameras or other personal items is in your own backpack. There is no storage available for your stuff in the helicopter.
Backpacks
At CPG, we require everyone to wear an airbag backpack. The use of our airbag packs is included in all heli-ski bookings, but guests are allowed to bring their own airbag packs if they would like.
If you do bring your own pack, expect your guide to double check with you that you know how to activate and deactivate it, and to check your canister / battery to make sure everything is working. Ultimately, though, if you bring your own pack, it is your responsibility to make sure it's well maintained and functional.
My advice is to use our avalanche packs. We have nice, light, low-profile packs (a variety of Mammut and Dakine) and we maintain them throughout the season. They are just big enough to stash a water bottle and an extra layer, but not so big that you'll be tempted to carry more weight than you should. Remember, light packs are way more fun to ski with!
Perhaps more importantly, heli-skiing is hard on gear, and particularly backpacks, which get crammed into the cargo basket with the skis and snowboards. Our packs are constantly getting torn up, with broken zippers and straps being fairly common. So if you really want to use your personal pack, bring it on up, but most experienced guests let our packs take the abuse.
Harnesses
Alaska heli-skiing involves spending time on glaciers, so we wear lightweight, low-profile harnesses for all heli-skiing, in case of the very unlikely event of a crevasse fall. As with the backpacks, even if you have your own harness, my advice is to just use ours and let them take the wear and tear. Also, despite what you might have seen in videos, most ski guides I know ski without "dangly bits" like ice screws, carabiners and runners hanging off their harnesses. My advice (for a variety of reasons) is to maintain a clean, low-profile harness with nothing attached to it.
Beacons
All guests are required to ski with a beacon at all times. This is the one place where I think it's fine to use your own beacon if you have a strong preference. It's very unlikely that you, especially as a guest, will ever be involved in a beacon search, but if you have skill and experience with a particular modern, three-antenna, well-maintained beacon, I think it's totally fine to bring it. Double check your batteries before your first day. If in doubt, or you just want to keep things simple, use our beacons for your trip.
SNOWBOARDS
Sadly, I am not a snowboarder, and I'll defer to our snowboard reviewers here, but most of our guests seem to have the most fun on powder-specific snowboards. If you have any questions about what board(s) to bring to CPG, send me a message, and I'll put you in touch with guides who can help you. We do have a full quiver of rental boards from Nitro.
SKIS
Picking skis for AK heli-skiing is something I could talk about all day — and often do! I have written ad nauseam about my heli-ski choices over the years here at Blister, and if you want to dive into that, I recommend starting with my Deep Dive articles of the Folsom Rapture or Faction La Machine Max, and going from there. I'll also be adding some more comparisons in our soon-to-be-published Deep Dive of the Black Crows Nocta, but for now, you can read my full review of the Nocta.
In general, even very experienced powder skiers are surprised that their usual 110-115mm powder skis start to feel pretty small up here. I can't begin to count how many guests and guides who show up with their usual "Resort Pow Skis" — like a Moment Wildcat or Blizzard Rustler 11 — end up asking to demo some of our fatter and / or longer skis. Of course, there are plenty of exceptions to that, and most of the pro skiers that come here to film are on their usual 115-120mm skis. But in general, most of our guests do much better and have more fun on big, rockered 120+mm skis, usually in a length longer than the "all-mountain" skis they use back home.
If in doubt, ask your guide or the reservations office prior to your arrival at your AK heli op whether they think your ski choice is appropriate. If you've heli-skied in Alaska a bunch before and you know that what you have works for you, by all means bring whatever you like. If you haven't heli-skied in Alaska before, you might find that the skis you love at your home hill on powder days — even if that home hill is Alyeska here in Girdwood — might not be the best possible tool for a big day in the Chugach mountains. If you're coming to CPG and you're a Blister Member, send me a message, and I'll be happy to give you specific advice.
As above with the other gear, there are some benefits to using rental gear from your heli op. Most likely, the operation has curated the best available skis and boards, and can dial you in from their in-house rental program. At CPG, we've most recently had good success putting a lot of our guests on K2 Reckoner 122's, but we have a variety of skis available from K2, Blizzard, and Volkl to suit the needs of most skiers.
It's also worth noting that even in the super-deep snowpack of the Chugach, we still sometimes negotiate rocky ridges, and the skis can experience some abuse. So, as with backpacks, you can use our stuff and let it take the hits instead of your personal gear.
You should be aware that rental skis are going to come with rental bindings. The vast majority of all skiing done by Blister reviewers is done on demo bindings (so that we can adjust the mount points on skis when we feel the need to), and I feel that they are reliable and safe. I also personally can't think of a single time when one of our CPG rental bindings didn't perform as it should, and the bindings are always set up by experienced ski techs. But some skiers feel uncomfortable in big terrain on demo bindings.
So if you don't want to ski on demo bindings, definitely bring your own skis.
ALPINE BINDINGS
If you're bringing your personal skis and you have some options to choose from, opt for skis with dedicated alpine bindings. Despite being as careful as we can when loading the cargo/ski basket, stuff in there still takes some abuse. In my experience, alpine bindings hold up the best, and are much less likely to develop any issues while out heli-skiing. Also keep in mind that you're often putting on your skis in deep snow, or uneven snow, so being able to quickly and reliably click in without much fuss is a boon to you and your group.
I've had plenty of people in recent years bring Salomon / Atomic / Armada Shift bindings and Marker Duke PT's, and they seem to do fine. But I personally think that when getting beat up in the basket day after day, these might be more likely to become a liability than most alpine bindings. I don't know of any guides who ski on these types of hybrid bindings, but if that's what you have for a week of skiing, they would be fine as long as you keep an eye on them for damage or inadvertent adjustment (as you would with any binding).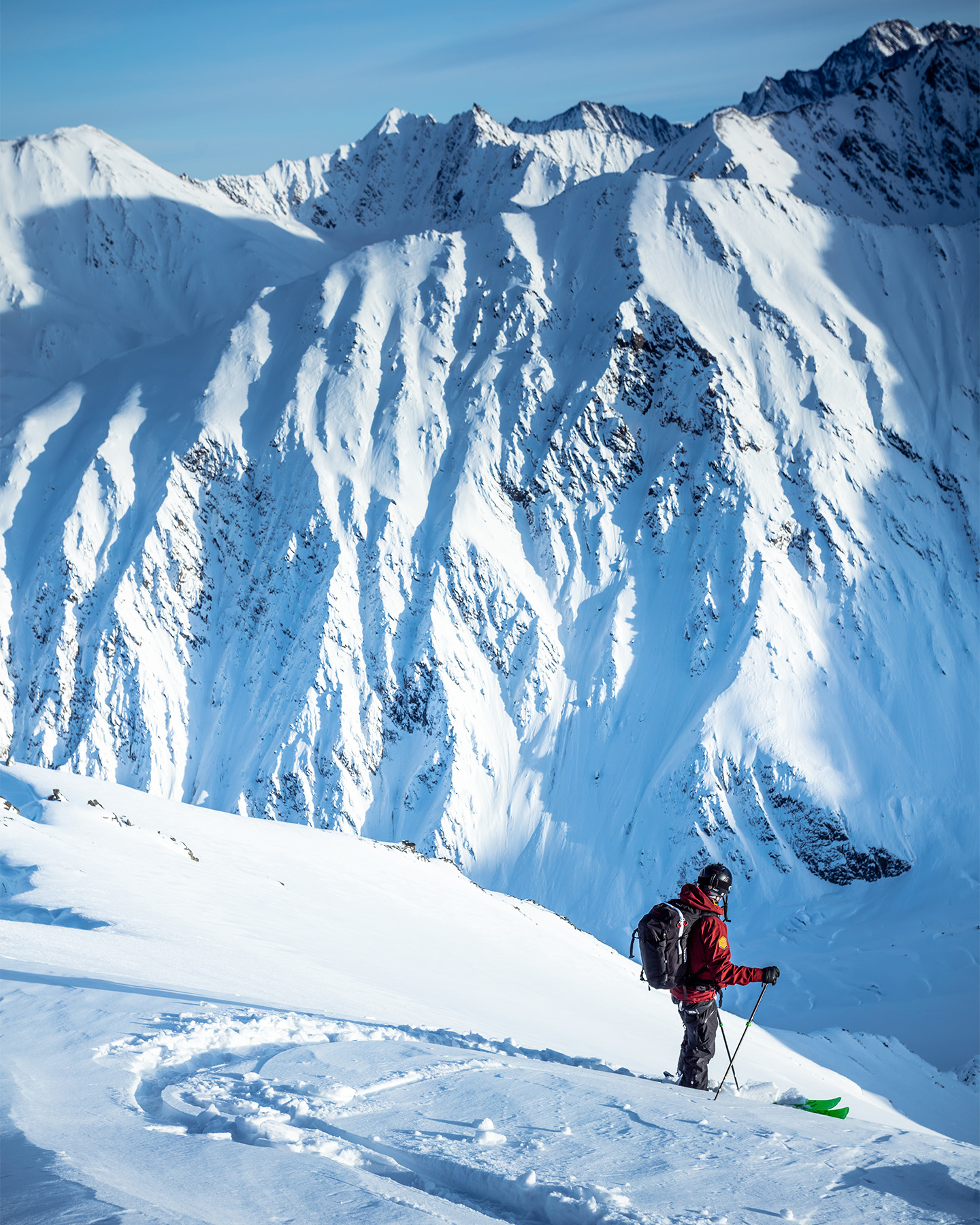 TECH BINDINGS
If at all possible, don't bring your pin-tech (low-tech, Dynafit, etc…) heli-skiing. I've had some incredible skiers absolutely crush it when heli-skiing on pin bindings over the years, but in general, I think they are a liability for a variety of reasons.
First, they are definitely more susceptible to damage in the basket when getting loaded in with four other heavy pairs of alpine skis and a bunch of backpacks.
Second, the brakes on most tech bindings are not nearly as effective as those on dedicated alpine bindings. If you kick a ski with most tech bindings, you increase the chances that the ski will take off without you.
Third, and most importantly, heli-skiing is different than most other skiing scenarios in that you are repeatedly climbing out of a relatively warm helicopter into cold snow. This creates prime conditions for icing up of the tech fittings on the toes of your AT boots, as well as the fine-tolerance parts of the bindings. And this can create issues with getting the bindings to work properly. Without question, I have seen far more pre-releases with tech bindings while heli-skiing than in any other ski context.
BOOTS
Most people bring their own alpine boots, and that's a great choice. Here are a few things to think about:
Warmth: The vast majority of skiers do great with their usual alpine boots. But compared to most resort-skiing scenarios, we spend longer days in colder conditions, and much more time standing in deep snow. If your feet get cold while resort skiing in moderate conditions, you might want to look into ways to keep your feet warm while heli-skiing.
Personally, I have transitioned to having "guide boots" that are a little higher volume and that incorporate thicker, warmer liners for heli-skiing compared to my preferred low-volume, high-performance fit, lift-served boots. That said, if I was just coming up for a week of heli-skiing, I would be perfectly fine with my performance-fit boots in all but the coldest conditions. I do use insole toe heaters (Thermic) for heli-skiing, but have never really needed them for lift-served skiing. Resist the temptation to wear thicker socks. If your boots fit well, thicker socks will only decrease circulation.
Binding Compatibility: Since you're reading this Blister article, you're likely the kind of skier who is very aware of the changing binding / boot norms out there. But it's still worth a mention. Most modern rental bindings will accept standard Alpine soles and Grip Walk soles. At CPG, we also have an increasing proportion of our skis set up with MNC (multi-norm-compatible) bindings that will also accommodate most ski touring boots. If you're traveling to a heli- or cat-ski operation and plan to rent skis, it's worth checking in with the operation to make sure they have bindings that are compatible with the boots you're bringing.
WEATHER
One of the reasons that the skiing is so special here is that we get a ton of snow, and it sticks onto all kinds of crazy mountain features. The downside, for some heli skiers, of getting all that snow is that snowstorms make aviation more difficult, and you could end up with the dreaded "down days." The reason I'll always work and live in Girdwood compared to other Alaskan ski spots is that, in general, if it's snowing too hard to heli ski, I can go ski at Alyeska Resort, or put my guests in the snowcat for some fun tree skiing. That said, we're all here for the heli-skiing, and sometimes, it's just not possible to get out. I know most of this is really obvious, but I think it's worth stating: your guides and pilots really, really want to get out there skiing, too, and we totally understand how frustrating it is when we can't fly. Trust me when I say that our incentives are very much aligned and we're always going to do everything we can to take you heli-skiing. Unfortunately, sometimes that's not possible to do safely, no matter how much we've sacrificed, saved, spent and waited to get out there.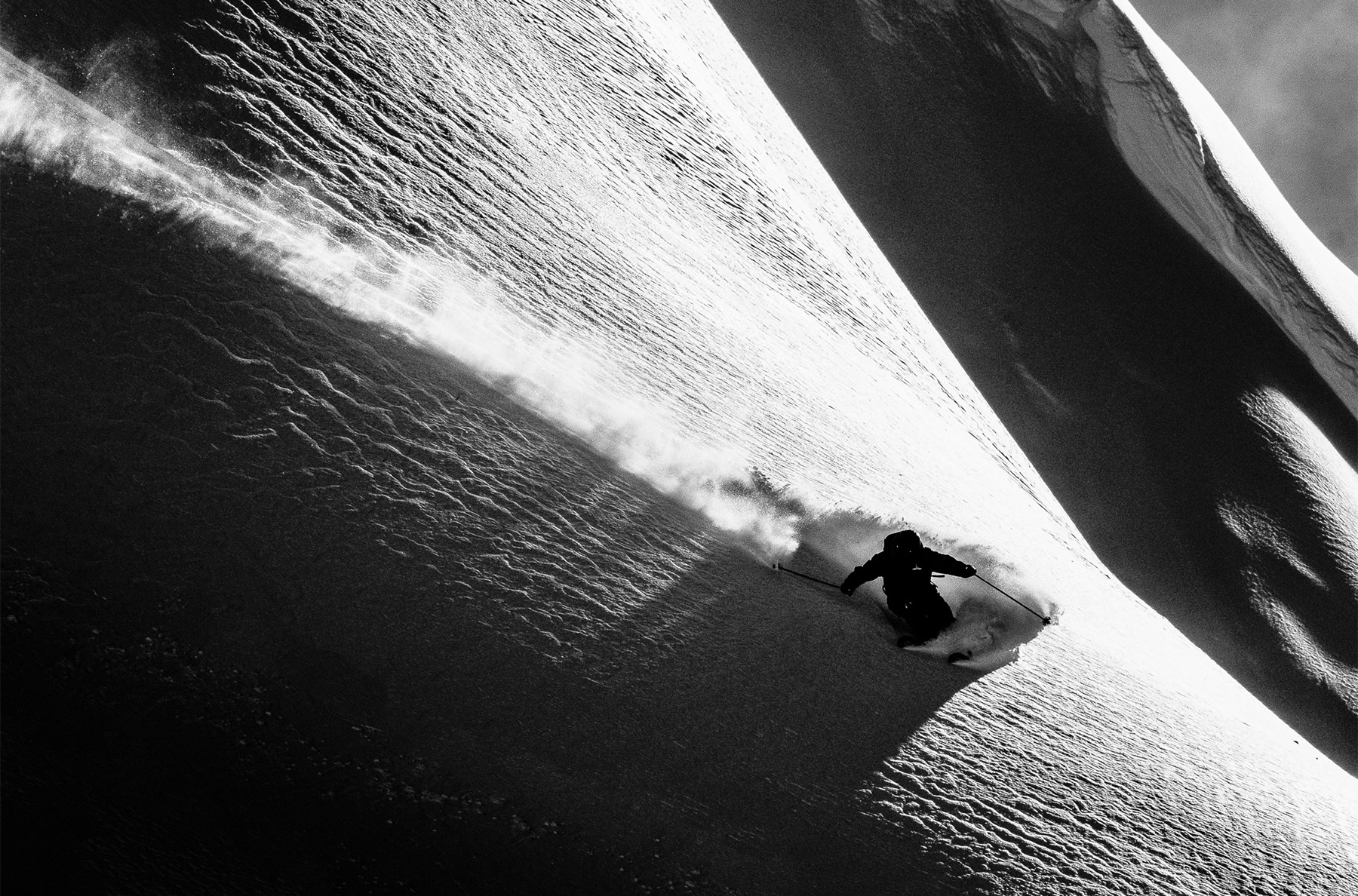 "THE STEEPS"
A lot of people come to Alaska primarily looking for great snow in beautiful places. Others show up hoping to ski the biggest, steepest terrain of their lives. If you find yourself more in this latter category, you should know that your guides are more than happy to take you to that terrain when possible. Just like you, we love to ski that stuff, and for many of us, being able to get on that terrain is a highlight of our lives, too!
That said, skiing big, steep, technical lines in Alaska — like the ones we've all seen in ski movies — can be a really involved process. When film crews come to Alaska, they often come for multiple weeks with large amounts of reserved private-charter heli time. They come prepared to put in the time, and they work their way up to skiing the kinds of lines we dream about. We've guided many film crews over the years, and I could talk for a long time about the kind of work that goes into making what you see on the big screen. There is a lot more to it than what you see in most ski movies.
But sometimes … everything lines up and we can take our guests or athletes onto big terrain right away. But if we don't get to go straight to the steeps, it's definitely not because we don't want to. It's a complex process to get people into big terrain, and sometimes not all the variables come together.
So if you're lucky enough to be here when weather and avalanche stability lines up and you have the desire and skill to get on big stuff, we're more than happy to take you there. But again, a lot of it comes down to luck and timing. Still, there are few things you can do to increase your chances of getting to do some bigger runs while you're here, like:
(1) Show your guides that you are paying attention and following instructions. As guides we are very tuned in to our guests. If we say "stay left of my track," it's not because we're trying to "farm" or "save" snow. It's usually because we want you to stay on a certain part of a slope to avoid hazards such as rocks, crevasses or other avalanche exposure. If we see you "zoning out," not following instructions, or "going rogue," it's a lot less likely that we're going to be able to step up to more consequential or demanding terrain.
Please pay attention to instructions from the time we pick you up until we drop you back off at the hotel. Even with every precaution of a professional operation, there are a lot of inherent dangers of using helicopters to access and ski big mountains and glaciers. If you're tuned in and a good team player out there, you'll definitely increase your chances of getting a swing at some big lines since that's a super important factor of everyone's safety.
(2) Ski within your ability level. We've all seen the pro skiers straight lining 45+ degree faces and jumping off of huge cliffs in Alaska, and that stuff is super inspirational and cool. I love to ski fast in big terrain as much as anyone, but that's not always the best strategy up here. Show your guides that you can stay in control of your skis or snowboard in all situations, and you're more likely to be able to ski the big stuff than if we see you constantly on the brink of control.
(3) Bring like-minded friends with similar abilities and desires. The backseat of an A-Star helicopter can fit four guests (or three guests and a tail guide, but that's just for single-load private charter, which is a possible topic for a future article). If you bring friends who have different desires or abilities, we will always focus on making sure that we are on terrain that is acceptable for everyone in the group.
(4) Be flexible and stay as long as you can. It's certainly possible (and surprisingly common) to come here and have the best skiing of your life with a couple days' bookings. But if you ask any experienced heli skier, they will tell you that the longer you are here, the better your chances of scoring those special moments.
My absolute favorite thing about heli-ski guiding is watching people ski terrain that just blows their minds — whether that's the steepest thing they've ever skied, the best pow of their lives, or just a day in one of the most beautiful places on the planet. It's incredibly cool and satisfying as a guide to watch someone shred some big, steep line or experience some other "best skiing of my life" type of moment. In fact, it's not that unusual for someone to declare after a day of heli-skiing that it was the best day of their life, period! So if you're thinking of coming and it seems possible for you, I highly recommend that you give it a try.
I'm sure there are some questions after reading this about group size, group dynamics, and the kinds of heli-skiing you can purchase (e.g., Private Charter vs Day Skiing and the various nuances and variations of those). Some of these might be good topics for future articles on heli-skiing, so let us know below what questions you might have.