2019 Pivot Mach 5.5 Carbon Live Valve
Size Tested: Medium
Geometry: Here
Build Overview:
Drivetrain: Pro XT/XTR
Brakes: Shimano XT
Fork: Fox Factory FIT4 36 Live Valve
Rear Shock: Fox Factory Live Valve
Wheels: Reynolds Blacklabel Enduro w/ Industry Nine hubs
Wheels: 27.5″
Travel: 140 mm Rear / 160 mm Front
Blister's Measured Weight: 28.6 lbs (~12.9 kg) without pedals
MSRP (as tested): $9799
Reviewer: 5'10"; 165 lbs; +1.5 Ape Index; 31″ Inseam
Test Location: Gunnison, CO
Duration of Test: 3 Months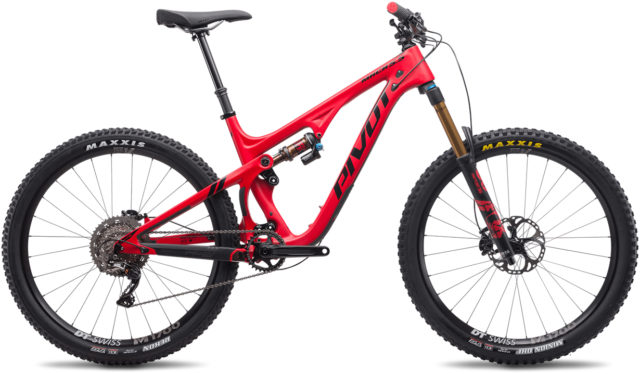 Intro
Pivot has a pretty expansive Trail / All-Mountain / Enduro / whatever-you-wanna-call-it lineup. There's the Trail 429 (120 mm rear travel); Switchblade (135 mm); Mach 5.5 (140 mm); Mach 6 (155 mm); and the Firebird (160+ mm).
But with so many options to choose from, it can be confusing when trying to figure out what sets each bike apart from the other (apart from arguably subtle differences in travel).
So, where does the Mach 5.5 slot, and what sets it apart? I'd argue that there are a few key things.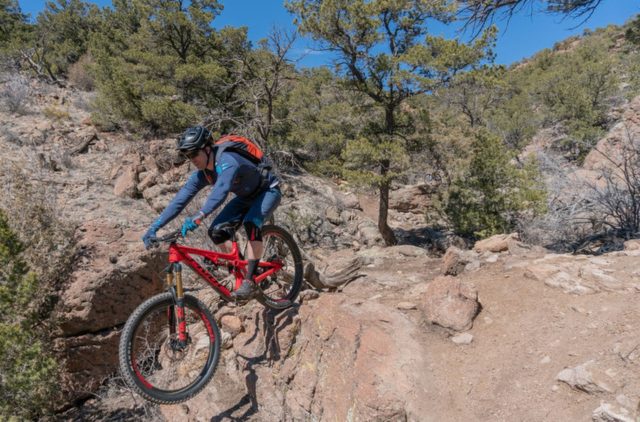 The Pivot Mach 5.5 comes from the factory with 160 mm of travel up front and 140 mm in the rear, and was designed around this geometry and travel. By deliberately using more travel up front than in back, Pivot has capitalized and improved upon something consumers often choose to pursue as an aftermarket upgrade / augmentation, and there are benefits to getting it delivered straight out of the box.
Over the years, some of my favorite bikes have been those that might be considered "over-forked" — they had more travel in the fork than in the shock. These bikes typically reward a rider who doesn't mind trail feedback, is a competent bike handler, and is looking to be on the pedals / gas regardless of slope angle.
While this sort of calling card might be the defining feature of many a bike build, another important aspect of the Pivot Mach 5.5's identity and no small part of what helps to make it as versatile as I found it to be is Fox's Live Valve suspension system. It's legit. And a bike like the 5.5 is the right kind of platform to apply this magic suspension voodoo. The ability to dramatically change your ride characteristics with the push of a button further helps to flip the script on what you can reasonably expect from a bike like the Mach 5.5 to do.
The Frame
The Mach 5.5 is currently only available as a carbon frame, and is built around Dave Weagle's DW-Link suspension platform. The DW-Link has been around for years and has gone through a number of updates and revisions over its lifespan, and the result is a suspension platform that does an admirable job of finding a balance of both pedaling efficiency and terrain-tracking descending prowess. For more on suspension designs, check out our Suspension 101 article.
And we might as well get it out of the way now: this red frame is sexy.
The frame is also water bottle compatible, Di2 compatible, front-derailleur compatible, has a low standover height, modern but not boundary-bending geometry, Boost 148 spacing, and XS through XL sizing. In other words, the Mach 5.5 is a bike built around being something of a generalist, a mountain bike for the masses. I think it can accommodate a huge range of riders, styles, and trail conditions without feeling like the wrong tool for the day.
Coming in as light as 5.2 lbs (2.35 kg), the Mach 5.5's frame weight is competitive. Pivot's factory builds for the Mach 5.5 can be under 27 lbs (12.2kg), depending on spec. It can fit up to a 2.6" tire, and does so with sufficient clearance to handle inclement weather and the mud that follows. And as I noted earlier, you can get the Mach 5.5 spec'd with Fox's Live Valve suspension, which I'll say more about below.
Molded rubber guards provide good coverage and protection throughout the Mach 5.5's frame. Pivot utilizes internal cable routing and a clever cable tension / retention system at entry and exit ports for easy installation, a clean look, as well as preventing noise from cable-slap inside the frame. Enduro Max bearings are used throughout pivot locations to ensure long life and no play.
But most importantly for a bike that is built around the idea of running a big fork up front and less travel in the rear is the frame's "trail feel." I found the Mach 5.5 to strike a great balance of stiffness and compliance. Anytime you "over fork" a frame, you run the risk of throwing the feel of the bike way out of whack, making it potentially easier to find the limits of a frame, compromising balance, and making setup difficult. But the Mach 5.5 shines in this regard — over my three months of riding, I didn't find there to be any lack of stiffness or too much feedback.
The Build
Pivot offers a number of different build options for the Mach 5.5, ranging from the $5199 Race XT to the $9399 Team XX1, with plenty of upgrade options available. I ended up testing the Mach 5.5 with the Pro XT/XTR build with Fox Live Valve and Reynolds Blacklabel Enduro carbon wheel upgrades, which put the cost of the bike at $9799. (Without the Live Valve and carbon wheel upgrades, the Pro XT/XTR build is $6499.)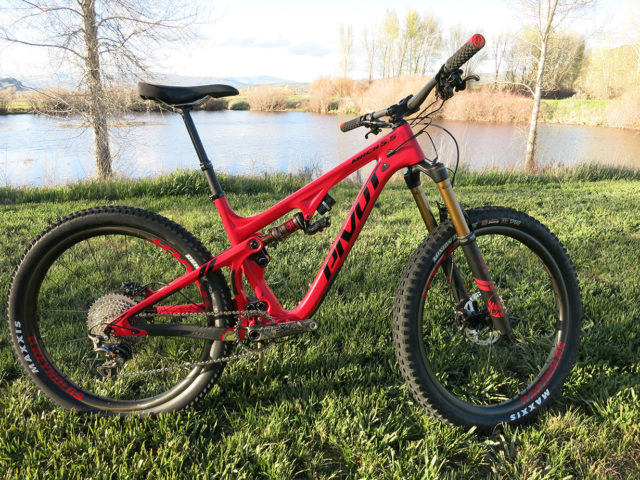 In my opinion, Pivot showcases great attention to detail in their builds, leaving little need to change out or upgrade (aside from brand loyalty or personal preference). The Mach 5.5's Pro XT/XTR build that I tested did everything I could want it to. The bars are wide enough (for me) at 760 mm, the stem is short, there are plenty of gears, and a 32t chainring is present so I'm seldom spun out. Shimano XT 2-piston brakes offer good power and awesome lever ergonomics.
Personally, if I was buying a Mach 5.5 tomorrow, I might avoid the Shimano 11-speed builds, since their 12-speed group is already showing up in the wild, and it shouldn't be too long before Pivot is spec'ing them as well. The 11-speed Shimano drivetrain did an admirable job, but it does feel like it's starting to show its age a bit with a smaller range, less precise shifting under load, and slower speed of shifts (time between cogs) compared to Sram. I did also find myself missing that lowest 12sp bail-out gear from time to time. It would also be a bummer to wonder if you should replace not only your cassette but also your shifter and derailleur the first time you wear one out. So I'd personally stick with Sram for no reason other than future proofing, at least until Shimano's 12-speed drivetrains are a build option.
An area where some might be skeptical of Pivot's spec choice is the set of Maxxis 2.6" tires (2.6" Minion up front, 2.6" Rekon out back). I was one of those people when they first showed up. Would they be squirmy? Would I tear sidewalls?
Turns out they work well, provide ample grip, and I didn't experience excessive squirm, vagueness, or sidewall issues during my time with them. I ran 3-5psi less in the 2.6's than I would normally run in a 2.4" or 2.5" tire, and really enjoyed the bit of extra grip I experienced on the loose-over-hardpack trails I spent the majority of time riding this spring.
I didn't get this setup into a bike park, and so can't speak to how the 2.6" Minion and Rekon respond when you can really push them through a proper berm, but it wasn't an issue for me riding fast / aggressively in average trail conditions. I did also find the extra volume of the casing and lower psi's to provide a bit extra trail dampening, which was a welcome benefit, especially with carbon wheels.
The 2.6" Maxxis Rekon on the rear of the bike worked great for the desert-y trails I was on, but if you ride in an area where you see more dirt than kitty litter, the Mach 5.5 is fast enough that you will likely find the limits of the Rekon's braking traction, and may be left wanting a bit more grip at the expense of rolling resistance. YMMV.
The Reynolds Blacklabel Enduro wheels were impressive, and the Industry Nine hubs are just as loud as you remember. The wheels are stiff, trouble free, and wide, they play nice with the rest of the bike. They are quick to spin up when putting the power down, and easy to place and keep on line when pointed downhill, I'd love to own a pair.
Finally, the Mach 5.5's cockpit is a good fit for the bike's intentions and made up of Pivot components. The bars are stiff without feeling punishing, the stem is low profile and otherwise inconspicuous, and the grips utilize some well-thought-out tech to aid in rider comfort.
The Phoenix Team PadLoc grips on the Mach 5.5 integrate WTB's PadLoc grip system and provided great damping on my hands and kept the grips from twisting. That said, the proprietary design does limit grip selection, and the notch in the bar makes cutting them down a bit more tedious. Some might find the bar's 760 mm width too small already. The grips work well in implementation, but are an example of where proprietary design makes it a bit harder to change individual components to suit personal preference if needed.
Fox Live Valve
The Mach 5.5's suspension itself is a standout feature of the build. The Factory Float DPX2 and Factory 36 on the Pro XT/XTR build are very solid options in their own right, and Fox's Live Valve tech takes things to another level.
If you're not familiar with Live Valve, it's essentially an electronic system linked to your bike's suspension that will automatically open or close the suspension based on the trail. It can reportedly make adjustments to the suspension every three milliseconds, and will open the suspension upon impact and then close it after a predetermined (by you) amount of time in order to increase efficiency when you don't need your suspension to be fully open. The Live Valve can sense when you're in freefall and going up, down, or crossing the flats; will leave the suspension open longer when you're in the air or headed downhill; and will close the suspension quicker when heading uphill. This video does a good job of explaining the system in detail:
After my time on the Live-Valve Mach 5.5, I think Fox's Live Valve suspension is the real deal, and I've come away very impressed. If efficiency is any sort of priority to you, it's going to spoil you. And having the ability to quickly change fork and shock compression sensitivity from a single location means you can dramatically change the characteristics of the bike in a way that you are likely to take advantage of.
If I knew I wanted to go try to put power down and hammer out a fast lap, I'd up the threshold and enjoy a bike that surged under me. If I was going out for a lazy spin, I'd turn the threshold to its lowest setting and enjoy someone else moving the "climb" switch for me on my ascents, and have it feel pretty "normal" everywhere else. A lot of this came down to the internal timer Live Valve uses to determine how long it waits to close the damping circuit after an impact: higher threshold = faster countdown = firmer feel sooner.
Live Valve also makes a lot of sense if you ride frequently in areas with dramatic changes in trail character. Ride somewhere smooth and fast? Threshold up. Somewhere chunky? Threshold down. The big appeal here is that you're not messing with and keeping track of compression settings on a fork and shock manually as you move them each time. You're much more apt to optimize your bike for the specific terrain when it's this easy to do. (And you can also still adjust low-speed compression on both the Live Valve shock and fork.)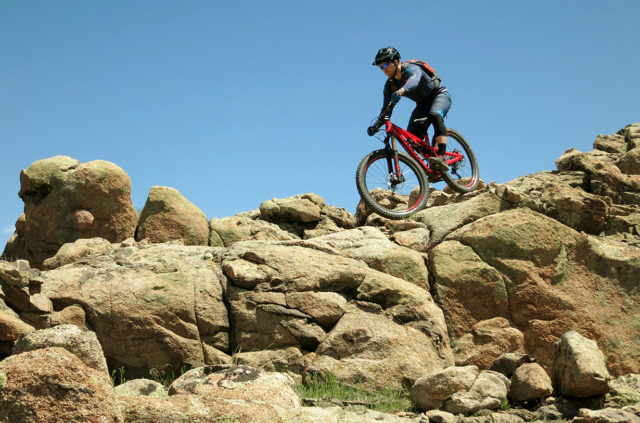 After riding a Live-Valve-equipped bike for over three months, I struggle to imagine any bike — or any style of bike — where I wouldn't want to have it. Especially in any application where you are racing. I think Cross Country, Trail, Enduro, and Downhill bikes would all benefit to varying degrees.
That said, the more time you spend with the bike pointed downhill, the less benefit Live Valve would provide, as it would proportionally be working less of the time. Slope bikes and bike-park bikes are instances where it would seem to have little value at all. But overall, anytime you make suspension setup comprises to accommodate climbing or descending, or use other tools such as a lever-actuated compression adjuster, Live Valve would be a benefit.
The drawbacks to it are increased cost, complexity, more wires, and a battery to manage. Cost being a large one (the Live Valve upgrade on the Mach 5.5 is a hefty $2000). Modern suspension works darn well, and even though Live Valve is a noticeable improvement, I think it really comes down to priorities. I personally would spec it over something like a carbon wheelset, but not over a top-flight drivetrain. But that's me. You also need a frame designed to accommodate Fox's sensor and controller package, so your options are currently quite limited (Pivot, Giant, Scott, and Rocky Mountain are among the few brands with at least one Live-Valve-compatible bike).
Fit and Geometry
Complete geometry for the Mach 5.5 can be found here. I rode a size Medium frame, and while the 439.9 mm reach number isn't one of the largest I have spent time under, the fit felt natural with the 50 mm stem, 44 mm fork offset, and 74.25° seat tube angle. With the 50 mm stem and bars at 760 mm, my position on the bike was very neutral with my weight balanced roughly 50/50 between front and rear.
That being said, this is not a super long bike, be that manifested as reach, wheelbase, or chainstay length. So for someone who has grown accustomed to a lot of body English or movement in front or behind the center of the bike, you may find less space here than you're used to. Conversely, if this is your first time riding a new bike in a couple of years, "You're going to like the way you feel, I guarantee it." As a Trail / All-Mountain bike, I think the Mach 5.5's slightly more compact feel compared to long-travel Enduro bikes is a great fit for the average speeds, tighter trails, and more playful-oriented scenarios you are likely to experience on 'typical' trail rides.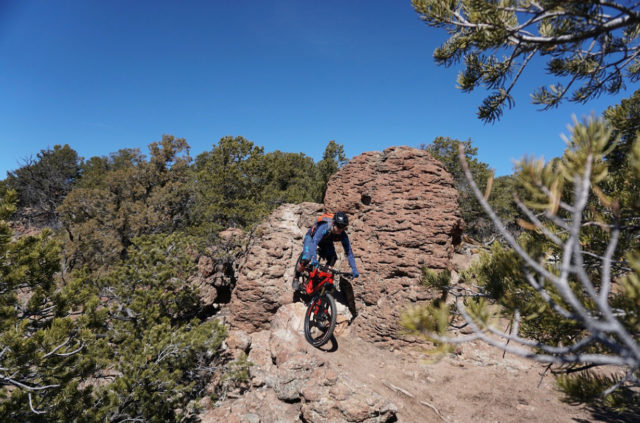 I found the Mach 5.5's 66.5° head angle to be a great fit for the bike. The front end has been quick without ever feeling nervous, and the Fox 36 up front keeps you out of trouble when the speeds increase and you find yourself smashing your way through that last section of trail. A great example of how, on many of the trails we ride, precise is fast. It's worth noting that this bike is a bit more traditional in the geometry department generally, at least compared to some of the more progressive options.
Part of the fun and the magic of the Mach 5.5, a bike designed around a 160 mm fork, is the ability to preserve the geometry and handling of a shorter-travel bike, while not compromising your response during those "Oh Shit" moments. Because it was an intentional choice in the design process to build the bike around a longer fork, you avoid messing with other aspects of the bikes geometry which are sometimes sacrificed when you stick a fork with additional travel on a frame that did not take this into consideration as an aftermarket upgrade. I could certainly have ridden and fit the size Large frame as well, and it may have been an even better fit on some of the fastest trails in Crested Butte. But the extended reach and wheelbase would have taken a bit away from all the fun I was having everywhere else.
With a low standover height and short seat tube length of 425 mm, the 150 mm dropper that's spec'd could have easily been a 170 mm. It would be great if Pivot offered this as a factory option to better fit riders who could benefit.
Also worth noting in regard to fit, over my time on the Mach 5.5, I experienced good heel clearance with no rubbing on the rear triangle while pedaling.
The Ride
Climbing
DW-Link suspension is good. Live Valve is better.
I am a habitual lever flipper, even on a bike as efficient as the Mach 5.5 with it's 140 mm of DW suspension in the rear. I just can't help myself if I'm going to be climbing for more than a minute or two. Fox's Live Valve platform took the responsibility out of my hands, and I was grateful.
Instead of focusing on flipping switches, more of my attention was focused on attacking the trail, rather than sitting and spinning smoothly. General impressiveness aside, I really noticed Live Valve at work on the fork when climbing, and this was an unexpected but most welcome surprise. Anything with 160 mm up front is not going to reward you when you stand up and attack, but Live Valve closing the low-speed compression of the Fox 36 when climbing meant that I was sending more energy through the bars and to the ground, and this created a huge improvement.
Live Valve or not, the Mach 5.5 does an admirable job of surging under the power of a pedal stroke. DW suspension keeps you floating over terrain, the Reynolds wheels were quick to get up to speed, and the Rekon tire doesn't produce much drag. Average reach and wheelbase numbers make it easy to put the bike just where you want it on climbs, and clearing technical obstacles was straightforward. Live Valve also impacts ride height by helping to keep fork and shock in stasis, meaning that the bike stays more neutral and you spend less time shifting your weight around on the saddle.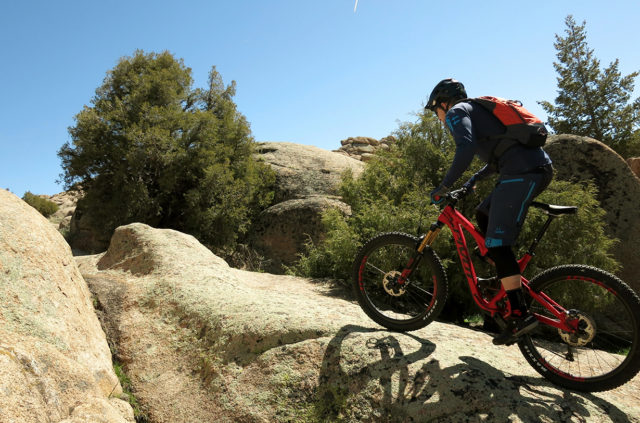 It's not a 22lb XC race rocket, but for someone who loves big backcountry rides and 8-hour days on the bike, the Mach 5.5 offers a sweet combination of climbing and descending prowess. More than overall weight, or even rotational weight, I would flag suspension movement as the biggest perceived drain of energy during these types of big days. It's not as noticeable when your body is fresh, but when you're tired, that 160 mm of suspension on your big Enduro bike does sap your strength. With or without Live Valve, the Mach 5.5 is a sharper tool in this department, and the 140mm of travel the frame offers up offers a great mix of traction and efficiency.
And there is no doubt you might be over gunned in the tire department if going uphill fast is a priority, but I'd have a pretty hard time swapping out the Minion and Rekon for something smaller / less downhill-oriented when I knew, eventually, I'd be riding downhill. The aggressive front and faster rear tire is a good compromise. The Mach 5.5 makes an excellent big-day bike regardless, but the Live Valve suspension makes it more efficient in the right ways on days like this.
Descending
The Mach 5.5 thrives on trails that are comprised of frequent elevation, pitch, and speed changes. Its head angle and wheelbase afford you a satisfying blend of speed, handling, and stability, which manifests as a feeling of precision. The Mach 5.5 asks you to be an engaged rider, but rewards you with a fun ride bordering on playful, and it builds speed everywhere. You won't be working hard to be spun out. I don't think of the Mach 5.5 so much as a Hoonigan's bike, but rather, something that would appeal to a chess player with too much aggression.
As I have mentioned, Trail bikes with a big fork up front are some of my favorites to ride because you get the angles and travel up front to handle speed, and the mid-travel suspension platform out back to keep things in check (while always being ready to respond to a pedal stroke, leg pump, or bunny hop).
During my time on it, the back end of the Mach 5.5 kept up with the front, and in general, it was a very active ride without feeling harsh. In sections of trail with large, successive, and fast impacts, the 140 mm of rear travel does run out sooner than a bike with more travel, but as long as my rebound was set up correctly, it never became a problem.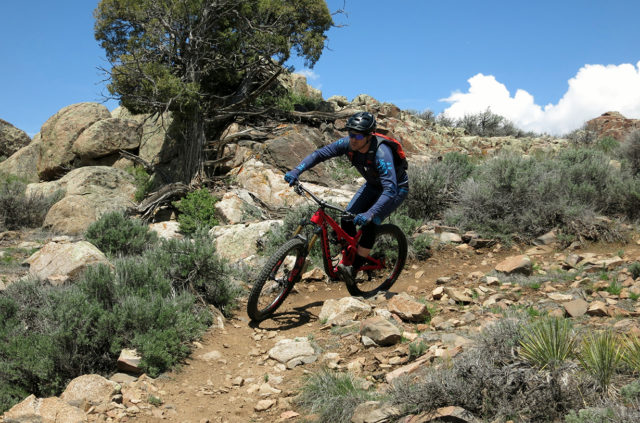 The Fox suspension was trouble free, and impressive for not being the most adjustable or most gravity oriented. With Fox's Live Valve equipped, you set your sag, rebound, and low-speed compression, then you're off. I started with the rebound on both the fork and shock close to Fox's recommendations, and compression all the way open (might as well run a more gravity-oriented tune if Live Valve is going to do so much of the work for you), and didn't move too far from those settings throughout my time on the Mach 5.5. The FIT4 damper feels a bit less sensitive than the Grip2, especially early in its travel, but for the most part, it's splitting hairs. The 2.6" tires also do a good job of creating grip and muting more trail noise than a 2.3/2.5 would.
But the big elephant in the room is how Fox's Live Valve would do when it's time to head downhill. In two words, it's "pretty invisible."
The threshold settings determine how quickly the Mach 5.5's fork and shock firm back up the compression after being opened by an impact, but the Live Valve system also knows when you're pointed downhill via an inclinometer, or when you're in free fall via the controller and two accelerometers, and leaves your suspension open longer.
The Live Valve fork and shock can respond to terrain individually, and the feel of your suspension on descents is mostly determined by your air pressure, compression, and rebound settings, just like any other bike, because Live Valve will be open most any time you have the bike pointed downhill. On rolling or smooth terrain, small-bump sensitivity can change perceptibly based on which threshold setting you have selected, but medium and large impacts will always feel the same regardless of which threshold you have selected.
The only repeatable instance where I believe I was ever able to detect Live Valve at work in a way that typical suspension would not be was bunny hopping over an obstacle in the trail where I failed to completely clear the rock or tree with either my front or rear wheel. The wheel deflecting off the obstacle would do so more harshly than with typical suspension. I believe this was due to the bike being in the air, and even if the fork / shock opened compression more quickly than I could physically detect normally, it was still enough of a delay before opening the compression circuit to absorb the impact so as to change the course of the wheel enough to be noticeable to me. This may have also been before the controller realized the bike was in free fall because the bike would still be traveling upward.
All that said, I may be imagining it, and if a Fox suspension engineer told me this wasn't what I was feeling, I wouldn't argue; it was that small. I was looking for places to call Live Valve out when descending, and this was the best I could do.
Durability and Maintenance
Three months in, and everything is still running smoothly.
I have washed the bike a number of times and haven't yet fried the Live Valve computer or battery. I do find the stated battery life (16 to 20 hours) to be a bit on the optimistic side, especially with how often I forget to turn it off after a ride. I wish they would have reduced the auto-shut-off time to something less than an hour and a half.
This was my first time riding Reynolds wheels, and they have had zero issues and held up to several jarring impacts which had me pulling over to the side of the trail expecting to be looking at a broken rim. I'm a fan.
The only issue I experienced was a bit of phantom sag (5mm-ish) from the KS Lev dropper. Nothing obnoxious enough to even troubleshoot, but it did develop during the testing period.
It is worth noting that Pivot's website has excellent information and resources for buyers. Their FAQ pages make it super easy to answer bike / tech related questions quickly, and without going down a day-long internet rabbit hole for answers.
Bottom Line
An exceptional generalist, the Pivot Mach 5.5 with Live Valve often left me feeling like I had two very different bikes in one. The ability to quickly and easily change up your suspension sensitivity, leveraged on top of a platform that doesn't ask you to choose between climbing or descending ability made it easy to imagine this as a true 1-bike quiver for many. Marathon or Enduro, the Mach 5.5 has you covered.
The Mach 5.5 reminds me very much of another classic, the original Ibis Mojo HD, albeit with more current geometry. Both are carbon-framed, DW-Link bikes and possess a high level of refinement in fit, finish, and execution. The Mojo HD was a tight, balanced bike with the stiffness and speed to reward aggressive and precise riding. So is the Mach 5.5. The Mach 5.5 stands in the center of the bridge between Trail and All-Mountain bikes — that magical place where, when you look down, you see a bike and a build that simply bring to mind "mountain bike". It's not an overly specialized tool that asks you to compromise in one area or another, and it can do more or less anything you ask without letting you know that it "wasn't designed to do that."
But you do pay for it. The Mach 5.5 is an expensive bike to begin with, and if you spec Fox's Live Valve suspension, that sticker price does climb substantially ($2000 to be exact). But if you're someone who rides diverse terrain, puts in a lot of miles on the bike, and enjoys optimizing your equipment to the mission, there is value here.
The Mach 5.5 hits the nail on the head as a classic example of a bike that punches above its travel in respect to ability, but doesn't lose the trail manners that make it enjoyable to ride in more places than just an Enduro World Series course. I'd call the Mach 5.5 an instant classic, an excellent generalist, and I came away incredibly impressed with its versatility and adaptability. Live Valve is just the cherry on top.