Test Location: Gunnison-Crested Butte, Colorado; Moab, Utah
Test Duration: ~5 months
Reviewer: 5'11", 155 lbs
Available Sizes: 18L, 10L
Materials:
4200 nylon ripstop with PU coating

2100 nylon plain weave with PU coating and Water Resistance

100%

Nylon Print
Stated Volume:
Total: 18L

Usable storage excluding a full bladder: 15L
Stated Weight: 1,000 grams
Blister's Measured Weight (w/ empty bladder): 1015 grams
MSRP: $180
Limited Lifetime Warranty
3L / 100oz Dakine x Hydrapak® 3D lumbar reservoir w/ quick disconnect
High-flow Blaster bite valve w/shut-off and magnetic hose clip
AirLite Suspension backpanel
Breathable ergonomic shoulder straps w/ sunglasses quick stash
Zippered hipbelt pocket
Separate cargo and hydration compartments
Internal ebike spare battery storage system
Padded, fleece sunglasses/phone pocket
Internal organizer pockets
Deployable external carry straps
Front quick stash & compression panel
Reflective panel and safety light attach
DK Impact Spine protector compatible (not included)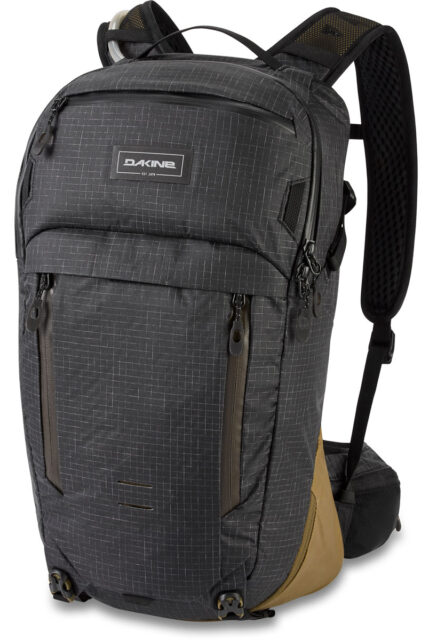 Intro
Dakine is a well-known producer of mountain bike apparel, protection, packs, and other accessories. They've got a good selection of MTB packs to choose from, ranging from a spacious outlier, the Builder 40L (made for trail builders) to the modest barely-half-liter Hot Laps Stealth hip pack.
The Seeker 18L is the second-largest bike-specific pack that Dakine makes. At 18 liters, it's designed for all-day adventures and has the capacity to carry some of those extra "just in case" items you might not have room to bring in smaller packs. It features weatherproof external material, designed to keep your items dry in the rain and snow, as well as many features to carry all your items and keep them organized. The Seeker also comes in a 10L backpack as well as a 6L hip pack.
I've spent the last year using the Seeker 18L for a bunch of different rides, so it's time to dive into what it does well, and what could be improved.
Design and Features
The Seeker 18L is divided into three main storage compartments. The largest, upper cargo compartment is designed to house extra layers, food, first-aid kit, and other larger items. I found it easy to fit both a rain jacket and a light down jacket in this compartment, with some room to spare for a first-aid kit and some food. The lower, main compartment is where the three-liter lumbar bladder lives, separate from the rest of the backpack.
The included bladder is a nice, Dakine-branded Hydrapack reservoir that hangs on a hook in the lower compartment. This bladder has a large, folding-style opening that's large enough to lazily fill it with water and throw whatever size ice cube (or even fruit, if you're fancy like that) in with the water. At the base of the hose, you can quickly disconnect it to allow the bladder to be taken off separately from the backpack to be easily filled. At the end of the hose, it features a high-flow bite valve with a twisting on/off valve to prevent accidental spillage. It also features a magnetic hose clip that leaves the valve in an easily reachable spot, and it also did a really good job of staying in place during rough descents.
The third and outermost pocket has some pouches designed to keep your tools and valuables organized. It isn't a traditional pocket, really; instead, it has two independent parallel zippers on either side and a small velcro close at the top of the pocket. This makes it so you can fully unzip this pocket quite easily and have access to this entire compartment. This compartment features two mesh pouches next to each other, one about 50% larger than the other. I found that I could easily fit a 29er tube, tire levers, a multi-tool, CO2 cartridge + inflator, tire plugs, tire boot, spare derailleur hanger, and digital tire pressure gauge in these two pouches (basically, everything I need to fix a flat and enjoy the rest of the ride). On the inside of the "door" to this compartment is a zippered mesh pocket for valuables, and this pocket has a hook for your keys so you can be triple-sure not to lose them. This pocket is nice for keys as well as an ID and credit card/cash for a post-ride beverage.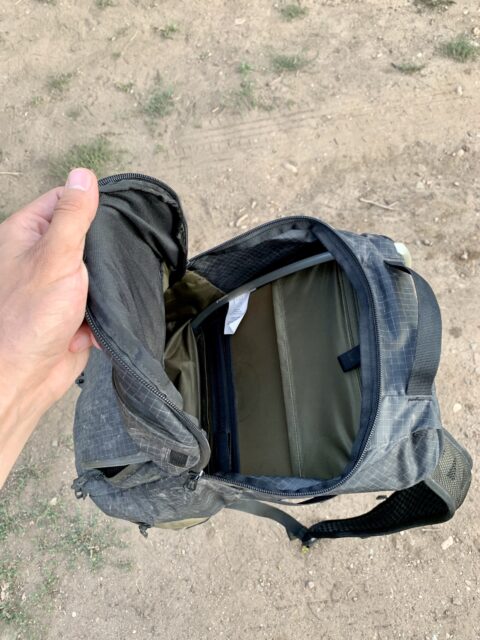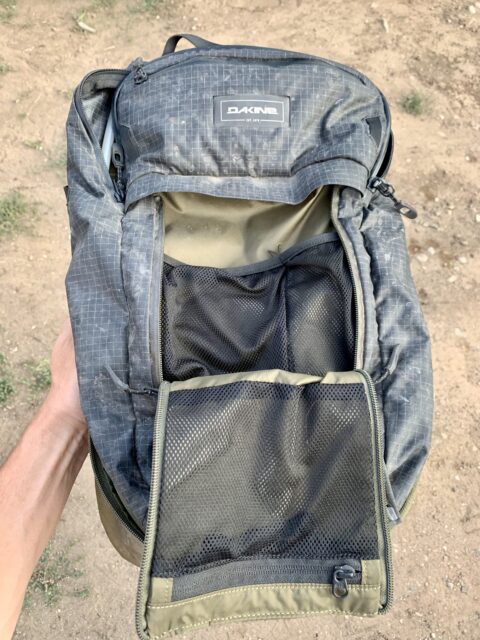 The last zippered pouch on the back of the pack is near the top and lined with fleece, designed to carry sunglasses or a cell phone. I found that this had plenty of room to carry either, or even both. I utilized it to keep a spare sunglass lens in, just in case the lighting would change on me.
On the hip belt of the pack, there are two small zippered pockets that are ideal for items you want to access quickly without having to take off the rest of the pack. I found these pockets were best used for bars that I could snack on during quick stops, but I'd put anything relatively Clif-Bar-sized and non-rigid in there (rigid items, such as a cell phone, make the hip belt uncomfortable when adequately tightened).
Finally, the Seeker 18L pack features a few external storage options for attaching some extra gear to the pack. First, it has two straps and buckles on the underside of the backpack, ideal for carrying things like knee pads, but anything relatively soft and cinch-able should fit just fine and stay in place here. Additionally, it has a helmet carrying pouch, which deploys from the bottom of the pack and hooks in near the top. I didn't have much use for this feature while biking (I am a believer of "helmet on at all times"), but I did hike a Class III 14er with this backpack, and it was nice to store a climbing helmet on the outside when I wasn't wearing it. Last, there is a small sleeve on the shoulder strap of this pack designed for you to slide your sunglass arms into. I found this feature very nice for hot or damp climbs, where taking off my sunglasses was a nice relief. However, I wouldn't trust this sleeve during rough descents — use the zippered sunglasses pouch instead.
The Seeker 18L also features a lightweight, rigid frame around the side of the backpack that is innermost to the rider's back. The frame is slightly curved, and a taught mesh panel designed to make contact with your back is held between it. This frame creates some space between the pack body and the mesh panel, allowing for some increased airflow. I found this feature had the most noticeable effects when riding and descending at faster speeds — I definitely felt the cooling effects on my sweaty back. At slower speeds or while climbing, it made less of a difference, but still allowed my back to air out a little, particularly if there was a nice crosswind.
The waist and shoulder straps are made of lightweight, breathable material with some medium-density foam with cutouts to improve structural rigidity. I found that, when tightened correctly (most of the pack weight resting on my hips), these straps were comfortable and fairly breathable. The material is thin but the straps themselves are wide and continued to sit comfortably flat on my body throughout my use of the pack.
On The Trail
Unlike other riders who prefer fanny packs, I really don't mind riding with a backpack if it provides useful storage and features. The Dakine Seeker 18L was no different.
I enjoyed using the Seeker 18L on hot and sunny days, as well as cool, rainy ones, thanks to its well-ventilated design and weatherproof fabric. While it had plenty of room to spare on shorter rides, it didn't feel like everything was bouncing around within the pack, so long as I cinched it down. On long rides, the Seeker 18L could fit just about anything I needed, and after cinching the straps down and making sure it fit properly to my body, the weight of three liters of water plus snacks and layers didn't bounce around much and stayed in place nicely.
This backpack is relatively tall, so I did find that it would sometimes make contact with the back of my helmet on very steep trails. I'm 5'11'' / 180 cm tall, and the Seeker 18L does not have a waistband that allows you to adjust the height relative to the pack. Given that, I could see this being an issue if you are a shorter rider who regularly descends steep terrain. For me, it was only very rarely noticeable.
While I didn't utilize them much, the knee pad and helmet carry options were nice to have as they really expand the possibilities of what you're able to carry with this already spacious backpack. I really enjoyed the placement of the reservoir as well; seasoned backpackers and bikepackers will tell you that the best place to keep the heaviest weight in your pack is close to your body, near the middle or bottom of the pack. Dakine did a great job of placing their lumbar hydration bladder exactly here, and it really made the pack feel lighter and more stable on rough descents and long climbs.
As far as improvements I'd like to see made on this pack, my only real complaint is that the hydration hose developed a kink in it at the top of the pack, where it made a sharp turn going back down to the magnetic clip on the sternum strap. This didn't cause many issues while riding, but it did create a weak point in the hose that seems more vulnerable to breaking than it should be. I also took a decent crash wearing this pack, which resulted in the hydration bladder equivalent of a "pinch flat" in the reservoir, and then incessant leaking for the remainder of the ride. At home, a little gorilla tape and Aquaseal (a rafting/kayaking must-have) made for an easy, watertight fix that has held up for months after the crash.
Bottom Line
Dakine is a seasoned veteran when it comes to making mountain bike packs, and their prioritization of ease of use really shows in the Seeker 18L. It fits well, has enough storage for long rides, even if you're an overpacker, and it is weatherproof enough to warrant worry-free riding in the rain and snow.