Raide LF 40L Backpack
Stated Volume: 40 liters / 2441 cubic inches
Expandable to 50 liters / 3051 cubic inches
Stated Weight: 1090 g / 2 lbs, 6.4 oz (strippable to 900 g)
Stated Features:
Main Fabric: Challenge Ultra 400X, 400d UHMWPE (Dyneema) woven that is 2x more tear resistant and 8x more abrasion resistant that similar ultralight fabrics. That is backed by a waterproof film and is 100% recycled.
Removable Frame
2 quick access stash pockets for no-zip transitions
Stashable roll top
Quick avy tool access
A-frame & Diagonal ski carry
Vertical snowboard carry
Integrated helmet carry
Gloves stash strap on shoulder strap
Removable foam back panel insert
Ice tool carry that keeps picks enclosed
Hip pad pocket that actually fits your phone
9 mm of foam in shoulder straps
Radio / hydration pass through
Drainage holes out of cinch top and avy tools pocket
MSRP: $399 / first 100 packs on sale for $299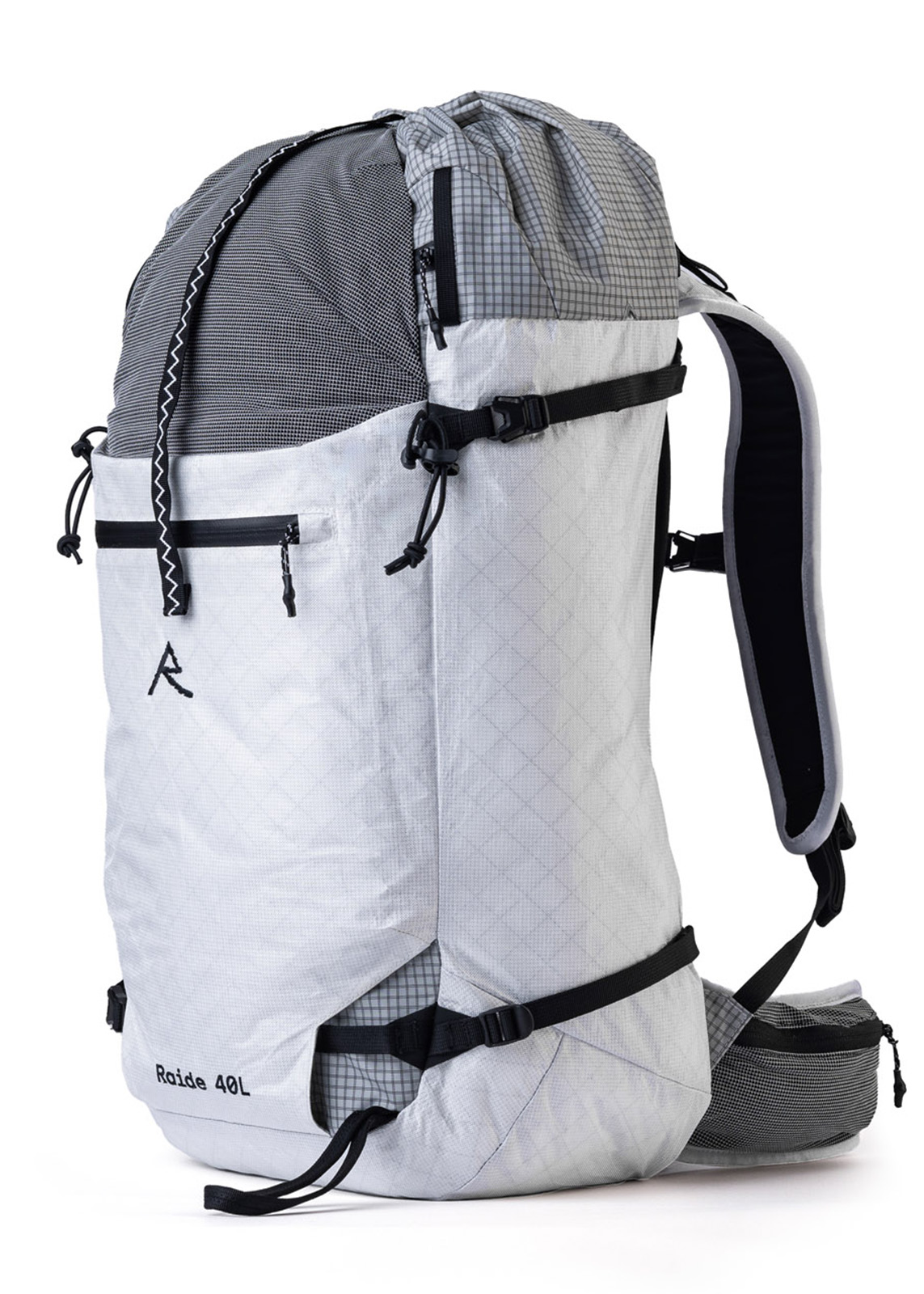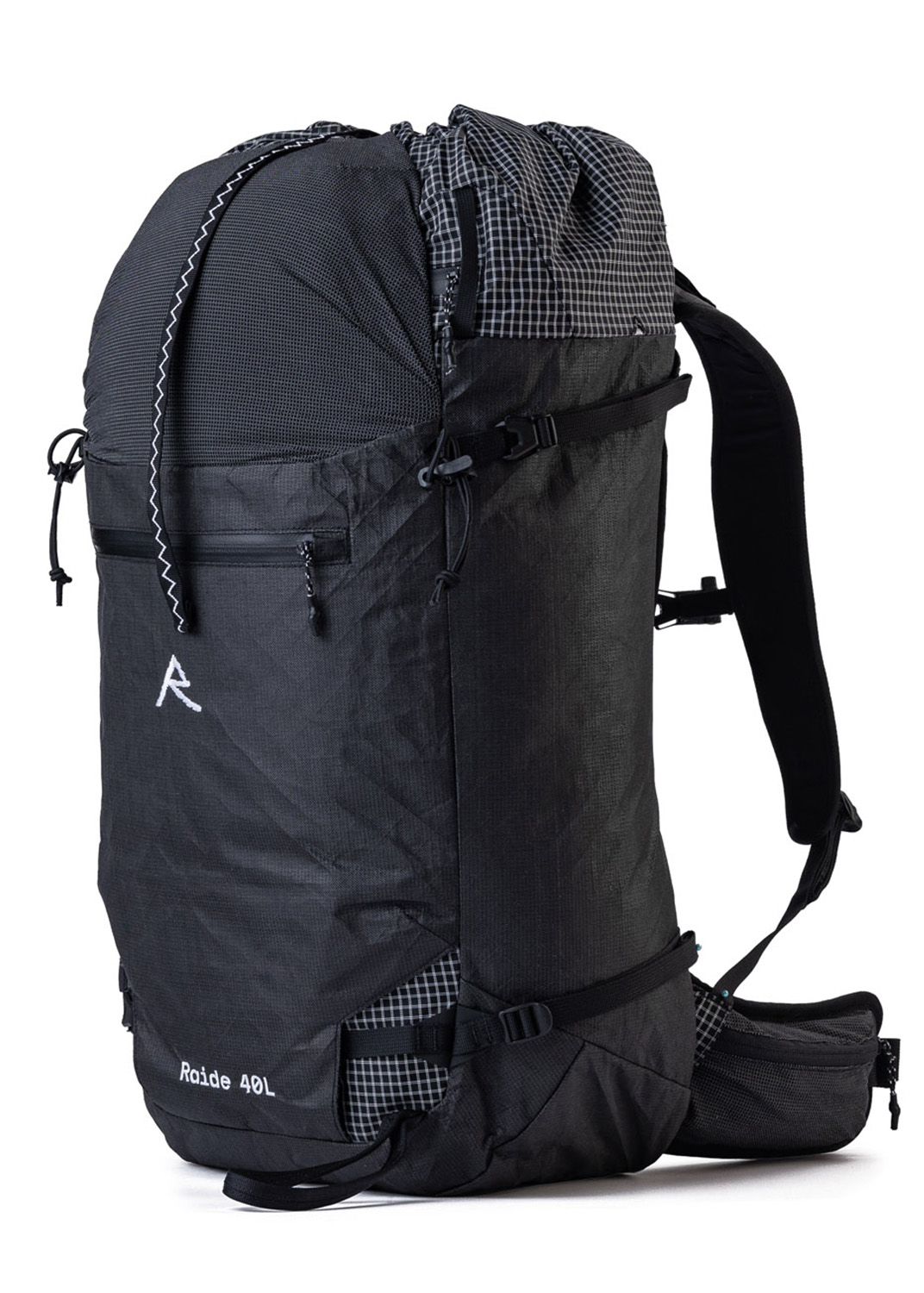 Intro
The world of ultralight backpacks is a very interesting one, with lots of (mostly smaller) brands constantly experimenting with new fabrics, different approaches to established features, and other aspects of pack design in order to trim as much excess as possible, while still maintaining as much performance as they can.
Raide is one of the newest players in this category — or probably the newest, since they officially launched today — and their first product is a new take on a lightweight backcountry pack for skiers and snowboarders. Raide aims to cater to the growing sub-group of backcountry users for which efficiency and low weight are big priorities, but who don't really fall into the traditional "skimo" crowd. Think big objectives and fast paces, but with more fat skis and less Lycra.
We're still at least a few weeks out from ski season here in the Crested Butte valley, but we recently got our hands on the Raide LF 40L pack and will be logging some skin track time in it ASAP. In the meantime, let's dive into the details:
Raide: Brand Background
Raide was founded in Carbondale, Colorado by Kyle Siegel, who has a mechanical engineering background that he utilized at SpaceX and The North Face, among others. He started Raide "out of a frustration for the current gear market that leaves out those who care about uphill performance and downhill style equally."
Raide launched with the LF 40L backpack (available in two colorways), and also a neat little accessory: a metal block that you can use to increase the forward lean of the Tecnica Zero G Tour by 3 degrees. Readers of Blister will know that, like Kyle, we're big fans of that boot, but it does have a fairly upright stance that doesn't work with everyone's biomechanics / personal preferences.
Raide's packs are manufactured in Vietnam at the same factory that produces packs for many of the bigger brands out there, including Mammut, BCA, and Osprey.
For their pre-order launch, Raide is selling the first 100 packs for $299 each ($100 off the MSRP of $399).
Weight & Specs
At around 1090 grams / 2.4 lbs, the Raide LF 40L is quite light for a 40-liter pack (you can get it down to around 900 g if you opt to remove some features; more on that below).
For reference, the BCA Stash 40L backpack, which I'd describe as a non-ultralight, generalist snow pack, reportedly weighs about 1600 g / 3.6 lb. A more apples-to-apples comparison would be the Hyperlite Crux 40, which reportedly weighs 1242 g / 2.7 lbs. Looking elsewhere on the market, you can find fairly similar alternatives that come in around a kilo, and some lighter options that generally have fewer features / lighter-weight materials.
We currently have a pre-production version of the Raide LF 40L (size M/L), which weighed in at 1123 g / 2.47 lbs with all parts included. We'll update our measured weights once we get the production version that we'll be using for our long-term review.
Materials
The Raide LF 40L's materials are definitely a big part of why it stands out (again, at least on paper).
The Raide LF 40L's primary body fabric is called Ultra 400X and is made by Challenge Outdoor (a popular fabric supplier for light + strong materials). Ultra 400X is primarily composed of woven UHMWPE fibers, otherwise known as Ultra-High Molecular Weight Polyethylene, which is also known to some by the brand names Dyneema and Spectra. Side note: many skis and snowboards use UHMWPE for their base materials, though the final product obviously looks quite different from fibers in fabrics.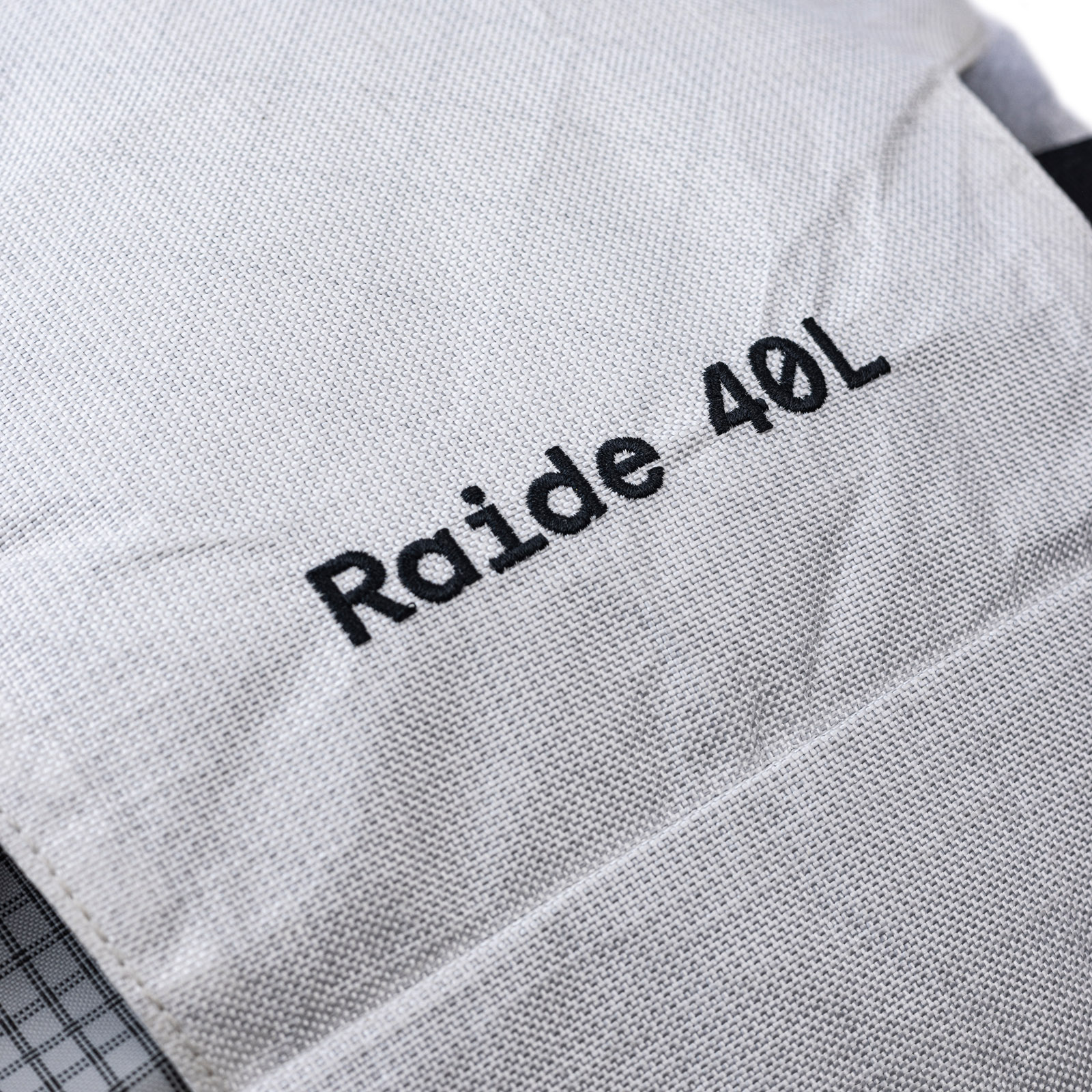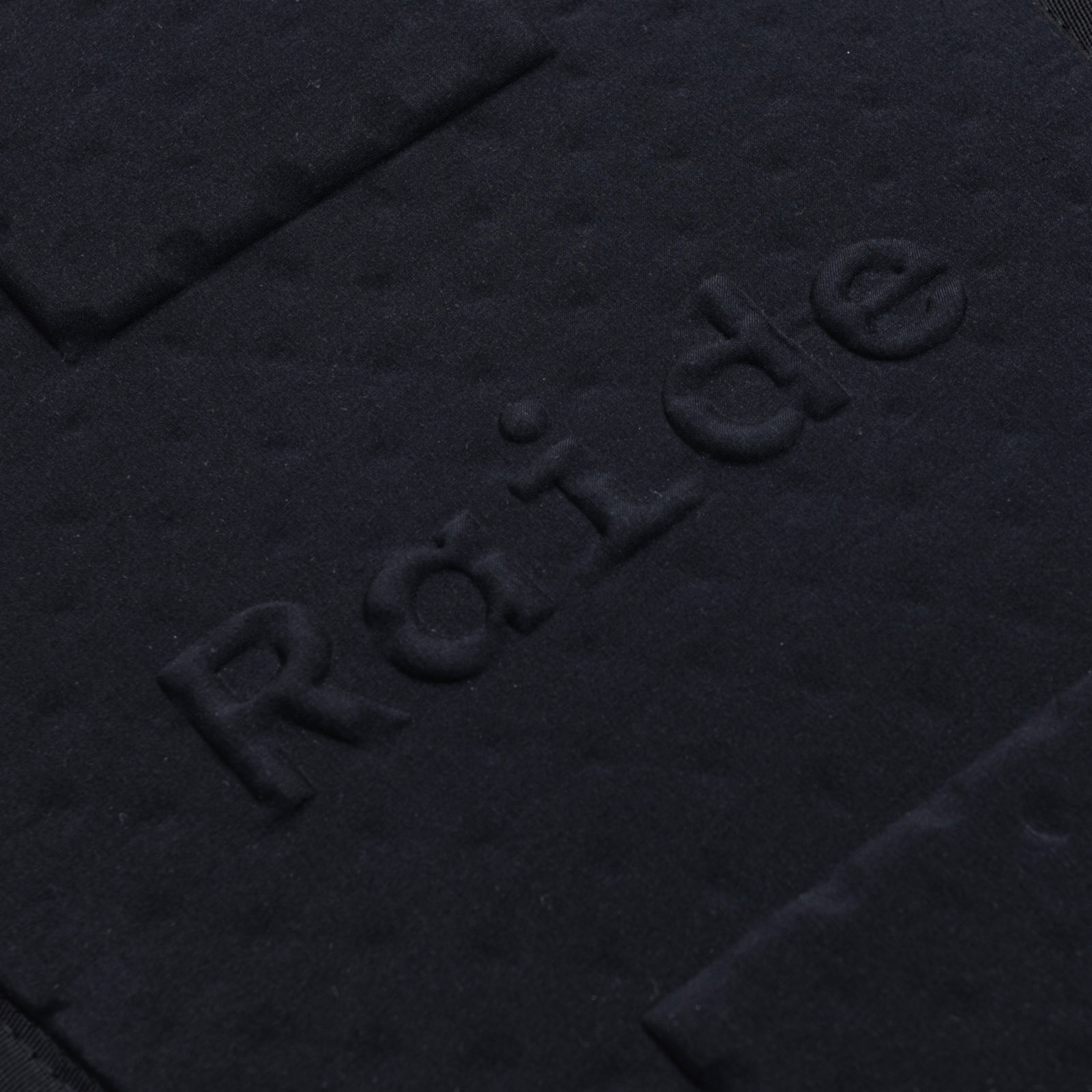 Anyway, the main reason that UHMWPE has garnered such a strong following in the ultralight world is its excellent strength-to-weight ratio, especially in terms of tensile strength. Raide claims that the Ultra 400X fabric used on the LF 40L is "2 times more tear resistant and 8 times more abrasion resistant than competing ultralight fabrics." The Ultra 400X fabric is also reportedly 100% recycled, including its 0.5 mm "RUV" film backing, which contributes to its water and UV resistance (reportedly waterproof up to 200 psi / ~13,760 mm).
The less-exposed areas of the Raide LF 40L use some lighter fabrics, such as a 210d nylon with UHMWPE ripstop for the cinch top, 50d nylon ripstop with UHMWPE cross-ply for the rolltop, and a stretchy Lycra, nylon, and UHMWPE material for the helmet carry material.
In sum: the Raide LF 40L utilizes lots of very high-end materials that seem comparable and competitive in its class, where low weight and durability are the big priorities.
Design & Features
Given that the Raide LF 40L only weighs a bit over a kilo, it offers a pretty extensive list of features.
For starters, you've got pretty much all the standard ski / snowboard bells and whistles, including A-frame and diagonal ski carry, vertical snowboard carry, fully concealed ice-tool storage on the face, an avalanche-tool pocket, and a rope-carry option.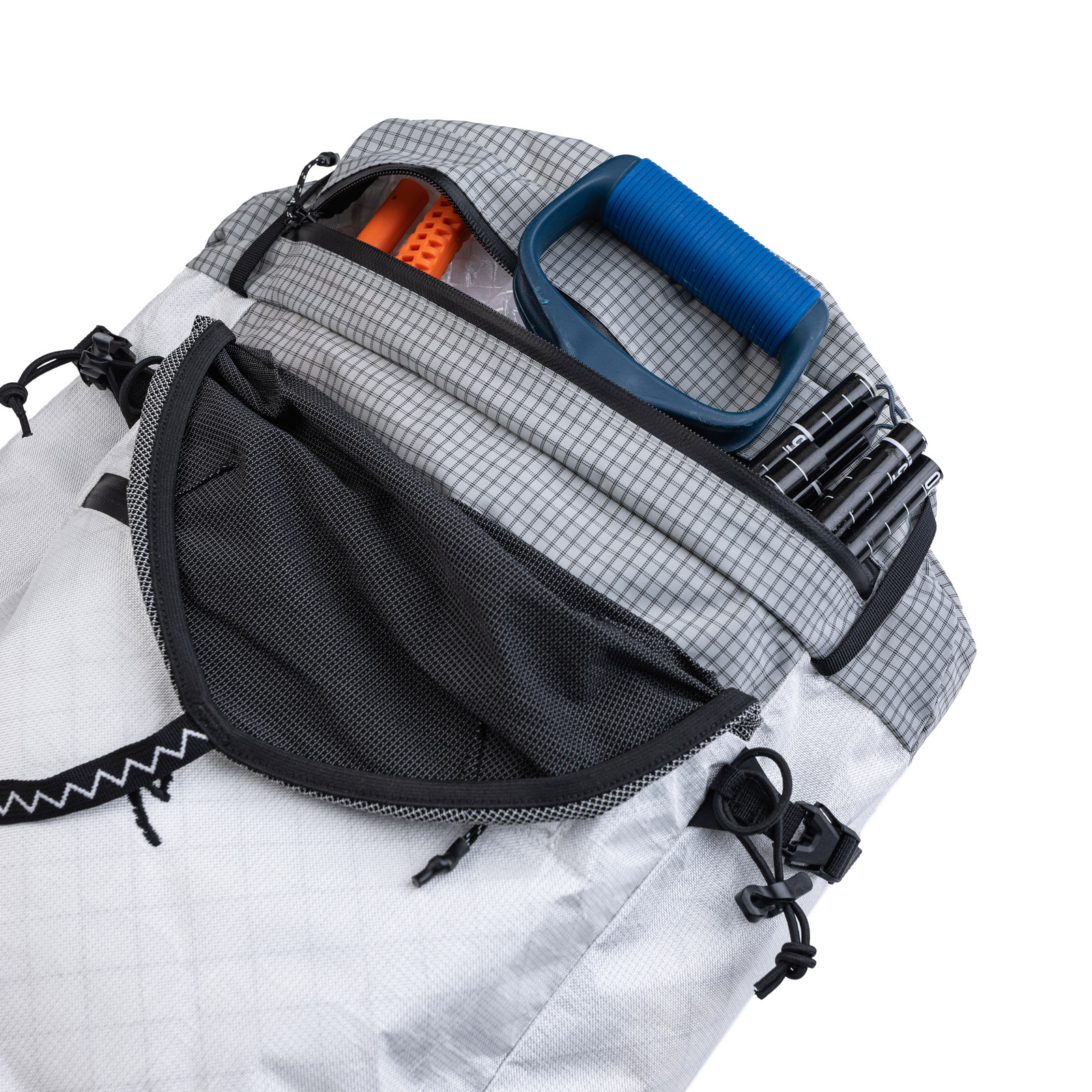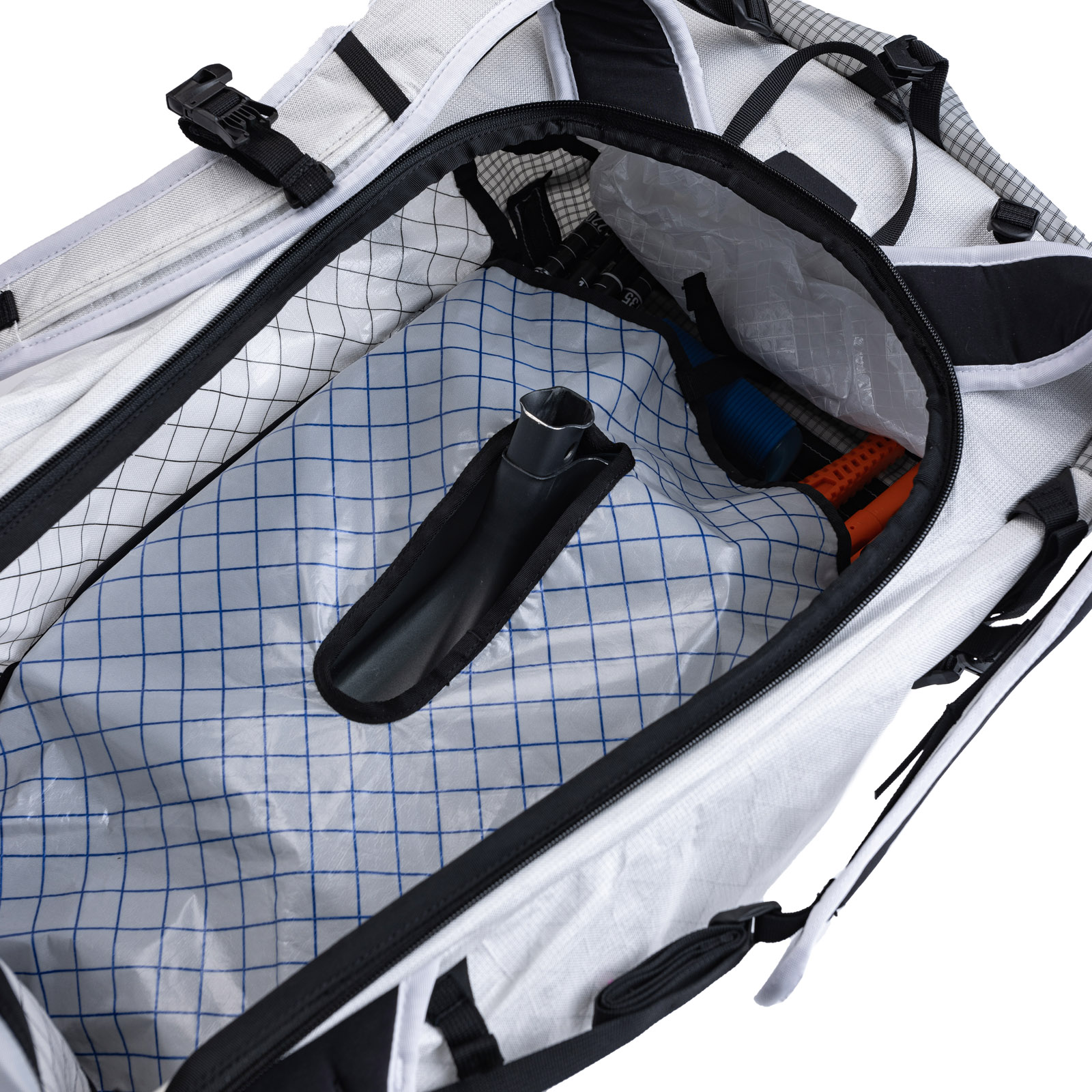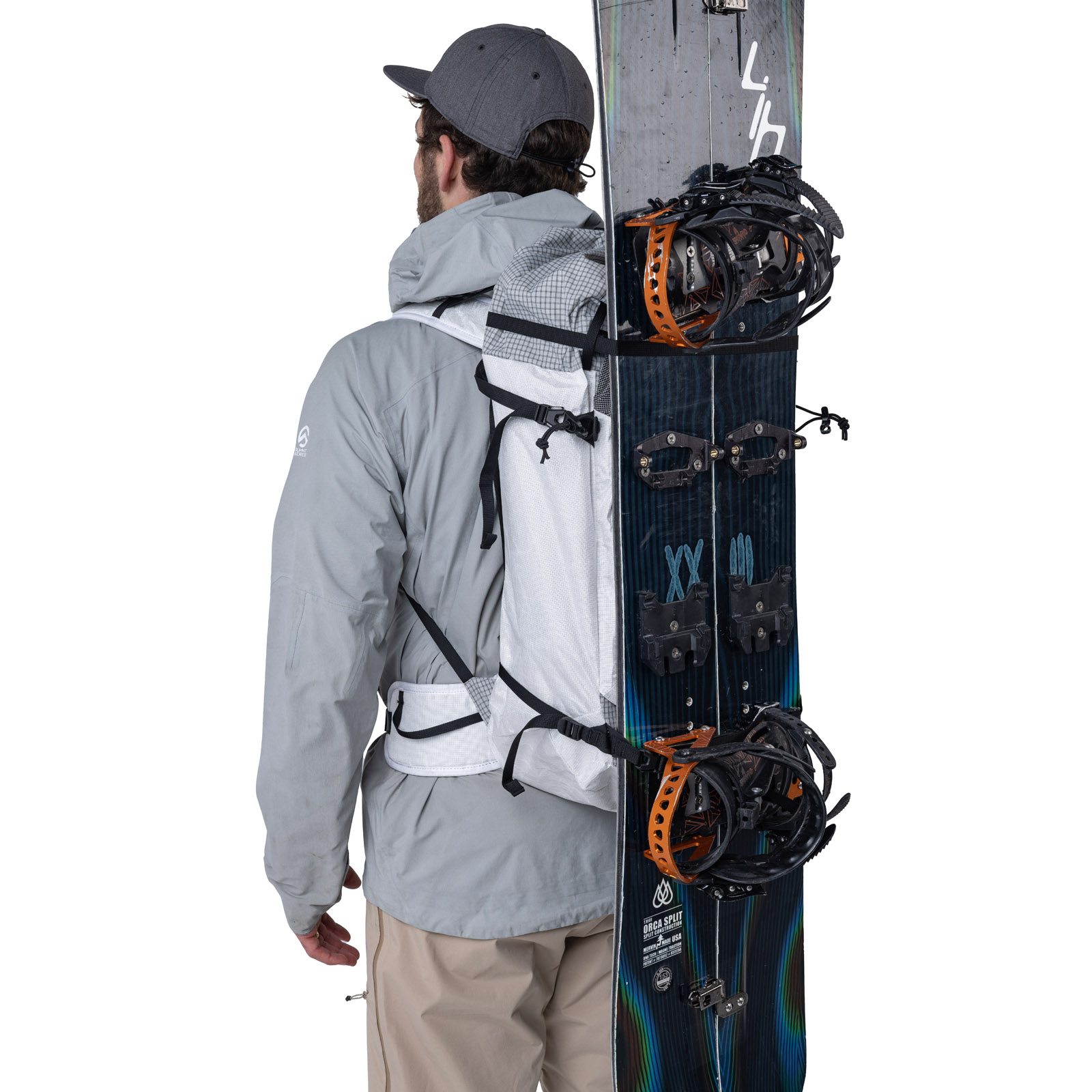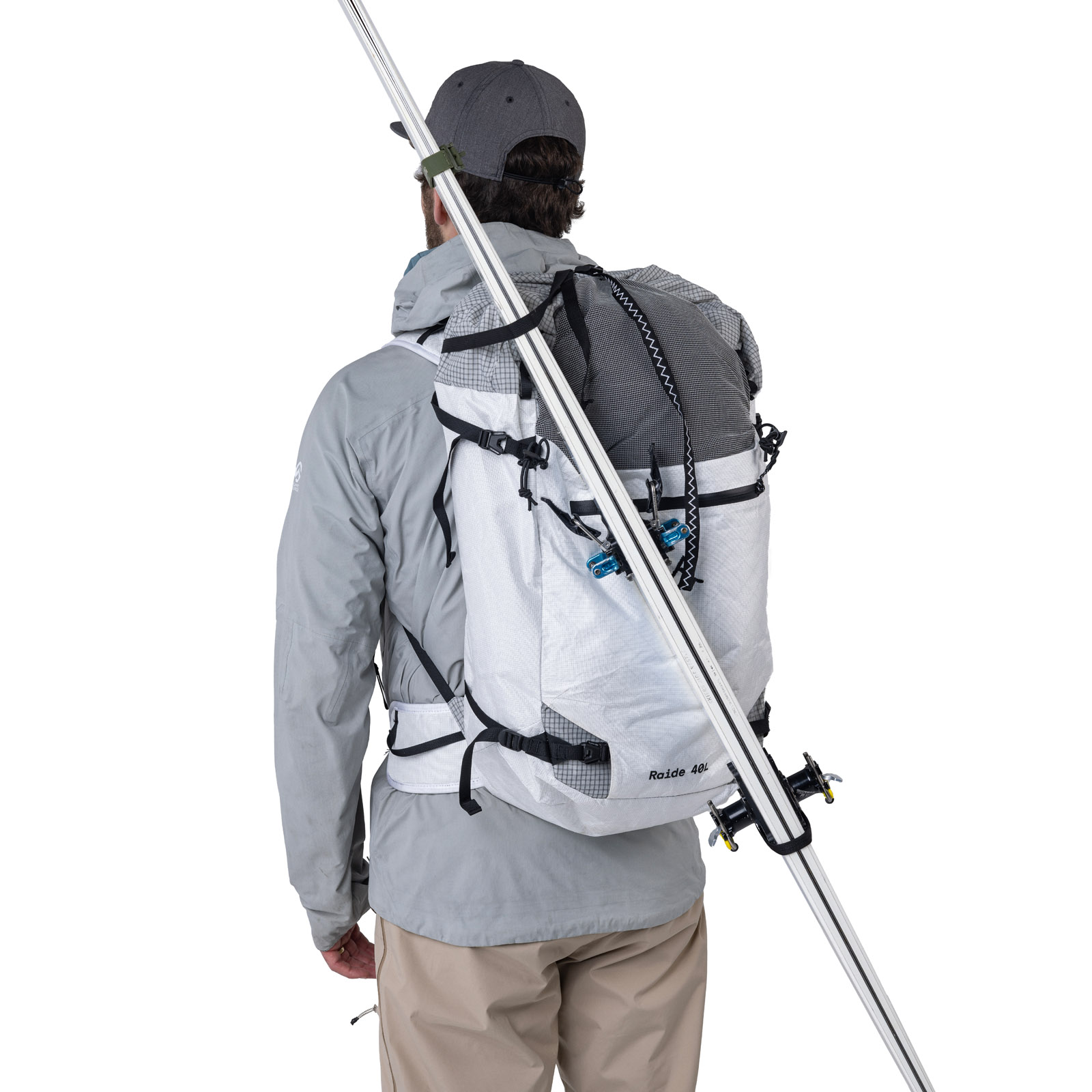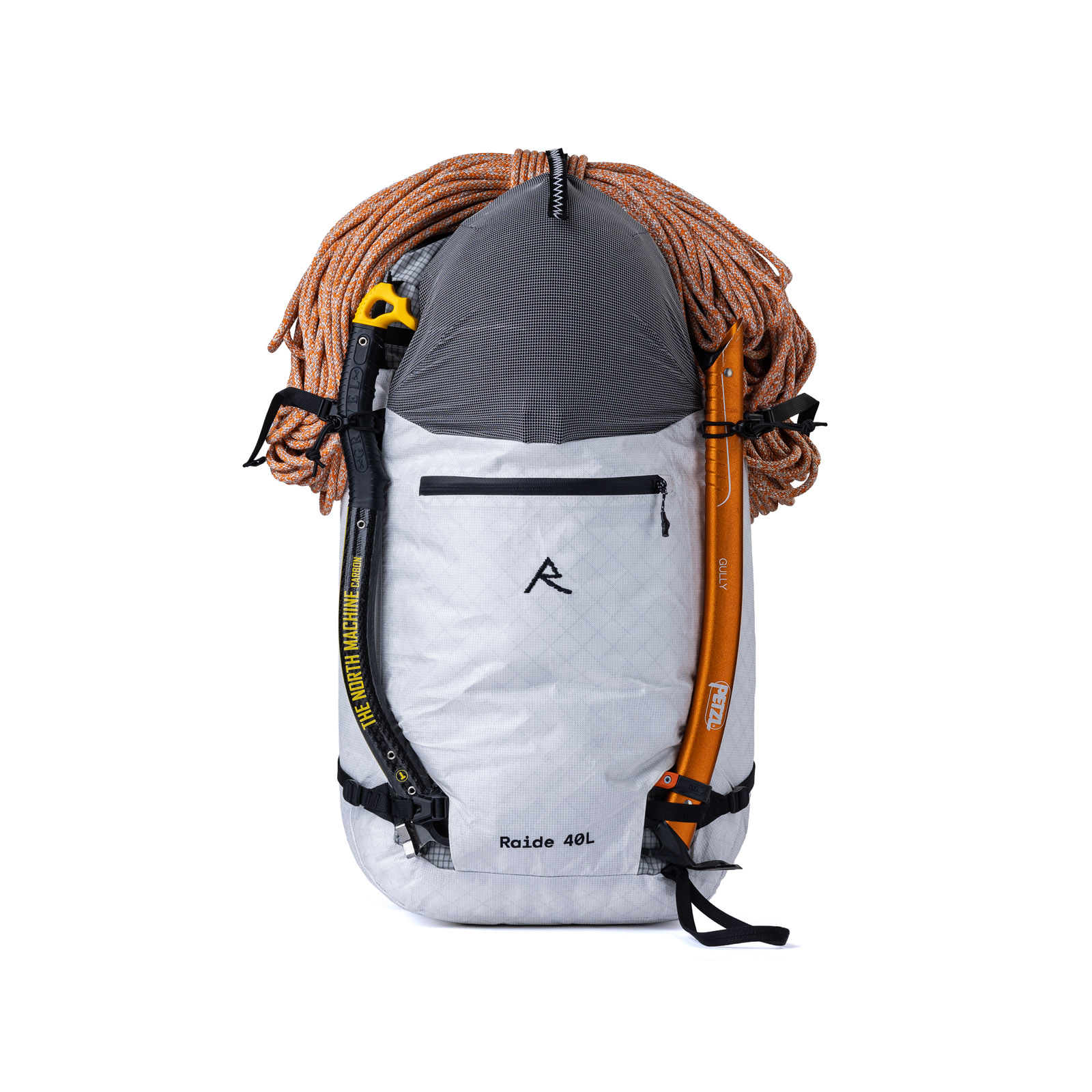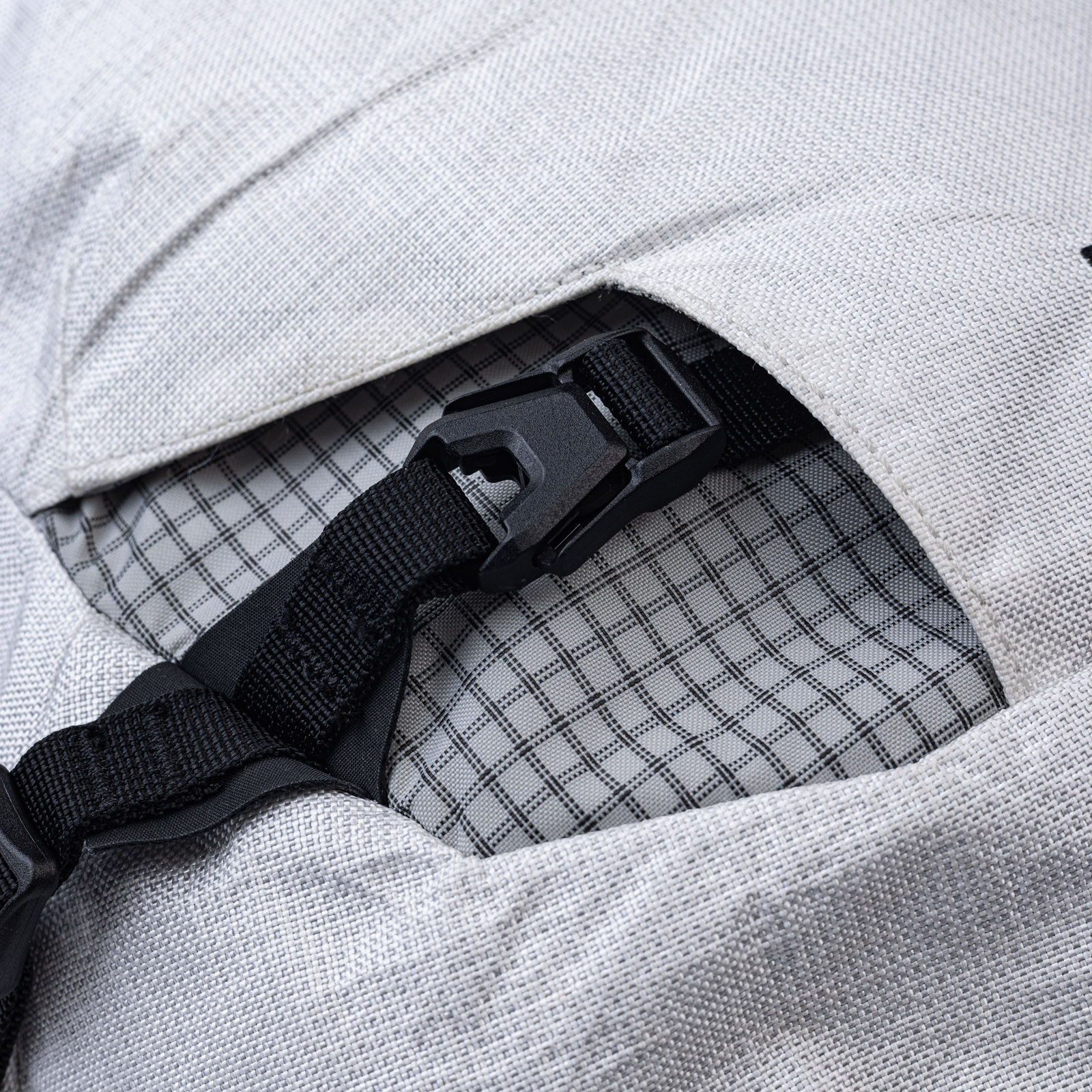 The avalanche-tool pocket is a bit different from most. You can access it via a pass-through zipper that doubles as a way to reach the main compartment, since the avalanche-tool pocket isn't fully closed off from the main compartment. The little opening you see in the divider fabric is meant to eliminate the gap inside your pack that's often created by the curvature of a shovel blade. To try to keep the gear in the main compartment dry, there are drain holes at the bottom of the tool sleeve.
The main compartment of the Raide LF 40L features an interesting double closure, with an optional roll top and a cinch closure on top of / around that. The roll top can be snapped out of the way for easier access to the main compartment (Raide calls this "Bluebird mode"), or you can close it to seal off the main compartment ("Storm mode"). Doing so effectively creates another "compartment" between the closed roll top and cinch top; you can also use the roll top to expand the Raide LF 40L to a reported volume of 50 liters.
In addition to accessing the main compartment from the top or the pass-through zipper of the avy-tool pocket, the Raide LF 40L features zippered back panel access. This was apparently a high priority from the start of the prototyping process, since it's a bit of a rarity in the ultralight class and can go a long way in terms of ease of access (especially when moving fast in steep terrain).
The Raide LF 40L's zippered back panel lets you access nearly all of the main compartment and is situated fully inside the pack's aluminum frame. That frame is removable, and so is the foam insert in the zippered portion of the back panel, which can work as a makeshift seat, splint, barrier between an injured person and the snow, etc. Removing the frame reportedly saves you 80 grams, while ditching the back panel insert nets you ~110 grams.
In addition to all of that, the Raide LF 40L also includes a large, stretchy, zippered pocket on one hip and a carry loop on the other. In line with Raide's claims, my iPhone 12 fits nicely inside the hip pocket. For other small items, there are also zippered pockets on the inside of the back panel and on the exterior face of the pack.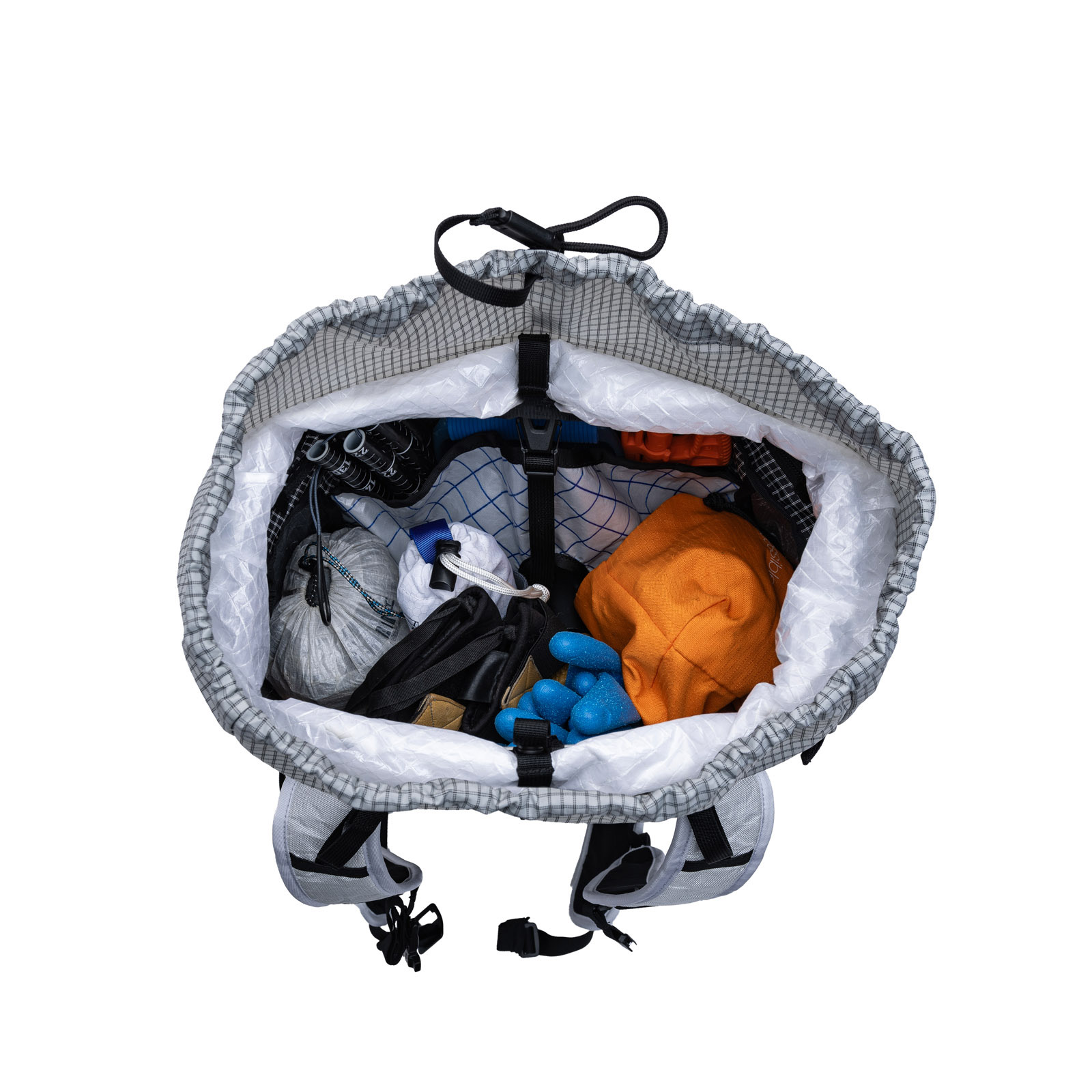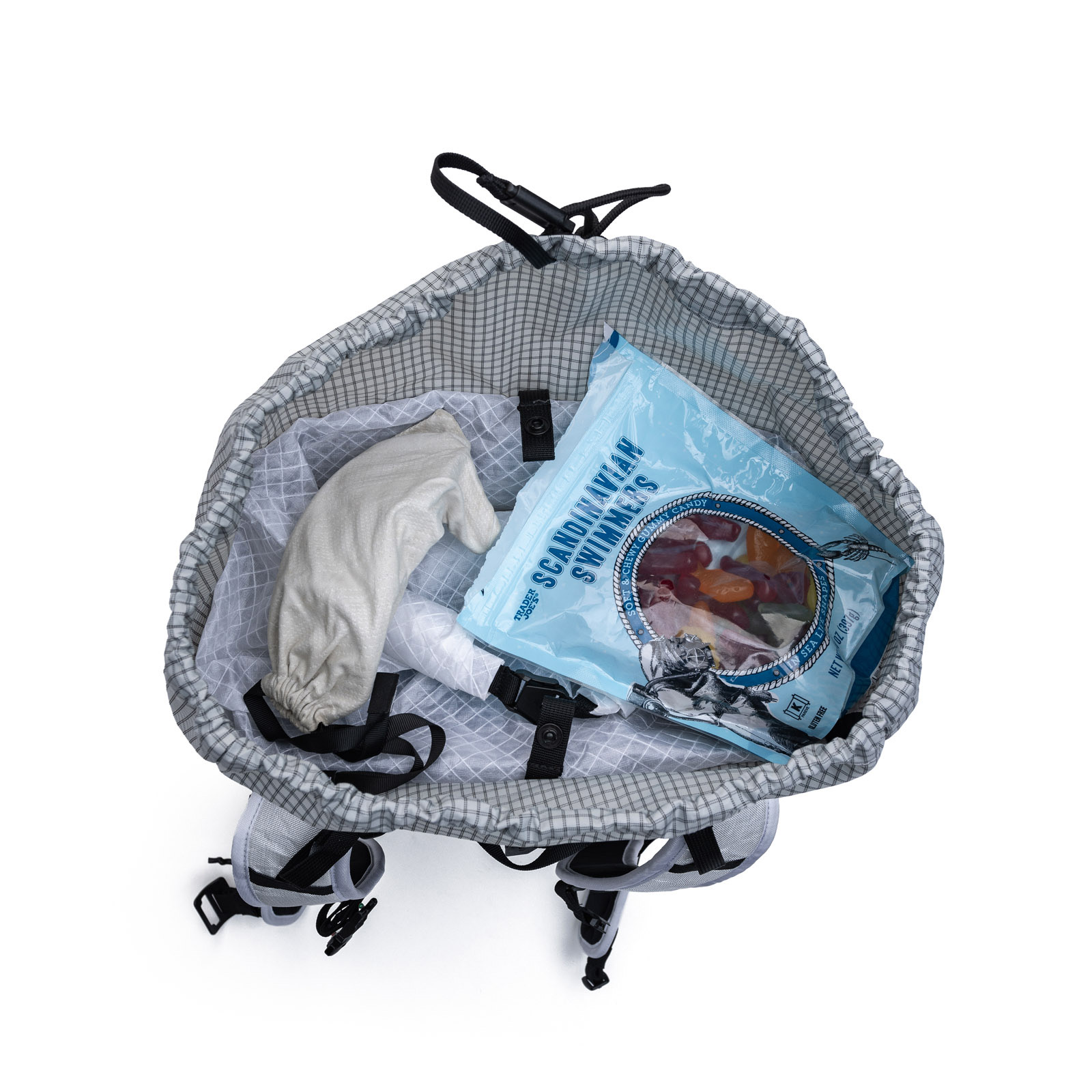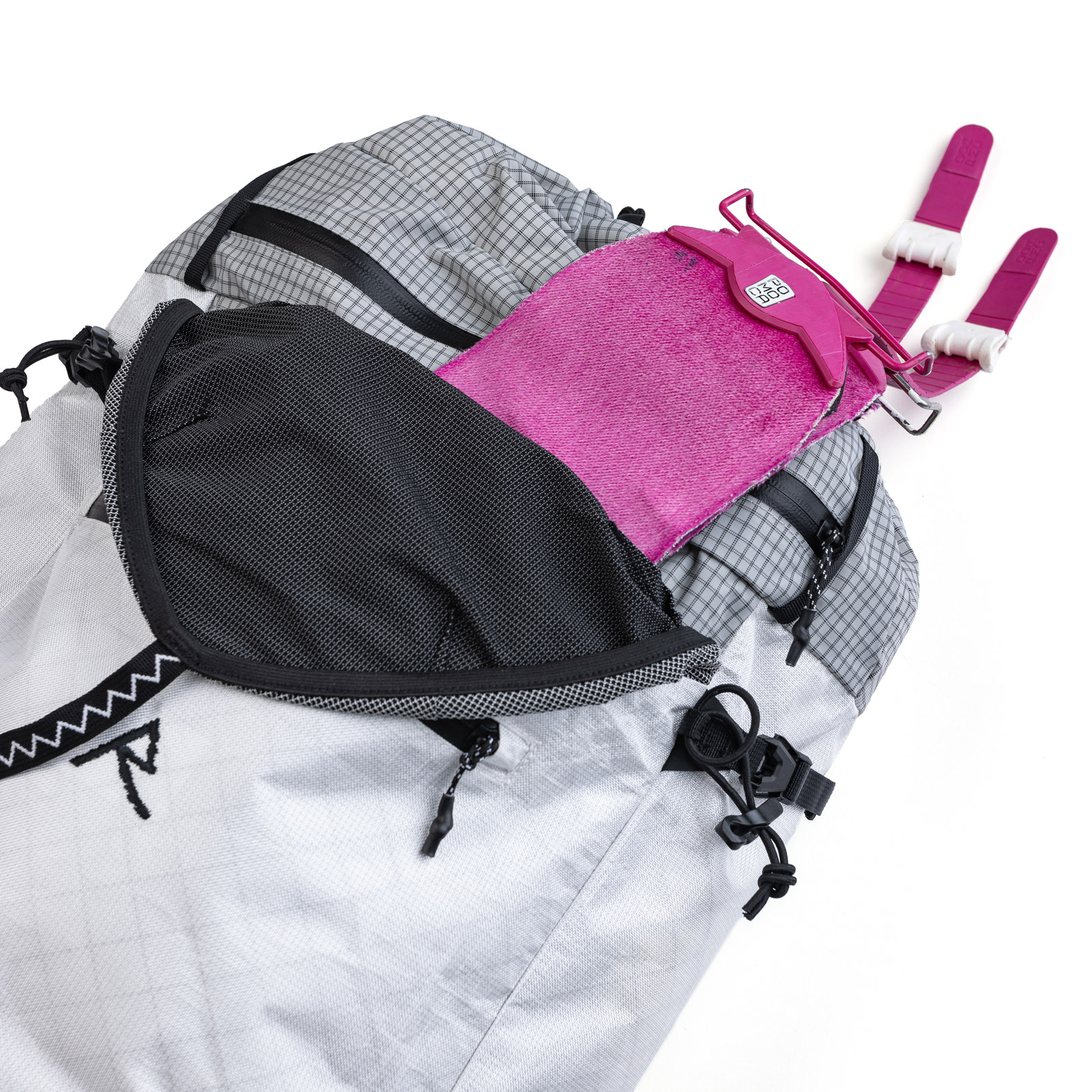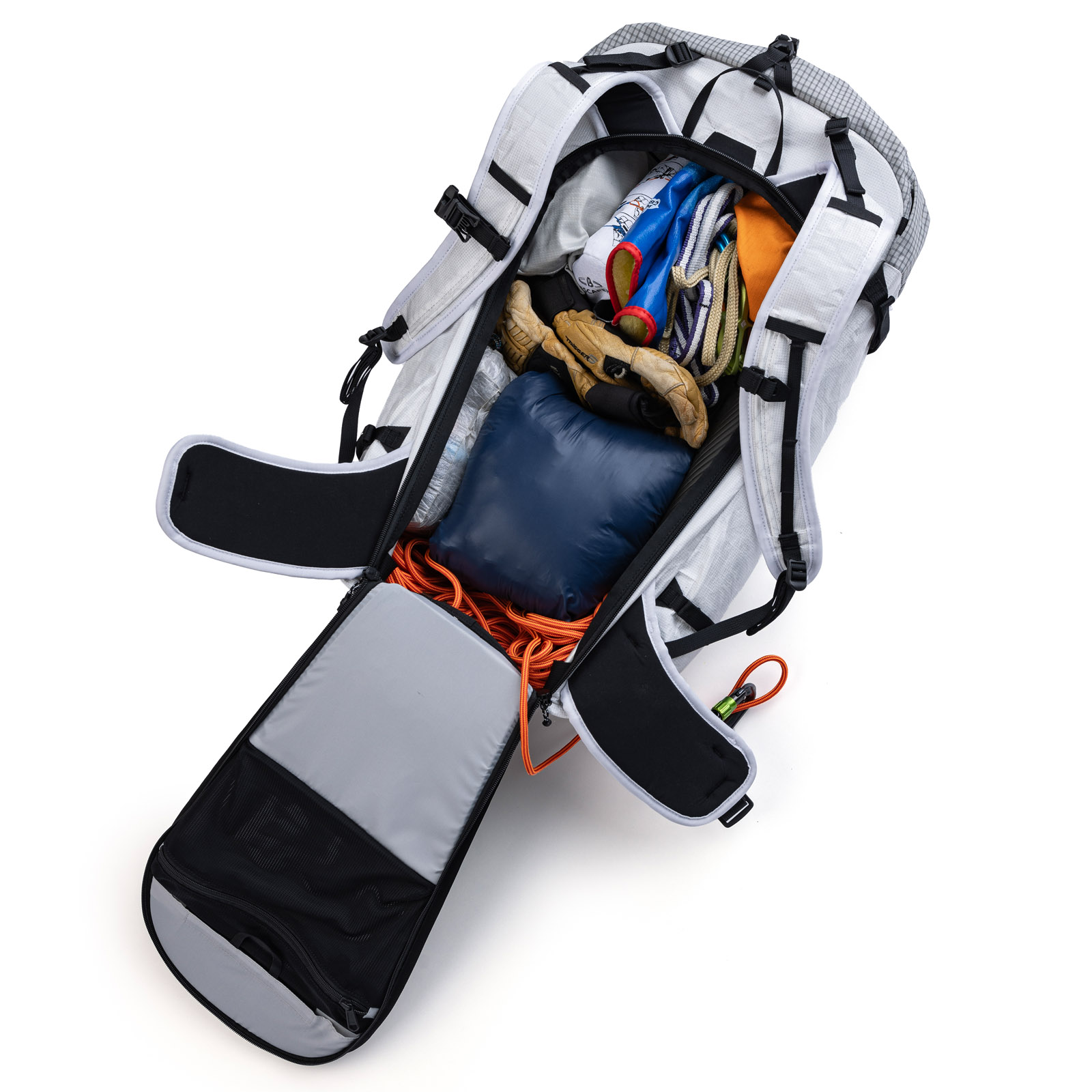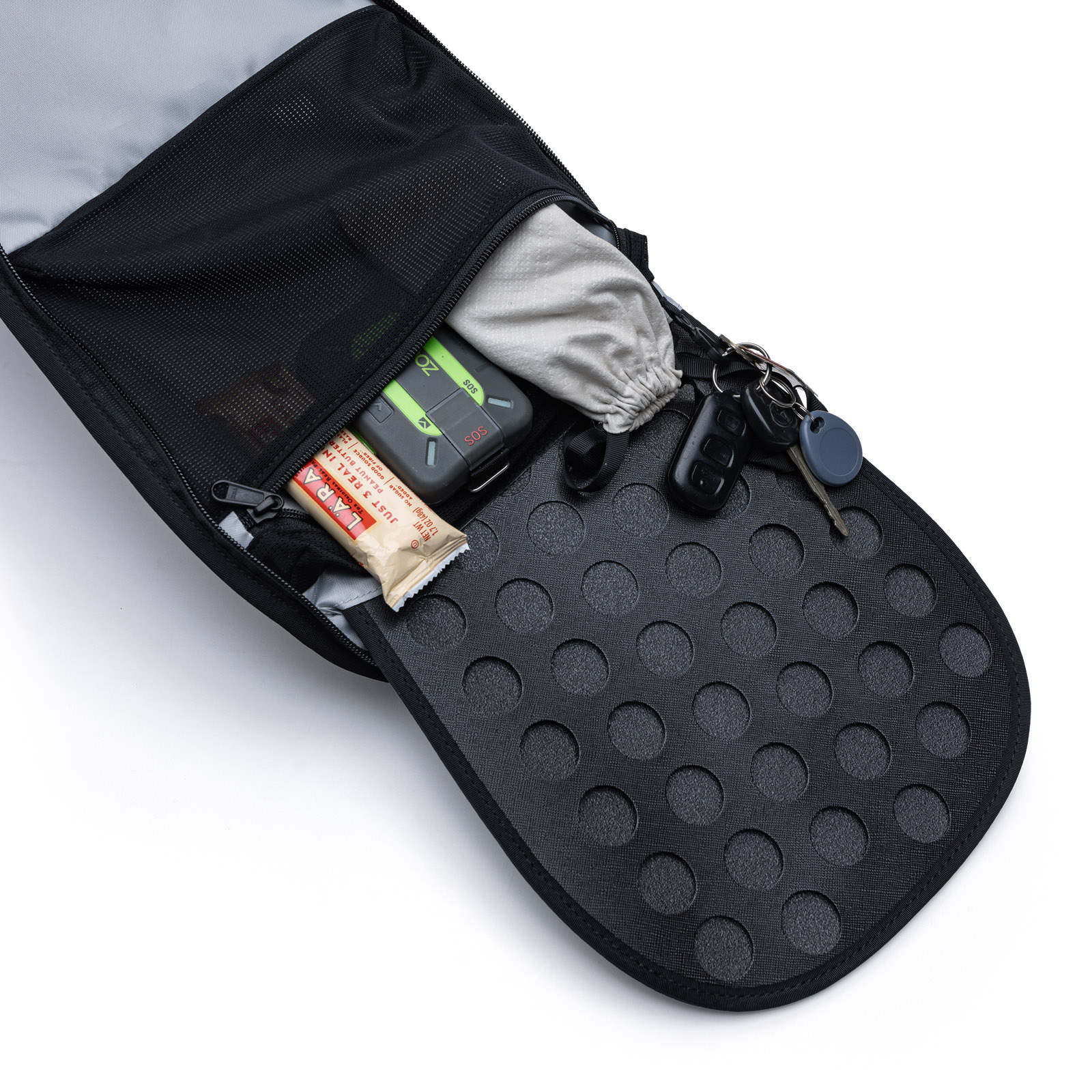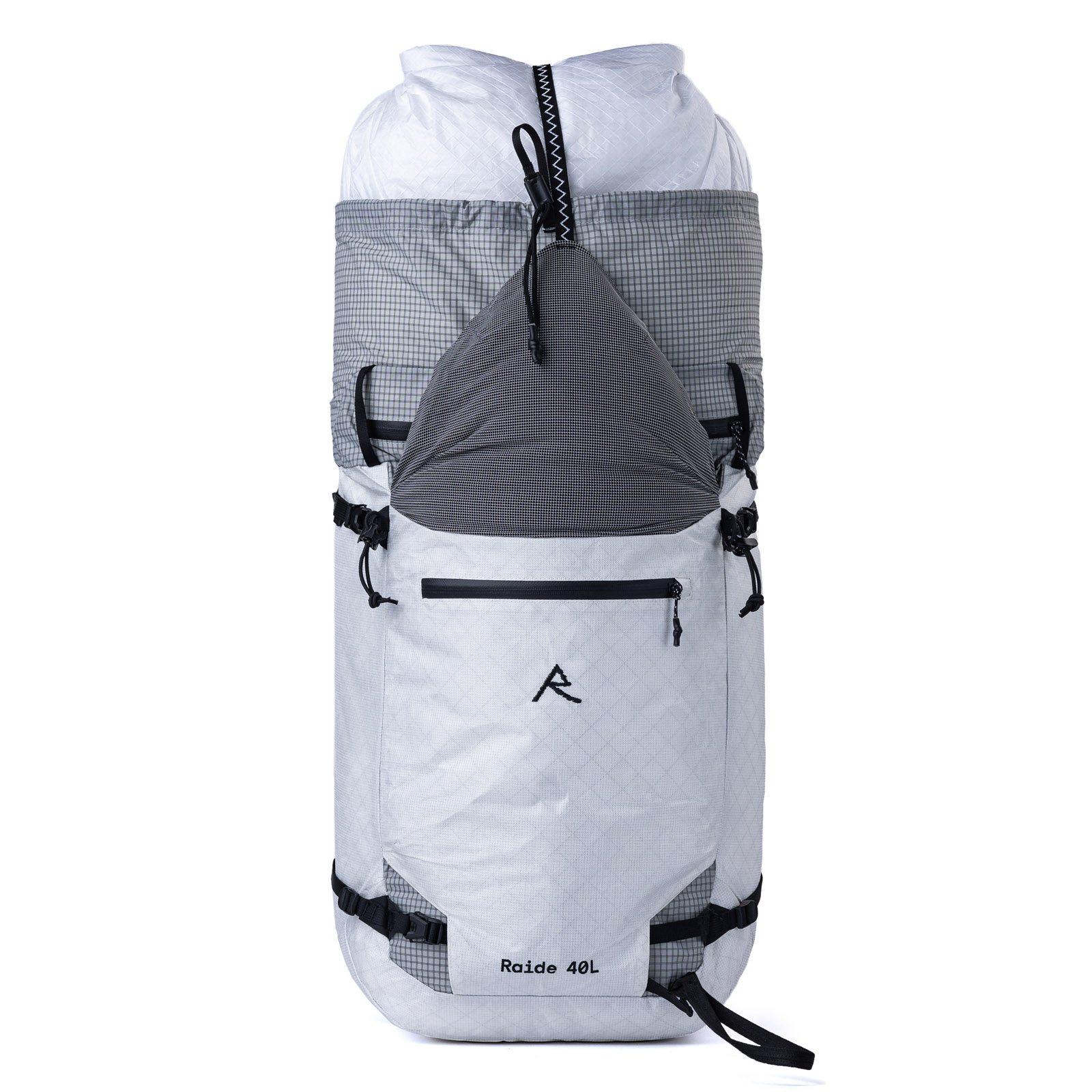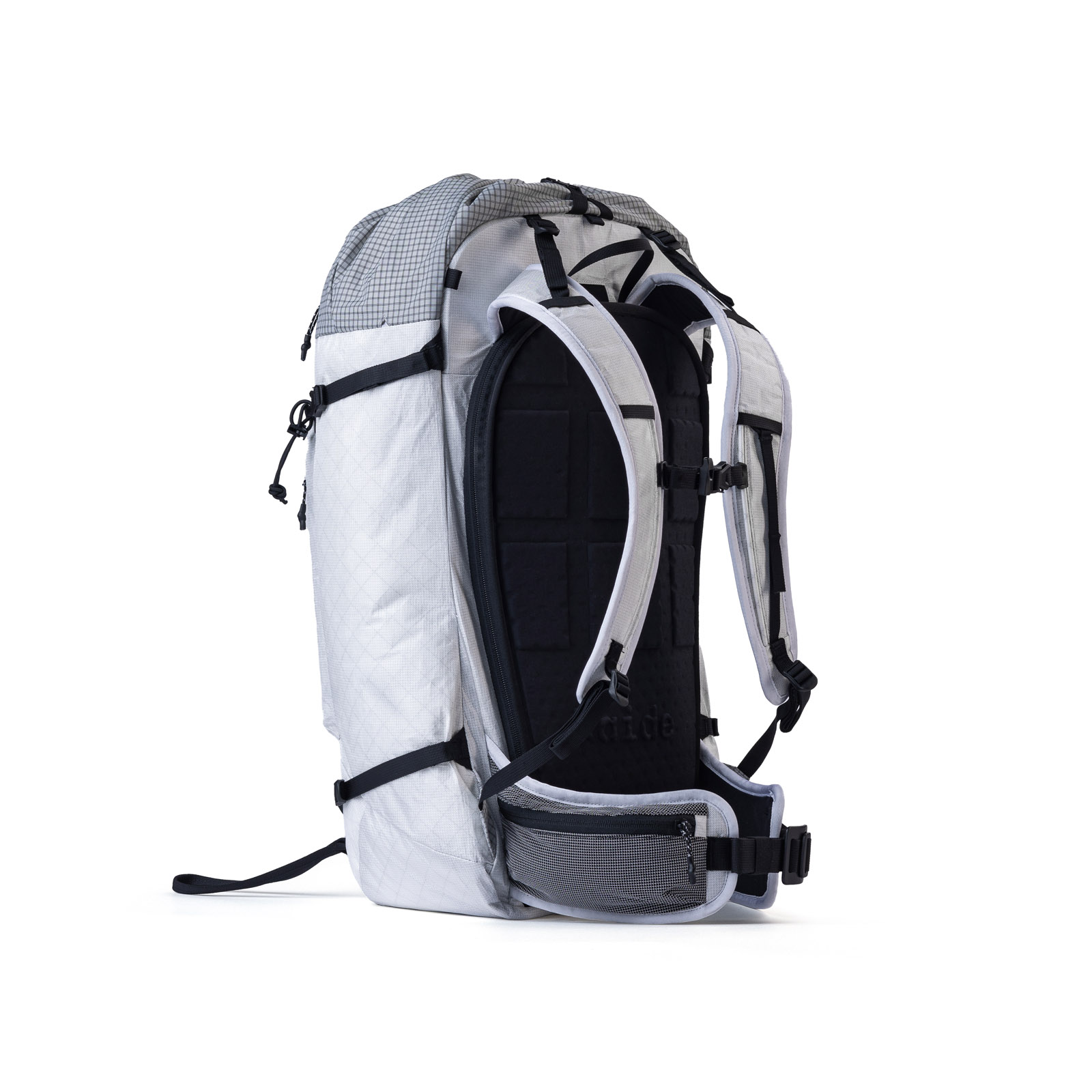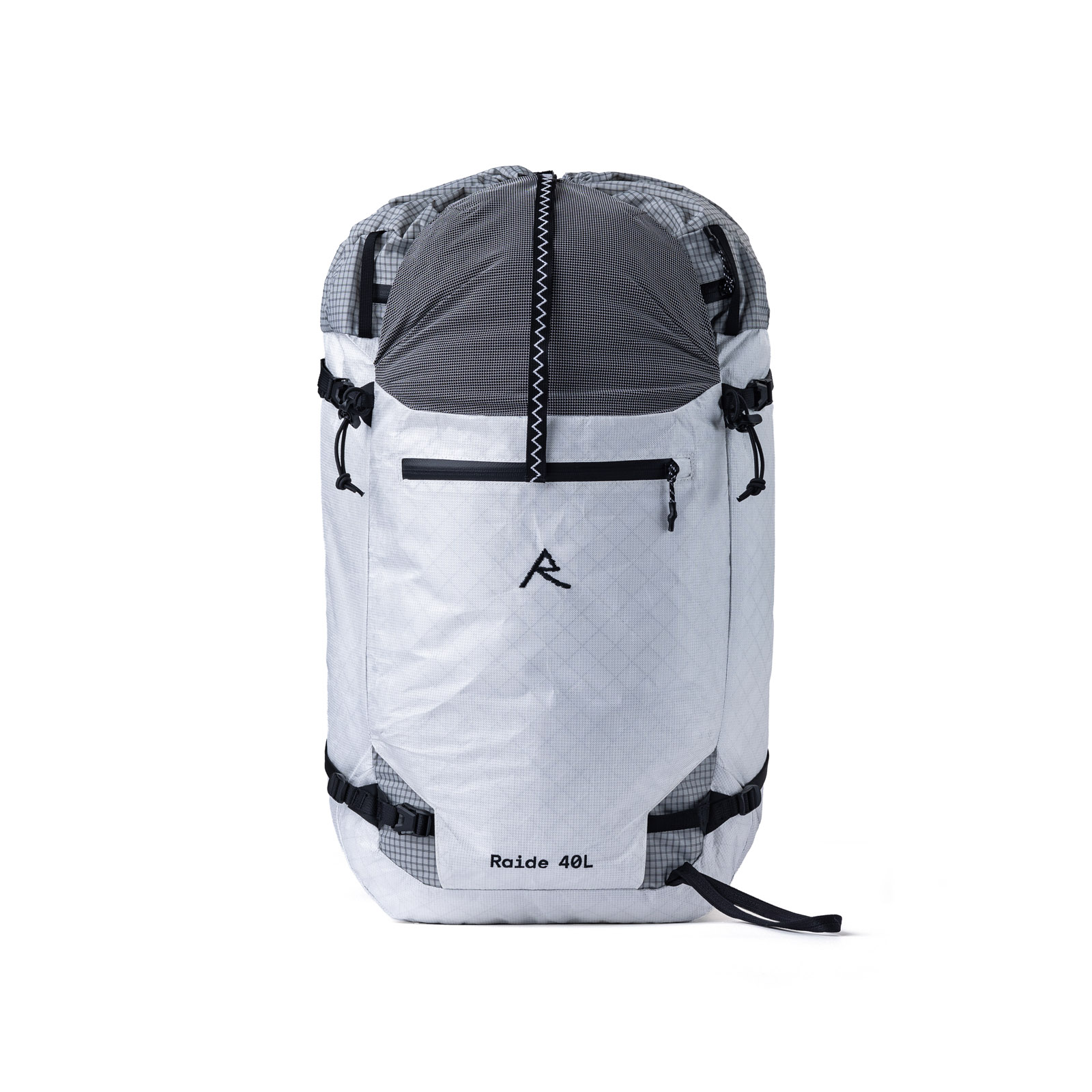 The Raide LF 40L features a helmet-carry solution that doubles as a sort of half lid for the main compartment and an additional pocket / sleeve that's fully accessible from the outside. It's essentially a big, shallow pocket with an elastic flap on top; Raide said it was a priority to not only have ways to access gear without touching a zipper, but to also carry a helmet securely when other gear is placed inside the helmet (e.g., crampons).
Rounding out the feature set are glove-friendly buckles used throughout, an elastic strap on the shoulder strap for quickly stashing gloves on the uphill, and hydration / radio passthrough openings.
Fit & Sizes
The Raide LF 40L is offered in two sizes. The S/M has a 17.5" / 44.45 cm back panel and is meant for those 5'7" / 170 cm and below; the M/L has a 19" / 48.26 cm back panel and is recommended for people 5'8" / 173 cm and above.
I happen to be 5'8" / 173 cm but my torso is a bit short relative to my overall height, so I'm right on the edge between sizes. Fortunately, the M/L seems to fit quite well once properly adjusted. We'll see how much that holds true once I'm actually able to spend lots of time wearing the pack with it fully loaded.
Some Questions / Things We're Curious About
(1) As with any gear designed with low weight as a priority, we're very curious to see what sort of compromises the Raide LF 40L makes, relative to heavier alternatives (especially when it comes to long-term durability).
(2) The Raide LF 40L packs a lot of features into a light package, so how does its implementation of them compare to heavier alternatives? Does it sacrifice functionality in order to save weight?
(3) The ultralight-ski-pack class is still pretty niche, but we're eager to continue to A/B test the Raide LF 40L against another pack built with similar intentions and similar materials: the Hyperlite Headwall 55.
(4) The big one: who is the Raide LF 40L for? Its size, modularity, and weight make it seem like it could work for everything from fast-and-light epics to mellow 1-lap tours, but what sort of backcountry users are going to appreciate it the most?
Bottom Line (For Now)
It's always exciting when we get word of an entirely new company making their entrance into a given category, but it's especially interesting when a new brand seems to have done the research, work, and fine-tuning to make their products actually stand out.
On paper, Raide seems to have done that with their LF 40L pack. It's a very interesting-looking pack that's built with high-end materials and lots of features and little details that seem well thought out. We're looking forward to putting their claims to the test this winter, so stay tuned for updates.