As we've mentioned before, layering is your best bet for staying comfortable in varying conditions. And every good layering system starts with a good baselayer.
Here, we've collected a bunch of the baselayers that our reviewers have been using, from lightweight options for warmer days to heavier layers for the coldest winter storms. As always, we can't try everything, so we're curious to hear which baselayers you prefer. And if you want even more options, check out our previous Baselayer Index. Finally, later this month we'll be posting a baby / toddler version with some baselayer and midlayer options for the little ones.
Fabric: 100% merino wool (200 g/m2)
MSRP: $95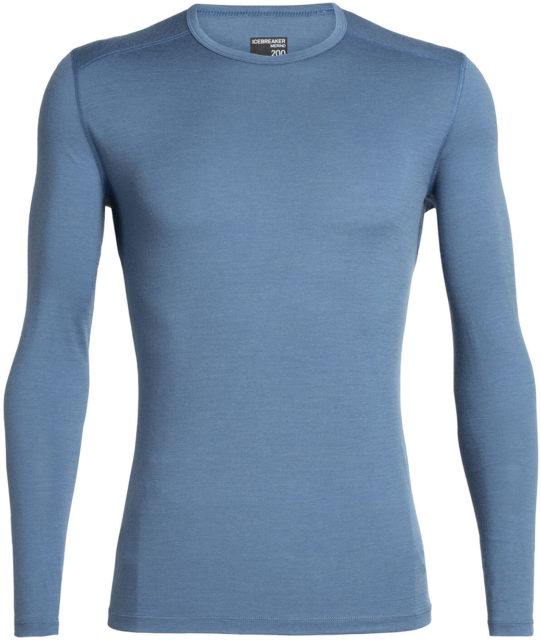 Sam Shaheen: This baselayer has been my reigning favorite ski baselayer for the past several years. It is shocking how soft the pure merino fabric is. I've worn this baselayer scores of times and it has held up extremely well. It is almost comfortable to a fault — I never want to take it off.
The fit is rather slim and the sleeves and body feel a touch short. If I have one complaint it would be sleeve length — consider sizing up if you're worried about the fit being too tight or the sleeves too short.
At 200 g/m2, this fabric is on the heavier side of baselayers that I wear and I wouldn't want to go much thicker (personally) for most of the activities I do. This layer is quite warm and works great in my mid-winter layering schemes. It's simple, but it works really well.
Material: NuYarn, 95 g/m2 (57% nylon / 43% merino wool)
MSRP: $75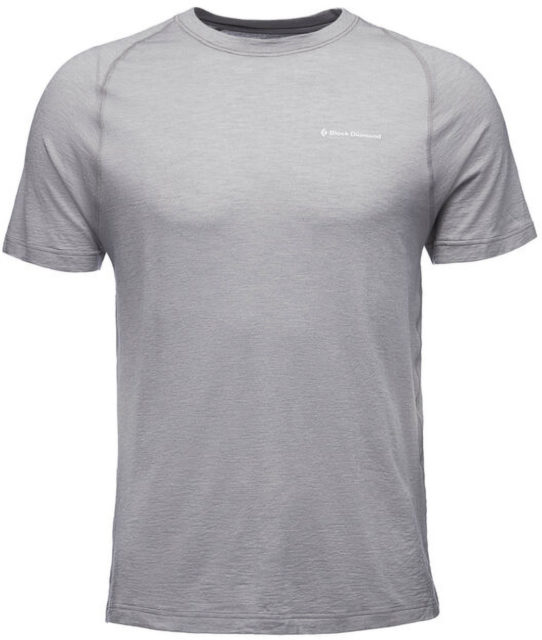 Sam: Black Diamond is marketing this shirt as the lightest merino Tee on the market — and that very well might be true. The 95 g/m2 fabric is very light and the shirt itself is slim cut and minimal on seams. The most surprising thing about the Rhythm Tee though is how incredibly stretchy the nylon / merino wool NuYarn fabric is.
This isn't the softest or most comfortable fabric in this roundup but it is one of the most stretchy and the lightest, which makes the Rhythm a great option for high-output activities like trail running, climbing / scrambling, or warmer ski-touring missions. I've grown to really like this shirt and reach for it often when going out for a high-output day where warmth isn't the maximum priority.
Fabric:
Solids: 100% recycled polyester jersey (105 g/m2)
Heathers and cross-dyes: 100% polyester (50% recycled) jersey (116 g/m2)
MSRP: $35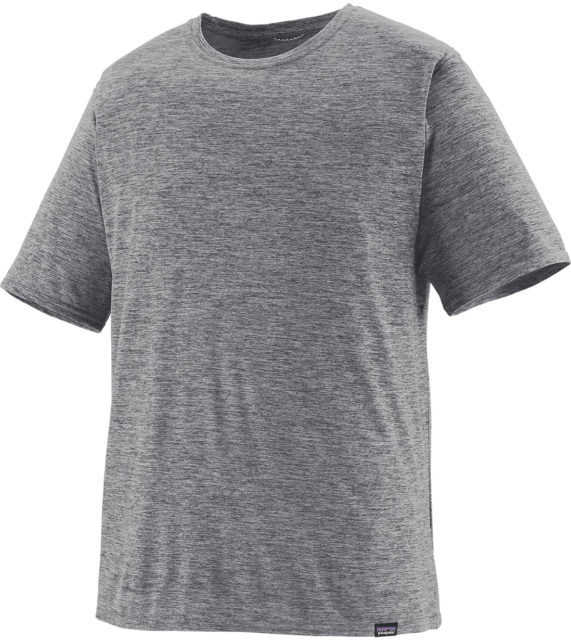 Sam: This synthetic shirt has an incredible hand feel that almost feels like silk. It is very slippery and smooth. It doesn't have the same stretch as many of the options here but it is cut generously and is quite comfortable. The sleeves and body of this shirt are cut a bit longer than most options, so if you prefer longer sleeves, take note.
Overall I've found this to be a very comfortable, warmer-weather baselayer that doesn't get top marks in any single regard, but remains a great, affordable synthetic option on the market.
Luke Koppa: Yep, agreed. For me, the Cap Cool Daily's fabric is pretty much the ideal weight for summer and spring conditions in Colorado. The main thing that stands out to me with this shirt is that it feels cool to the touch, and that's particularly nice when the temps start rising. It looks normal enough for casual use, but wicks, breathes, and dries quickly enough for hiking, fishing, running, etc. Plus, it lasts longer than most synthetic shirts I've used before really starting to stink (but not quite as long as most wool layers).
Fabric: Polartec Power Wool, 153 g/m2 (70% polyester / 30% wool)
MSRP: $109 (on sale for $92.65)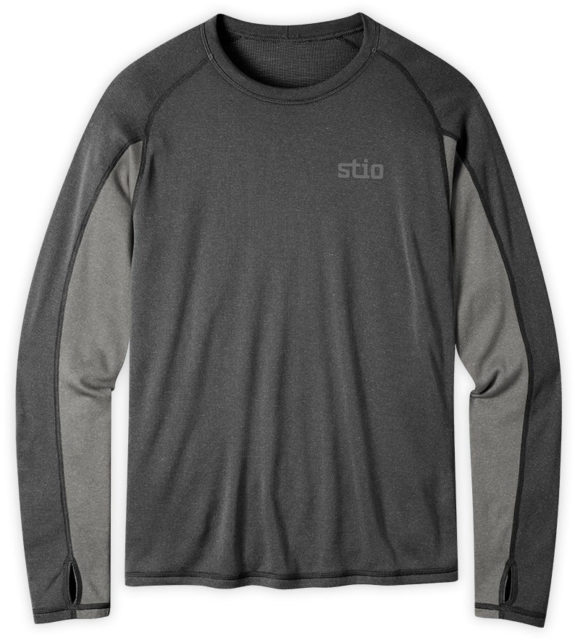 Sam: The Basis Powerwool Crew uses a lightweight version of Polartec's micro-grid-backed Power Wool. The part of the fabric that touches your skin is wool for moisture absorption and odor control, while the rest of the fabric is polyester for stretch, shape retention, wicking, and durability. Overall, I've been a little underwhelmed by the fabric. It isn't as soft as most of the wool options in this roundup and doesn't seem to offer much of an advantage over other baselayers with more traditional wool / synthetic blends.
The Basis crew has a pretty slim fit that feels a bit short in the torso and generally a bit small for a size Medium that I tested. The seams are all flat-stitched and are definitely noticeable on bare skin — if you have sensitive skin, there are better options for you. The sleeves have thumb holes, which can be useful when getting another slim-fitting layer over the Powerwool Crew.
All in all, I think there's potential here, but I'd like to see some improvements made in terms of comfort.
Fabric: 88% polyester / 12% spandex jersey w/ mesh lining
MSRP: $180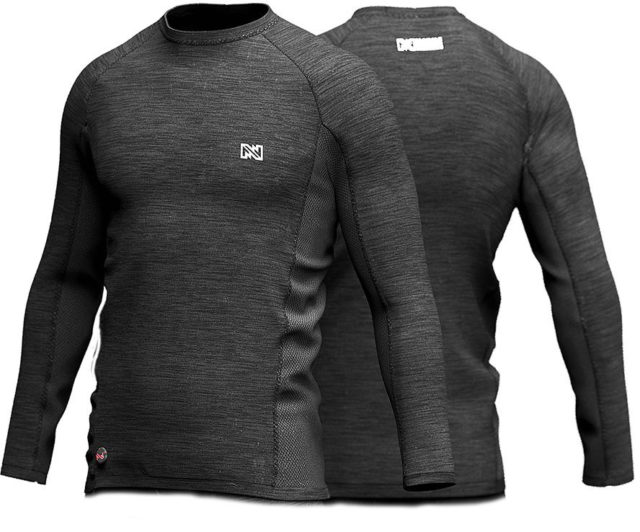 Luke: This baselayer immediately stands out due to the fact that it features a heating element in its construction. The Primer has wires around the chest that you can adjust from 95°F to 135°F (35–57°C), and you can either do this with the button at the hem or using the Mobile Warming app on your phone.
The fabric itself on the Primer is a mix of polyester jersey and mesh, and I've found it to be quite breathable and moderately warm on its own — not quite as warm as some of the ~175+ g/m2 merino fabrics, but not far off. This piece does start to smell much quicker than the wool options here, but its fabric is quite smooth and comfortable.
The main upside with the Primer is the ability to adjust the level of warmth you want. I initially hoped I could use the Primer as a replacement for my midlayers, and that does work on days when it's warmer than around 25°F (-4°C), though I still feel the need for a midlayer when it gets colder than that. With that said, the Primer is arguably one of the most versatile baselayers here, since you can effectively adjust the warmth with the touch of a button (or your phone). For days when the temperatures fluctuate throughout the day (e.g., spring skiing or ski areas with warm base areas and chilly, windy peaks) or for people who often find themselves getting too hot or too cold throughout a given day, the Primer is a great option.
Fabric: 100% merino wool (190 g/m2)
MSRP: $130 (top); $100 (bottom)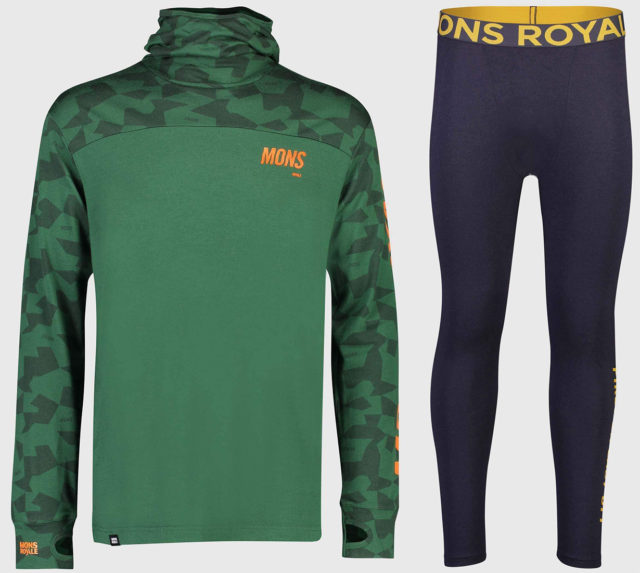 Luke: The Yotei Powder Hood has been a Blister favorite for many years now. Its merino wool fabric is soft against the skin, resists odor incredibly well, and the fit is a nice middle-ground between form-fitting and relaxed. But the main reason the Yotei stands out from the competition is its tight hood, which can function as either a neck tube or a full balaclava. For a seamless barrier from snow, the Yotei's hood is excellent.
If you prefer to keep your neck gaiters / balaclavas below your mouth and don't want it to pull on your chin, I'd recommend something with a hinged design like the Trew Lightweight Chill Top. But I know many people (including our founder, Jonathan Ellsworth) who prefer the tighter-fitting design of the Yotei's hood.
The Double Barrel Legging uses the same fabric as the Yotei, but in a slightly more form-fitting design, which makes it great for layering under multiple layers. I love the wide waistband, and the large cuffs can be comfortably pulled above ski and snowboard boots (Mons also makes a ¾-length option). My only complaint — the lack of a fly.
Fabric: Polartec Power Wool, 175 g/m2 (54% polyester / 38% wool / 8% spandex)
MSRP: $149.94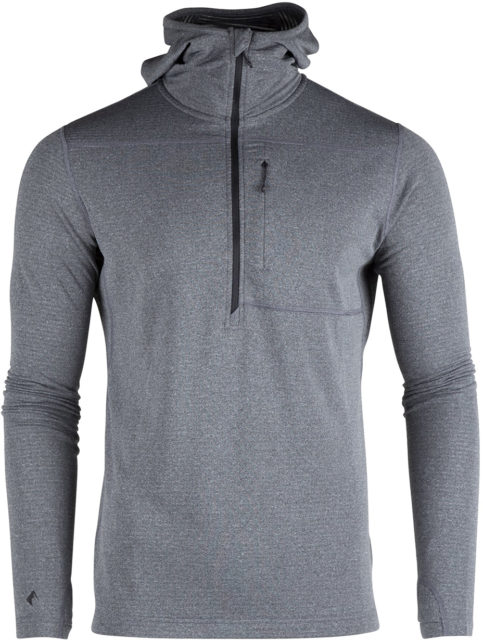 Luke: I don't tend to need super warm layers, so I was a bit hesitant about the Convict hoodie. While it's fabric is not very heavy at 175 g/m2, it is thicker than most of the layers here, and combined with its grid-like construction, that fabric made me think this layer would be too hot for most days.
But I was immediately impressed by the breathability of the Convict. Its Polartec Power Wool fabric is surprisingly versatile — I love using it on truly frigid days, but I've also found that I can use it nearly as comfortably on days where I'd typically opt for something much lighter and thinner. I've been happy using it in my standard layering scheme on resort days with temps ranging from 0°F to 30°F (-18° to -1°C). Apart from the Mobile Warming Primer, that makes the Convict the most versatile winter baselayer I've used.
Unlike the Stio Power Wool piece Sam tested, I've found the Convict to be extremely comfortable — not itch, no scratch, and I've never noticed the seams. And despite its high synthetic content, it still fends off odor very well.
The fit on the Convict is a bit baggier than most of the baselayers here, but I still haven't noticed it under my slim-fitting midlayers like the Patagonia Nano-Air Jacket and Strafe Alpha Insulator. And its sleeves are very long — I think there would be almost no people out there who would complain about them being too short.
The hood on the Convict comes up fairly high on my chin and fits pretty well under a hat or helmet, though I personally prefer a very thin fabric for my face, so I usually opt for a balaclava. But the Convict's hood is great for tossing over a hat on the uphill when the wind picks up — it doesn't really block wind, but it does dull the cutting cold of a breeze.
If you prefer a thicker baselayer, still want that baselayer to work in a very wide range of conditions, and like the option of a hood, the Convict is excellent.
Fabric: 84% merino wool / 16% nylon (180 g/m2)
MSRP: $59.95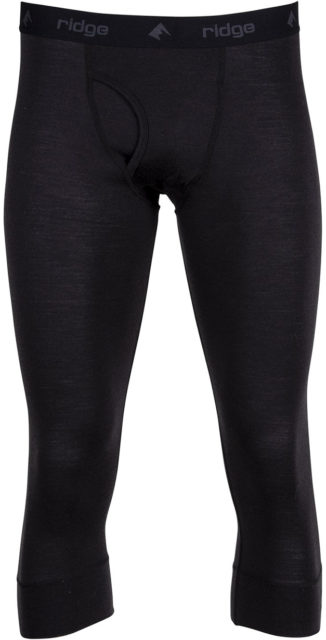 Luke: Especially for the price, the Aspect Midweight bottom is excellent. Its merino / nylon fabric is extremely soft (one of the softest merino fabrics I've used), resists odor really well, and its 180 g/m2 weight is just about perfect for all the skiing I do. I love the ¾ length for skiing, the waistband is comfortable, it has a fly for easy bathroom breaks, and overall I have zero complaints. While this, the Convict Hoodie, and their (amazing) boxers were the first pieces I used from Ridge Merino, I've come away extremely impressed by all of them.
Fabric: 51% merino wool / 49% recycled polyester
MSRP: $230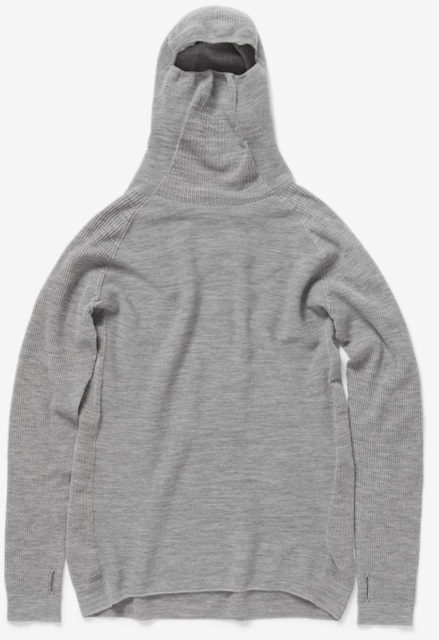 Luke: This baselayer is quite pricey, but it's also super cool.
As its name suggests, the Whole Garment Balaclava Top is knit without any seams. The result is an extremely comfortable, and quite versatile construction. It also cuts down on waste since there's no need to cut and sew the fabric, thus creating excess scrap fabric. The main fabric is fairly thick (feels thicker and warmer than Mons Royale's 190 g/m2 merino fabric), but then there are panels seamlessly knit around the face and back that use a lighter, more open-knit fabric for increased breathability.
The fabric itself on the Whole Garment is quite soft for being half-wool, and it seems to maintain all of wool's anti-odor properties. I usually use this piece on the colder days since it's not quite as breathable as the <200 g/m2 fabrics here, but its thicker fabric and excellent balaclava hood are welcome on frigid days. The balaclava portion of this piece fits similarly to the Mons Royale Yotei — tight to the face.
On a subjective note, I think the Whole Garment is probably the best-looking baselayer I've used. It looks more like a sweater than a technical baselayer.
If you're looking for a heavier-weight baselayer for cold days, want an integrated balaclava, and like the idea of a unique construction and cool look, the Whole Garment Balaclava is worth checking out.
Fabric: NuYarn, 145 g/m2 (85% merino wool / 15% nylon)
MSRP: $125 (top); $95 (bottoms)

Luke: We have a ton of really good baselayers here and many of them may be better options for you. But personally, the Trew Lightweight Chill Top & Lightweight Wool Bottoms are the ones that I use most often. Why?
First, the NuYarn fabric on these baselayers is both extremely comfortable (one of the least-itchy wool fabrics I've used) and extremely versatile. I'm happy using it in my standard layering scheme down to around 10°F (-12°C), but also in temps up to around 40°F (4°C). The NuYarn fabric is not only soft, but it's also very, very stretchy and I find it to be a bit more breathable than "normal" merino fabrics due to the bit of "loft" the NuYarn fabric creates.
Second, the Lightweight Chill Top features my favorite integrated hood. It has a hinged design, so while it doesn't fit as tight as the Mons Royale Yotei or Holden Whole Garment Balaclava, it's much easier to comfortably pull it below my mouth when I don't need full-face coverage. (And if you have long hair and like to pull some strands out from under your helmet, it's perfect for that, too.)
Third, these things are just incredibly durable in my experience. One of the main issues with wool is that it tends to break down quicker than most synthetics, but after more than two full seasons of use (at least 150+ days), there are no holes in these Trew baselayers.
Fourth, the NuYarn fabric is very, very odor-resistant. As I do with most wool layers, I've worn this Trew kit for a disgusting number of days without washing, and I usually end up washing them simply due to being grossed out by the time between washings, rather than there actually being any noticeable odor.
If you don't need a super warm, super thick baselayer, want the anti-odor properties of wool, appreciate a hinged-hood design that can replace a balaclava, and / or want baselayers that last multiple seasons, I highly recommend the Trew Lightweight Chill Top & Lightweight Wool Bottoms.
Fabric: 51% merino wool / 49% recycled polyester (190 g/m2)
MSRP: $150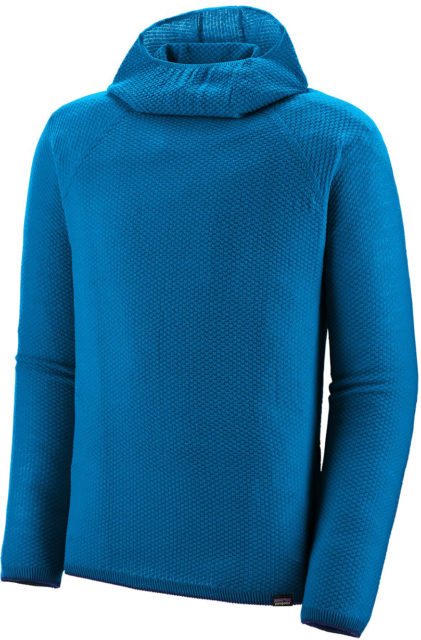 Luke & Jonathan Ellsworth: The Capilene Air Hoody is very similar to the Holden Whole Garment Balaclava — both use a seamless construction, both feature an identical blend of merino wool & recycled polyester, and both feature a tight, balaclava-like hood.
The Capilene Air Hoody is a bit slimmer, lighter, and notably less expensive than the Holden piece. The Capilene Air's lofty fabric is still warmer than the other <190 g/m2 merino fabrics here, but I've found it to be a bit more versatile in warmer temperatures than the Holden Whole Garment. And the Capilene Air's fabric is quite breathable for how warm it is — as soon as you expose it to some airflow (e.g., opening vents or zippers on your other layers), it quickly dumps heat.
Jonathan has been using the Capilene Air Hoody (and its predecessor, the Merino Air Hoody) as his go-to baselayer for years now, and he's a huge fan. The integrated balaclava hood works great if you prefer a tighter-fitting face covering, and it's not bulky at all. The fit is fairly slim, but not super skin-tight.
All in all, the Capilene Air Hoody is an excellent baselayer for those who prefer a warmer option, a tight balaclava, and a seamless construction.
Fabric: 89% merino wool / 11% polyester
MSRP: $180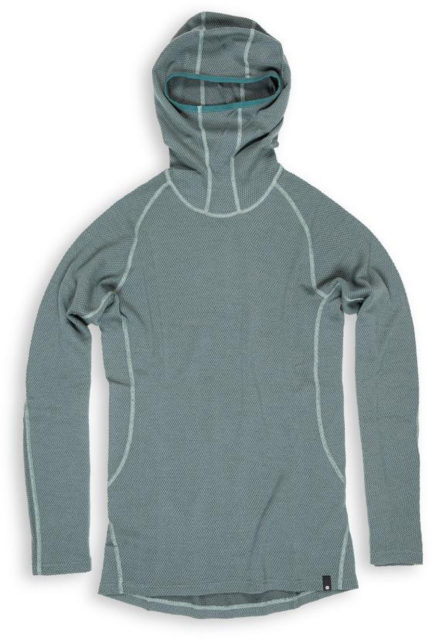 Jed Doane: Beringia is a relative newcomer to the US, focused on integrating Japanese design and fabrics into technical outerwear and baselayers (they're essentially the North American face of Japanese brand, Teton Bros). The Diomede Hoodie is made from a unique multi-layer knit waffle fabric from Japan's legacy wool-producing Bishu region. Notably, the wool is chlorine-free, using a patented collagen treatment rather than the chlorine pretreatment (used in most wool products) to enable washing and a more comfortable on-skin feel. This eliminates chlorine leaching into the water tables during washing and wear.
Overall, the Diomede is a very impressive piece. The waffle fabric is incredibly soft and stretchy next-to-skin, and offers warmth somewhere between the Patagonia's Capilene 3 and 4 fabrics. The Diomede is thinner, lighter, and much more breathable than a Patagonia R1 with only slightly less warmth. I really appreciated the long, slim cut, and the design and styling are really clean. A size Medium fit me (6'2, 170lb) perfectly, though with the stretch it likely would fit many body types. The knit waffle fabric's breathability is better than any baselayer I've used, especially for how lightweight it feels. On cold morning uphills, I wear the Diomede under an active insulation piece like a Patagonia Nano-Air or North Face Ventrix for maximum breathability and warmth. As the day warms up, the Diomede is great on its own while skinning or hiking. The knit allows for rapid cooling, ideally in low-wind conditions (it doesn't really block wind). I prefer the Diomede next-to-skin, though it could certainly work as a midlayer over a lightweight, form-fitting baselayer.
The unique hood is my favorite feature of the Diomede. Forming a full balaclava, it sits tight on my head, comfortably under a helmet or beanie. It doesn't cut wind, but I found myself pulling it out on windy powder days to keep snow off my neck. Some hooded baselayers and sunshirts with more traditional (i.e., roomier) hood designs are difficult to use under a helmet or hat, but the scuba-suit cut and stretch fabric of the Diomede allow for excellent neck range of motion, which was much appreciated during my testing period. When not in use, the hood is barely noticeable, but the neck can also be pulled up as a Buff-like neck tube in a pinch. Durability was an initial concern given the delicate appearance of the knit fabric, but the fabric has been remarkably durable and has even resisted pilling.
Those looking for a high-quality wool baselayer with excellent comfort and breathability and a unique hood design should definitely check out the Beringia Diomede.
Fabric: 100% Merino Wool (190 g/m2)
MSRP: $130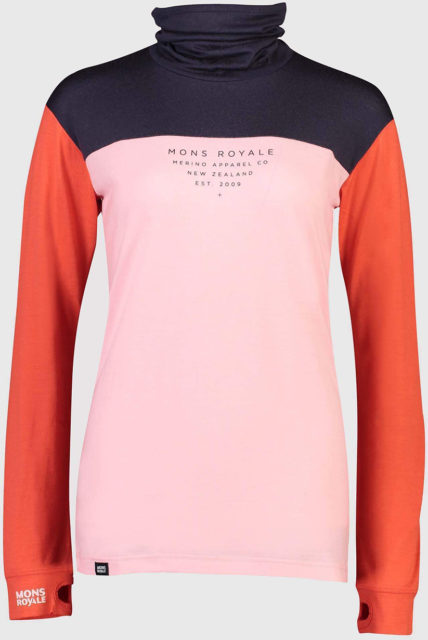 Kristin Sinnott: I'm not a fan of having cold air on my neck so I almost always ski in a neck gaiter. The turtleneck design of the Yotei BF High Neck allows me to leave my neck gaiter in my boot bag on all but the coldest of days. Lightweight but warm, the High Neck is 8.5 inches (21.59 cm) wide and 9 inches (22.86 cm) tall when laid out flat. Wide enough to be comfortably worn slouched but not so wide to allow airflow to the neck.
Like the fit of the neck, the rest of the top has a fairly relaxed fit. Perfect for layering under a midlayer or over a slim-fitting, lightweight layer and long enough in both the sleeves and torso that I never worry about exposed wrists or the shirt coming untucked. I tested a size Small and it was (and still is after dozens of washings) a great fit. The thumbhole loops that are built into the cuff are easily hidden away for non-use but are also great for adding layers on top of the shirt since the keep the Yotei's sleeves from bunching up. With its great colorways and stretchy and soft wool, the Yotei BF High Neck is perfect for skiers, riders, or anyone who likes a little extra warmth around their necks.
Fabric: 100% Merino Wool (190 g/m2)
MSRP: $90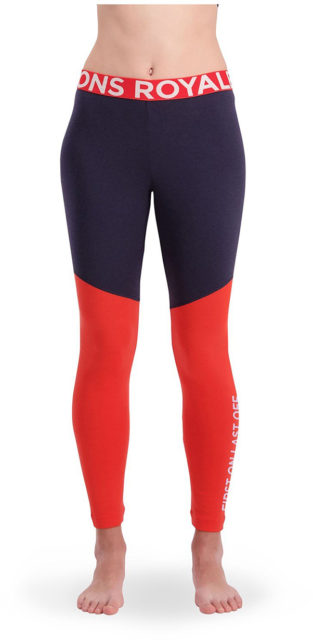 Kristin: Having spent 95% of my ski days wearing the Christy Leggings this season, I'm amazed they still look as good as new. The 1.5"-wide (~4 cm) elastic waistband is comfortable and soft against the skin, stays in place all day, and it has not stretched out. Similarly, the leggings maintain their shape, even if I wear them a half dozen times between washings. The merino wool is soft and stretchy and the fit is fairly slim so they can be worn tight against the skin.
The size Small length hits just above my ankle, which works great with ski boots. While I love the colors of the leggings I tested (coral & navy), if I had tested these in black (or a less colorful option), I would wear them as everyday leggings, rather than just as a baselayer. If you're looking for a comfortable, warm, and good-looking baselayer pant you can use daily for a season or more, the Christy Legging is a safe bet.
Fabric: 66.5% rayon from bamboo / 28.5% merino wool / 5% elastane (200 g/m2)
MSRP: $85 each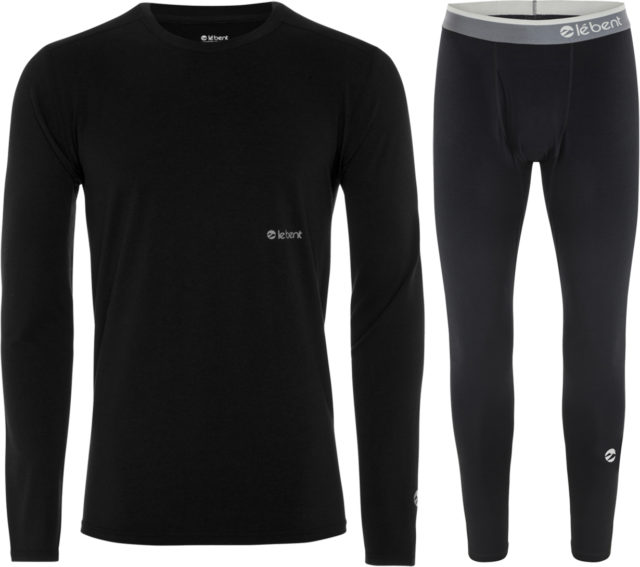 Kristin: Over the past few years I've been wearing a lot of baselayers that are 100% wool and while they are soft and not scratchy, I always look forward to taking them off after a day on the hill. The first time I put on the Le Base Crew, I didn't take it off for 14 hours and it wasn't due to a lack of opportunity — there was just nothing else I'd rather wear. I continued to wear it daily for the next three days and only took it off to wash due to my son's runny nose. Between the flat seams and the stretchy and buttery soft fabric, this top is amazing. And thanks to the bamboo and wool content, it's also breathable, odor resistant, and warm.
I tested a size Small and loved that the fit wasn't skin tight but also not so loose that layering on top of it was uncomfortable. The torso and sleeves are long enough for my 5'8" frame as the torso extends below my hips and the cuffs fall at my wrists. It washes well and I accidentally dried it on the medium-high heat setting and while it shrunk just a little, it's still a good fit all around. If you're looking for an alternative to 100% wool baselayers, the Le Base is a great option.
Luke: Yep, the Le Base Lightweight Crew & Bottoms stand out to me primarily due to how comfortable they are. As Kristin noted, most merino wool baselayers are quite comfortable, but not something I'd opt to lounge around in. Not the case with the Le Base options.
I have noticed that the Le Base layers do tend to smell a bit quicker than pure wool options, but the Le Base layers are still notably better than most synthetic layers I've used. In terms of warmth, I've found the Le Base Lightweight to be pretty on-par with ~200 g/m2 wool fabrics. The cut is moderate in my mind — not skin-tight, but also not so loose that they bunch up under other layers.
Materials:
Insulation: 40-g Primaloft Gold Active (100% Polyester)
Lining: Relance™ (100% Polyester; 50 denier; 94 g/m2 w/ DWR finish)
MSRP: $199 (on sale for $179.10)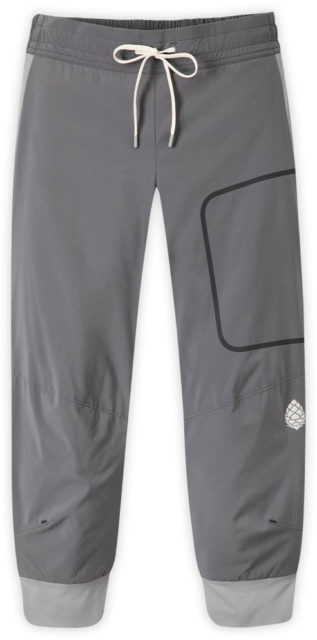 Kristin: The Fernos Insulated Knickers is a baselayer that doubles as a midlayer (or is it the other way around?) thanks to it's Primaloft Gold Active insulation. Thin enough to wear under ski pants without looking or feeling too bulky, the Knickers are great to wear next to skin or on top of a baselayer. The 40-g Primaloft Gold breathes surprisingly well, while providing plenty of warmth on cold chairlifts. The Fernos' fabric is wind resistant, soft, and has a slight stretch to it, making it comfortable to wear against the skin or as an outer layer. The ¾-length design can be tricky to pair with socks as there needs to be enough overlap to keep everything connected. I paired the Knickers with ski socks that seemed tall enough when I put them on at home but once I sat on the lift, a gap developed and the area between my knee and the top of my boots. After that occasion, I learned the best way to wear them is with the cuff of the Knicker on top of the sock — not the other way around.
Recently, I wore them over the Mons Royale Christy Leggings (and under the Strafe Wildcat Pant) on a 0°F (-18°C) day and my legs were perfectly warm. I tested a size Medium and on my 5'8", 125 lb frame, they seemed a bit big — perfect for layering on top of other leggings but not as ideal for a baselayer. A size Small would be my preferred fit, but the larger size made them extremely comfortable not just as a base or midlayer but also to wear around the house as an alternative to sweatpants. The wide waist with drawcord gives them a customizable fit and the zippered side pocket makes them a bit more versatile when worn as sweats or an outer layer. If you tend to add bulky layers like sweats under your ski pants when the temps really drop, the Knickers are a much better alternative and have a great warmth-to-weight ratio.