When considering a new running shoe, there are so many similar-looking shoes on the market being made by so many different companies, it is virtually impossible to (1) know where to begin; (2) quickly figure out which one or two products from a given brand might work well for you; and (3) determine what products from other brands might be the most similar and also worth considering.
So in our new "Blister Brand Guide" series, we provide an overview of the entire product lineup of a brand; highlight how each product stands out from the rest of that brand's lineup; and help you figure out quickly and easily which shoe might work best for you.
In our individual product reviews, we go very deep into the details of particular products. With these Brand Guides, the goal is not Depth, but Breadth. Our Brand Guides and full reviews are designed to complement each other — provide a broad overview of entire company lineups, and then also very detailed reviews of individual products.
Arc'teryx: Brand Background
Arc'teryx was founded in Canada's Coast Range, and their wide range of outdoor products reflects the extremely wet climate and extreme terrain of that region — which might explain why you're probably more likely to associate Arc'teryx with fancy raincoats, bomber skiing shells, and technical climbing equipment than with running shoes. But for the last few years, Arc'teryx has also been making trail running shoes that are equally well-suited to mountainous terrain.
Arc'teryx's trail running lineup consists of three shoes, each with a specific intended purpose. Each model is also available with a waterproof / breathable upper. Arc'teryx's shoes generally have slightly narrower fits than shoes from brands like Altra. Many of Arc'teryx's models are built on similar lasts to Salomon's trail shoes, as both brands are owned by the same parent company (Amer Sports), so Arc'teryx shoes will likely fit similarly to some of Salomon's offerings. Like most of their other products, Arc'teryx's trail shoes tend to be pretty pricey, with MSRPs ranging from $150-$200.
In this brand guide, we'll break down the features and intended features of each shoe in the Arc'teryx lineup. As always, shoes are organized in order of highest to lowest stack height.
(Most Cushioned to Least Cushioned)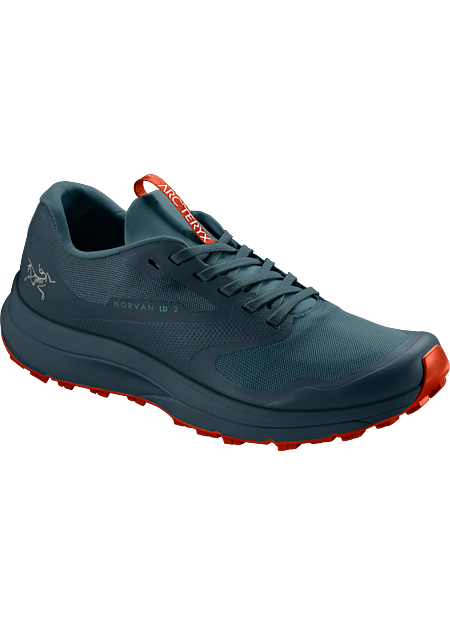 The Norvan LD 2 is Arc'teryx's long-distance trail running shoe. It's also probably the most versatile shoe in the brand's lineup. The Norvan LD 2 has a fairly firm EVA midsole, so it won't provide a super plush ride — but the firmer EVA will also probably last longer than a softer material, and should provide efficient energy return. The Norvan LD 2 also has a Vibram MegaGrip outsole with fairly moderate, 3.5mm-deep, square lugs that should provide solid traction on most dry surfaces, but probably won't be the best option in deep mud. The Norvan LD 2 should be much more durable and protective than the Norvan SL, so it will likely be a better option for day-to-day use and / or rockier terrain. With that said, it won't be as grippy or protective as the Norvan VT 2 — so the VT 2 is still probably the best option for truly muddy / technical terrain. But if you're looking for a reasonably lightweight, mid-cushioned shoe for more moderate terrain, the Norvan LD 2 could be a good option.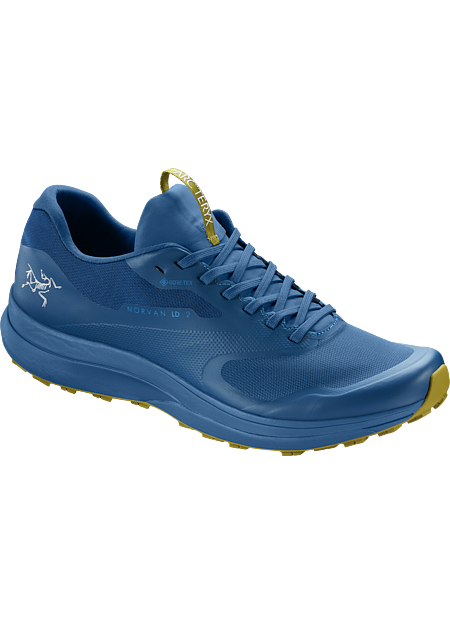 The GTX version of the Norvan LD 2 has (as you might expect) a waterproof / breathable, Gore-Tex upper for extra protection in wet conditions. Aside from that, the Norvan LD 2 GTX has the same moderately aggressive Vibram MegaGrip outsole and firm EVA midsole as the standard version of the shoe. If you want a longer-distance shoe for moderate terrain but often run in cold, wet conditions, the Norvan LD 2 GTX may be a good fit.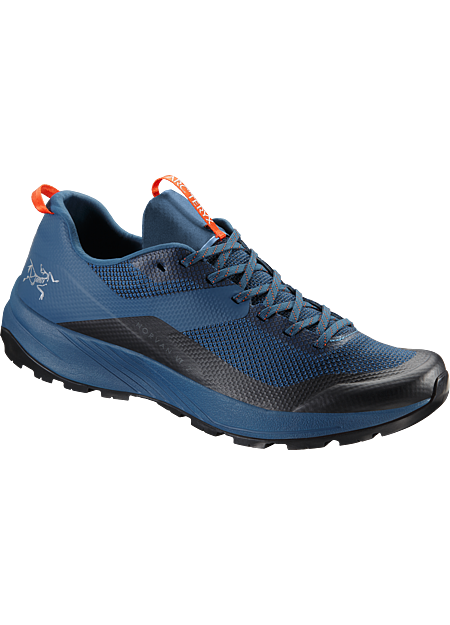 The Norvan VT 2 is designed for running and scrambling on technical mountain trails. The upper has extra TPU overlays and a more substantial toe bumper, which should improve durability and protection in extremely rugged terrain. The Norvan VT 2's outsole uses the same durable, grippy Vibram MegaGrip rubber as the Norvan LD 2, but with larger, deeper (4 mm) square lugs. It also has a climbing zone in the toe (which is basically just a set of large, flat lugs), which should improve the shoe's edging capabilities for truly technical scrambles. The Norvan VT 2 is a bit heavier than the Norvan LD 2 and SL because of its more aggressive outsole and more durable upper, so it probably won't feel as fast / smooth on moderate terrain. But if you're looking for a close-fitting, durable, and protective shoe for routes that include everything from technical trail to off-trail scrambling, the Norvan VT 2 should be on your radar.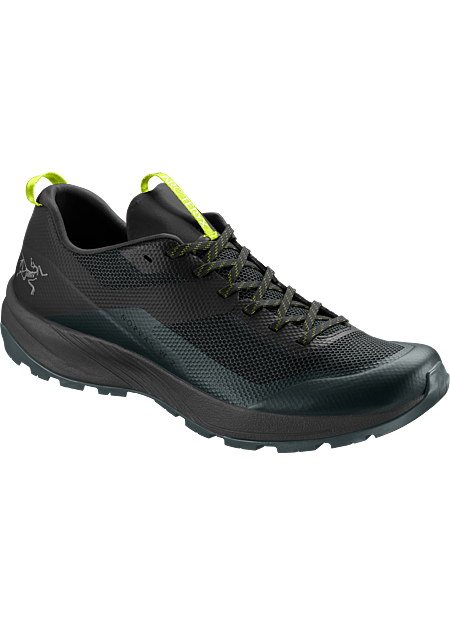 No surprises here — the Norvan VT 2 GTX has the same feature set as the standard version, but with a waterproof / breathable Gore-Tex upper. The Norvan VT 2 GTX is still best suited to technical running and scrambling, but could be a better option than the standard version of the shoe if you often encounter wet, cold conditions on your runs.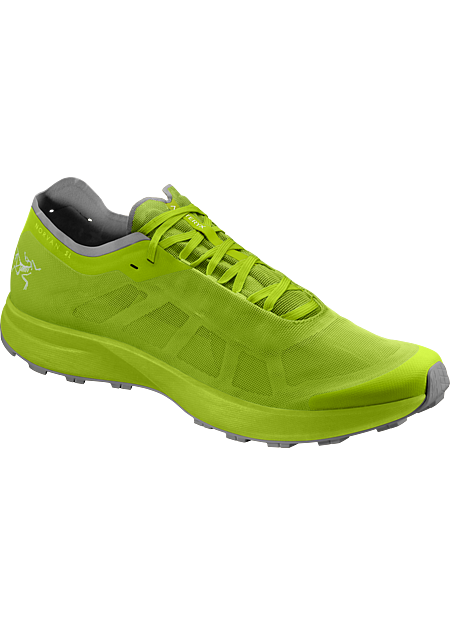 The Norvan SL is Arc'teryx's answer to the ultra-light, stripped-down, trail racing shoe market. And with a stated weight of just 185 g / 6.5 oz for a US Men's size 9, the Norvan SL might be the lightest trail racing shoe on the market that still offers a notable amount of cushioning (at least as far as we know). It has an extremely thin, minimal, stretchy mesh upper, a specially designed ultralight EVA midsole, and a Vibram MegaGrip outsole with fairly large, widely spaced 3.5 mm lugs. The Norvan SL won't be as protective or cushioned as the Norvan VT 2 or LD 2 — and it also probably won't hold up to day-to-day use nearly as well either because of its extremely lightweight construction. But if minimizing weight for race day is your top priority and you don't expect to encounter much truly technical terrain, the Norvan SL should definitely be on your list.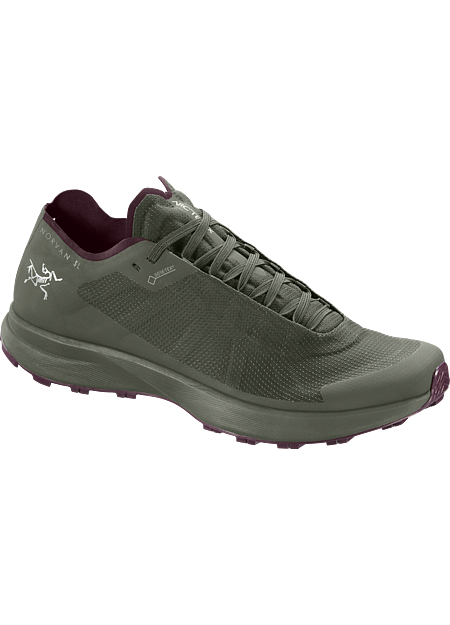 The Norvan SL GTX has the same ultra-light midsole and outsole as the Norvan SL, but with a slightly heavier Gore-Tex upper for extra protection in wet / cold conditions. If you're looking for a lightweight racing shoe and prioritize a bit more protection from the elements over absolute minimum weight, the Norvan SL GTX could be a good option.