We recently published our picks for stocking stuffers, and now we've got some more ideas for gifts that would be perfect under the tree.
Luke Koppa
Everyone needs a good pair of jeans (or 5), and SWRVE's Cordura Jeans are some of the best I've used. They have a really nice, soft, slightly-stretchy feel, but thanks to the use of Cordura nylon in the fabric, they should last significantly longer than typical cotton denim (I've used mine for more than 50 days now, and they show no signs of wear). They also have a gusseted crotch for plenty of freedom of movement, and they're available in three different fits, so you should be able to find an option for anyone.
Noah Bodman
Trees across the trail suck, but they're a fact of life. The Pocket Boy cuts through small to medium deadfall like butter, and it comes with a handy little carrying case so you don't have to go digging through your pack every time you come across an obstacle. It's a perfect complement to any backcountry explorer's gear repertoire.
Kara Williard
That last ¼ in any ski baselayer bottom is just a wasted uncomfortable fold above the ski boot. Mons Royale makes that ultimate soft, wool baselayer that you can spend days in while still maintaining a warm, soft, smell-free fit.
Kristin Sinnott
A Retro Puffy Vest:
It seems every outdoor apparel brand is coming out with a retro-inspired vest, and for good reason — they offer a perfect combination of warmth and style. Every time the forecast is for slightly cool weather, my vest is the first thing I reach for. Of the brands listed, the Maloja is my favorite, but I do tend to prefer hoodless items.
The Maloja BilbaoM Jacket is the most versatile lightweight jacket I've worn. With its wind-block front panel and mesh back panel, this jacket is ideal for ski touring, mountain biking, running, hiking, or any other adventure you can dream up. Wear it as an outer layer when you're on the mover, or as a mid layer on colder days. The hood fits comfortably under a helmet and the bonus face mask attached to the hood remains out of the way when not in use but is extremely helpful when you forget to pack a neck gaiter.
Gift some classic ski lodge decor with the help of the New England Ski Museum's collection of vintage ski posters and prints. Although the collection includes posters from all over the U.S. and Europe, my favorites are the New-England-inspired prints.
Looking for a unique yet practical gift for the environmentally conscious relative? Look no further than the Chilote House Shoes. They might not be the softest slippers out there but what they lack in coziness, they make up for with sustainable design. These 100% handmade slippers feature natural sheep wool and up-cycled salmon leather. Yes, salmon leather and no, the slippers don't smell fishy.
As a strong believer that one can never have too many blankets, this one stands out among the rest of my collection. Incredibly soft Sherpa lining and a water resistant 'shell' make it ideal for car camping or evening snuggles on the couch. I've already purchased a second for gifting.
Jonathan Ellsworth
So as to feel less jealous of all of you who have already been heading out for weeks hiking for early-season turns on super-thin snow, I've been upping my loungewear game — since turns out that breaking your neck leaves one with quite a bit of lounge time. (Or rather, work time in loungewear.)
So I now consider myself a master in the art of lounging, and here are a few of my top picks:
I love these, and they are worthy of a typical 1500-word Blister review. They have a stiff sole — i.e., a shoe sole — so don't mistake these for (merely) indoors slippers. Think shoe / clog sole + very comfortable slipper upper. And I find them to be very warm — too warm (for me, at least) for year-round use, but if you know someone who lives in a cold place or whose feet are always cold, these are perfect. Note on sizing: I typically wear a size 10.5 street shoe, and I always go with a size "10" in OluKai. When I first wore these, the size 10s felt tight, and I thought I should have sized up. But don't. These need a few days to break in and stretch, so after that break-in period, I'm glad I didn't go bigger. I'm getting up at 5 am to start a long, cold drive, and these will definitely be on my feet.
I've somehow gone years without having a solid pair of go-to, flannel pajamas, so I began a big search this past Fall to remedy this (because we don't only obsess about ski gear around here). And I feel like I nailed it with these. (I'm 5'10, ~175 lbs, and I went with a size Large). They are soft, they look good, and they are slightly tapered at the bottoms which is great if your floors tend to be covered in dog hair. (Big dogs are the best. And the worst.) If Toad & Co hasn't been on your radar, they should be. As should these 100% organic cotton, mid-weight flannel pajamas.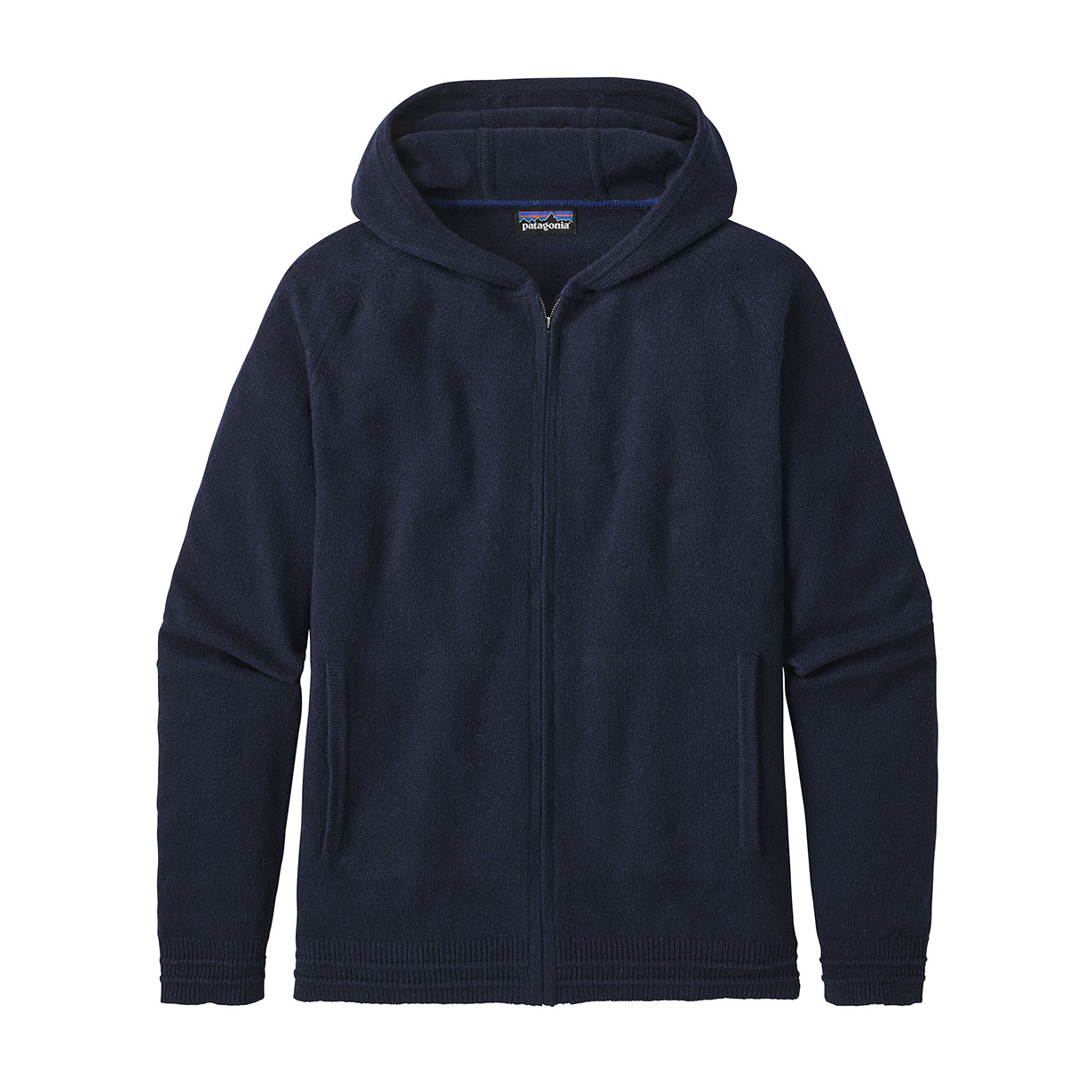 This is probably the nicest thing I own. It is insanely soft and comfortable, and it turns out, cashmere is not an inexpensive product. But before you protest, I have a zillion nice hoodies that I like that are made of other materials, and the good news is that they are readily available. Ok, back to Cashmere: this hoodie is made of 95% recycled cashmere and 5% wool. I'd call it a mid-weight hoody that I never really find to be too warm. So I put it on, leave it on, then hope I don't spill ketchup or coffee all over it.
Here, by the way, is what Patagonia has to say about their recycled Cashmere products. It's interesting:
"Cashmere is one of the world's softest fibers and is globally recognized as a luxurious yarn. Unfortunately, cashmere has come to be treated like a commodity and demand now outpaces supply, leading to overgrazing of cashmere goats, resulting in desertification of the delicate grasslands in Mongolia. Recycled cashmere has given Patagonia the opportunity to bring cashmere back into the line, aiming to lessen the demand for virgin cashmere by using recycled cashmere collected from factory scraps, repurposed into clothing meant to be valued for years."
This seriously might be my girlfriend's favorite product of all time, and if she ever breaks up with me, I'll know because the Rumpl will be missing. This next statement will either sound kind of pathetic or maybe cute (if you're feeling charitable) but we just march the Rumpl back and forth from the couch to the bedroom, where the 2-person blanket fits quite well across a king-sized bed. I wasn't immediately in on the whole sleeping-bag-blanket thing, but I now make use of it every single day, and will continue to until my girlfriend breaks up with me and steals it.
Paul Forward
The only piece of clothing that finds its way into my kit for every adventure I take, 12 months per year, is the Patagonia Houdini. There are similar products from other companies, but I still haven't found one that I like better. The wind resistance and breathability of the fabric, combined with an athletic fit, well designed hood, and just perfect wrist elastic of the Houdini all add up to the perfect wilderness companion for ski touring, mountain biking, fly-fishing (it makes a great bug-proof shirt), trail-running, hiking, sea kayaking… you get the idea.
Is someone on your list in need of new skins? Of all the skins I've tried, these BD skins are my current favorite because they provide my favorite combination of glide, low weight, packability, reliable adhesive, and enough grip for any skin track that I care to tackle.
Cy Whitling
I got a relief map of Idaho for my birthday, and it might just be one of the coolest things I own. Seriously, it's incredibly awesome! Maps are already really neat on their own, but relief maps take that to the next level. I love touching the mountains and lakes, and the map looks pretty dang good on the wall too. It might take some digging to find your favorite area, but there are a lot of options available online.
Stickfort Print ($40-$70)
Art can be very subjective, but if you're reading this and you haven't heard of Adam Haynes (Stickfort), chances are, you'll like his work. It's been a little difficult to find prints of his art in the past, but he recently set up a new online store, with a lot of options at every size and price point. Personally I'm a little partial to "Intersection 1", but all of his work is perfect home decor for mountain people.
Eric Pollard Print ($65-$175)
I lust after Eric Pollard's skis based on the graphics alone, and I know I'm not the only one on that front. So if you want some of that unique Pollard look in your life, but don't need another pair of skis, his online store is the place to go. He's got prints and originals available at a range of sizes, and you don't have to cover up any part of them with bindings.