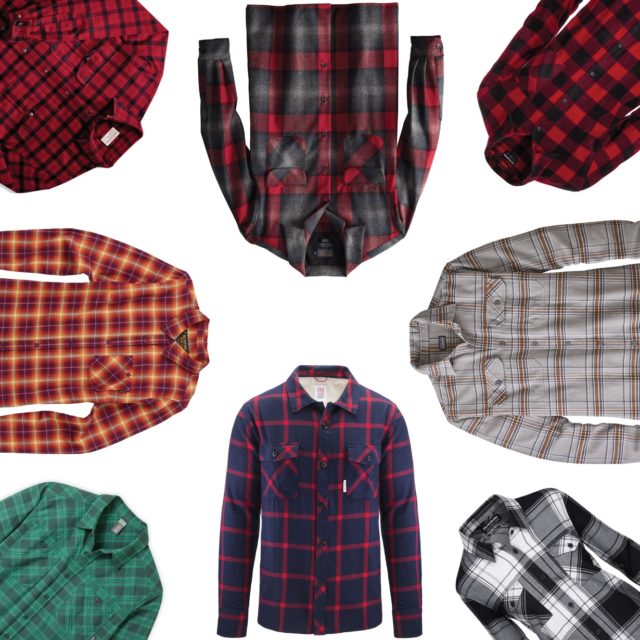 Flannels need no introduction — you've probably spent a lot of time in them, and we know we certainly have. They're soft, cozy, and are one of the few pieces of apparel that are probably in almost every person's closet. But not all flannel shirts are created equal, so we've rounded up a bunch of men's and women's options that we've been using over the past year to help you figure out which one might be the next favorite shirt that you've been looking for.
Filson Alaskan Guide Shirt
Fabric: 8-oz. 100% cotton flannel
Reviewer: 5'10", 140 lbs
Size Tested: Small
MSRP: $125
Best for: heavyweight, burly construction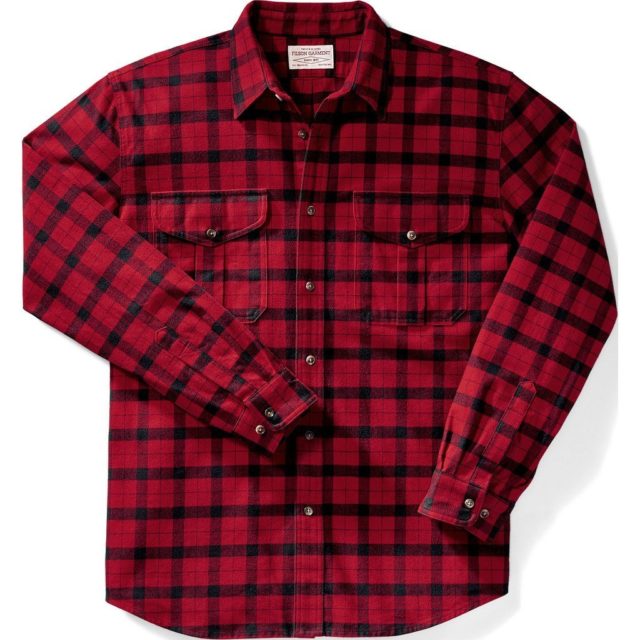 Sam: The Filson Alaskan Guide Shirt is probably the heaviest shirt in this roundup. It has a thick cotton flannel fabric that has some structure to it but remains very soft against the skin. This, combined with the rather generous fit, has made it my favorite flannel in my closet right now. I love how the structure makes it drape and the softness is perfect against my skin. I definitely recommend sizing down in most stuff from Filson and the Alaskan Guide Shirt is no exception. The Small is borderline too big for my athletic 5'10" frame.
I think this shirt will handle any amount of abuse I throw at it and still look good enough to hit the bars afterward. In typical Filson fashion, the details on the Alaskan Guide Shirt are dialed. It uses the best buttons I've seen for a thick flannel and the front pockets sit low profile when empty, but are still able to expand to hold a surprising amount of stuff.
I'll say this at the beginning of this piece, I'm not a huge flannel-shirt fan — I'm just not that into the aesthetic, personally. But I wear the Alaskan Guide Shirt all the time. It works perfectly for me as an overshirt for just about anything I do.
Pendleton Fitted Board Shirt
Fabric: Pure virgin wool
Reviewer: 5'10", 140 lbs
Size Tested: Medium
MSRP: $135 (certain colors currently $93.99)
Best For: classic design and made-in-the-USA wool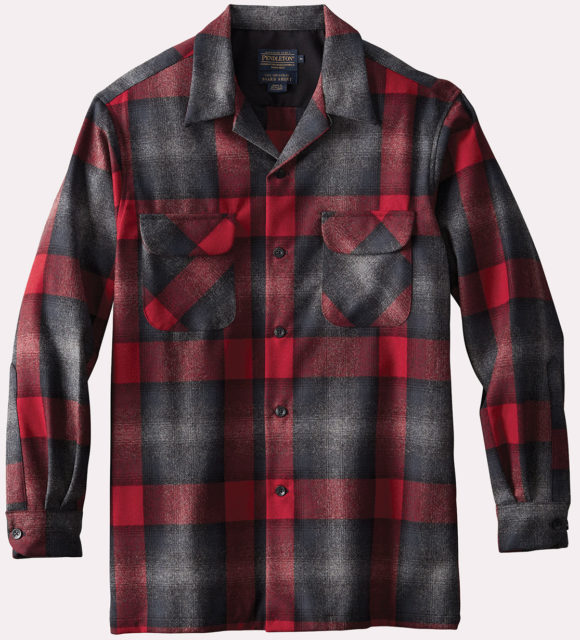 Sam: The Pendleton Board Shirt is an American classic. I mean, before they were the Beach Boys, they were the Pendletones — and the Board Shirt graced the covers of many Beach Boys albums. Now the fitted version of this classic style brings a more modern fit to this timeless flannel.
The Fitted Board Shirt is made from pure virgin Umatilla-county wool that is woven in Pendleton's Oregon mill. The fabric is midweight, breathes excellently, and is very rugged and durable. I've worn the Board Shirt groveling up rough granite chimneys and it looks brand new. This durability does come at the cost of hand feel though — the Board Shirt's wool is definitely not as soft against the skin as the cotton options in this roundup.
While its slimmer than the standard version, The Fitted Board Shirt isn't some super slim hipster cut. The Medium fits me just about right for layering over a t-shirt without having a bunch of extra fabric to get in the way. It is definitely a touch slimmer than the Small Filson Alaskan Guide Shirt. The Board Shirt is also cut quite long — on my 5'10" frame the Medium offers full butt coverage.
This shirt has become a favorite layer of mine for Spring and Fall rock climbing because of its hard wearing fabric, excellent breathability, and longer cut that stays in a harness well.
Stio Miter Flannel
Fabric: 4.5-oz Brushed Cotton Flannel
Reviewer: 5'10", 140 lbs
Size Tested: Small
MSRP: $99 (currently on sale for $69.30)
Best For: wearing every day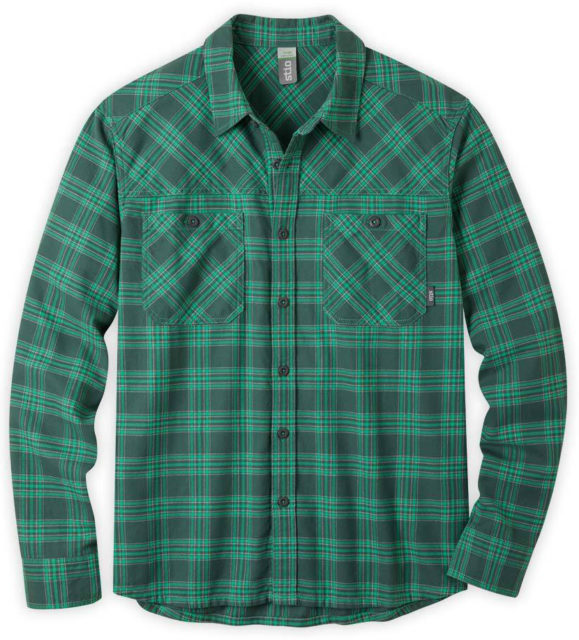 Sam: The Stio Miter Flannel is a classic everyday flannel. It has all the features of a shirt that's easy to pull from your closet for pretty much any occasion. It has a midweight cotton fabric that feels amazingly soft, simple and clean lines, two buttoned chest pockets, and a versatile fit.
I tested the Miter in a size Small (which I find works best for me across the Stio line) and it fits me well. It has smaller armholes than most of the other flannels I tested and a shorter torso. As a result, this shirt feels better when worn on its own rather than as an overshirt — plus the fabric is so soft, I don't really want to have an undershirt on when wearing the Miter.
Dakine Women's Devon Flannel Shirt
Fabric: 200 g/m2 100% Polyester Polar Fleece
Reviewer: 5'6", 110 lbs
Size Reviewed: XS
MSRP: $65 (currently on sale for $48.75)
Best For: warmth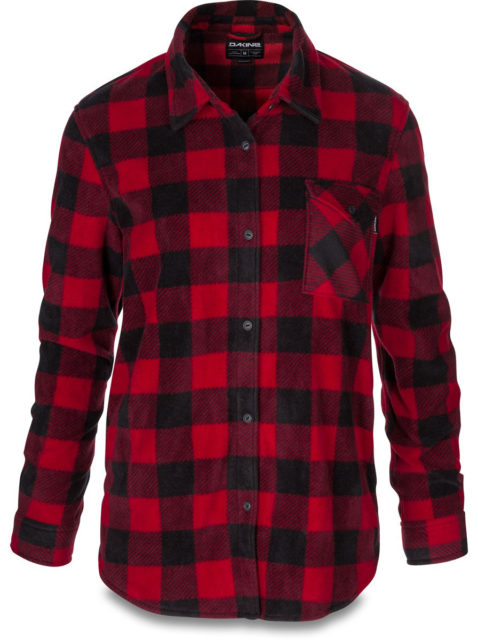 Nicole: The Dakine Devon flannel has to be the warmest shirt I have ever owned, and it has become my go-to flannel. Made out of 200 g/m2 polyester Polar Fleece, the Devon is extremely warm (while still being breathable), it's soft, and the fabric has a bit of stretch so it doesn't feel so restrictive. The Devon Flannel also has large, deep, and very useful hand pockets that open by the side seam (which makes them very inconspicuous), plus one chest pocket with a button flap. The back is a little longer than the front, which I also appreciate as I have a longer torso, so most tops fall short on me. And for that reason, I personally wouldn't mind if the shirt was overall just a bit longer. But it is roomy enough to wear a shirt underneath.
Dakine Women's Noella Tech Flannel Shirt
Fabric: 185 g/m2 synthetic flannel (64% Polyester 33% Viscose 3% Elastane) w/ Polygiene treatment
Reviewer: 5'6", 110 lbs
Size Reviewed: XS
MSRP: $75
Best For: a bit of everything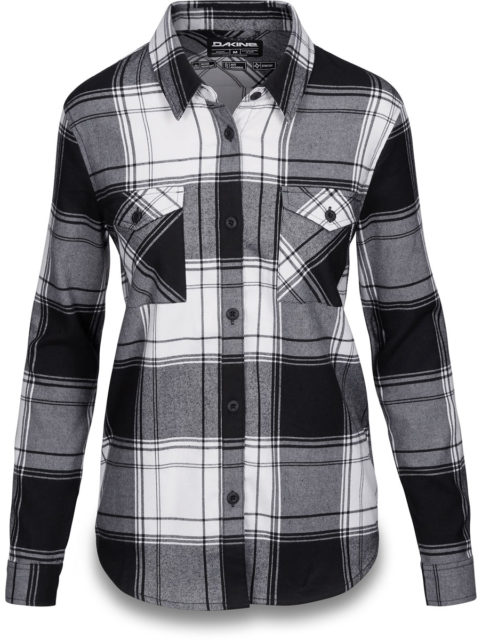 Nicole: The Dakine Noella Tech Flannel definitely looks and feels more like a dress shirt compared to the fleece Devon Flannel. The Noella is more restrictive in terms of arm movement around the shoulders, and it feels tighter on the upper back. That said, the Noella's material is soft, water resistant, treated with an anti-bacterial Polygiene treatment, and has a bit of stretch to it (though it's not nearly as stretchy as the Devon's fabric). The Noella shirt fits me well in the front and the sleeves are the perfect length. But for a size XS, I would call this a "relaxed" fit — there is quite a bit of extra material in the back and on the sides. So I'd say that the fit is more "regular" in the shoulders, but "relaxed" fit in the rest of the flannel. The length seems longer than most flannels and the pattern looks really good — this is not your traditional, checkered look like the Devon Flannel.
Burton Women's Grace Long Sleeve Flannel
Fabric: 100% cotton lightweight flannel
Reviewer: 5'8", 125 lbs
Size Reviewed: XS
MSRP: $59.95 (currently on sale for $41.96)
Best For: a flattering fit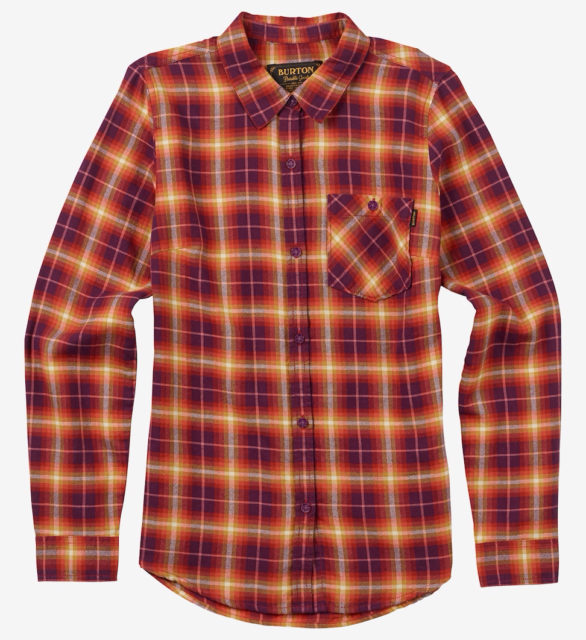 Kristin: I usually prefer wearing a size Small or Medium in flannels. But while I initially scoffed at the idea of an XS, once I put on the XS Grace Long Sleeve Flannel Shirt, I didn't want to take it off. Well, to be perfectly honest, the first time I tried it on I was already wearing a long sleeve shirt and thought the XS was too small. But once I removed the undershirt, the XS looked and felt great.
For me, the smaller size makes for an extremely flattering cut and yet is still long enough in the torso and sleeves for my 5'8" frame. I wore the Grace for a skate-ski outing the day it arrived and completely forgot I was wearing a button-down shirt as I had full range of motion, which is impressive for a "regular" (not relaxed-fit) shirt. If I was looking for a shirt that I could add layers to underneath, I would size up to the Small. But with its single chest pocket, back pleat, and soft fabric, this flannel is good looking and comfortable — two thing I always look for in a good flannel shirt.
Topo Designs Field Shirt — Plaid
Fabric: 7-oz 100% organic cotton
Reviewer: 5'8", 155 lbs
Size Tested: Medium
MSRP: $89
Best for: comfort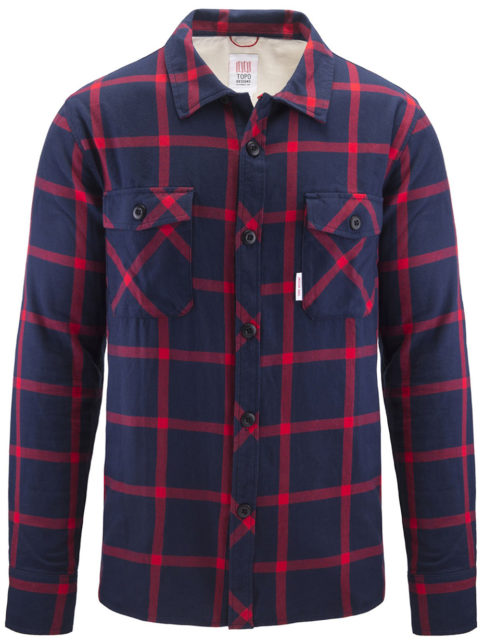 Luke Koppa: Topo's Field Shirt is a bit of a departure from their traditionally very-slim fit block, and fits fairly similarly to the Patagonia Fjord Flannel, though the Field Shirt is a bit shorter and a touch slimmer through the torso. The Field Shirt's fabric feels a bit lighter than the Fjord Flannel's, is extraordinarily soft, and has remained soft throughout many washes. Extra-large buttons and a chest pocket with a headphone / pen port are nice touches, and combine with the fabric and fit to make for a comfortable and sharp-looking flannel. I've had one of Topo's Field Shirts since it was released a couple of years ago, and it's still my go-to shirt when I just want something soft and cozy. Plus, it's now made in 100% organic cotton. Nice.
Patagonia Long-Sleeved Fjord Flannel Shirt
Fabric: 6.5-oz 100% organic cotton
Reviewer: 5'8", 155 lbs
Size Tested: Medium
MSRP: $89 (certain colors currently $53)
Best for: durability and comfort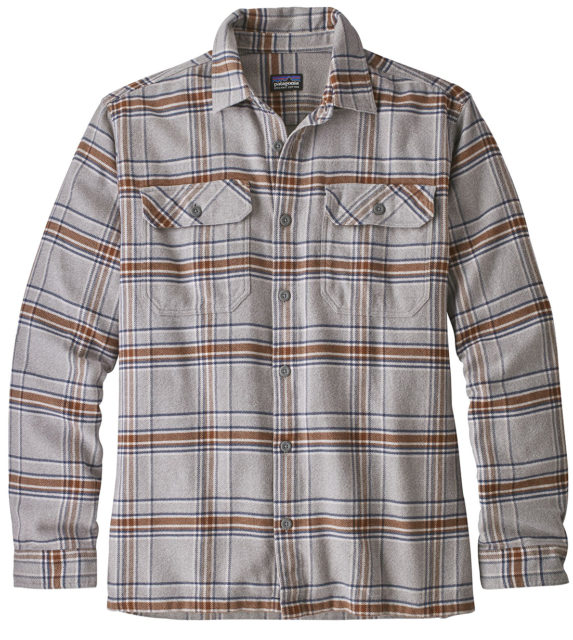 Luke: We've talked about the Fjord Flannel before, and we're including it again since it's still one of our all-round favorites. The fabric is a versatile weight that's definitely on the heavier side for shirts, but not so much that it feels like a jacket — we will still happily wear the Fjord Flannel beyond the winter season.
Patagonia calls the fit of the Fjord Flannel "relaxed," and I'd say that's accurate. At 5'8", 155 lbs, the Medium fits me fairly loosely, but not so much that it looks sloppy (for reference, I wear a Medium in pretty much everything). The fabric is soft (though it loses just a bit of that super-soft feel after several washes), and I've found the construction to be very durable. After 6+ years and hundreds of days, I haven't had any issues apart from a burn from a campfire, something that was due to my own negligence, and that was easily fixed with a small patch and some stitching.
Toad & Co. Deware Slim Longsleeve Shirt
Fabric: 100% organic cotton
Reviewer: 5'10", 140 lbs
Size Tested: Medium
MSRP: $79 (currently on sale for $59.25)
Best for: looking sharp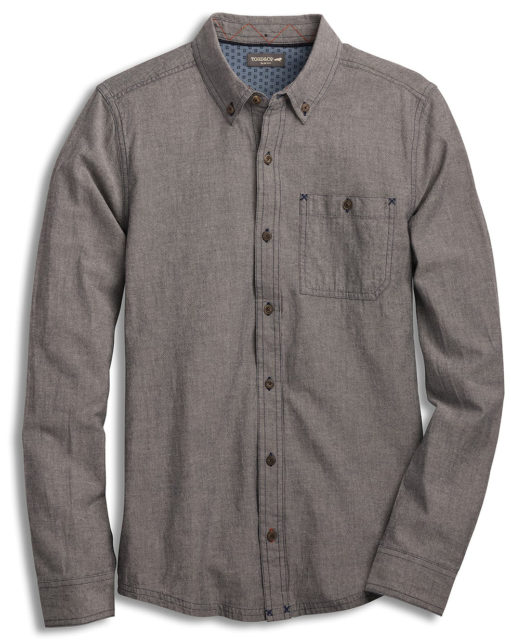 Sam: Ok, you're a real detective — this isn't really a flannel. But for those out there (like me) who aren't super high on plaid and want a shirt with a bit more structure, the chambray-fabric Deware Slim Longsleeve Shirt is a good alternative to loud, multicolor patterns. It has a bit more of a formal feel than many of the other options on this list, it feels quite at home at the bars or on a date.
It uses a light, breathable, textured organic cotton chambray fabric that is the perfect weight for warmer fall and spring days. With one chest pocket, a button-down collar, and contrast bar tacks, the Deware doesn't feel stuffy or fancy — it looks good without it looking like it is trying to hard. The Medium is a hair on the big side for how I would like a shirt like this to fit (i.e., slim), but I don't think I'd size down. I just think I'm between sizes (I really should go to the gym more).
We are huge fans of Toad & Co here at Blister. I am continually impressed by the quality of their apparel and their extensive environmental efforts. The Deware is another piece to add to the list of great apparel from Toad & Co.
Share this post:
Share on facebook
Share on twitter
Share on pinterest
Share on reddit
Share on email