FlyLow Lab Coat 2.0
Size Tested: Large
Front Zipper Length: 79.0cm
Blister's Measured Weight:
810 grams (with powder skirt)
Features:
– Polartec Neoshell
– Articulated shoulders and sleeves
– Fully seam taped
– 7 pockets (3 internal, 4 external)
– Helmet-compatible hood
– Powder skirt (removable)
– No Bulk Cuffs
– YKK waterproof Vislon zippers
– High performance DWR (Durable Water Repellent)
-14-inch pit zips
MSRP: $480 USD
Reviewer Info: 5'10", 180 lbs.
Test Locations: Craigieburn, Broken River, Temple Basin, and Mt Cheeseman club fields of NZ; frequent trips to the Darfield Bakery & Springfield's Yello Shack Cafe for New Zealand pies.
Days Tested: 18 (so far)
Last season, I spent about 80 days skiing in the FlyLow Lab Coat. And as I wrote in my review of the Lab Coat, I was a big fan of its fit, its features, and its fabric: Polartec NeoShell.
For a place like Taos—where the snow is dry, the sun is usually shining, and the hike-to terrain is irresistible—I argued that the Lab Coat is a pretty perfect fit.
When we heard that a Lab Coat 2.0 was coming out, I was extremely curious. FlyLow claimed that 2.0 was coming in "up to 15% lighter and more packable than the original," by using a "lighter weight version of [Polartec's] waterproof, breathable, Neoshell fabric."
This was interesting, because about the only downside of the original Lab Coat is that it isn't the most packable jacket out there. (It's not the lightest jacket out there, either, but given that the Lab Coat is a fully-featured jacket, it's weight of ~790 grams with the powder skirt and ~710 grams without the pow skirt isn't out of line.)
Having just worn the Lab Coat 2.0 every day we skied in New Zealand (which included a lot of very warm days, and a good bit of boot packing), I can say that I still really like the Lab Coat 2.0, and I still regard it to be among the top picks of fully-featured ski shells.
But there are some details that need to be cleared up:
Fit
I've found no significant differences in fit between the original Lab Coat and version 2.0. This is worth pointing out, because FlyLow calls the Lab Coat 2.0 an "alpinist-style jacket" with an "athletic fit." I'd call it a "perfect freeride-style" jacket—same as the original Lab Coat. (Ok, well, the front zipper length of the 2.0 actually measures 1cm longer than the original Lab Coat's.)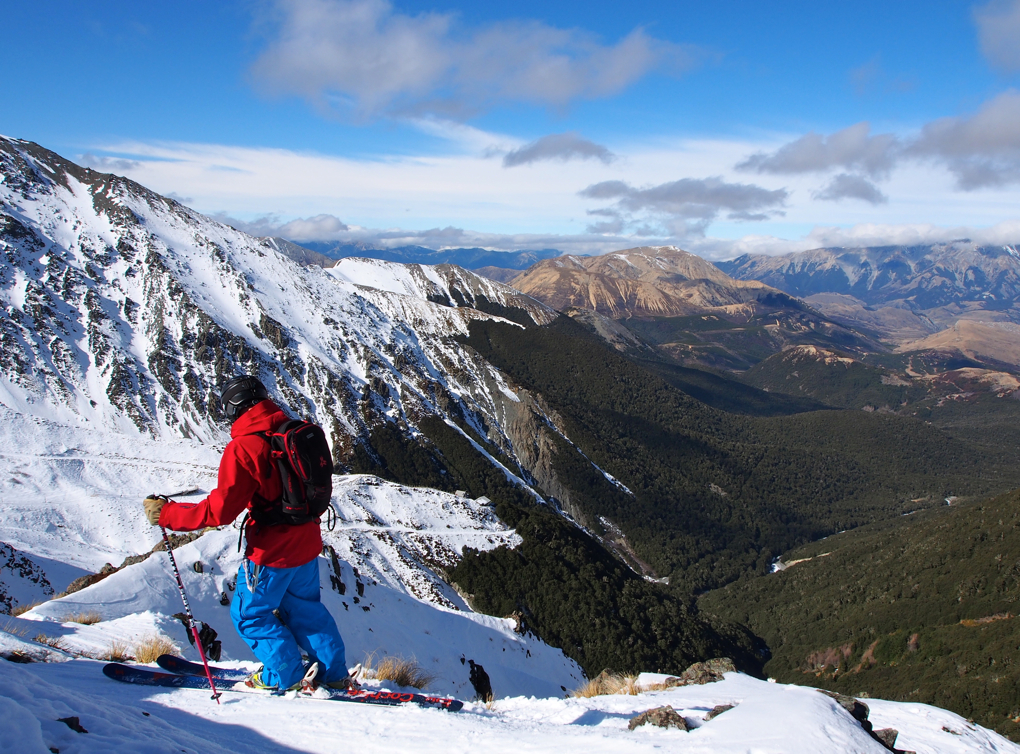 The 2.0 is not a particularly slim-fitting jacket, and it's certainly not minimally-featured, which is how I generally think of "alpinist-style" jackets. So if what you're really looking for is a lightweight NeoShell jacket with minimal pockets and a low weight, I can highly recommend the Westcomb Apoc jacket (review forthcoming).
The fit (and feature set) of the Lab Coat 2.0 is much more on par with a freeride jacket like the Arc'teryx Caden than it is the Westcomb Apoc. The size Large Lab Coat 2.0 has a nice, loose, unrestrictive fit on me, which is exactly the type of fit I like when I don't have to worry about a jacket's packability (e.g., while resort riding, single-day ski touring, or any time I don't have to worry about stowing a bunch of stuff in a backpack).
Having said all that, I'm pretty confident that I could get away with a size Medium in the Lab Coat (version 1.0 and 2.0), since I very rarely wear thick, bulky midlayers beneath a shell when I'm skiing.
So if you're on the fence about sizing and you prefer a less loose fit, I'd size down.
Features
The Lab Coat 2.0 has all of the same features as the original Lab Coat, plus FlyLow has added a zippered pocket on the left forearm that's perfect for a credit card, driver's license, season pass, etc.
The 2.0's pit zips are said to have gone from 16″ to 14″. We measured the size Large 1.0's pit zips at 15.5″, and the 2.0's at 13.5″ but whatever. I didn't notice any real world difference on snow.
As I said in my original review, I prefer not to ski with a backpack when resort riding, and the Lab Coat's pockets are well thought out and well sized so that I don't need to.
Face Fabric
This was the biggest surprise. The hand-feel of the Lab Coat 2.0 is not as soft as the original's; it's less stretchy and more hardshell-like.
For the sake of comparison, the 2.0 isn't as stiff or loud as the Arc'teryx Caden (made of Gore-Tex Pro), but the 2.0 sits pretty squarely between the Caden and the original Lab Coat in terms of how soft and quiet it is, and there is now little-to-no stretch in the fabric.
I contacted FlyLow's president, Dan Abrams, about this, and he said that they decided to use a 100% nylon face fabric to increase durability.
So the 2.0 got a bump in durability at the expense of softness and stretchiness.
In my eighty days in the original, I can't say that durability was ever an issue, and I do really like the soft face fabric of the original. But I don't want to overstate the differences here: the changes are noticeable, but relatively subtle. Still, if the feel of the face fabric is a priority for you, then you will like the Lab Coat 2.0 less than 1.0. The more worried you are about durability, the more you will likely prefer version 2.0 to 1.0.
Weight
If the 100% nylon fabric of the Lab Coat 2.0 is lighter than the original fabric, the overall weight of the 2.0 jacket is not.
With their removable pow skirts attached, the size-Large original Lab Coat came in at ~790 grams, and the 2.0 at ~810 grams. You won't notice the difference on snow, but the Lab Coat got a tiny bit heavier, not lighter.
Packability
And I can't say things got any more packable. Again, if you're looking for a lightweight (~430 grams in a size Large), packable, minimally-featured (it doesn't have a pow skirt or as many pockets) NeoShell jacket, we can vouch for the Westcomb Apoc.
Durability
I didn't have issues with the original, but the 2.0 is allegedly tougher. I'll update if and when I have anything interesting to report.
Breathability
Skiing and bootpacking around the club fields of Canterbury, I can't say that I detected an obvious performance difference between 1.0 and 2.0.
But now that we're back, I'll get out and A/B these two jackets to see if I find a notable (even if subtle) difference.
Waterproofness
There's nothing here to report. If you want to jump down the rabbit hole on this topic, read Will Brown's Arc'teryx Caden review, and follow the links to Sam Shaheen and Paul Forward's articles and product reviews on the topic.
Price
You'll note that I keep comparing the $480 FlyLow Lab Coat 2.0 to the $650 Arc'teryx Caden. The Caden is an excellent, fully featured, Gore Pro jacket. I think the Lab Coat is an excellent, fully featured, Polartec NeoShell jacket. Again, you can read our Outerwear 201 piece to help you decide whether Gore Pro or NeoShell makes more sense for how and where you spend your time in the mountains.
Bottom Line
I really like the original FlyLow Lab Coat, and so far, I really like version 2.0. But I can't say (at least, not yet) that 2.0 is better than 1.0. It's not a lighter jacket overall, it's not more packable, and it's face fabric isn't as soft as the original.
The breathability of the 2.0 seems to be on par with the original's. And I have no reason to assume that 2.0 will be any less durable or waterproof than the original—if anything, the 2.0 has likely improved in these areas.
More time will tell, but I fully expect the Lab Coat to continue to be a great ski jacket in the mountain west, as it was a great every-single-day jacket for the club fields of Canterbury, New Zealand.