Mammut Trion Spine 50
Available Size: One Size (adjustable torso length 46–51 cm)
Stated Volume: 50 Liters
Stated Weight: 2200 grams
Stated Features:
MAMMUT CONNECT inside
Suspension system with patented Active Spine Technology to support a natural gait
Height of the suspension system can be adjusted with a simple movement
High-density, 2-layer EVA back padding; hip belt and shoulder straps with stretch fabric cover
Huge front zipper access to main compartment
Large internal pocket in the front opening
Height adjustable flap with internal and external pocket
Internal zipper compartment for valuables
Reinforced side ski attachment
Gear loop on hip belt
Zipper pocket on hip belt
2 strong ice axe attachments
Trekking pole carrier
Rope fixing strap under the flap
Lateral compression straps, can also be tensioned at front to carry gear
Daisy chain loop
Hydration system-compatible
Large pocket on the shoulder strap
Price: $350
Test Locations: Front Range, CO
Reviewer: 5' 10", 145 lbs
Days Tested: ~10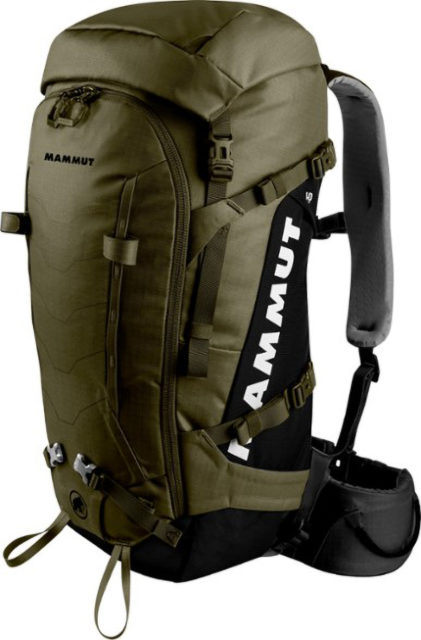 Intro
We are generally very skeptical of new tech here at Blister. New "advancements" in technology are often nothing more than existing tech repackaged with flashy marketing. So when we first heard about Mammut's new "Active Spine Technology," we were wary.
But then we tried it out, and were very pleasantly surprised.
Active Spine Technology
There are a lot of backpack suspension systems on the market that claim to move with your spine while walking / climbing / skiing, but Mammut's Active Spine Technology seems to be in a league of its own when it comes to unhindered movement while carrying large loads.
The Active Spine on the Trion Spine 50 consists of a thin, tensioned fiberglass rod that connects a pivot point at the shoulders to a pivot point on the hip belt. The pivot points are both quite low profile, which keeps the load relatively close to the body. The connecting rod allows the shoulders and hips to move somewhat independently, but keeps the two linked so that the further out-of-sync they get, the more the suspension "pulls" you back to center.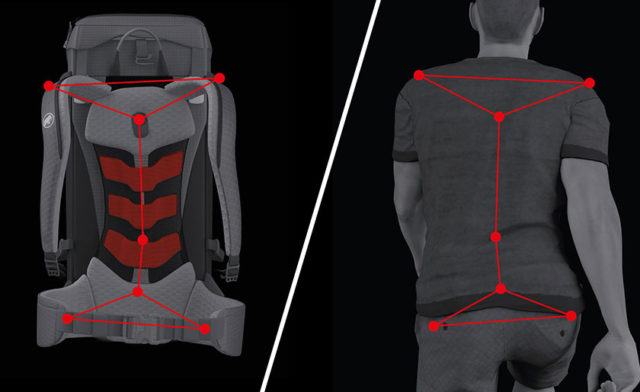 This results in a suspension system that moves incredibly naturally with my spine while walking, scrambling, or climbing. Often times with suspension systems that are designed to move with you (e.g., Black Diamond's ErgoACTIV XP system), heavy loads can feel like they are getting aggressively tossed side-to-side when making big steps or are scrambling over bigger features. But with the Trion Spine, the load stays between my shoulder blades while still allowing me to move practically unhindered by the pack. Very impressive.
This suspension system has made the Trion Spine my go-to climbing pack, from cragging to larger mountaineering days. I'm generally carrying heavy loads over technical terrain when approaching climbs and that is where the suspension system of the Trion Spine seems to excel — though I also think it works well as a ski and trekking pack.
Fit
Another feature of the Active Spine Technology in the Trion Spine 50 is the adjustable fit system. In a matter of seconds, I can adjust the torso length of the pack between three different positions using a small, spring-loaded piece in the back panel that can be easily pulled out, moved to the desired size setting, then released to lock back into place. Mammut also offers a shorter-length women's version of the Trion Spine called the Trea Spine, so finding a pack that fits your torso shouldn't be a problem, unless you're on the very end of the spectrum when it comes to torso length.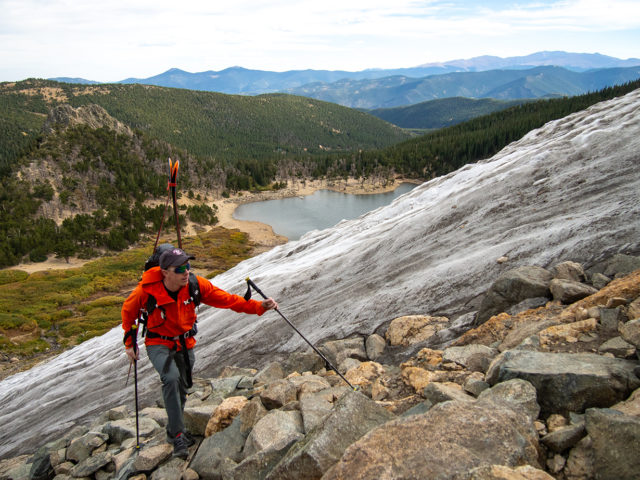 Having a pretty small waist, one fit issue that I commonly have with packs is that the hip belt padding is sometimes too big to cinch the belt tightly around my hips. But the Trion's hip belt is just the right size to offer me plenty of room to tighten down while still offering good padding coverage.
Fabric
The Trion Spine 50 uses a very durable, burly, coated ripstop outer fabric throughout much of the pack, with a few different fabrics incorporated as well (e.g., a thick, rubberized patch to protect the frame on the bottom).
In sharp contrast to the heavyweight outer fabrics, the Trion Spine features a very lightweight ripstop nylon fabric for the lining and interior pockets of the pack.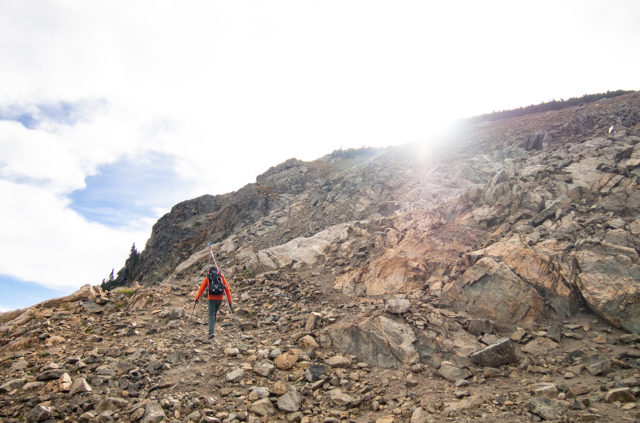 After about 10 days using the pack, it looks essentially brand new on the outside, but the interior shows some wear on the lightweight lining fabric. None of the lightweight fabric plays a very important structural role in the pack, so even big rips / failures in this fabric wouldn't render the pack unusable in the backcountry. But the contrast between the heavy outer fabric and the ultralight lining fabric strikes me as odd.
Straps, and Attachments
The Trion Spine 50 has a pretty standard feature set when it comes to straps and accessory attachments.
The Trion Spine 50 has two compression straps on each side that double as A-frame ski carry or vertical snowboard carry. There are also two different ways to attach ice tools / axes — a traditional loop and a more modern internal sleeve / buckle system that accommodates for more radically shaped tools. The pack also has small velcro straps to secure the handles of the tools, and both tool attachments work as expected.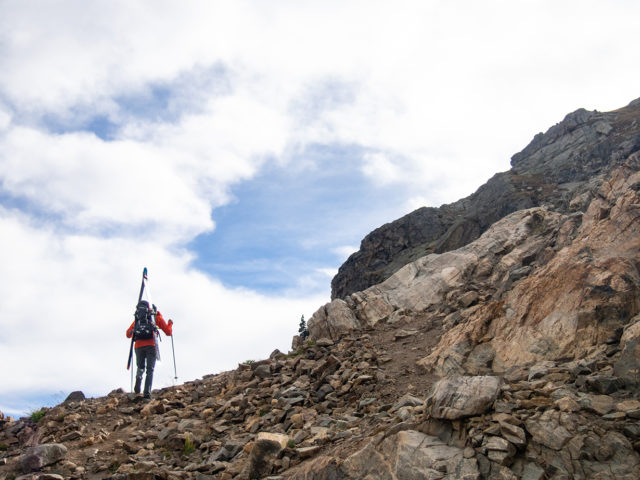 Two daisy chains run down the front of the Trion Spine 50 for lashing on gear and the pack also features load-lifter straps and a strap to hold a rope under the lid.
Overall, the pack has a pretty clean aesthetic while still maintaining a good number of attachment options, which all do their respective jobs.
Pockets / Access
Trion Spine 50 is quite minimal when it comes to pockets. It has a zip pocket on the brain, a small zip pocket on the interior (with a key clip), a zip pocket on the left hip, and a larger (~50 cm x 25 cm) zip pocket that is on the inside panel of the exterior-access U-zip.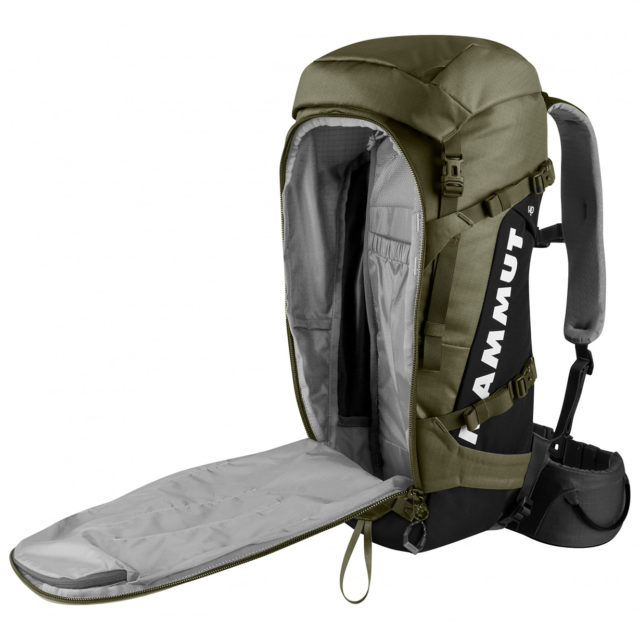 Access to the Trion Spine 50's main compartment is quite easy with a large cinch-top opening and a huge U-zip on the front that gives access to the full inside of the pack and the large internal zip pocket. I really appreciate the big U-zip. A lot of packs in this category have a side zip, which gives decent access to one side of the pack. But the U-zip on the Trion Spine gives me a huge window into the inside of the pack and I can generally get whatever I need out of this pocket without having to mess with the brain and cinch top. The only downside I can see with this feature is that if the zipper were to break and be stuck open, the structural integrity of the pack would be compromised.
Carry
As I alluded to earlier, the Active Spine Technology on the Trion Spine 50 results in excellent support / carry for heavy loads, especially when navigating technical terrain or scrambling. The weight stays very well placed between my shoulder blades and over my hips, which allows for huge freedom of movement without feeling off balance. One situation where this is really appreciated is when carrying skis in A-frame carry. Usually, this is a pretty uncomfortable carry because there is so much weight above your head. But with the Trion Spine, it feels noticeably less off-balance.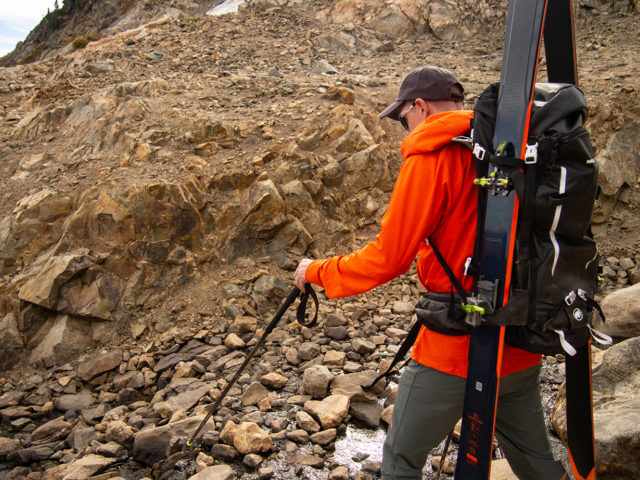 There are other suspension systems on the market (most notably the Black Diamond ergoACTIV XP system) that feature similar pivoting designs. However, I think because the Trion Spine uses two pivot points that are linked, the weight stays much more centered on my back. With the ergoACTIV XP system, I find that the load tends to flop around a lot which can be a very bad thing when scrambling or skiing.
Overall Performance
I've been quite happy with the Trion Spine in the mountains. The outer fabric is super burly so I don't worry about throwing it down on sharp rocks. I can fit a full trad rack, rope, extra layers, and food with room to spare. The U-zip opening works great and allows for quick access to most of the pack.
The Trion Spine 50's large interior pocket is just barely big enough to fit a smaller shovel and probe, but it isn't super easy to get them out. So if you plan to use this as a ski pack, you'll probably end up throwing your safety gear in the main compartment of the pack, which I know many people (including myself) aren't a fan of. Besides the lack of and avy-gear pocket though, the Trion Spine 50 works fine as a ski pack, albeit one that's a bit large (they also make 75L & 35L versions). The A-frame carry is solid and the feature set works well for most days in the mountains.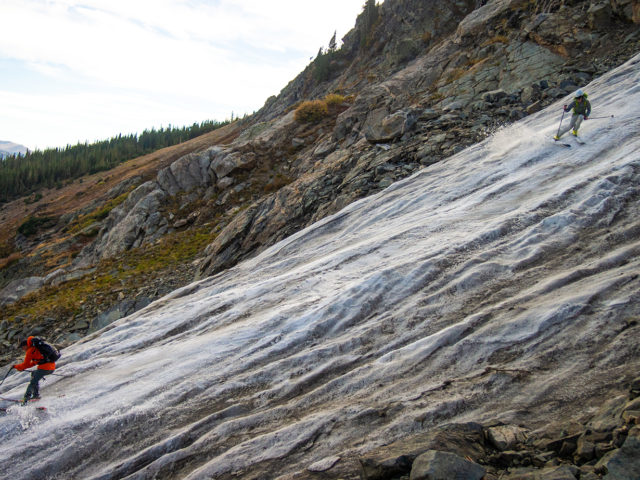 The only thing I haven't gotten a chance to do in this pack is overnight summer backpacking / trekking. It's a little slim on features and a bit heavy to compared to other packs in that space, but I imagine the increased comfort and excellent carry might make up for that. I'll be sure to update this once I get some time in the Trion Spine this summer.
Durability
As I mentioned earlier, I've seen some wear and tear on the lining fabric of the Trion Spine 50. I think it will definitely take some care to keep this lining fabric intact — it is extremely lightweight. Especially if you're tossing hard / sharp items inside the pack (e.g., crampons, trad rack, etc.), it'd be smart to try to cover them up with something softer like an extra layer.
Besides that though, the Trion Spine 50's outer fabrics are all very burly, and I don't expect to have any issues with the outer fabrics.
As always, we'll report back here if any new durability concerns crop up.
Who's It For?
If you're looking for a versatile alpine pack that can handle double-duty on steep lines and alpine climbing missions — especially if you do a lot of scrambling or traveling over technical terrain with heavy loads — then the Trion Spine is definitely worth a look. I think it could also work as a fairly heavy and minimal trekking / backpacking pack, particularly if you prioritize load-carrying and freedom of movement
The Trion Spine's suspension system offers an amazing range of motion and excellent carry. Although it adds a bit of weight to the pack, the improved ability to move in the pack makes up for it (for me at least). This crazy new tech does come at a price though — $349 for the 50L and $299 for the 35L make the Trion Spine packs some of the most expensive packs on the market right now.
Bottom Line
Mammut is talking a big game about the Active Spine Technology in their new Trion Spine packs, and after using it, we are definitely fans. The Trion Spine 50 offers a huge range of motion and carries great with a streamlined feature set that works well for alpine climbing or the occasional ski mountaineering mission.