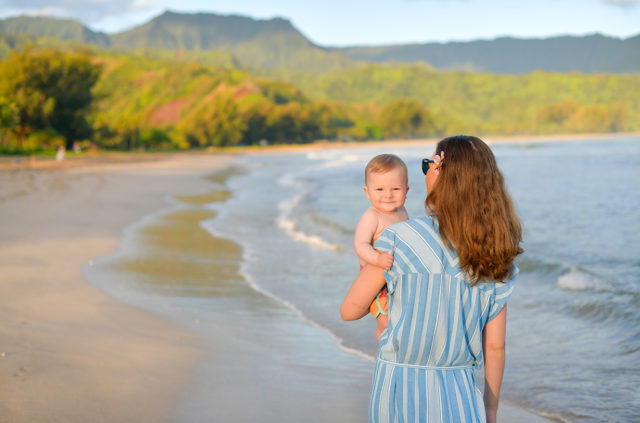 The youngest member of the Blister crew showed up in August, and with his arrival came a whole new world of outdoor gear — plus lots of dirty diapers.
This is a bit of a new path for Blister, but as a longtime gear tester and new mom, I'm excited to introduce readers to the world of baby gear reviews. (Don't worry, nothing is going to change with the site other than an occasional adorable photo and more baby-related gear reviews.)
Before we start, I want to clarify that, while this collection is titled "nursing friendly," these are all items I would have worn before I started nursing, and these are all items I plan to wear long after.
There are a number of companies that specialize in nursing-specific apparel, but as I tend to keep my clothes for years — not just one season — I found myself looking for items from outdoor-oriented companies that could double as nursing-friendly attire.
After only 8 months of nursing, I'm not an expert by any means, but I have learned a few things during that time. And so with that said, this roundup is for all the ladies out there looking for summer apparel, and especially those who are currently nursing or plan to in the near future.
The items below are separated into categories: dresses, shirts, swim, and accessories. I used each piece for multiple days in situations ranging from being home alone, to beach days with extended family, to navigating crowded airports. All of the pieces made nursing easier and / or more discrete. Basically, these items have either a zipper or buttons that extend to or below the breastbone, and / or fabric that hangs nicely and can be used to cover mom and baby. This is certainly something I never thought of before becoming a mom, but I hope it will be helpful to active, nursing moms and their friends and family. For reference, I'm 5'8", 125 lbs.
Dresses
KAVU Makayla
Size Tested: Medium
Stated Front Dress Length: 37" size M
Stated Back Dress Length: 39" size M
Fabric: 4-oz 100% rayon yarn dye plain weave
Nursing Friendliness: easy access, somewhat discrete
MSRP: $55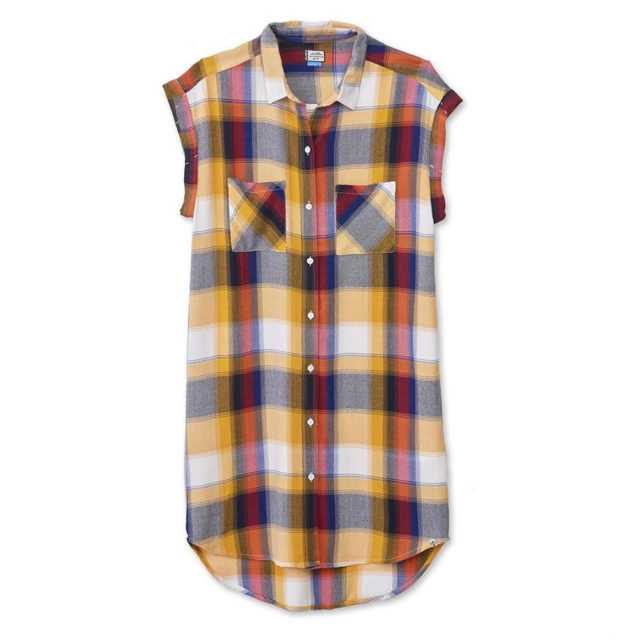 I'm a huge fan of summer dresses and after going through an entire summer pregnant, I was eager to get back into my old favorites. Unfortunately, all my old summer dresses are extremely non-nursing friendly (think bateau-neckline shift dresses with zero buttons or zippers). Thankfully, KAVU has a couple of great looking button-down options that make nursing easy and fairly discrete.
The 100% rayon Makayla dress is my new favorite and the item on this list that has received the most compliments. With its relaxed fit, dolman sleeves, and soft fabric, it hangs nicely and gives the baby access while allowing some of the fabric to discreetly cover me while nursing. On a recent vacation to Hawaii, I threw this dress on almost every morning as the plaid shirttail design makes it casual enough to lounge around in but also flattering when out and about.
KAVU recommends turning the Mikayla inside-out before washing, machine-washing it with cold water, and line-drying, which is a bit more high maintenance than I prefer (they provide the same instructions for the La Paz and Belfair, too). But as they are summer clothes, it doesn't take too long to air dry them.
I've only washed the dress once, and even though I followed KAVU's recommendations, the dress did shrink a bit — about an inch or two in both length and width. I tried to stretch the garment back out by wetting it again in cold water and, while it worked to an extent, if I was to purchase the item again I would consider ordering up a size. At 5'8", the size Medium Mikayla dress hit just above my knee pre-washing and about mid-thigh post-washing.
KAVU La Paz
Size Tested: Medium
Stated Front Dress Length: 45" size M
Stated Back Dress Length: 48" size M
Fabric: 4-oz 100% rayon yarn dye plain weave
Nursing Friendliness: easy access, somewhat discrete
MSRP: $65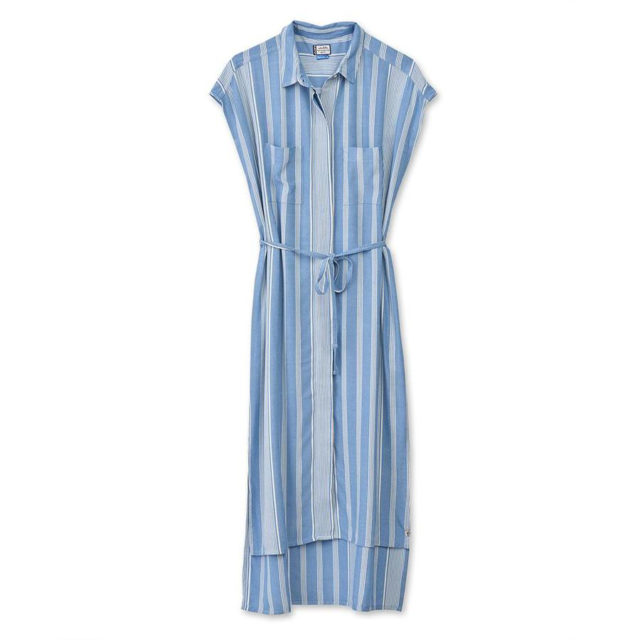 Slightly longer than the Makayla, the La Paz is a mid-calf length, button-down dress with a self-fabric waist belt. Made of 100% rayon, the La Paz's soft and lightweight fabric is great for any warm day from spring to fall. Thanks to the somewhat relaxed fit, the fabric can be pulled over the opposite breast just enough to be a bit discrete while nursing.
Due to the mid-calf length and a design that features a hidden placket (buttons are hidden by the fabric), side slits, and a longer back, this dress looks a little more polished than the Makayla and would be great for a variety of outings including a night out, a trip to the farmers market, or a day at the office. KAVU recommends the same washing instructions as the Makayla (machine-wash cold inside-out and line dry), and thankfully this dress didn't shrink as much as the Makayla. If you want the dress to look as good as new after washing, a cool iron is recommended.
Shirts
Stio Women's Poplar Sleeveless Shirt
Size Tested: Small
Stated Measurements (size medium): Center Back Length: 29"
Lynx™ Cotton/Poly/Linen Blend, 48% Cotton, 42% Polyester, 10% Linen with Transdry
Nursing Friendliness: easy access, not discrete
MSRP: $99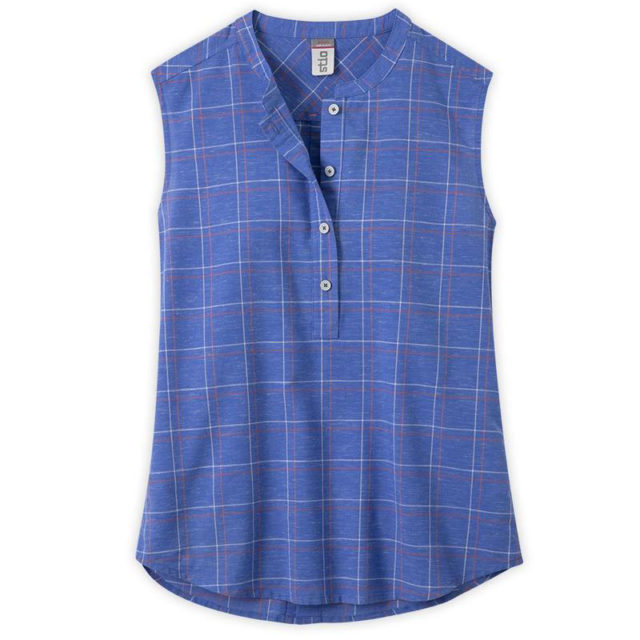 The cotton, polyester, and linen fabric of the Poplar Sleeveless Shirt drapes nicely and gives it a very polished look while also making it practical for a number of summer activities. The mandarin collar, shirttail hem, lower-back buttons, and sleeveless design make the top flattering and comfortable. The Poplar sleeveless is the perfect transition top as you can wear it hiking and then head straight to dinner without needing to change. It's wrinkle- and odor-resistant fabric will keep you looking and smelling good all day.
The Poplar's front buttons extend below the breastbone which makes this top nursing friendly as the baby has easy access when the shirt is fully unbuttoned. I also appreciate that, when it is unbuttoned, there is enough integrity / rigidity to the fabric that it stays closed so I don't have to worry about exposing myself when I inevitably forget to button back up after nursing. The "athletic" fit of this shirt means that there isn't extra fabric to be pulled over to cover oneself when nursing, so a scarf or other covering would be needed if trying to be discrete. At 5'8" the size Small torso length extends about 6 inches below my hip bone.
KAVU Belfair
Size Tested: Medium
Fabric: 4-oz 100% rayon multi-colored plaid
Nursing Friendliness: easy access, somewhat discrete
MSRP: $50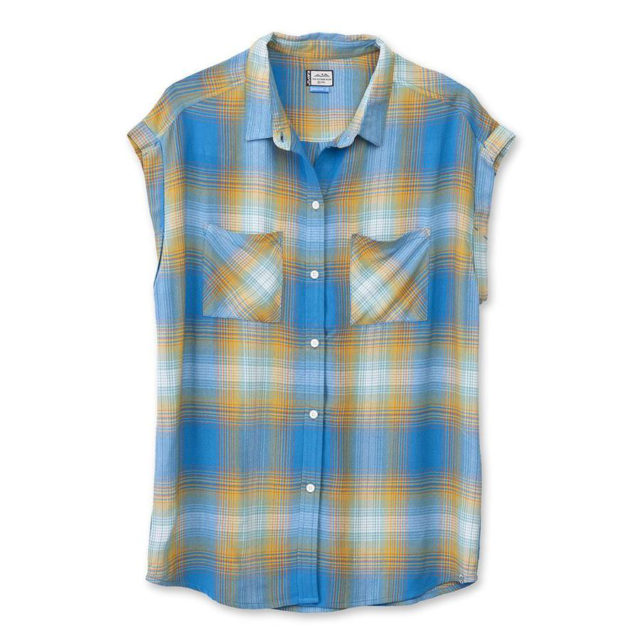 The Belfair is basically the shirt version of the Makayla dress as it is made of the same 100% Rayon fabric and features dolman sleeves, large arm holes, a full button-down design, and a relaxed fit. Just as soft and lightweight as the Makayla dress, the Belfair button-down shirt allows the baby easy access and the relaxed fit provides a little bit of coverage while nursing.
Prior to nursing, my go-to summer tops were racerback tanks and boxy tees. And while these are still among my favorites, the idea of lifting my shirt up and exposing my midsection while nursing doesn't appeal to me in all situations. The Belfair is as soft, cool, and comfortable as my old standbys but with much easier access for nursing thanks to the buttons. The shirttail hem lends itself to being tucked or untucked and is a perfect shirt to throw on with a pair of shorts or jeans. Like the Makayla, the Belfair also shrank after washing but I was able to stretch it back out to an extent after re-wetting.
Free Fly Apparel Women's Bamboo Flex Henley
Size Tested: Medium
Fabric:
Heather: 46% viscose from bamboo, 46% polyester, 8% spandex;
Solid: 64% viscose from bamboo, 28% polyester, 8% spandex
Nursing Friendliness: easy access, not discrete
MSRP: $64.95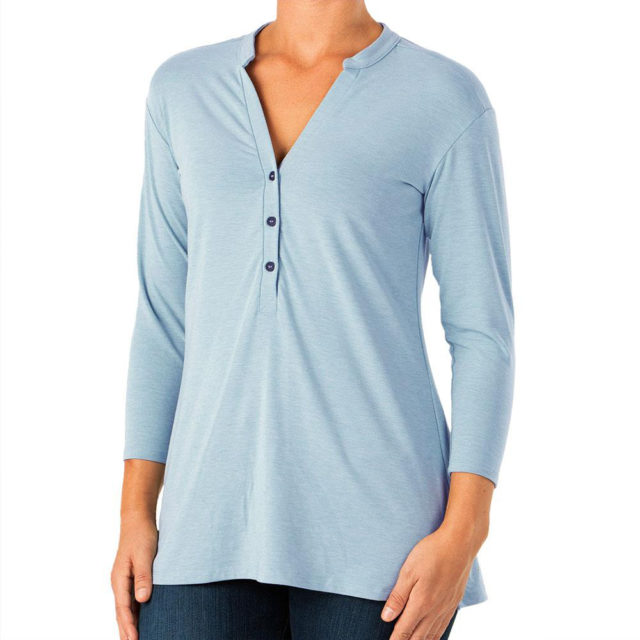 Of all the items on this list, the Flex Henley has the softest fabric, which is impressive as the Kavu dresses and top are also quite soft. I tested the Fex Henley in a heather color and, as noted above in the specs, there is a slight difference in the fabric content between the solid and heather, but I imagine the solid-color version is similarly soft. The v-neck, half-button-down design of the Flex Henley makes it an extremely nursing-friendly shirt. On a long travel day, I wore it with a nursing cami underneath and, not only was the combination comfortable, it also looked good and smelled fresh after 12 long hours of airports and airplanes. I would happily wear it on another long travel day. The Flex Henley doesn't offer full coverage while nursing, but it does allow easy access and, when paired with a scarf that covers both mom and baby, it is just about ideal.
At 5'8", the torso on the size Medium Flex Henley hits just below my butt which I found to be quite flattering, especially when paired with leggings. The breathability of the fabric and the ¾-length sleeves make it a great choice for warm-weather adventures, but if Free Fly ever makes a long-sleeve version I think it'd be a great layer for colder months. I've washed the shirt several times already (inside-out with cold water and hang-dried per recommendations) with zero shrinkage issues and it still looks as good as new. The Flex Henley also stayed odor-free for days at a time, so don't expect it to need to wash it too frequently.
Stio Women's Eddy Shirt LS
Size Tested: Small
Fabric: Conflux™, 54% Nylon 46% Polyester, 85 g/m2 with WR finish
Nursing Friendliness: easy access, not discrete
MSRP: $129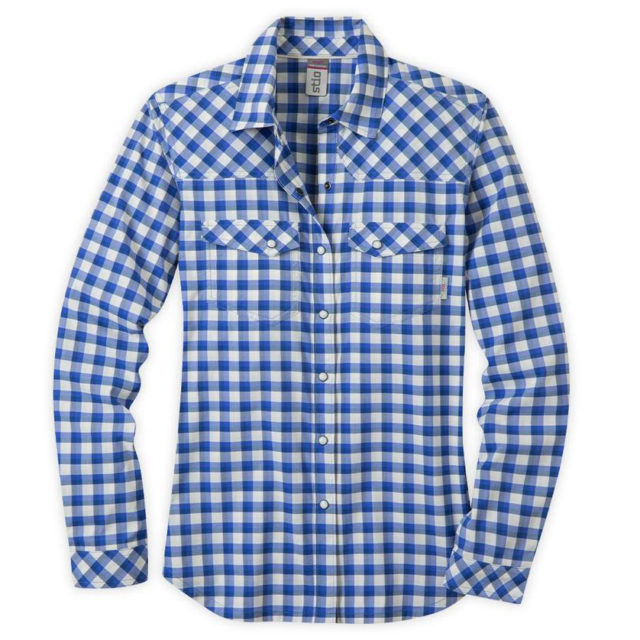 If you plan on spending any time on or around water, mountain biking, hiking, or just outdoors this summer, then this shirt should be on your radar. With UPF 50+ fabric that's also water and wind resistant, the Eddy shirt will keep you drier and more protected than most casual shirts. I recently wore the Eddy Shirt while spring skiing on a day that started with hail and ended overcast with a cool breeze, but in between, it was warm, sunny, and calm. The Eddy's water- and wind-resistant fabric kept me warm when needed, when the sun broke through the UPF 50 fabric kept me protected, and the snaps allowed easy access for pre- and post-ski nursing.
The snap options on the cuff of the Eddy shirt are a nice design element as the wider snap makes it easy to tuck gloves under and the narrower snap keeps out any unwanted breeze. The extra cuff snap makes it easy to roll up the sleeves and the shirttail design of the Eddy allows the shirt to be worn tucked or untucked. The pearly snap-down western-style shirt gives easy access for a nursing baby but the athletic fit means you'll want a scarf or blanket to cover yourself if you want or need to be discrete as there isn't enough fabric to pull over the nursing side.
Flylow Dolly Shirt
Size Tested: Small
Fabric: Intuitive™ IQ fabric, 85% polyester, 15% spandex
Nursing Friendliness: easy access, somewhat discrete
MSRP: $80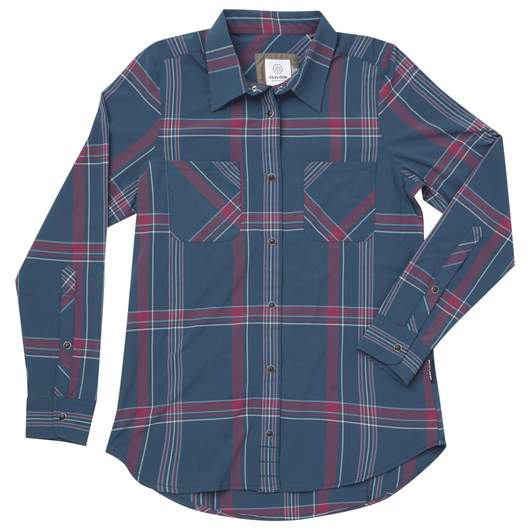 Flylow describes the Dolly Shirt as a summer version of your favorite flannel and that is about as accurate a description as possible. Next to the Carve Coverup, the Dolly's Intuitive™ IQ fabric is the lightest fabric on this list with its soft and stretchy polyester / spandex blend. The black pearl snaps allow easy access for a hungry baby and the stretchy fabric helps make nursing somewhat discrete.
I recently wore it on a travel day and, even though I could button the top snap above the nursing baby, the baby kept unsnapping it as the snaps on the Dolly Shirt are very easy to open and close (much easier than those on the Eddy Shirt). The Dolly shirt has a similar western-style design as the Eddy shirt, but the Dolly has a longer torso and sleeves, significantly lighter-weight fabric, and has more structure to it in terms of how it drapes. The Dolly is a great choice for a mountain bike ride, hike, spring skiing mission, or any warm-weather adventure.
Swim
Carve Designs Kona Rashguard
Size Tested: Small
Fabric: 4-Way Stretch Tricot, 82% Nylon 18% Spandex
Nursing Friendliness: easy access, not discrete
MSRP: $68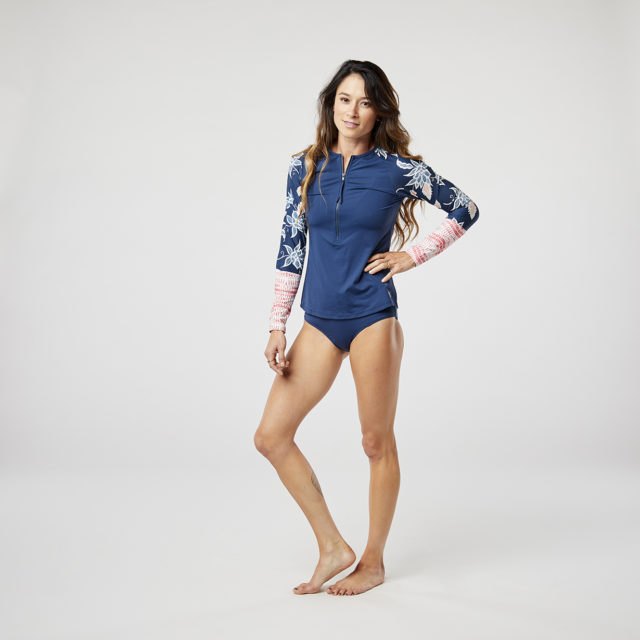 A few months ago I took a beach trip with my son and instinctively packed my old rashguard. I know rashguards aren't for everyone but I hate applying sunscreen and the thought of applying it to myself and my baby made my decision to wear one that much easier. The problem with my old rashguard is that it doesn't have a zipper and it's very form fitting, so once I removed it to feed the baby, there was zero chance I was getting it back on wet. Enter the Kona Rashguard. The half-zip design makes nursing a breeze as the zipper extends below the breastbone. A quick unzip and a lift of the bikini top and the baby is happy.
I spent several days in the ocean with this top, including time spent on a surfboard and boogie board. When I was attempting to surf I spent plenty of time laying on my board (I'm a terrible surfer), and thankfully I never noticed the Kona's zipper. At 5'8", the torso length of the size Small Kona hit me at my hip bones and the sleeves came down to the top of my hands, which is an ideal fit for me. The raglan sleeves provide complete range of motion, even when wet, and the form-fitted design kept me from constantly tugging the shirt down every time a wave hit. Anyone out there looking for a fitted rashguard should check out the Kona as it is extremely flattering and durable.
Carve Designs Cruz Rashguard
Size Tested: Small
Fabric: 4-Way Stretch Tricot, 82% Nylon 18% Spandex
Nursing Friendliness: easy access, not discrete
MSRP: $56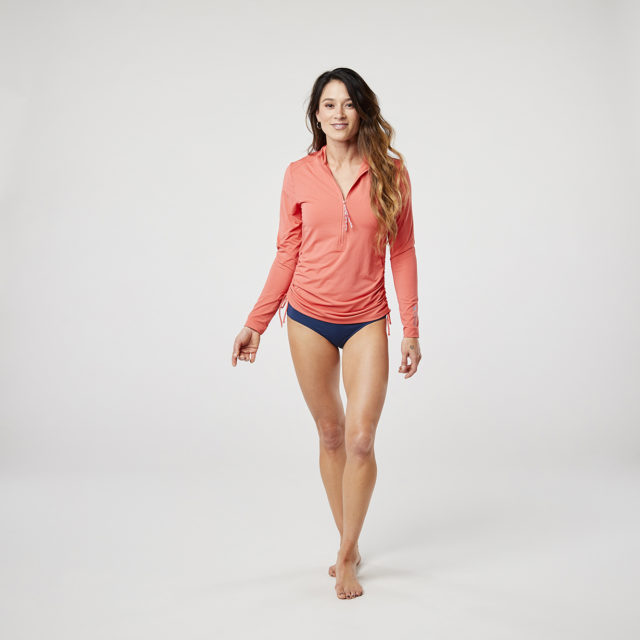 The Cruz is another rashguard with a half-zip design that will make a day at the beach easier for any nursing mom. It is made of the same UPF 50, 4-way-stretch fabric as the Kona but with its more relaxed fit, stand-up collar, and shirred sides, the Cruz was designed to be used for a broader range of adventures — not just the beach ones.
While playing in the waves on a recent vacation, the looser-fitting torso of the Cruz had me adjusting the top every time a big wave rolled in as it was prone to riding up. When not getting pounded by waves, the top stayed in place and was very comfortable. The nylon and spandex blend makes it a soft and lightweight long-sleeve alternative when needing just a little more coverage and I've found myself reaching for it in the mornings to garden, run errands, or head out on a stroll before the day really heats up. The Cruz is a great option for anyone looking for a more versatile rashguard or for someone who prefers shirred sides to the Kona's fitted design.
Carve Designs Marbella Reversible Top
Size Tested: Medium
Fabric: 4-Way Stretch Tricot, 82% Nylon 18% Spandex
Nursing Friendliness: easy access, not discrete
MSRP: $62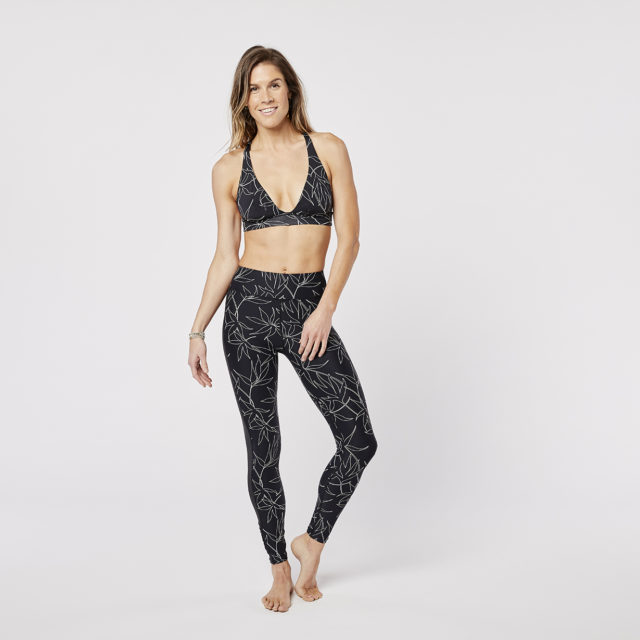 As far as nursing-friendly bathing suits go, I personally think bikinis are the best option, but I have always been a fan of them. The Marbella Reversible Top is an unpadded bikini top with a crisscross back. The lack of padding initially deterred me, but I grew to love it as it was easy to lift up for nursing access and I never had to worry about adjusting the pads. The top features a wider chest band that helped me keep the other side covered while nursing. For the bustier ladies, there is a D-DD option as well for sizes S-L.
The Marbella top is designed for light activity and based on the openness in the front, anyone with a large chest might need to check things after each wave hits. I had zero issues in this department but half the time I was wearing a rashguard over it while in the water. I also recently wore it swimming laps and never had to readjust the top. The Marbella is reversible and, while you can see some of the opposite-side fabric when wearing, I loved that I could mix it up so easily.
Carve Designs Iris Coverup
Size Tested: Small
Stated Length: 33″ long
Fabric: Lily Gauze, 100% Rayon Crinkle
Nursing Friendliness: easy access, discrete
MSRP: $78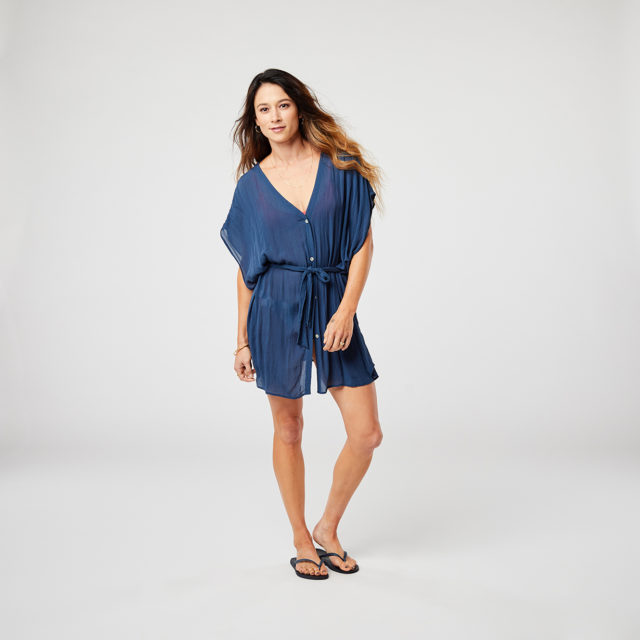 A lightweight button-down gauze coverup might just be the best beach or pool companion for a nursing mom. Especially if it makes you look and feel as good as the Iris. As far as coverups go, the Iris is fairly versatile as it can be worn with or without the self-fabric waist belt as a dress or unbuttoned and open in the front. The sleeves can also be shortened with a button-up option to give it a slightly different look.
When worn as a dress, I found I only needed to unbutton the top button to give the baby access as I could just pull the dress forward a little to the right location. The relaxed fit and lightweight fabric made it easy to hide a nursing baby without any overheating. And after the baby finished nursing, the Iris easily transitioned back to a nice-looking coverup. Thanks to the extremely lightweight fabric, the coverup dries quickly and is easy to pack, but expect it to wrinkle the moment you sit down or fold it.
Accessories
Lululemon Vinyasa Scarf Rulu
Nursing Friendliness: easy access, discrete
MSRP: $48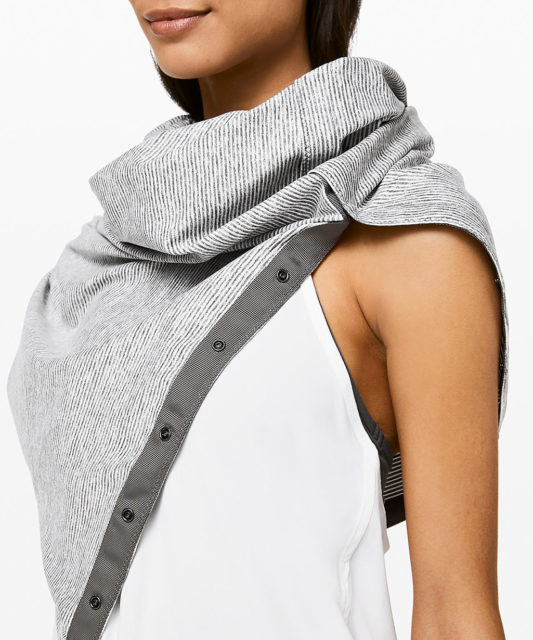 I've had the Vinyasa Scarf for years and it's one of my favorite travel items as it looks good, is soft and comfortable, adds a bit of warmth when needed, and doesn't wrinkle. It is extremely versatile thanks to the snap design that converts it from an open scarf to an infinity scarf, and to anything in between. I generally wear it half-snapped with a triangle of fabric hanging down in front.
The Vinyasa Scarf was the first item I used postpartum that made me feel like my old self. I wore it several different ways and it easily hid a nursing baby while also discreetly covering me. I used it in the heat of the summer and the little guy and I never overheated while wearing it. The Vinyasa Scarf is available in different fabric types and loads of different colors and prints.
Carve Designs Nassau Scarf/Sarong
Stated Dimensions: 36″ x 70″
Fabric: 100% Organic Cotton Gauze
Nursing Friendliness: easy access, discrete
MSRP: $38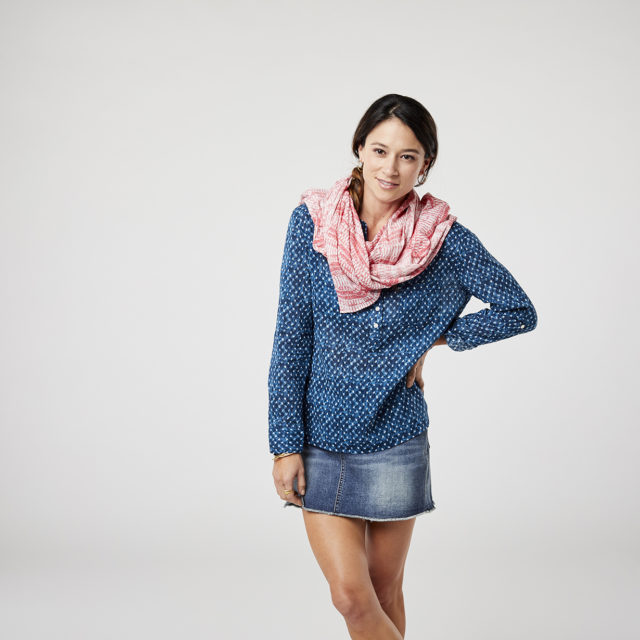 The 100% organic cotton gauze Nassau Scarf/Sarong is lightweight and long enough to be worn in a variety of ways. Over the course of a week, I found myself wearing it crossed in front and tied behind my neck as a beach coverup, tied around my waist as a sarong, draped loosely around my neck to cover the baby while nursing, and tied around my ergobaby carrier to hide my nursing baby on a hike. On that hike, I was wearing a not-too-nursing-friendly bra and tee which left me somewhat exposed on the side. Of course, the baby popping off every time we walked past someone didn't help. Fortunately, I had the Nassau Scarf to tie around me and even on a rather warm day, my son did not overheat from the added coverage. After he was finished, I simply put the scarf around my neck and never noticed the added weight.