Pivot Shuttle AM
Wheel Size: 29"
Travel: 148 mm rear / 160 mm Front
Geometry Highlights:
Sizes offered: S, M, L, XL
Headtube angle: 64.1° (Low) / 64.5º (High)
Seat tube angle: 76.4° (Low) / 76.8º (High)
Reach: 476 mm (Low) / 480 mm (High) (Size Large)
Chainstay length: 444 mm (all sizes)
Drive System Highlights:
Motor: Bosch Performance Line CX / CX Race Limited Edition
Torque: 85 Nm
Assist percentage: 340% (Performance Line CX); 400% (CX Race Limited Edition)
Battery: 625 Wh or 750 Wh
Display: Bosch's integrated Smart System Top Tube Control Center.
Material: Carbon Fiber
Price: Complete bikes $8,999 to $13,999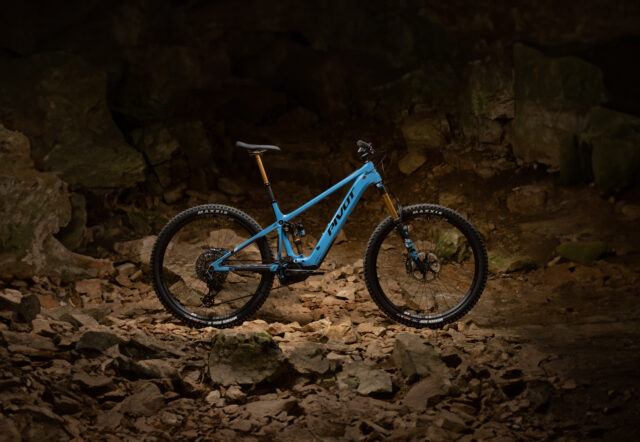 Intro
Pivot has a track record of making some of our favorite eMTBs, and it makes sense for them to slot a bike in between the Shuttle SL and Shuttle LT — especially given that the electrified "All-Mountain" category is seemingly hot right now. The new Shuttle AM brings to the table some interesting ingredients, and to say we're keen to get on it is quite an understatement.
The Frame
The Shuttle AM frame bears a close resemblance to the frame of its big brother, the Shuttle LT. Many of the design elements of the Shuttle LT are present, such as the vertical shock placement, low standover height, and tube shape. The Shuttle AM, however, has a tidier aesthetic, due to the tighter packaging of the shock and drive system — the Shuttle LT is a good-looking frame with great lines, but I think the Shuttle AM has it beat.
The Shuttle AM has 148 mm of DW-Link suspension travel that can be managed by either air or coil shocks. Pivot states that an optimal amount of anti-squat has been implemented to work in concert with the power delivery of the drive system; they also claim the kinematics have been tuned to provide enough platform to offer a lively and efficient feel, and ample progression to handle rowdier terrain. Like the Shuttle LT, the Shuttle AM also incorporates a flip chip to adjust the bottom bracket height. Swapping from Low to High raises the Bottom Bracket by 5 mm and steepens the seat and head angles by 0.4 degrees. Pivot states that the flip chip also makes the Shuttle AM mixed-wheel-size compatible, though they don't publish a geometry chart for that configuration.
The Shuttle AM uses an identical frame across the three build levels, which accommodates multiple battery sizes (more on those options in a minute). While the battery is removable (and the different size options can be interchanged) it's not an especially quick process; the batteries aren't meant to be removable for the purposes of dropping in a freshly charged one. While the frame is unchanged between builds, it is unique for each size, since Pivot changes the carbon layup and tube thickness per size to achieve their preferred balance of flex and stiffness.
The frame has room for a full-size water bottle, and Pivot collaborated with Topeak to integrate an on-the-bike tool storage system, which mounts the tools under the top tube. Rear wheel spacing is Pivot's preferred 157 mm Super Boost and the Shuttle AM has a Universal Derailleur Hanger. Frame protection looks good with a thick pad in front of the motor and protection on both the seatstays and chainstays.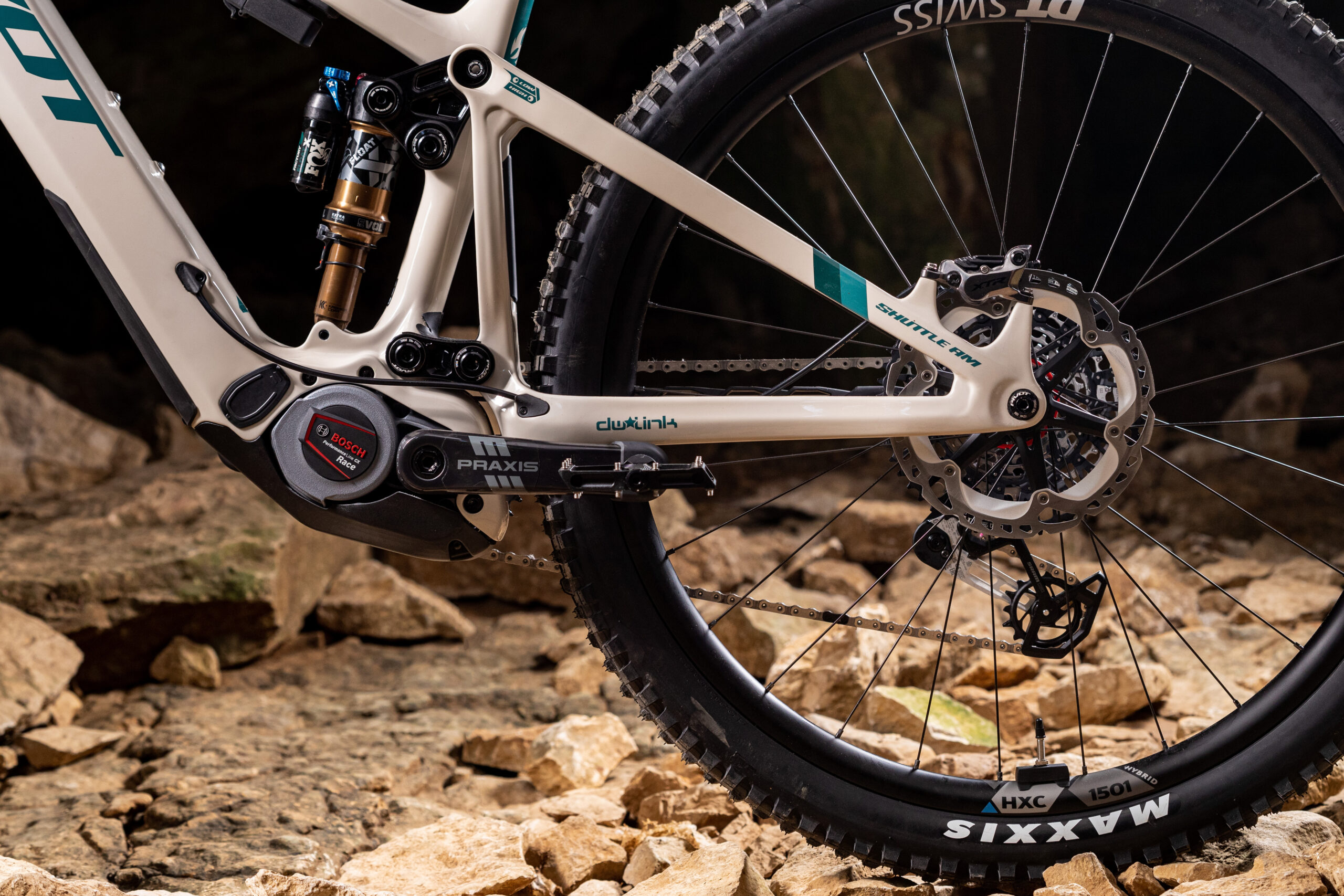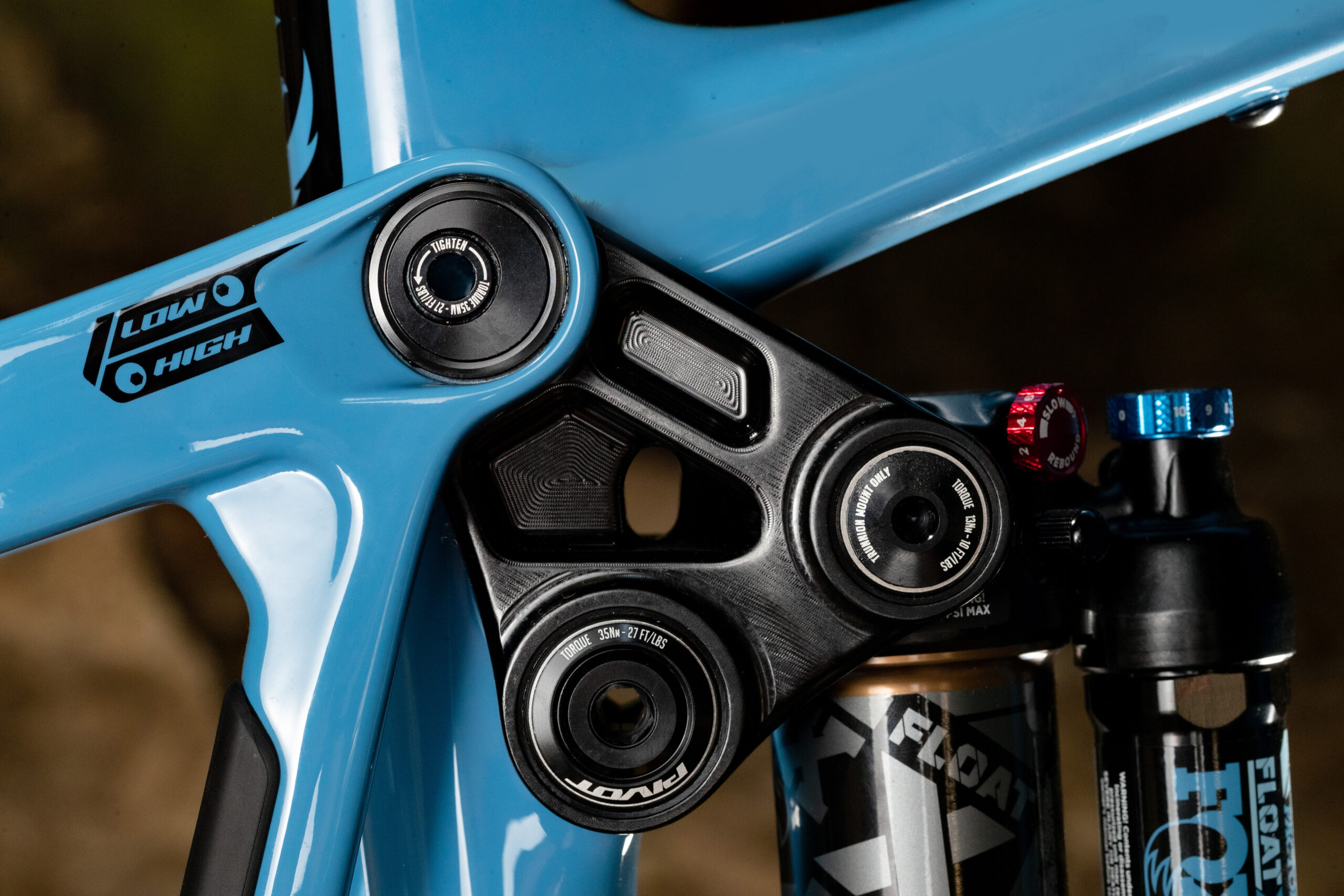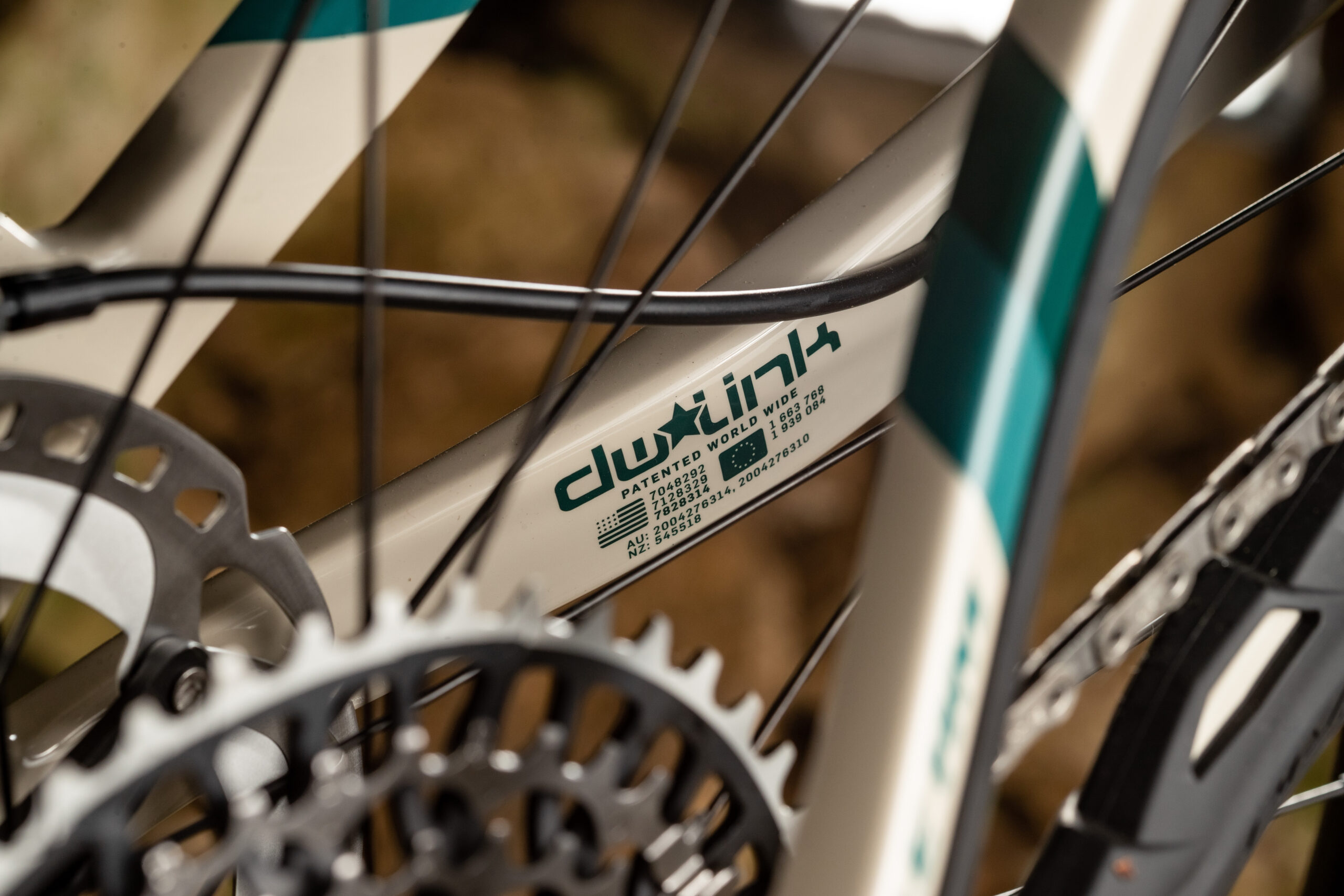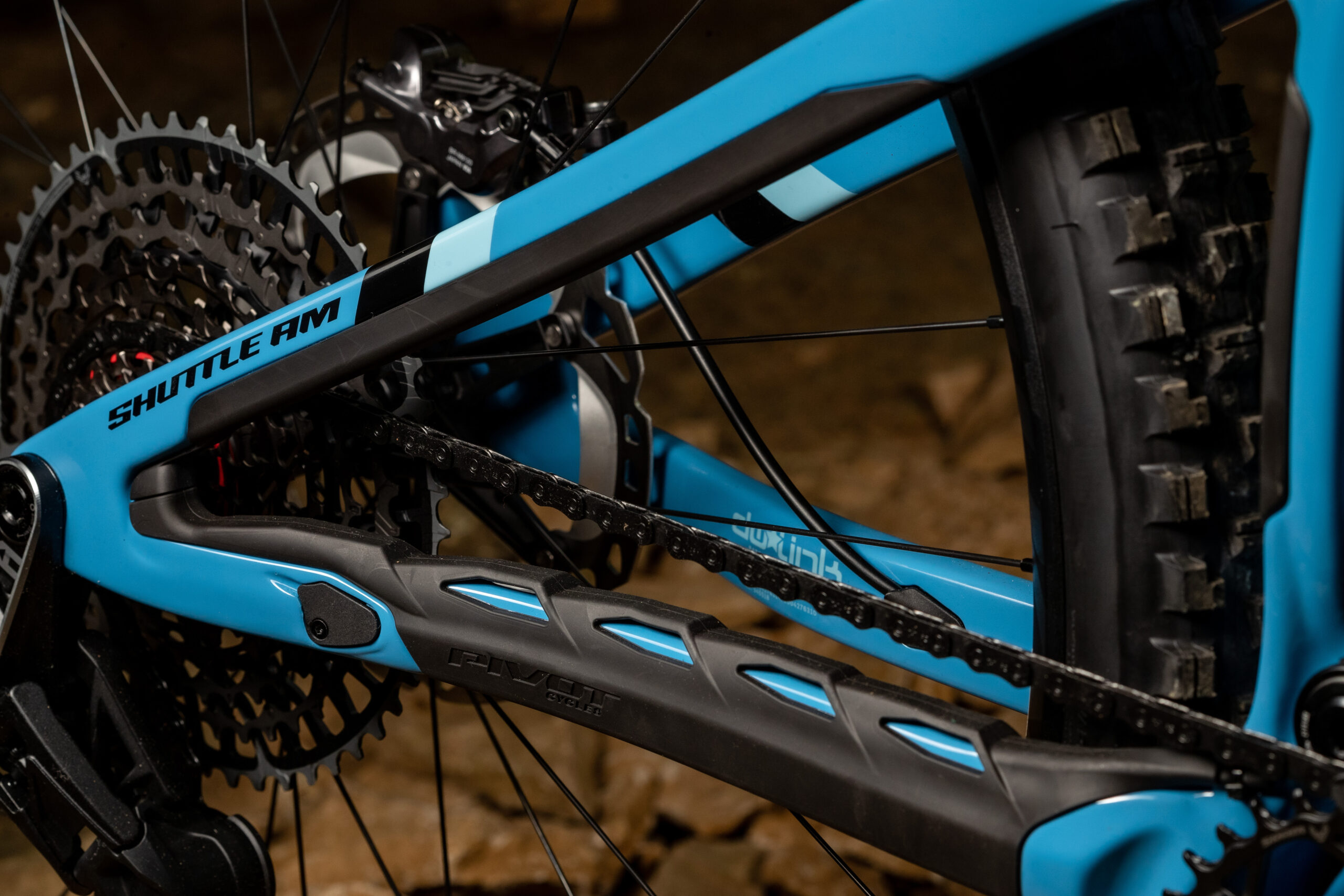 Drive System
Pivot has partnered with Bosch for the Shuttle AM's drive system. There are two motor options, as well as two battery options that vary depending on the build. The SLX/XT and the Pro XO Transmission builds both get the Performance Line CX motor. It delivers 85 Nm of torque (equal to Shimano's EP8 motor), and it delivers that torque in a punchy manner — the Extended Boost feature, which keeps the power on after you stop pedaling, encourages lots of power-assisted wheelies.
The Shuttle AM's Team XX Eagle Transmission build takes it to the next level with the Performance Line CX Race Limited Edition motor. The Race motor also offers 85 Nm of torque, but unlike the Performance Line CX (which delivers 340% of assist), the race motor can achieve 400% of assist, which matches Shimano's EP8 motor. The Race motor also adds on a "Race" assist level, which Bosch claims allows you to accelerate faster and also reach top speed faster. Reaching top speed faster may seem like a given since it accelerates faster, but the programming on non-Race motors also tapers power as it reaches the top assist speed (20 mph), whereas the Race motor pulls right up to the limit with no tapering. Race mode also has Extended Boost, which is where the motor continues to supply power after the rider stops pedaling (also commonly called over-run). Non-Race-motor-equipped bikes also have Extended Boost, but Race mode lengthens the distance the power stays on — Bosch is very clear in their description of Race mode in that it requires experience and skill to manage.
If all of that is not enough to make you lust after the Race motor, it also utilizes a magnesium housing that shaves a claimed 136 grams off the non-Race versions, so apparently it not only accelerates faster, but it's also lighter…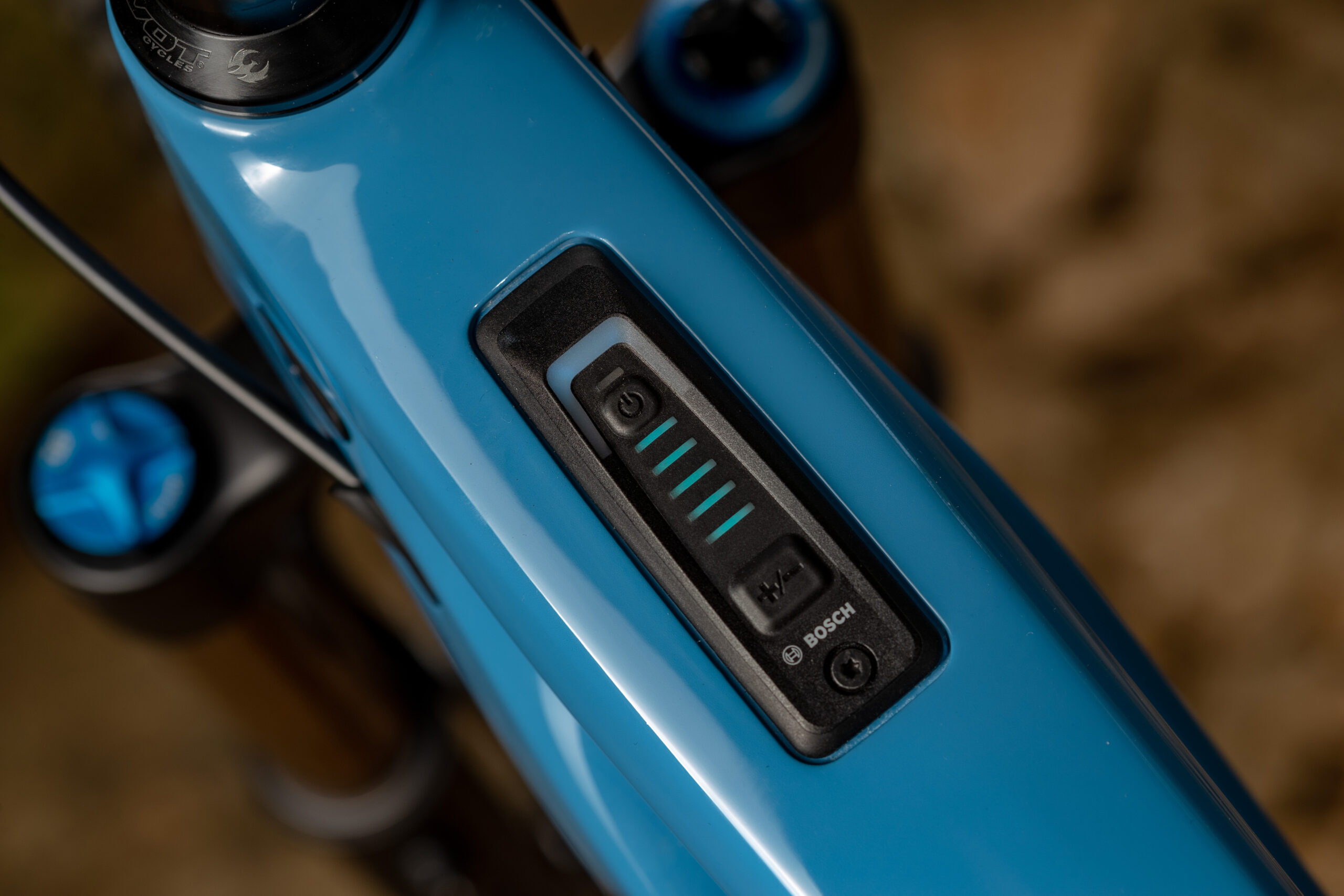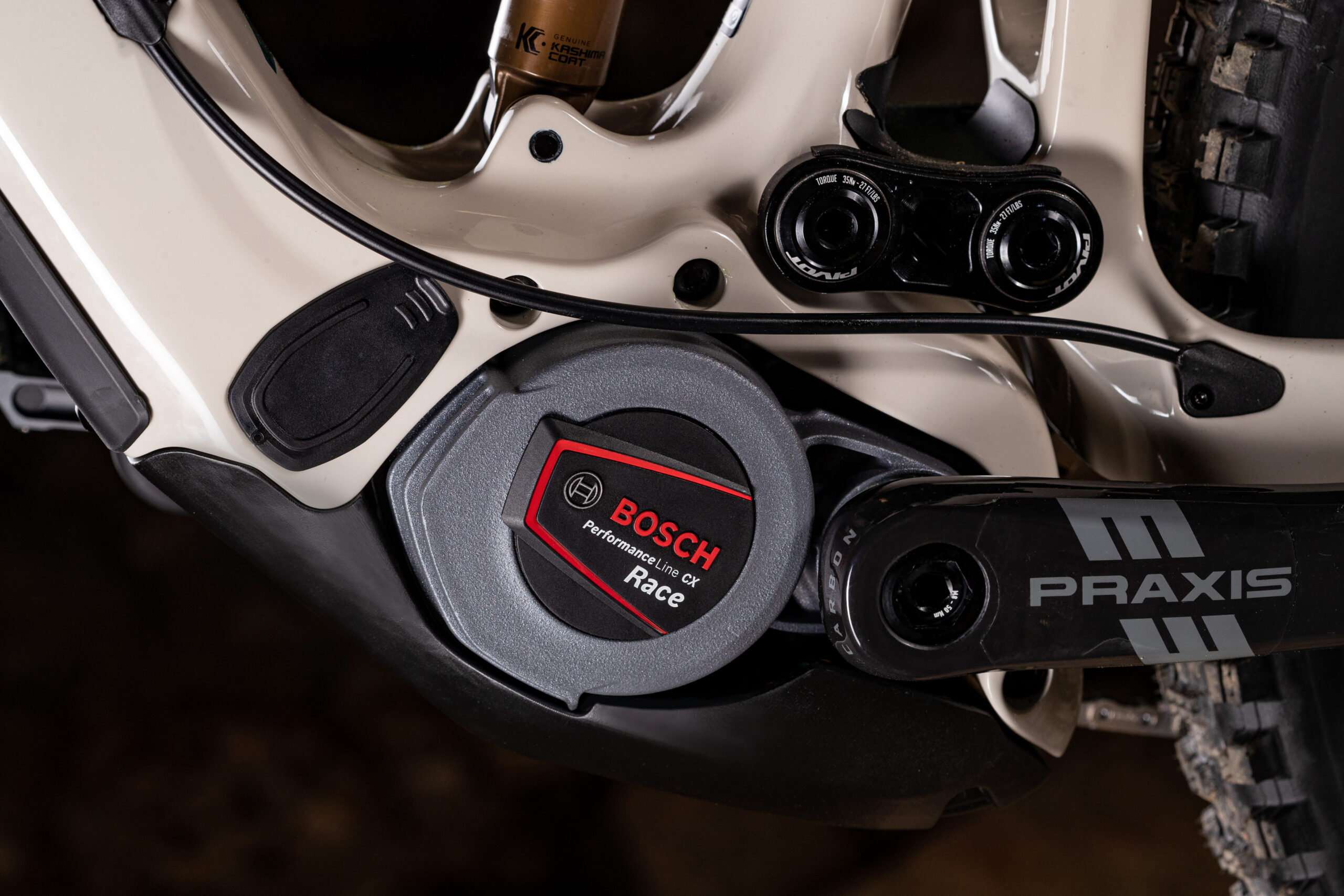 In the battery department, Pivot has spec'd the SLX/XT build with a 625 Wh battery, while both the Pro and Team builds get a larger 750 Wh battery. We've had plenty of time on bikes equipped with Bosch's 750 Wh battery to form a very positive opinion. As mentioned in the Frame section, the Shuttle AM's frame (all sizes) is compatible with Bosch's new Powermore range extender, which adds 250 Wh of battery capacity.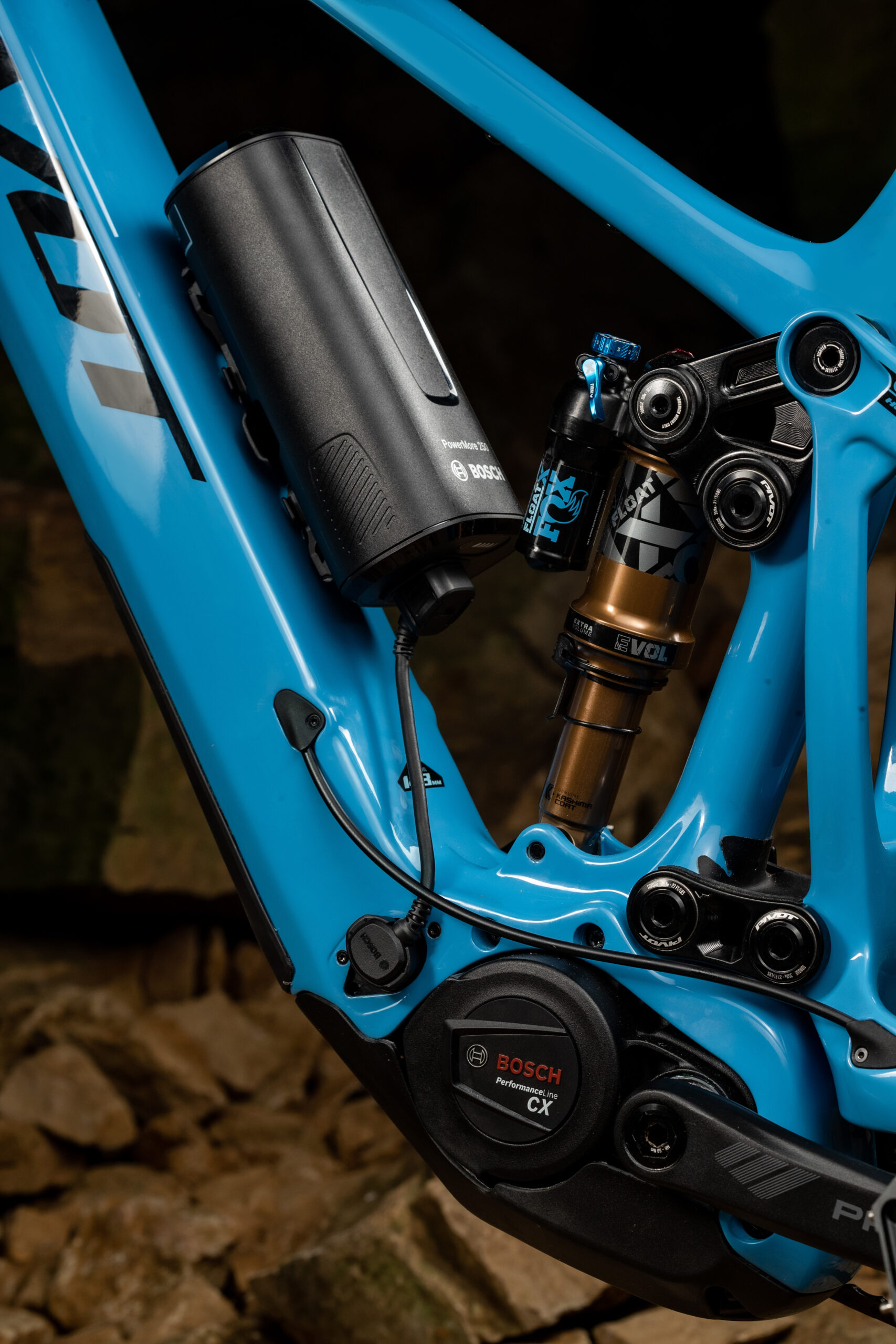 All three builds come equipped with Bosch's integrated Smart System Top Tube Control Center. The Control Center displays basic information like assist levels and battery power. The display does not provide as much detailed information as other Top Tube displays like the Specialized Mastermind TCU or Rocky Mountain's Jumbotron. However, Bosch has been clever by using different colors for assist levels and battery power that give the minimalist display added detail. For assist levels, there are four colors that correspond to the different levels; green for Tour +, blue for Sport, purple for eMTB, and red for Turbo. For battery power; there are five LED bars, and each one of those bars turns from blue to white when that bar is below 50% — you end up with ten battery charge levels, and based on a full charge of 100%, you can determine to within 10% of what the remaining battery capacity is.
Bosch's eBike Flow app bridges the gap to more detailed information. It connects wirelessly to the bike via Bluetooth, and once paired, displays a custom Pivot interface that has all the information the top-tube-mounted display lacked, plus a whole lot more. Features include customizable assist levels to tailor them to your own preferences, over-the-air update capability, maps, ride statistics, and a new locking feature. The new locking feature looks like a valuable addition — once turned on, it uses your smartphone as a virtual key, with the bike's drive system automatically locked in the off position when you walk away from the bike, and unlocked once you (and your phone) are back in range.
There's also the option to use your smartphone as a display, which then gives you access to real-time data like speed, exact battery percentage remaining, maps, and range. Of course, you will need to mount your phone somehow, and Bosch does sell a mount called the SmartphoneGrip, but it is not integral, so you can use any of the myriad smartphone mounts available.
Fit & Geometry
The Shuttle AM is offered in four sizes, labeled Small, Medium, Large, and XL. In contrast to the Shuttle LT, Pivot has returned to more conventional nominal sizing on the Shuttle AM. Reach on a size Large (Low BB setting) is now 476 mm, whereas the Shuttle LT comes in at 488 mm (Low BB). As a result of that long reach, I reviewed the Shuttle LT in a Medium but will be back on a Large for the Shuttle AM. Despite the shorter travel of the Shuttle AM, the geometry numbers are actually fairly close to the Shuttle LT. The headtube angle is almost identical (within .1º), and the seat tube angle, stack height, and chainstay length also are very close — as mentioned above, the big change is the reach department (in a given size). All sizes feature low standover heights, designed around the concept that the rider can choose their size based more on riding style, than actual rider proportions. With that said, I think it was a good move for Pivot to make the sizing a little more conventional, since it will most likely eliminate a lot of sizing confusion.
The Builds
Pivot offers the Shuttle AM in three builds, which aligns nicely with its position in the middle of Pivot's eMTB line since the Shuttle SL has four builds and the Shuttle LT has two. The Shuttle AM's builds range from $8,399 to $13,999. Pivot states that the Pro builds are the most popular option on their other models, and strike a good balance between performance and price. But eMTBs are expensive, and it may seem a bit 'off' calling an almost $12,000 bike a good value, but the Pro XO build is a no-compromise build, with in my opinion, nothing that warrants an upgrade. I think the SRAM Transmission's shifting under load performance is a good match for the increasingly powerful drive system options currently on the market, not to mention that having both wireless shifting and the wireless Bosch Mini remote lends a nice, clean aesthetic to the cockpit.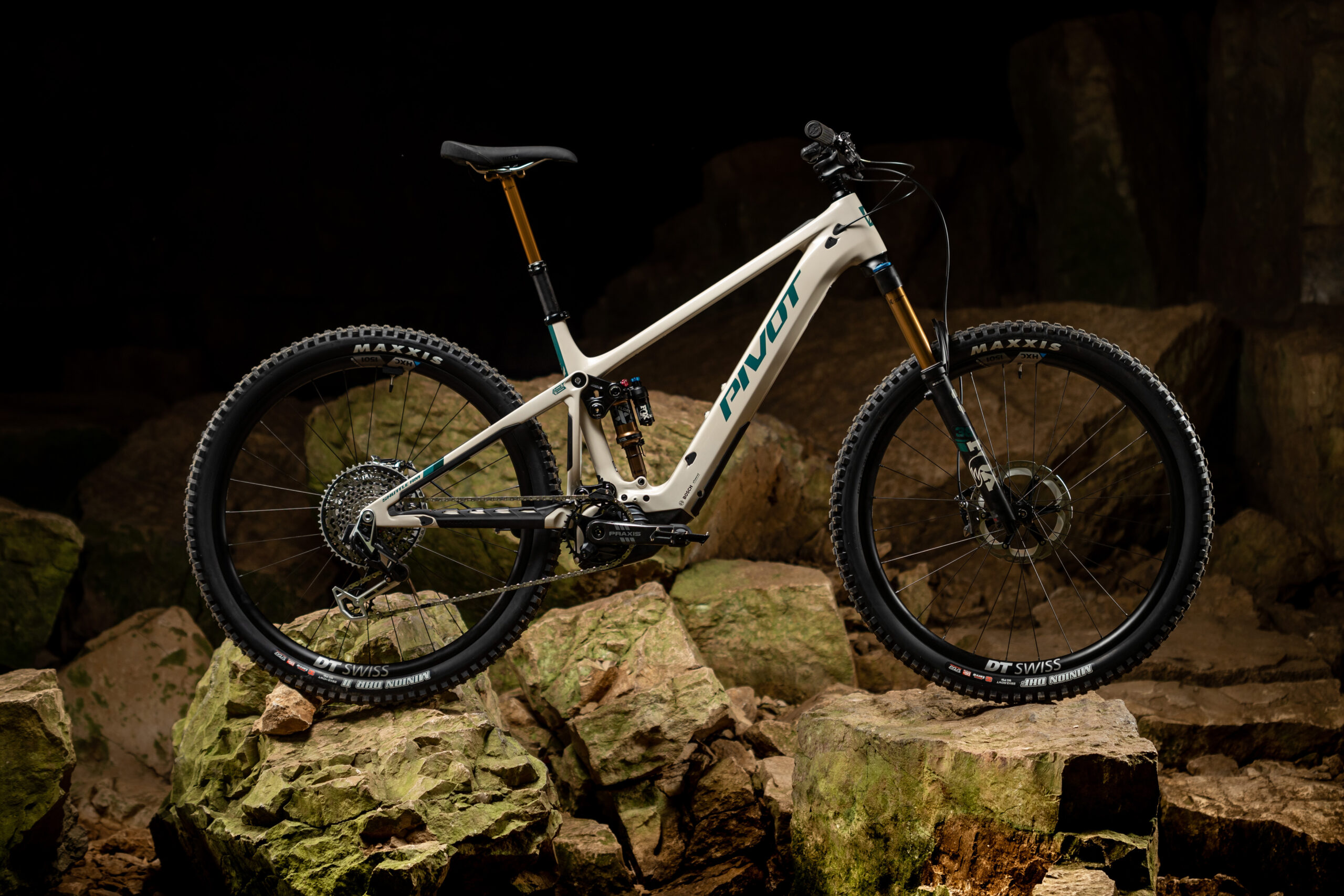 Drivetrain: Shimano SLX 12 Speed with Shimano XT Rear Derailleur
Motor: Bosch Performance Line CX
Battery: 625 Wh
Fork: Fox 36 Performance E-MTB (160 mm)
Shock: Fox Float X Performance
Brakes: Shimano SLX M7100 with Shimano Deore 203 mm rotors
Wheels: DT Swiss H1900
Dropper Post: E13 Vario (SM-LG: 150 mm – 180 mm; XL: 180 – 210 mm)
Drivetrain: SRAM XO Eagle Transmission
Motor: Bosch Performance Line CX
Battery: 750 Wh
Fork: Fox 36 Factory E-MTB (160 mm)
Shock: Fox Float X Factory
Brakes: Shimano XT with Shimano XT 203 mm rotors
Wheels: DT Swiss Hybrid HX1501
Dropper Post: Fox Transfer Factory (SM: 150 mm; MD-LG: 175 mm; XL: 200 mm)
Drivetrain: SRAM XX Eagle Transmission
Motor: Bosch Performance Line CX Race Limited Edition
Battery: 750 Wh
Fork: Fox 36 Factory E-MTB (160 mm)
Shock: Fox Float X Factory
Brakes: Shimano XTR M9120 with Shimano XT 203 mm rotors
Wheels: DT Swiss Hybrid HXC1501C
Dropper Post: Fox Transfer Factory (SM: 150 mm; MD-LG: 175 mm; XL: 200 mm)
Some Questions / Things We're Curious About
(1) The Shuttle LT has become a benchmark eMTB for us here at Blister. Can this new shorter-travel All Mountain version live up to the high standard?
(2) Just how far can you go on 1000 Wh of battery? (we're talking about the 750 Wh battery paired with Bosch's Powermore range extender)
(3) Will we miss the extra travel of the Shuttle LT?
Bottom Line (For Now)
The Shuttle AM completes the eMTB range for Pivot in a couple of ways. First, it slots in between the Shuttle SL and Shuttle LT in travel and focus; second, it utilizes a Bosch drive system, which affords customers the choice between three popular drive systems in Fazua, Shimano, and Bosch. But the Shuttle AM looks to be more than just rounding out the range and perhaps could end up competing with the Shuttle LT. We've got a Shuttle AM in for testing, so stay tuned for a full review to come. In the meantime, Blister Members can check out our initial on-trail impressions in our Flash Review, linked below.
Flash Review
Blister Members can read our Flash Review of the Shuttle AM for our initial on-trail impressions. Become a Blister Member now to check out this and all of our Flash Reviews, plus get exclusive deals and discounts on gear, and personalized gear recommendations from us.