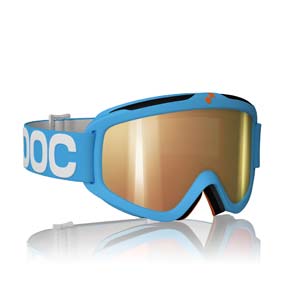 POC Iris X Goggle
Specs:
Large Fit
Silicone-Backed Strap
POC Double Lens Technology
Scratch-Resistant Polycarbonate/Fog-Resistant Cellulose Propionate Lenses
Helmet Compatible
Top Frame Venting System
Three Foam Layers
Includes Microfiber Goggle Bag
Although I was initially attracted to POC products for their bright, fun colors and the mix-and-match app on their web site, I soon realized that their commitment to style was equally as important as their commitment to quality. I have used the POC Receptor Bug helmet and the POC Iris X goggles for almost 70 days now, dishing out a fair amount of abuse, and they are still in excellent condition.
Because I have a slightly narrower face, I first ordered a size small. After trying them on with my helmet, however, they were pretty tight, and I did not have great peripheral vision. While they did not feel great with my helmet, they worked with a hat. I returned them for a size large, which was a much more natural fit.
Even with a narrow face, the size large is very comfortable, and the goggle's wrap-around design allows for maximum peripheral vision. Sometimes if they are a little loose, they sink low over my nose, but it is not a huge issue. This season POC introduced a size medium to the line, so if you are worried about too large a size, this is a good option.
The Iris X is a perfect match with the POC Receptor Bug helmet, and I would imagine it is with other POC helmets, too. After just a few minutes, I can barely feel that I am wearing them. I am not sure how they fit with other brand's helmets, so you'll want to make sure that the Iris X syncs well with the helmet you intend to use.
Another perk to the Iris X is the triple layer of foam on the inner frame of the goggle. This provides increased comfort as well as warmth. The third layer of foam, which rests against the face, is very soft—a nice touch. While the foam works well to insulate on colder days, the goggle's venting system allows for optimal airflow to prevent fogging when things start to heat up. The vents wrap all the way around the goggle frame and are covered by a thin layer of foam. I have noticed that while hiking on warmer days they can be a little too warm to keep on, but they still do not fog, which is a huge plus.
The inner part of the strap has two strips of silicone, so a clip is no longer necessary. The goggle is held firmly in place by the silicone, and I have had no issues with my goggles slipping off while skiing. The stickiness of the strap has not diminished by any discernible amount in the past year, and the goggle sticks well to hats, too.