Intro
Over the past few years, technical rock-climbing apparel has gone from being boring and easy to ignore, to being extremely flashy and hip.
European competition trends have popularized pants with neon colors and drawstrings around the ankles, and these seem to be quickly replacing tan hiking pants as the go-to options for core climbers. On the more subdued end of the spectrum, other brands are creating durable, stretchy, and stylish jeans that can be worn at the crag and around town.
To get a better idea of how some of these new options compare, we've spent a considerable amount of time in four pairs of climbing-oriented pants that all aim to help make climbing easier, but do so in different ways. So check out how they compare, and see which ones will work best for you.
Boulder Denim Men's Athletic Fit Jean
Fabric: Stretch denim w/ DWR finish
Stated Features:
Medium rise that sits just above the hip, more room through the thigh, knee and calf with a slight taper.
Offers more thigh and calf room for men with muscular legs.
All Boulder Denim comes standard with industry leading stretch retainment, hydrophobic wash, trap pockets and reinforced stitching.
The jeans are made with longer inseams on purpose. They are meant to be hemmed or rolled up if they are too long.
MSRP: $148.00
Reviewer: 6'1", 160 lbs
Size Tested: 30×34
Days Tested: ~30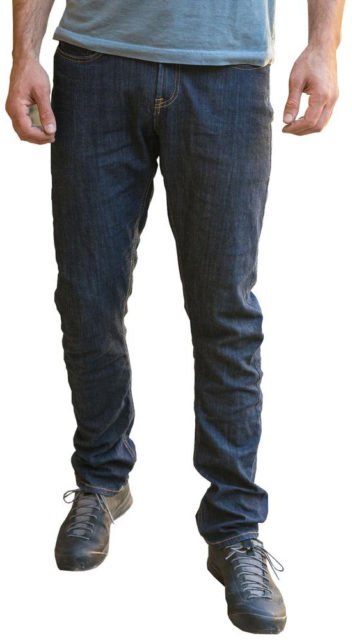 Ben Firth: Boulder Denim is a newer brand that began with a successful Kickstarter campaign in 2015 that rocketed them into the eye of the climbing community. The idea behind Boulder Denim is to have one pant that is essentially a combination of a fashionable "modern jean" and a durable, stretchy climbing pant.
The men's Boulder Denim jeans are available in a "Slim" and "Athletic" fit, and the women's version is currently available in a "Skinny" fit. I'm 6'1", 160 lbs., and tested the Athletic fit Boulder Denim jeans in a size 30×34, which is the same waist width as most of the pants I wear. The Boulder Denim jeans' "30" waist feels comparable to the same waist size from a brand like Levi's.
For my height, I actually have rather short legs, so the size 34 length was a bit too long for me. Boulder Denim's website says this is intentional, with the idea that the consumer can either cuff them or have them hemmed. I decided to go with the Athletic fit since I have yet to embrace the skinny-jean movement. The Athletic fit version still fits fairly slim, just with more room around the calves and thighs. For the more fashion-forward crowd, Boulder Denim's Slim fit might be a better choice.
The Boulder Denim jeans have some special climbing-oriented features like a zippered accessory pocket to keep items from falling out while climbing, and a "Nanosphere" fabric treatment that adds a bit of water and stain resistance.
The Boulder Denim fabric itself is much thicker than other stretch denim fabrics I've used, like that on the Prana Bridger jean. This definitely made the Boulder Denim jeans feel more durable and resilient to the constant abuse climbing can put on them. Other similar pants I've had in the past have stretched out a lot around the knee after climbing in them for a while, but I still haven't experienced this with the Boulder Denim jean, even after around 30 days of use.
Since I used them primarily in the summer and fall around Colorado, the Boulder Denim jeans' thicker fabric did make them feel a bit too hot at times. The E9 Rondo Slim was much more comfortable during those summer and early fall days. That said, when I was up higher in the alpine or bouldering during the night, I appreciated that extra warmth of the Boulder Denim jeans. I'm sure they will be a great rock-climbing pant to wear as winter rolls around, especially given their water / snow resistance.
One other thing to note about the Boulder Denim jeans is just how good they look outside of the crag or gym. I do have to admit that I cringe a bit when I get chalk on these pants during a climbing session. They are by far my best-looking jean, which is both a testament to their quality and my rapidly aging wardrobe.
I think the Boulder Denim jeans are great rock-climbing pants for cool to cold weather, making them a solid choice for fall, winter, and spring days at the crag. If you live in a place where summer is a bit cooler, they'd be great for that, too. They're comfortable, have proven to be very durable so far, and they offer great range of movement. On top of all that, they look totally normal while just wearing them in town. The price tag is a bit higher than some of the other pants, but considering the Boulder Denim jeans' versatility, quality construction, and durability, that price seems justified.
E9 Rondo Slim Pant
Fabric: 96% Cotton 4% Elastane
Stated Features:
Two front round pockets and one back round pocket
Elastic cinches at the ankles
Two brush loops
Articulated knees
Fitting: Slim
MSRP: $109.00
Reviewer: 6'1", 160 lbs
Size Tested: Small (32.5" inseam)
Days Tested: ~30

Ben: Unlike the multipurpose Boulder Denim jeans, the Rondo Slim pants from E9 are designed with one sole purpose in mind: climbing. While relatively new to the US market, E9 has quite a following in the European competition scene. They were one of the leaders of the "flashy colors and ankle-cinch hems" trend that's gained popularity across climbing apparel brands. E9's Rondo Slim pant continues in this tradition, while having a slightly trimmer profile than other pants in the E9 line.
I tested the Rondo in a size Small, which I was slightly apprehensive about after seeing them on a clothing rack (the elastic waist makes them look really tiny). My fears were misplaced, however, as the stretchy waist accommodates a wide range of sizes and the Small's 32.5" inseam was perfect for my 6'1" frame.
Unlike many climbing-specific pants, the fabric used the E9 Rondo isn't incredibly stretchy. It's a 96% cotton 4% elastane blend, which feels comfortable against the skin and more durable than a stretchier fabric might feel. The Rondo pants still allowed for complete range of motion because of their large gusseted crotch and articulated patterning, and I never felt inhibited while making a high foot placement or stemming.
The elastic cinches around the ankles of the Rondo Slim pant were handy for keeping the pants out of the way during heel hooks, though most of the time I found the pants to be more comfortable when loose.
The Rondo's pockets are interesting, and definitely help make the pants stand out. The round opening is bit unusual and originally I wasn't a fan, but they are very functional and easy to use, so that'll just come down to your personal style preferences.
The only gripe I had with the Rondo pants was that the gusset in the crotch was so large that it would create a big fold that would jut forward when I stood with my legs together. This is really just an aesthetic issue, and I'm not sure how you could get around that without restricting the range of movement. But if you prefer super sleek and slim climbing pants, these are probably not the pants for you.
In contrast to the Boulder Denim jeans which look so good I almost don't want to climb in them, the E9 Rondo Slim definitely looks like a climbing pant and works excellently as such. The Rondo Slim would be great for sport-climbing and bouldering as they're incredibly light and comfortable, and they're especially nice on hot summer days where a heavier pant like the Boulder Denim jeans might be overkill.
Prana Continuum Pant
Fabric: 98% Organic Cotton / 2% Spandex
Stated Features:
Internal waist band cinch system
Full inseam gusset
Contrast back patch pockets with zipper closure
Side stash pocket
Cinch system at bottom hem
Articulated knee darts
Rock Canyon print details on belt loops and pocketing
Fair trade factory certified™
MSRP: $99.00
Reviewer: 6'1", 160 lbs
Size Tested: 30"
Days Tested: ~50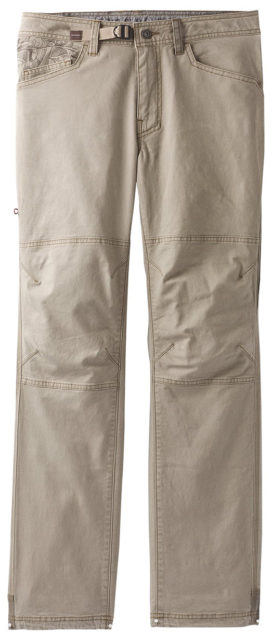 Ben: Prana is a bit of a powerhouse in the climbing market, and they offer many different pants to choose from. One of the options is the Continuum, and I've spent a lot of time in them.
I'm a fan of larger-volume pants with drawcords around the ankles for climbing, but that combination is usually accompanied with blindingly vibrant shades of orange, green, or yellow. The Continuum pants feature those useful hem drawcords but is available in more mellow earth-tone colors, making it stand out in the current market.
I tested the Continuum pants in a size 30 waist. I've actually experienced a bit of variation within Prana's sizing, even between colors of the same pants. The Continuum pants I tested fit on the snugger side for a 30, which was nice for climbing since they didn't slip as much.
The Continuum's fabric has some stretch to it — it isn't quite as stretchy as the Boulder Denim jeans, but it is stretchier than the E9 Rondo Slim (though the Rondo still offers greater range of motion due to its large crotch gusset). The Continuum's fabric is thicker than your average quick-dry hiking pant material, and feels almost "Carhartt" like. I've been able to repeatedly work through sequences with strenuous knee bars without wearing down or ripping the Continuum's material. The Continuum's thicker fabric has proven to be very durable after around 50 days of testing, yet it's still flexible enough for wider stemming or high feet.
The Continuum is not quite as breathable as something like the E9 Rondo, so for really hot summer days, you might want to go with a lighter pant like the Rondo. The Continuum pants do excel as an all-round climbing pant for moderate temperatures, or longer climbing trips involving camping and other activities where you'd want a bit more durability. The earth tones are an added bonus because they don't show dirt as much as a brighter pant might.
Patagonia Hampi Rock Pant
Fabric: 5-oz 53% hemp/44% recycled polyester/3% spandex plain weave
Stated Features:
Lightweight, durable hemp/recycled polyester blend stretches and breathes while resisting abrasion
Articulated pattern and gusseted crotch enhance movement and comfort under a harness
Zip fly with OppoSet™ adjustable waist creates a low-bulk, customized fit by simply holding the button and pulling the webbing tail to tighten
Front drop-in pockets have breathable mesh pocket bags and lay-flat construction for comfort under harness
Right pocket features Soft-Catch internal mesh pocket envelope for securing valuables
Tapered lower leg provides a clear view of foot placements and can be pulled up for additional venting
MSRP: $79.00
Reviewer: 5'10", 140 lbs
Size Tested: 30
Days Tested: ~30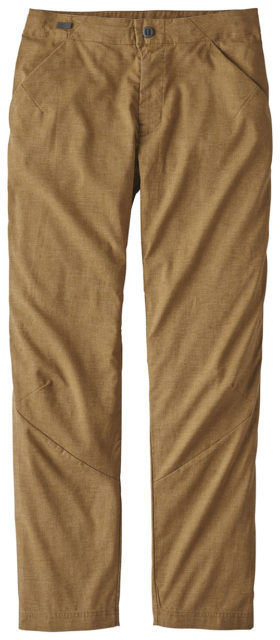 Sam Shaheen: The Patagonia Hampi Rock Pant's standout feature is definitely its fabric. The Hampi uses a beautiful hemp / poly / spandex blend that is lightweight and airy while still maintaining a rather substantial hand feel. This fabric has a bit of stretch — but not much. Most of the range of motion of the Hampi comes from the generous cut, rather than the fabric stretching.
The hemp blend fabric is also extremely breathable. The Hampi does a great job of dumping heat on hot and muggy days. When it gets colder, I'd rather reach for a heavier softshell pant — the cold and wind cut right through the Hampi.
As I mentioned earlier, the Hampi is cut rather generously. There is plenty of room in the leg to accommodate big moves. Sometimes, this baggy cut can get in the way — especially around the cuff. If I don't roll up the cuffs a few times, I sometimes have a hard time seeing foot placements.
After putting about 30 days in the Hampi pants (with about 10 or so washes), I've been quite happy with how they're holding up. There are a few spots that are showing a bit of abrasion wear, but considering the amount of chimney groveling and general abuse the pants have taken, I'm still impressed.
As a summer climbing pant, I've been very happy with the Hampi, and the fact that it is made of 55% hemp (a much more environmentally friendly material than cotton) is a great feature. So if you're looking for a lightweight, breathable, and environmentally conscious climbing pant, check out the Hampi.