When considering a new running shoe, there are so many similar-looking shoes on the market being made by so many different companies, it is virtually impossible to (1) know where to begin; (2) quickly figure out which one or two products from a given brand might work well for you; and (3) determine what products from other brands might be the most similar and also worth considering.
So in our new "Blister Brand Guide" series, we provide an overview of the entire product lineup of a brand; highlight how each product stands out from the rest of that brand's lineup; and help you figure out quickly and easily which shoe might work best for you.
In our individual product reviews, we go very deep into the details of particular products. With these Brand Guides, the goal is not Depth, but Breadth. Our Brand Guides and full reviews are designed to complement each other — provide a broad overview of entire company lineups, and then also very detailed reviews of individual products.
While Nike is one of the biggest names in the world of road running, they are still a relatively new player in the world of trail-running shoes. Several years ago, Nike tried their hand at a trail running shoe, creating the Wildhorse. The success of that shoe has led to their two other Trail models, the Terra Kiger and their newest model, the Pegasus Trail 36. While their lineup is not very large, each shoe offers traits that suit different runners, including a fairly wide range of heel-to-toe drops, ranging from 4 mm to 10 mm. The shoes below are categorized from most cushioned to least.
(Most Cushioned to Least Cushioned)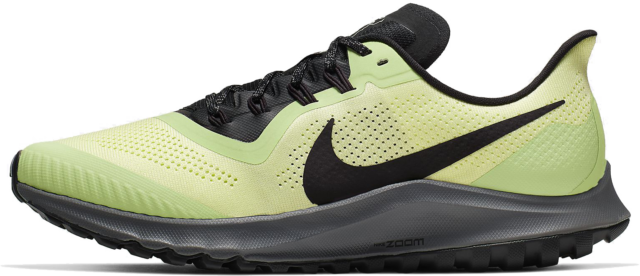 Inspired by the classic Nike Air Zoom Pegasus 36, Nike took one of their most popular road shoes and tweaked it to better suit off-road running. The Pegasus Trail 36's thin mesh upper and minimal upper reinforcements make it the most breathable and least protective of Nike's Trail shoes. While the shoes claims to have a slightly wider forefoot (vs. the road Pegasus 36) to allow for more room for toe splay, this shoe felt rather tight through the forefoot. The forefoot felt tighter than the Wildhorse, making me feel a half size larger would fit better. The Pegasus Trail 36 also has the highest stack and drop, making it the best option for those seeking a Nike Trail shoe with ample cushioning that caters more to a heel-striking runner. Despite its generous cushioning, the Pegasus Trail 36 is still a pretty lightweight shoe — in fact, it's the lightest in Nike's Trail lineup. The Pegasus Trail 36 is also the best Nike Trail shoe for those runs that include a bit of pavement; its lower-profile lugs keep the shoe feeling efficient on roads, while still being large enough to handle most fairly dry trail conditions. Because of how light and efficient this shoe is, it may be worth considering as an option for racing, but it still has enough cushioning for long distances or your daily training runs.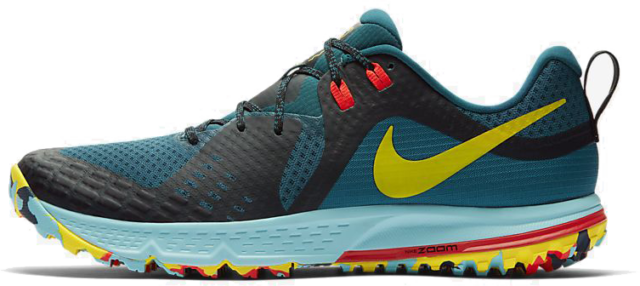 The Wildhorse 5 is a great all-round trail running shoe. The upper of the Wildhorse is more substantial than the Pegasus's upper, and the Wildhorse 5's multi-layer mesh and laminated reinforcements provide similar protection and structure to the Terra Kiger's upper. Unlike the Pegasus Trail 36, the Wildhorse has a rock plate in the midsole to protect your feet on rocks, roots, etc., and that's paired with a full-rubber outsole and moderate lugs that should offer good grip on most trails (apart from really slick rocks and deep mud). The Wildhorse 5 lugs are a bit larger than the Pegasus Trail 36's, making the Wildhorse 5 a bit less efficient on pavement. We've also noticed that the Wildhorse 5's outsole will wear pretty quickly on the roads, so if you'll be using these shoes more frequently on pavement, the Pegasus Trail 36 is a better option. The Wildhorse 3 (which is very similar to the Wildhorse 5) was actually the first pair of trail-running shoes I ever owned, and I probably put over 1,000 miles on the shoes before the tread was very worn down (its outsole is pretty durable if you stick to trails). The Wildhorse 5 has some updates from the Wildhorse 4, including a new symmetrical lacing system, more flexible upper, and new "skin overlays" to provide more durability.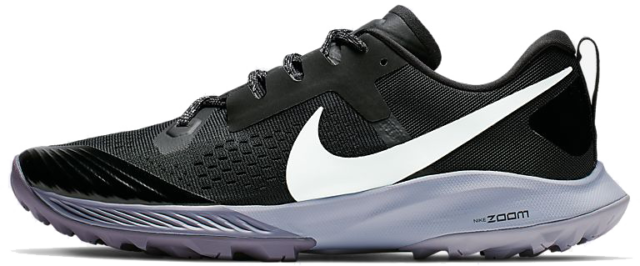 The Terra Kiger 5 is Nike's lowest-drop and least-cushioned trail shoe, designed for more technical terrain and challenging conditions like water crossings, mud, and rocks. Its perforated mesh upper allows moisture to move out of the shoe while being much more breathable than waterproof shoes. Its tongue is also padded, which is meant to help prevent hot spots on the top of your foot from rubbing laces. The Terra Kiger has a rock plate in the forefoot of the shoe, which works well with its aggressive outsole when it comes to running on very rocky trails. Its outsole is the most aggressive of Nike's trail shoes, better suited to technical terrain, rather than pavement. Of Nike's trail shoes, the Terra Kiger is the best option for those who are looking for a shoe with larger, more aggressive lugs, though we have heard from several people that the rubber compound it uses in its outsole does not grip well on wet, slick surfaces. It's also worth a look for those who prefer a shoe with a pretty low heel-to-toe drop.