When considering a new running shoe, there are so many similar-looking shoes on the market being made by so many different companies, it is virtually impossible to (1) know where to begin; (2) quickly figure out which one or two products from a given brand might work well for you; and (3) determine what products from other brands might be the most similar and also worth considering.
So in our new "Blister Brand Guide" series, we provide an overview of the entire product lineup of a brand; highlight how each product stands out from the rest of that brand's lineup; and help you figure out quickly and easily which shoe might work best for you.
In our individual product reviews, we go very deep into the details of particular products. With these Brand Guides, the goal is not Depth, but Breadth. Our Brand Guides and full reviews are designed to complement each other — provide a broad overview of entire company lineups, and then also very detailed reviews of individual products.
On Running: Brand Background
On Running is a relatively new brand — it was founded in 2010 in Zürich, Switzerland. The company was started by Olivier Bernhard and his friends David Allemann and Caspar Coppett, with the idea in mind of creating a shoe that provided a new running feel with innovative technology. The brand has since expanded globally and grown in popularity in the years after its founding.
On's shoes have a unique appearance, with a bulbous outsole / midsole that is designed to provide a cushioned ride while maintaining efficiency and energy return, while decreasing weight. On makes both road and trail shoes, which all feature a similar midsole / outsole design but with unique features to serve most needs, from technical trail running to fast road racing.
A few of On's features are worth quickly touching on. Their shoes' midsoles / outsoles have what On calls "Cloud Elements," which are essentially hollow semicircles. On says the "Cloud Elements" cushion both vertical and horizontal forces during each step, while also locking into place during the takeoff of the stride, in an effort to both absorb harsh impacts and provide an efficient platform.
On uses 4 different outsole designs to meet the needs of a variety of users: Helion Superfoam, Missiongrip, Zero-Gravity Foam, and Rebound Rubber. Helion Superfoam is on the stiffer end overall, but has softer sections to provide cushioning that is light, yet energy efficient. Missiongrip is used on their trail shoes, since it has more aggressive lugs and stickier rubber. Their Zero-Gravity design is the lightest outsole, and while much of it is foam (rather than rubber), it does feature some abrasion pads for a strong grip on the road or smoother off-road surfaces. Their Zero-Gravity outsole is geared towards "all-day performance," and many of the lifestyle shoes On makes feature that outsole. On's Rebound Rubber was the first outsole that the brand designed, designed to be durable and efficient for extended use.
On also uses a technology that they call a "Speedboard." Their various Speedboards are essentially rigid frames situated above the midsole / outsole that support the natural foot motion and promote a quicker turnover between strides. Their Speedboards are designed specifically for the shoe they are used on, so each is designed to work well with the other features of the shoe.
Stated weights are for a US men's size 9 and a US women's size 8.
(Most Cushioned to Least Cushioned)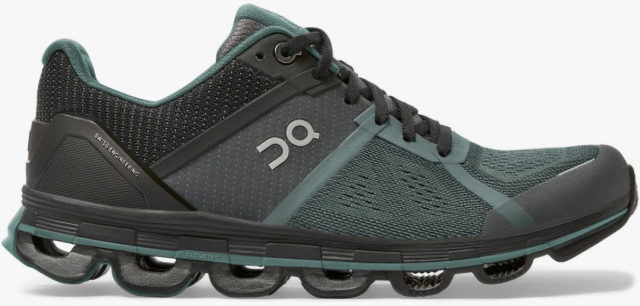 The Cloudace is On's most cushioned road shoe, designed for long-distance training. The Cloudace utilizes the brand's Zero-Gravity foam to provide a plush feel without excessive weight. Its upper is designed with a "technical mesh" for maximum ventilation and a bit of foot security. The Cloudace is meant to be a bit more supportive than most of On's lineup but is still relatively light to keep you moving efficiently while running.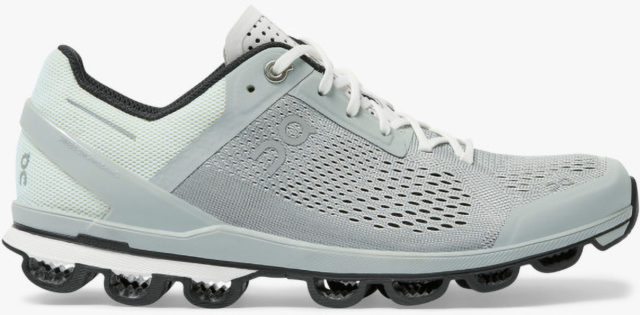 The Cloudsurfer reportedly combines the comfort of a trainer with the fast feel of a racing flat, making it a strong contender for both a training and workout shoe. The Cloudsurfer has a more traditional upper and lace configuration, which is designed to hold your foot in place regardless of the pace your running. The Cloudsurfer has a Speedboard, designed to propel you forward for a light and agile feel, despite its higher stack height. Its outsole is made with On's Rebound Rubber technology, creating a durable shoe that's meant to still grip well on most surfaces. While this is a road shoe, the design of the outsole is supposed to handle mixed terrain, such as dirt roads or crushed gravel.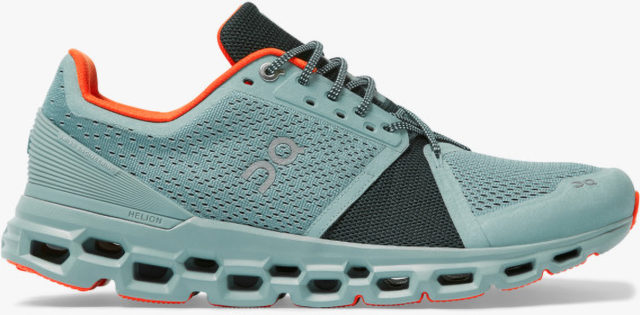 The Cloudstratus is another high-cushioned road shoe from On, but with its more rockered outsole and two layers of "CloudTec" pods at the back of the shoe, the Cloudstratus is supposed to still offer a fast, efficient ride. Its upper is constructed with an asymmetrical, open-knit mesh to create lots of air flow. Its star-lacing configuration pulls the mesh more closely to your foot for a secure fit. The Cloudstratus has a wider platform, designed to give your foot a bit of extra room over long distances.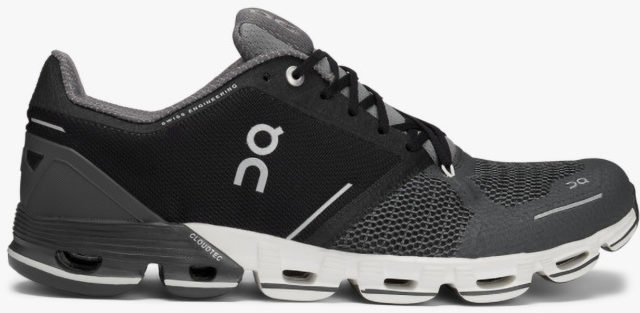 The Cloudflyer is designed to support any runner over a variety of distances. The shoe is light, yet still very cushioned. The Cloudflyer has wider Cloud elements on the outsole for a slightly wider surface area for the foot to land on. These elements are configured to reduce inward rotation to aid in a stable stride. The Cloudflyer has a molded, V-Shaped heel cap to help secure your foot in place, paired with a more plush tongue and a star-shaped lacing configuration for a secure fit. Like the Cloudstratus, the Cloudflyer is a bit wider, designed to create a bit more space for your feet. The Cloudflyer is built with the brand's lightweight, Zero-Gravity outsole.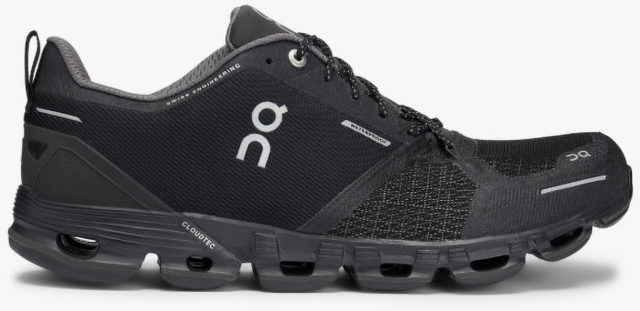 The Cloudflyer Waterproof is the same shoe as the Cloudflyer, but with a waterproof upper.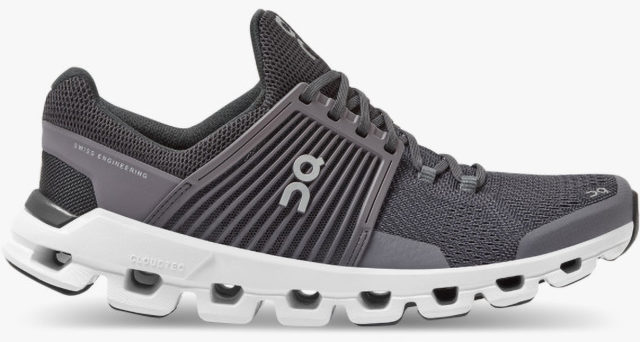 The Cloudswift is On's moderate-cushion, more-rockered shoe, featuring their mid-range Helion outsole. Compared to the Cloudflow, the Cloudswift is notably more rockered, ideal for heel-strikers. The Cloudswift's upper is designed with a sock-like material for a snug fit, and also a more sleek look. The Cloudswift's upper also features some substantial TPU reinforcements for added support / stability.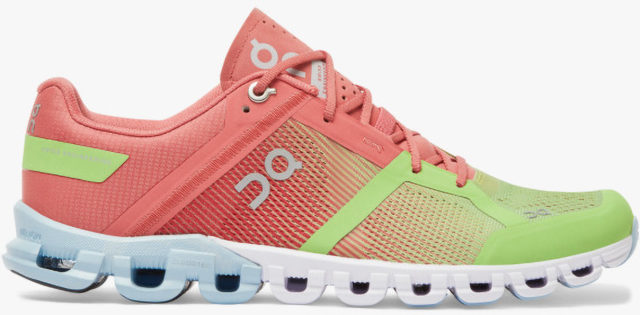 The Cloudflow is a lightweight, yet "fully cushioned" training and racing shoe. The Cloudflow utilizes Helion Superfoam technology to create a cushioned feel without making it super heavy. The shoe is far less cushioned than some of the above models but provides a bit cushion than On's purely race-oriented shoes. The Cloudflow's upper is notably less structured / supportive than the Cloudswift's, and the Cloudflow also has a much flatter profile that could feel more intuitive for mid-foot and forefoot strikers.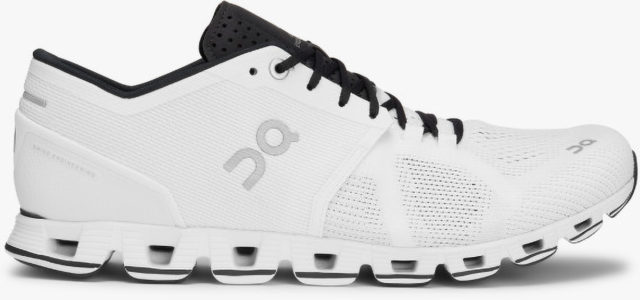 The Cloud X is designed as a general training shoe, meant for or gym use, short runs, and workout classes. On says that the Cloud X is less cushioned than the Cloudflow, although their stack height is the same, so if you want a more plush, soft feel, the Cloudflow seems like a safer bet. The Cloud X's outsole is also more rockered than the Cloudflow and the Cloud X will reportedly be less energetic than the Cloudflow while running. If you are looking for a shoe that can serve your gym, running, and lifestyle needs, the Cloud X may be a solid contender.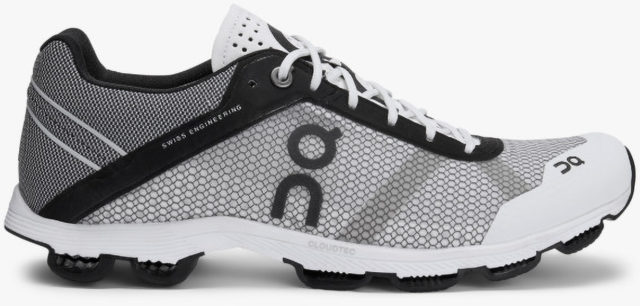 The Cloudrush is one of On's race-oriented flats, with a lightweight build and minimal cushioning. The upper is constructed with additional support along the lateral sides of the foot, helping to hold your foot in place for more efficient running. The Cloudrush has a slim midsole with tiny "air pockets" and features a Speedboard for added propulsion / efficiency. On states that this is an ideal shoe for longer road races, such as the half marathon and up.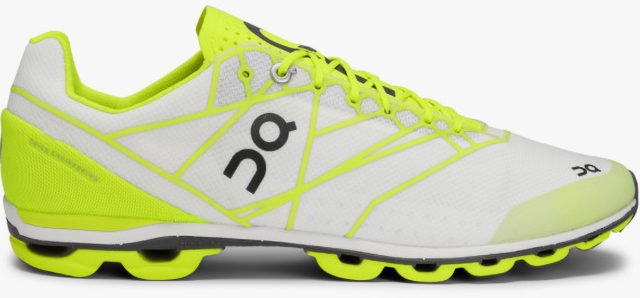 The Cloudflash is On's lightest and most minimal road racing shoe. It features a Speedoard for propulsion and efficiency with just a bit of cushion from the Cloudtec midsole / outsole. The Cloudflash's Cloud elements are connected directly to the speed board, meaning that the shoe actually does not technically have a midsole. This helps to keep the shoe as light as possible. The upper is made of an ultra-light mesh with an added heel cap to keep your foot locked from the heel.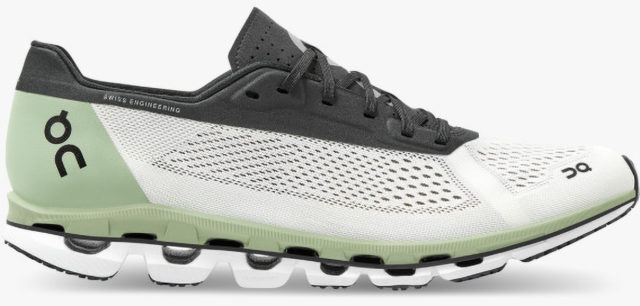 The Cloudboom is On's newest road racing shoe. This shoe utilizes a carbon-fiber-reinforced Speedboard for added efficiency and speed, as well as a notably more rockered profile than the Cloudflash and Cloudrush. On designed this shoe with the marathon in mind, and particularly running a marathon very quickly, so it's quite specialized. The Cloudboom's outsole features a new tread pattern designed for optimal efficiency on roads, but also provides just enough grip for wet conditions. Its upper is made of an ultralight mesh to keep your foot cool while racing. If you are looking for a long-distance, road-racing shoe, this may be an option worth considering.
(Most Cushioned to Least Cushioned)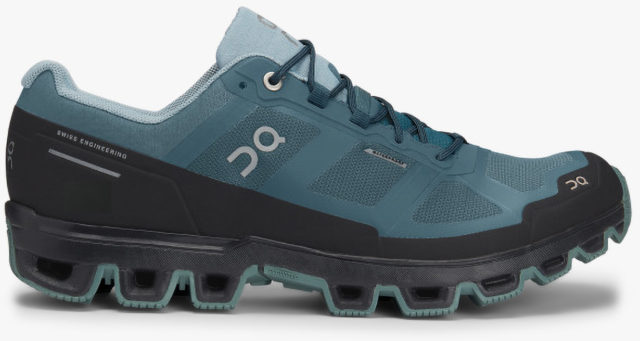 This shoe reportedly has all of the same features as the Cloudventure (see below), but with a waterproof upper. That said, it does have a higher stated stack height vs. the Cloudventure, so it may feel slightly more cushioned vs. the non-waterproof version. This shoe is also available in a higher-coverage, "Mid" version.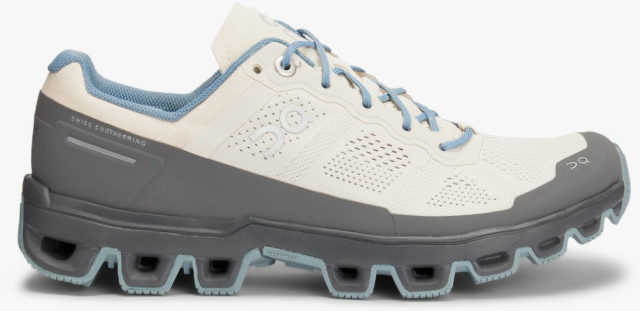 The Cloudventure is a moderately cushioned trail running shoe, designed to be a bit of a generalist — not specifically designed for any particular terrain, but supposedly capable on just about anything. The upper features a two-layer mesh upper for added support while still maximizing breathability. The Cloudventure's outsole features On's Missiongrip rubber with a more aggressive tread pattern for added traction on a wide variety of terrain. This is more of an everyday training shoe, with the Cloudventure Peak being Ons race-oriented option.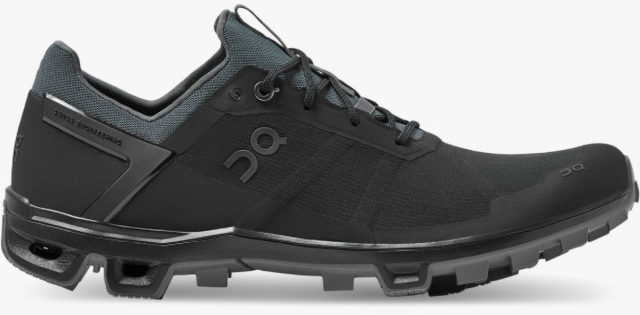 The Cloudventure Peak is On's race-oriented trail shoe. It has a lower stack height, a much lower weight, and a less cushioned feel compared to the regular Cloudventure. The "Peak" version also has a 4 mm heel-to-toe drop, which is less than the 6 mm drop of the Cloudventure and pretty neutral compared to the whole market.