When considering a new running shoe, there are so many similar-looking shoes on the market being made by so many different companies, it is virtually impossible to (1) know where to begin; (2) quickly figure out which one or two products from a given brand might work well for you; and (3) determine what products from other brands might be the most similar and also worth considering.
So in our new "Blister Brand Guide" series, we provide an overview of the entire product lineup of a brand; highlight how each product stands out from the rest of that brand's lineup; and help you figure out quickly and easily which shoe might work best for you.
In our individual product reviews, we go very deep into the details of particular products. With these Brand Guides, the goal is not Depth, but Breadth. Our Brand Guides and full reviews are designed to complement each other — provide a broad overview of entire company lineups, and then also very detailed reviews of individual products.
All of Altra's shoes are based on two key design principles that set them apart from a lot of other shoe company lineups. Their shoes all have a zero-drop heel-to-toe platform, and a wide, "foot-shaped" toe box. Many runners love this combo, but for people coming from shoes with higher heel-to-toe drops or narrower toe boxes, it may take some getting used to.
Since debuting their first shoe in 2011, Altra has gained popularity with both trail and road runners of all levels. The brand now offers shoes with a wide variety of cushioning, support, and traction.
As a general rule, Altra shoes have a wider and higher-volume fit than shoes from other brands. While this can cause problems for people with narrower feet, many runners love the comfort that Altra's platform provides, particularly when it comes to letting your toes splay out.
All of their women's shoes also feature the brand's "Fit4Her" design, which essentially means that they modify the fit of the shoe to accommodate the slightly different shape of women's feet.
Altra started out as a trail-running brand, but has expanded into the road-running world in the last few years.
In this Guide, we'll present Altra's road shoes and trail shoes separately, and will order these lineups from the most cushioned to least cushioned.
(Most Cushioned to Least Cushioned)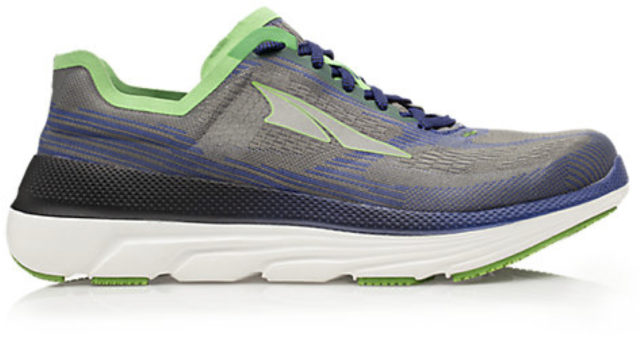 This shoe is intended to be crazy cushioned and crazy light. Altra touts it as a race-ready maximal shoe, ideal for pounding out fast miles on the roads. As a race-oriented shoe, it doesn't have any extra midsole posting or support (e.g., like that seen on the Paradigm 4.5). The Duo 1.5 features new outsole rubber to improve on the durability of the Duo 1.0. While it has a very thick midsole, we'd recommend reading our review of the Duo 1.0 as the firm nature of its midsole makes it feel very different than many other similarly cushioned shoes.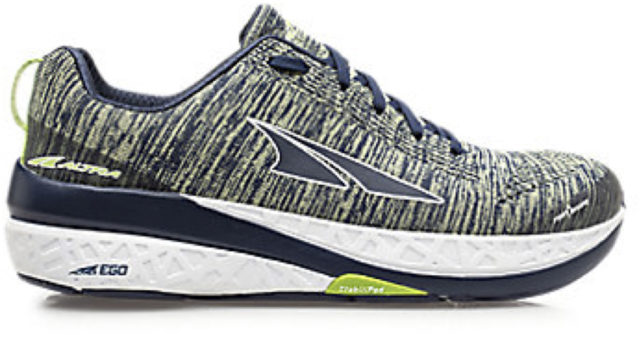 This is Altra's most cushioned "stability" shoe. It uses the brand's "dynamic guidance" system, which is designed to provide support when you start to fatigue, but not when you're running normally. It was originally designed for the Badwater 135 Ultramarathon, so it seems well suited to long runs on the road, particularly if you notice that your technique can get sloppy / tiresome during long runs.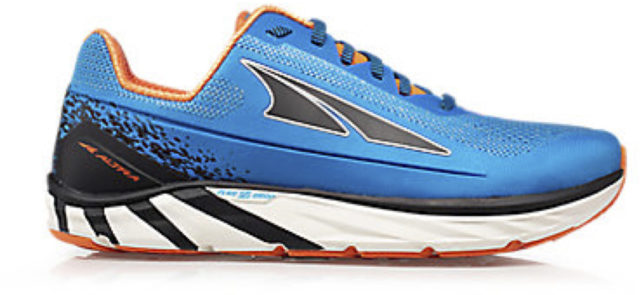 The "Plush" version of the Torin adds a little extra cushioning to the popular Torin 4, making for an even more forgiving ride. The midsole is designed to be soft and flexible, providing comfort, but at the cost of some support and efficiency. This shoe is best suited for someone who wants an everyday, max-cushioned road trainer.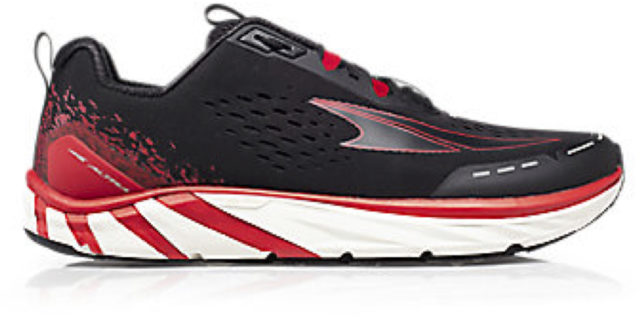 The Torin is one of Altra's more popular road models, and the 4.0 takes a slightly more race-oriented approach. The shoe has 2 mm less cushioning than previous versions, resulting in a slightly more efficient ride. The neutral platform allows for a natural foot movement, and like all of Altra's shoes, a midfoot or forefoot strike (as opposed to heel striking). If you're looking for a highly-cushioned-yet-fast shoe for training and racing, the Torin might fit the bill.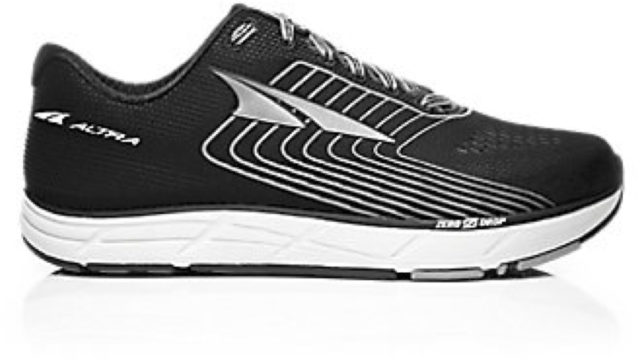 The Intuition / Instinct is Altra's original road shoe, and the "4.5" versions feature updated cushioning, a new upper, and a full rubber outsole. It's slightly heavier than the Torin 4.0, making it an ideal choice for a well-cushioned, everyday trainer, and less suited to people who are looking for an ultralight, maximal race shoe.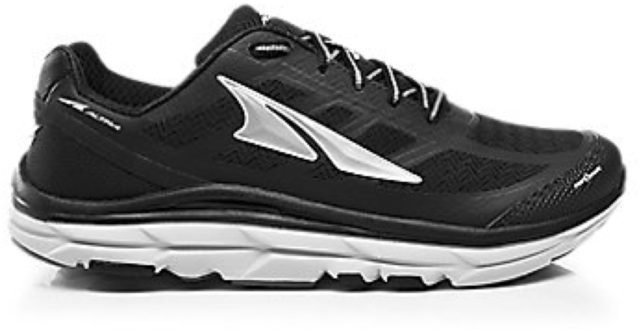 The Provision is Altra's less-cushioned "stability" shoe. With a lower stack height and lower weight than the Paradigm 4.5, this shoe is a good match for people who need a supportive shoe but want something a little more minimal.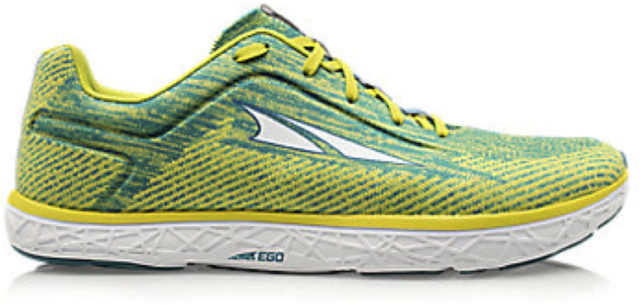 The Escalante 2 features improved flexibility and breathability compared to the first version, but maintains the efficiency-oriented design of the Escalante 1.5. The Escalante is designed for people who prefer a lower-to-the-ground shoe with a soft, flexible upper, without sacrificing much cushioning and comfort. But those who like a bit less "squish" / a little bit firmer ride should consider the Escalante Racer (see below).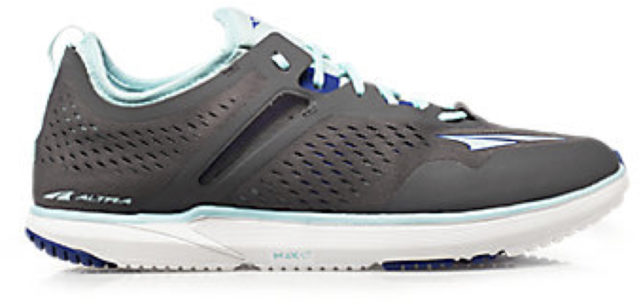 A new addition to the Altra lineup for 2019, the Kayenta features a two-layer upper intended to make the shoe fit a wider variety of foot shapes. If other Altras haven't fit your feet, this shoe might be worth checking out. It's firm midsole and lower stack height make it ideal for runners who prefer fast-feeling shoes, as opposed to very plush, cushioned ones.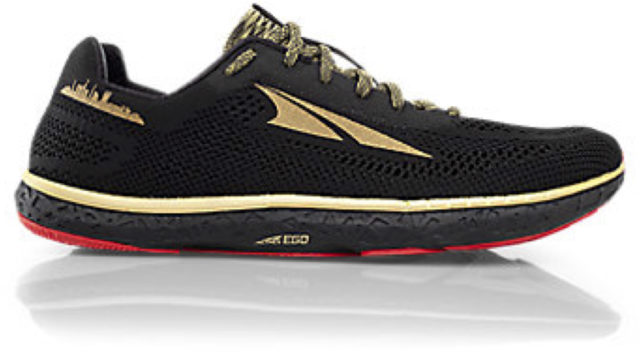 This is a lower, lighter, less squishy or "plush" version of the Escalante designed specifically for racing on the roads. If you want a fast shoe that still offers a little protection / cushioning from the pavement along with all of Altra's other standard features, look no further. And do not rule this shoe out just because you aren't racing. It is a great everyday training option for those who want a slightly firmer ride than the Escalante 2.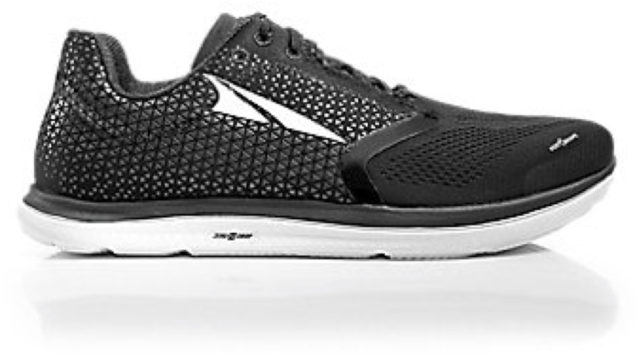 If you like the design of Altra's other road shoes but don't love the fairly high prices, check out the Solstice. It offers a light, moderately cushioned zero-drop platform with a much lower price tag than most other shoes on the market. And while it is a firmer ride than the Escalante Racer, this shoe could still be used as an everyday training option for road running if you prefer a firmer ride.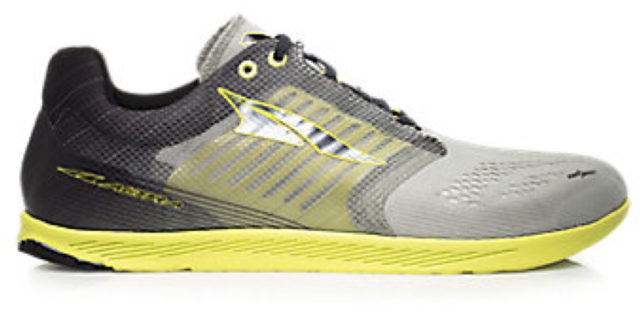 The Vanish R is Altra's first road / track racing flat. Like most racing flats, it's crazy light and offers very little in the way of cushioning. This definitely is not an everyday shoe, but it does provide Altra's standard zero-drop, foot-shape platform in a race-ready package. This shoe is ideal for short races on road or on tracks, or for use (on occasion) in your fastest workout.
(Most Cushioned to Least Cushioned)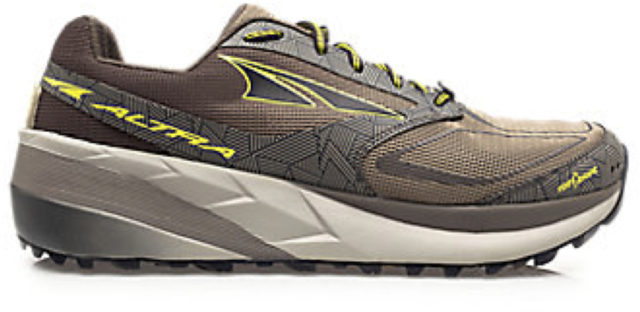 This is Altra's response to the maximal trail-shoe market. The Olympus 3.5 is designed to provide maximum cushioning and protection on trail. The current Olympus 3.5 reportedly has a more durable upper compared to the Olympus 3.0, and has a slightly lower stack height and more flexible midsole compared to the old Olympus 2.0. The Olympus' wide platform makes it fairly stable over technical terrain (given its high stack height), while the Vibram MegaGrip outsole provides great grip on a wide range of surfaces. This shoe is ideal for runners looking for protection and cushion and who are willing to deal with a little extra weight in exchange for added comfort. It's also a great option for people who want a maximal shoe but find Hoka's shoes to be too narrow.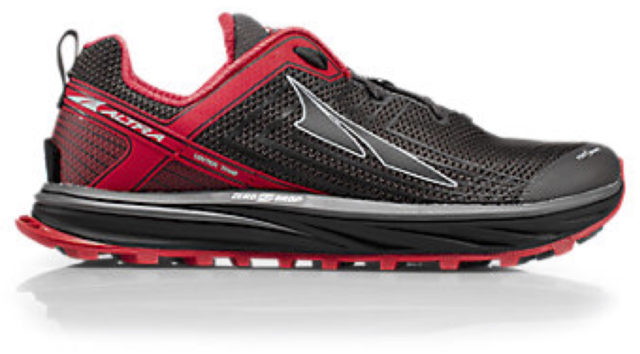 The Timp 1.5 offers a moderately high level of cushioning in a much lighter, and slightly less energetic package than the Olympus. The 1.5 features a new upper and updated fit. This shoe is designed for runners who want a combination of cushion, protection, and low weight. The Timp 1.5 shares the same midsole as the original Timp, so you can check out our review of that shoe for more, and stay tuned for our full review of the Timp 1.5.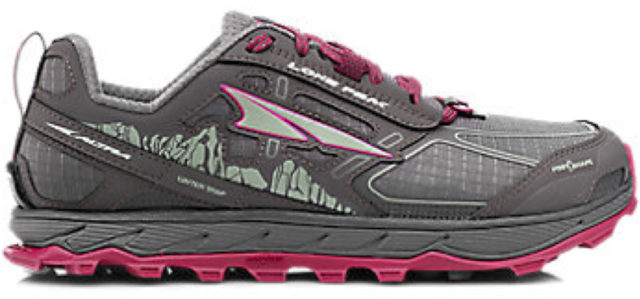 The latest version of Altra's original trail shoe features a new upper and updated midsole and outsole. It's a great option for runners looking for a versatile, every-day trail shoe with Altra's standard foot-shape toe box and zero-drop platform. In particular, we think the Lone Peak 4 excels in technical terrain, whereas the Timp or Olympus are better options if a plush, highly cushioned feel is what you're after.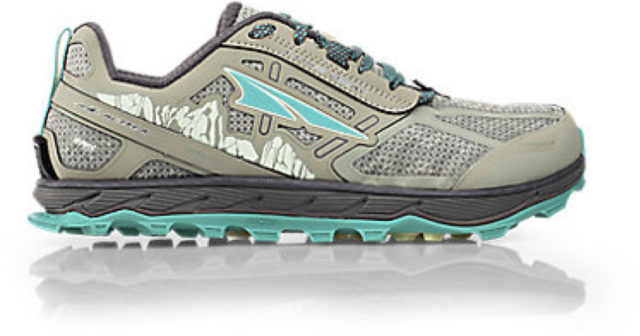 This is basically the Lone Peak 4 with a waterproof / breathable eVent upper and burlier outsole. If you're a die-hard Lone Peak fan but find yourself running in mud and snow a lot, the RSM is for you. The waterproof upper does decrease breathability, so if you consistently run in hot weather, the standard Lone Peak 4 makes more sense. (Altra also makes a mid-height version for even more coverage.)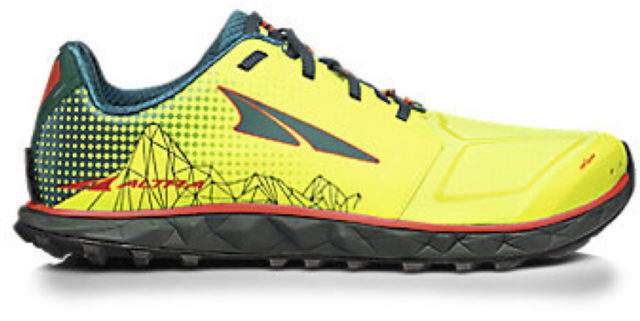 Altra's lightest, most minimal general trail shoe (i.e., it's not designed specifically for XC racing or mud, like the next two shoes). The Superior 4.0 features a new outsole, midsole, and upper in an extremely lightweight package. It also features a removable stone guard for rocky terrain. It's a good option for runners who like a light, fast shoe with lots of ground feel. Since it is a low-cushion shoe, it's probably not ideal if you do most of your running on extremely rocky terrain — we've found that it excels on up-tempo runs on forgiving trails.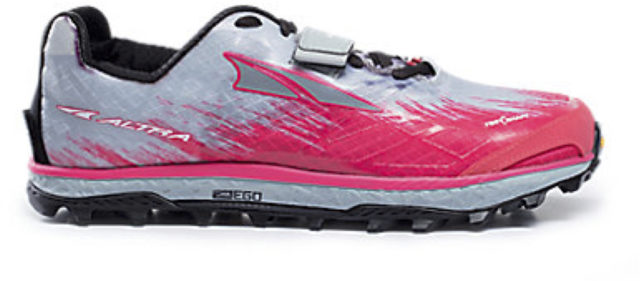 The King MT is designed for mud, whether it's in an obstacle-course race or just a particularly wet trail run. It's got big lugs, good drainage, and a close-fitting upper. If you're looking for a mud shoe with a more accommodating fit than most other brands (e.g., Salomon or Inov-8), check out the King MT.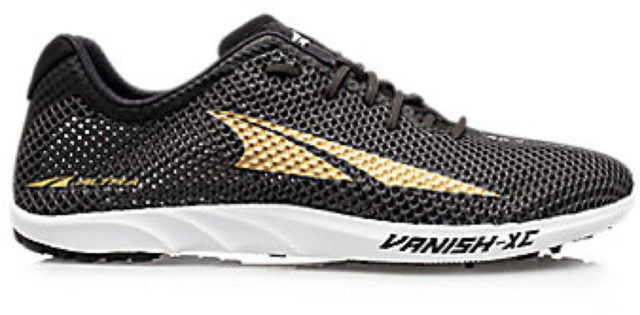 This Cross-Country racing flat brings Altra's "foot shape" toe box and zero-drop platform to the XC racecourse. It has a unique lacing system that allows wearers to customize the lacing pattern to fit their foot. If you love the features of Altra shoes and want a shoe for short, fast, off-road races, the Vanish XC is worth a look.