Shore and Chore Beach and Utility Cart — Premium Package
Test Location: Gunnison, Colorado
Test Duration: 5 months
Blister's Measured Weight: 73.8 lbs
MSRP: $480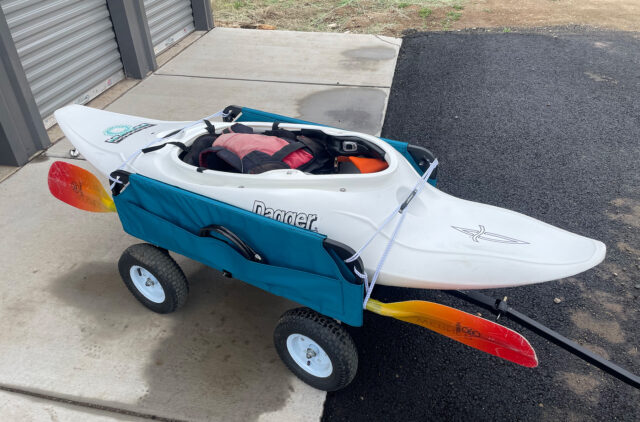 Intro
Based out of the Midwest, Shore and Chore was founded by Curt Kramer. He was after a high-quality cart that let him easily transport his family's gear down to a beach they frequented, particularly their large paddleboards. After finding out such a product didn't exist, he decided to make it himself, and thus the Shore and Chore Beach and Utility cart was born.
The Premium Package is their top-tier version, coming with a bicycle towing adapter; side, front, and back slipcovers; tie-down bungees, and a front stabilizer wheel. But Shore and Chore also offers a standard package ($395, no bicycle towing adapter nor front stabilizer wheel) and a basic package ($285, no bicycle towing adapter, no front stabilizer wheel, no side slipcovers).
Throughout the year, I split my time between many different activities (and hauling the corresponding gear) — and I live somewhere that caters to human-powered transportation — so I was eager to see how the Shore and Chore cart could help make that process easier.
Design, Features & Impressions
The Shore and Chore Beach and Utility cart is a heavy-duty, 4-wheeled cart that can be towed by hand or via a bicycle. At first glance, it has a simple, traditional design with a few extra features, such as a grated bed to allow water and debris to pass through, and pockets for items like water bottles, books, sunscreen, etc. But what makes this cart unique is its telescoping, removable sides that can be adjusted individually. This allows for items such as large SUPs to be transported on their sides, and it also allows the cart to transform into many different configurations.
It's easy (and even fun, depending on who you are) to assemble, with just a few simple tools required to put together and easy-to-read, straightforward instructions.
The Premium Package I tested comes with two towing adapters: one to pull the cart along by hand, and the other to attach it to a bicycle. These adapters are easy to swap out and can pivot up and down relative to the steering axle of the cart. Setting up the bike adapter is quite easy; just attach the included tow adapter to the rear axle of your bicycle. I find it works best with quick-release skewer axles, but with a little bit of creativity, I think it has the potential to work with a variety of axles. Shore and Chore's bicycle adapter also has a spring on the end closest to the bicycle, which not only provides a little bit of "suspension" for the cart, but also allows for the bicycle to be laid down without decoupling from the cart.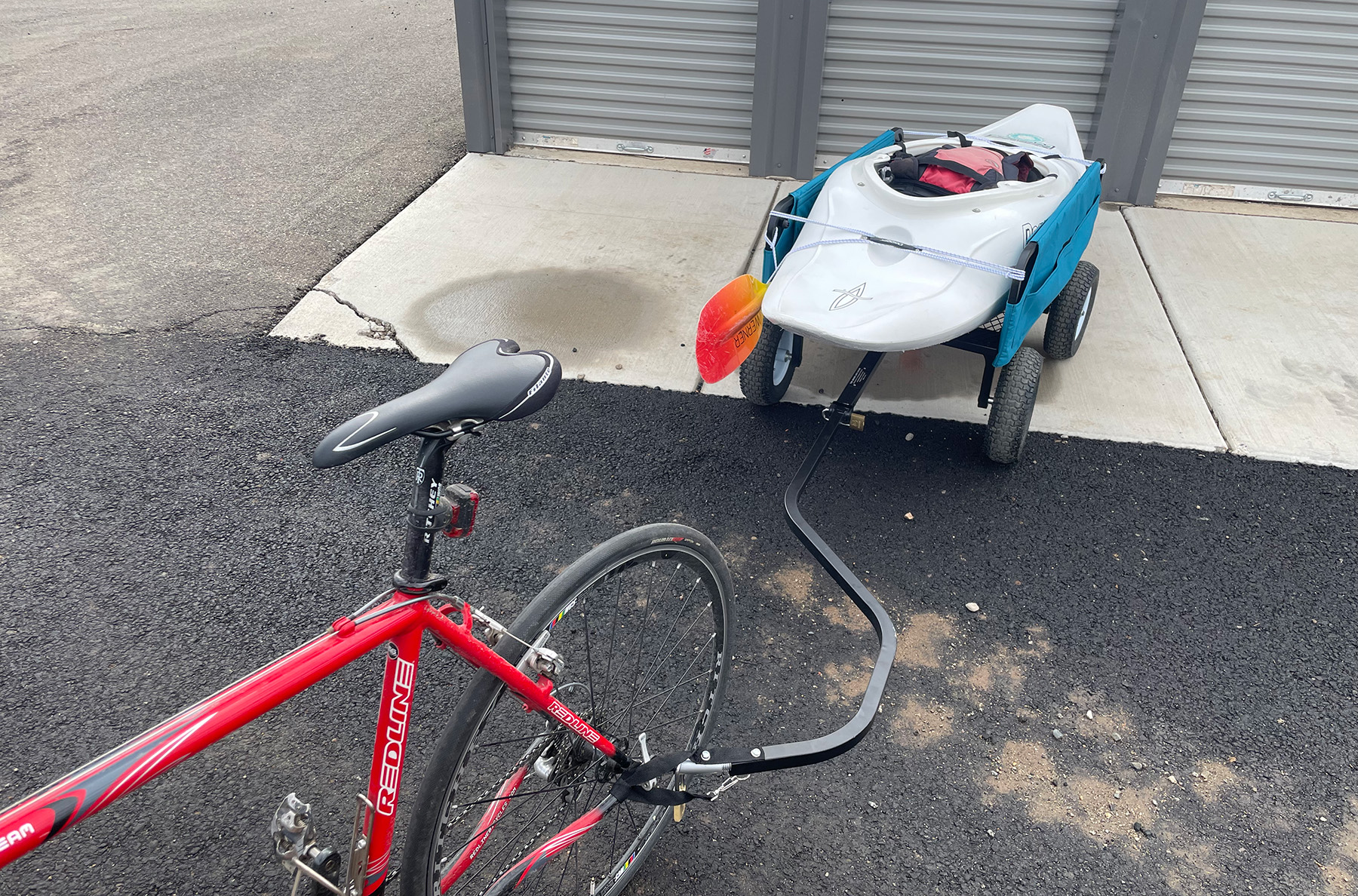 Also included with the Premium version of the cart is a front stabilizing wheel designed to be used when towing the cart by hand over undulating and tighter terrain. I didn't find much use for this myself, given that Gunnison is a fairly flat town, but I could see how this wheel could make pulling the cart over / around rough terrain notably easier.
I've primarily been using this cart behind my bike to tow my whitewater kayaks and associated gear. My kayaks range in length from under 6 feet (1.8 m) to over 9 feet (2.75 m), and they all easily fit on the Shore and Chore cart with its front and rear sides removed. With my kayaks being of varying widths, it is easy to adjust the sides of the cart in and out and secure them in exactly the right place. Towed behind my bike, there is also ample room for steering without any contact between the rear wheel and the kayak.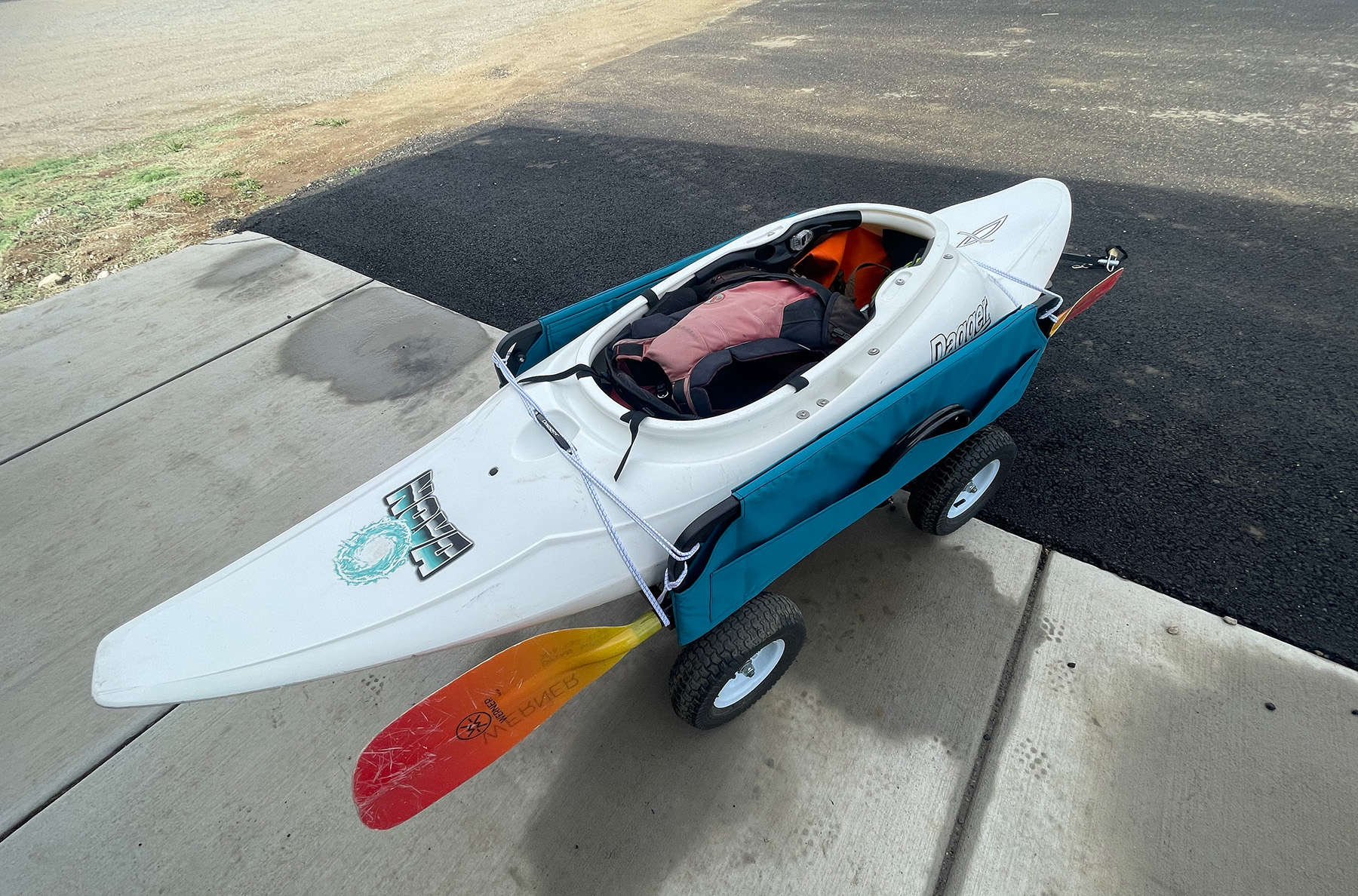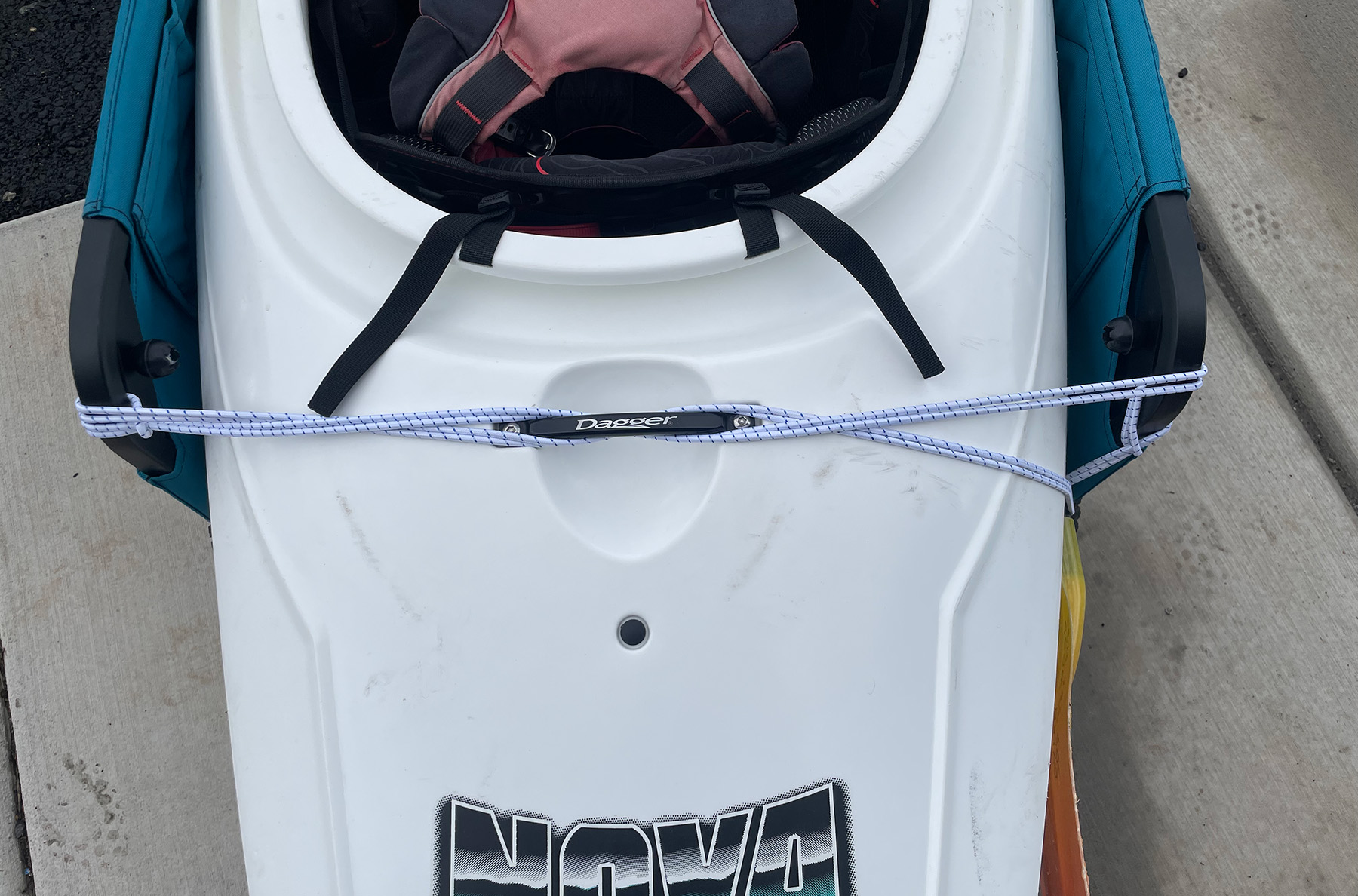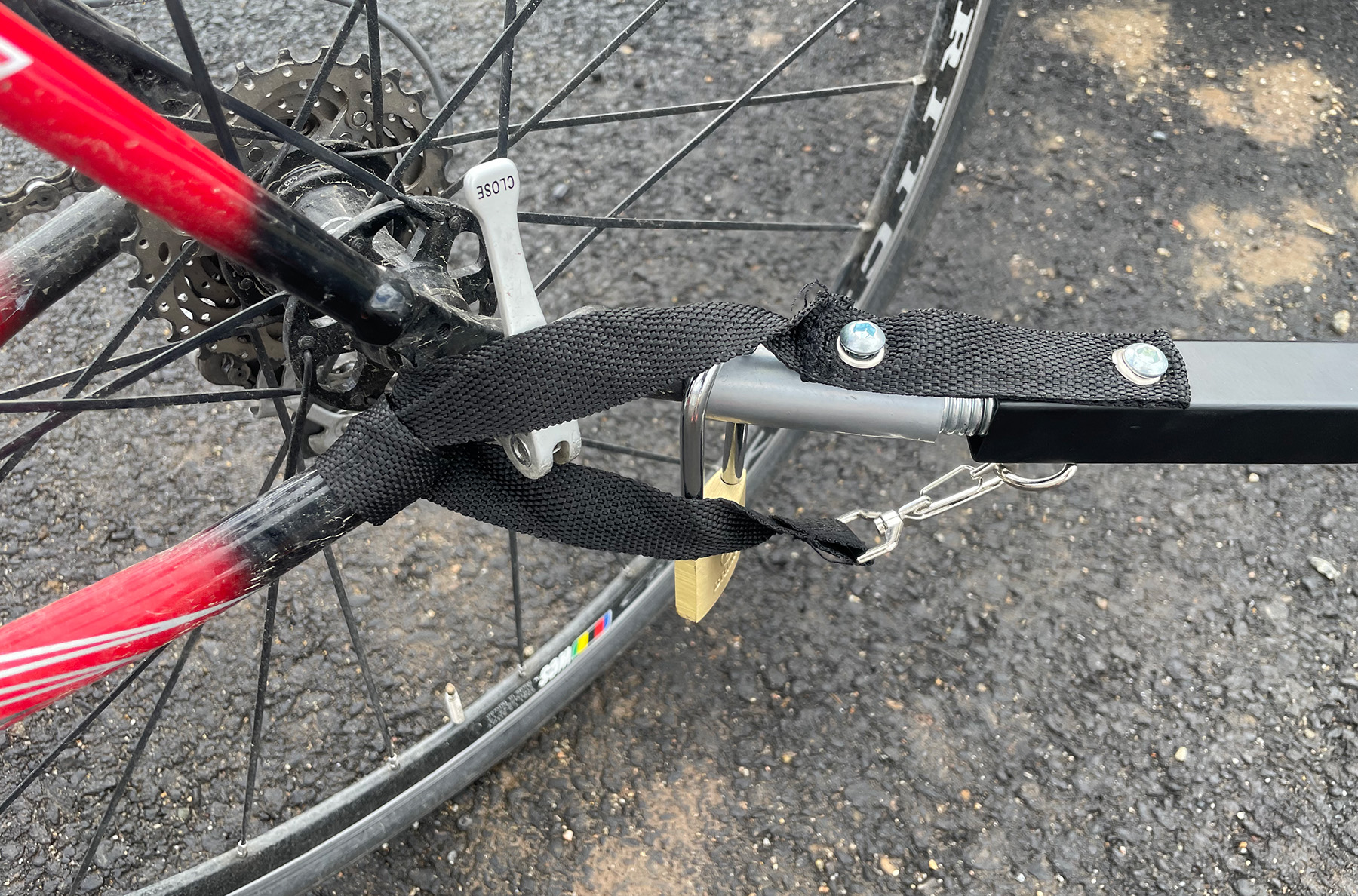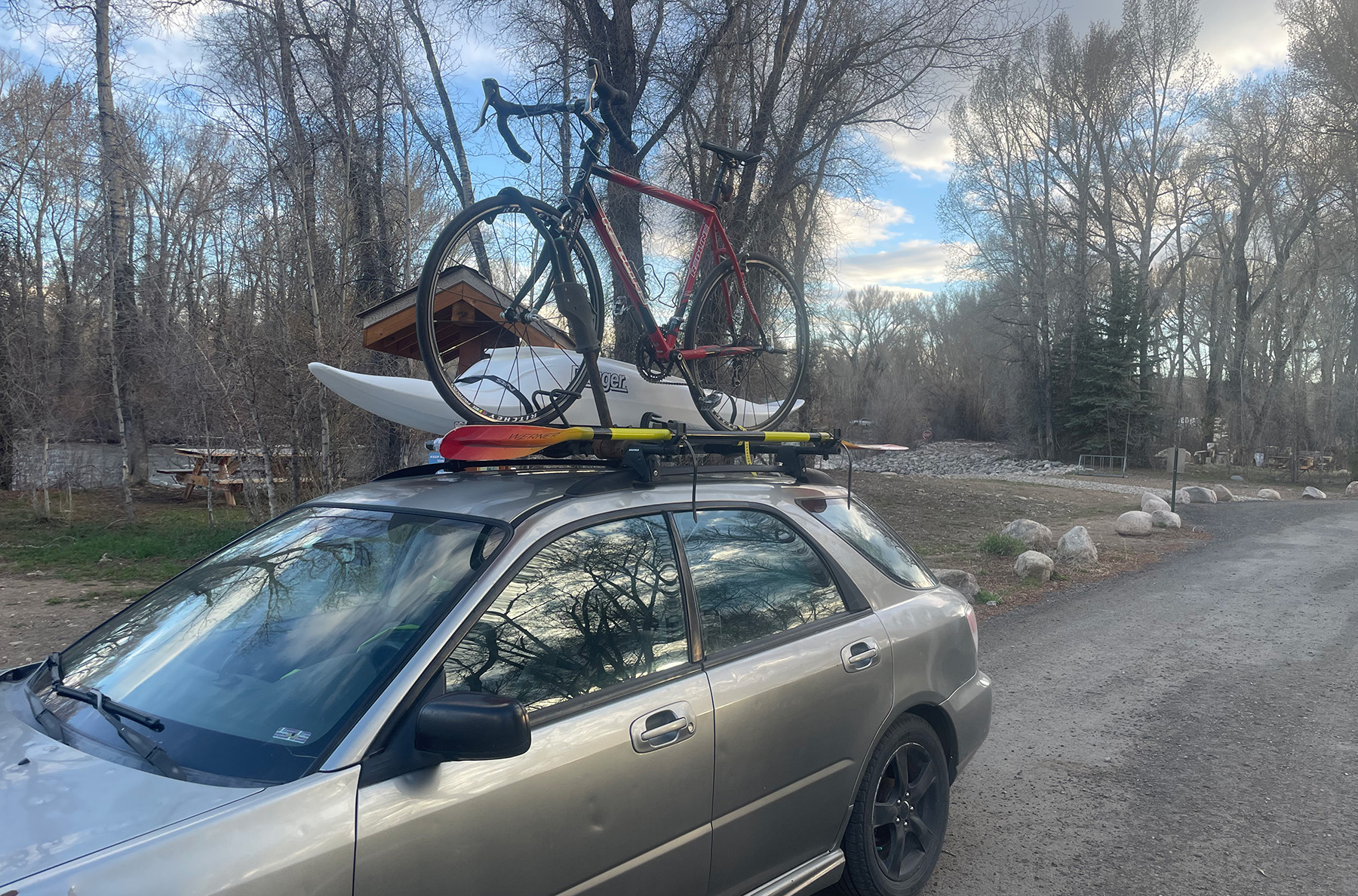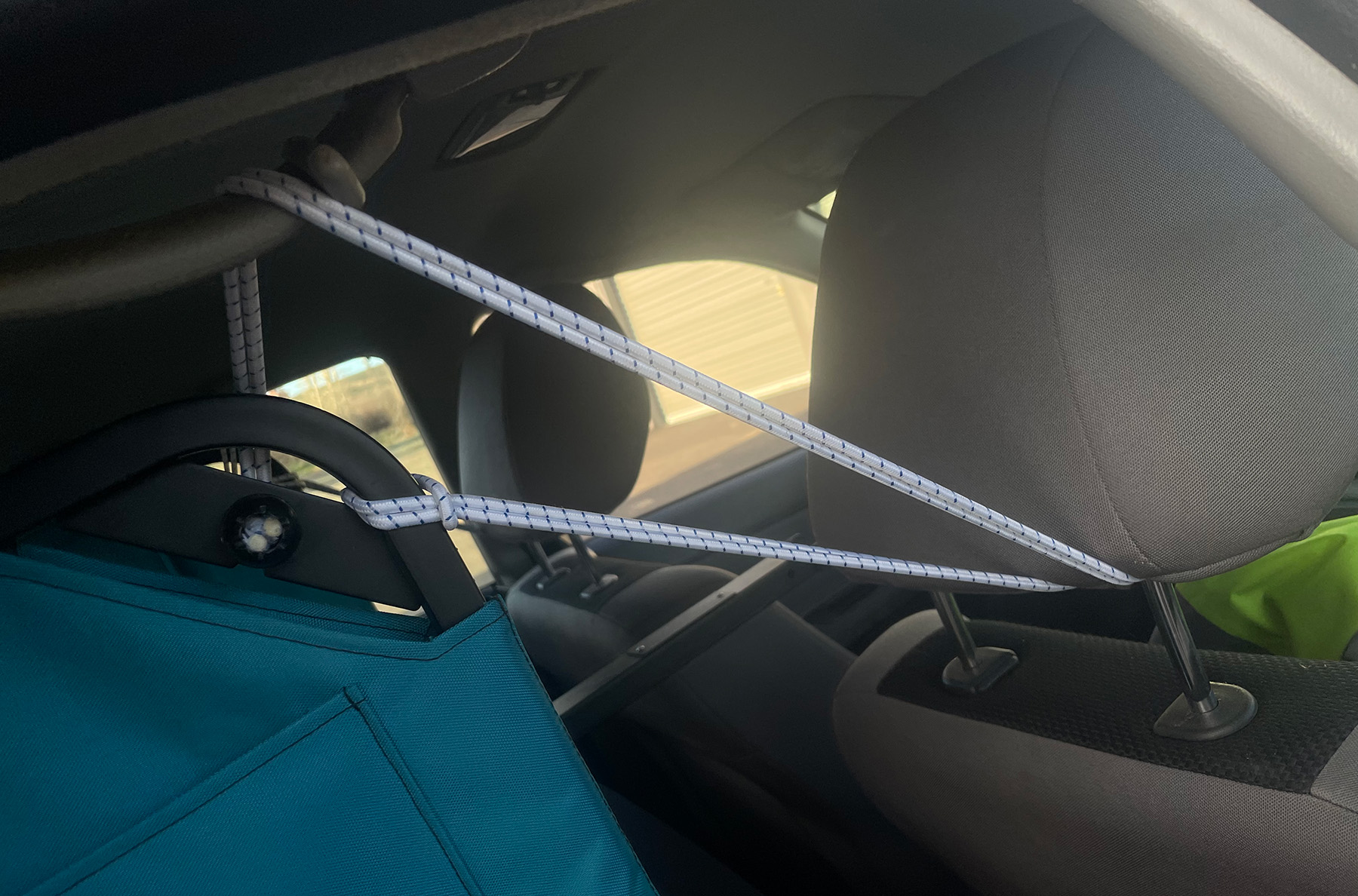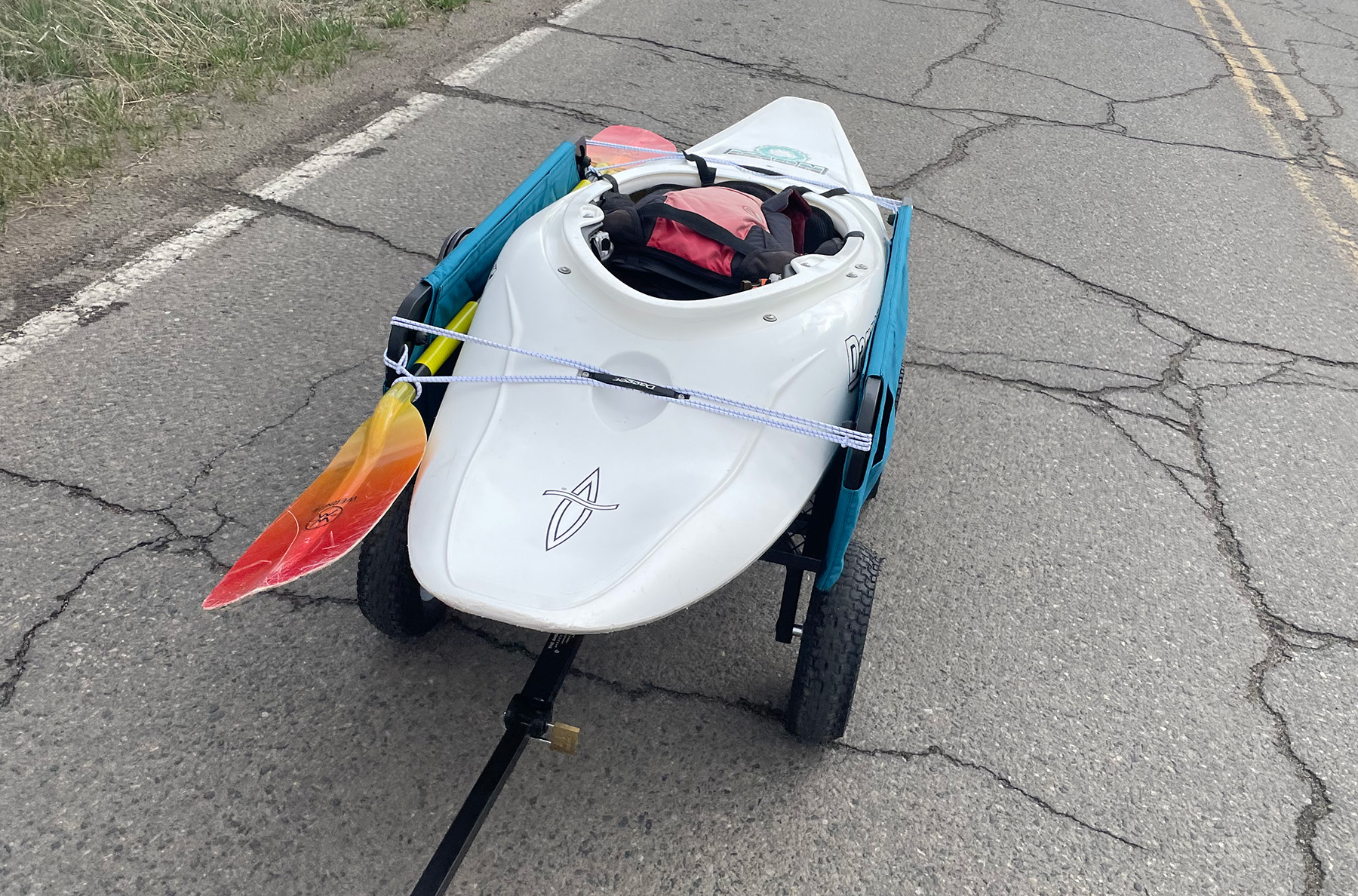 Using the included bungee straps, I can secure my boat and paddle in place and stow all of my gear inside my boat, giving me everything I need to get out on the water. It's been working really well for 1-5 mile trips over gravel and pavement. I can certainly feel the weight of the cart and my gear when pulling it with a bike, but I am still able to cruise along mostly flat terrain at around 12 mph using my road bike and putting in a fair amount of effort. Hilly terrain is a bit more challenging, since towing the cart uphill does require quite a bit of effort. Additionally, slowing down is more challenging with the loaded trailer typically weighing between 100-120 pounds (45-54 kg), and I have to be more proactive about braking.
On that note, at almost 74 lbs (33 kg), this cart is not light. That does make it a bit harder to move around, but its smooth-rolling, large tires (that also work well in sand) definitely help. Plus, with a claimed maximum capacity of 400 lbs (!), the Shore and Chore is built to also handle chores around the house or work site, such as moving around hefty, cumbersome items. The cart looks and feels really solid, well-built, and durable, and I haven't even come close to doing any damage to it during my five months of using it to haul around all sorts of gear.
If I am paddling an easy, safe stretch of river by myself and shuttling solo, I can even fit the Shore and Chore cart in the back of my Subaru Impreza hatchback to complete the loop, with my bike and kayak on the roof. When I first tried this, the cart was rolling around in the back of my car and had the potential to be dangerous or even break the sloped back window of my hatchback. However, I quickly figured out that I could use the attached bungee straps to tie the cart down to the headrests of the front seats of my car; I think you could find a way to secure it inside just about any vehicle in which the Shore and Chore cart fits.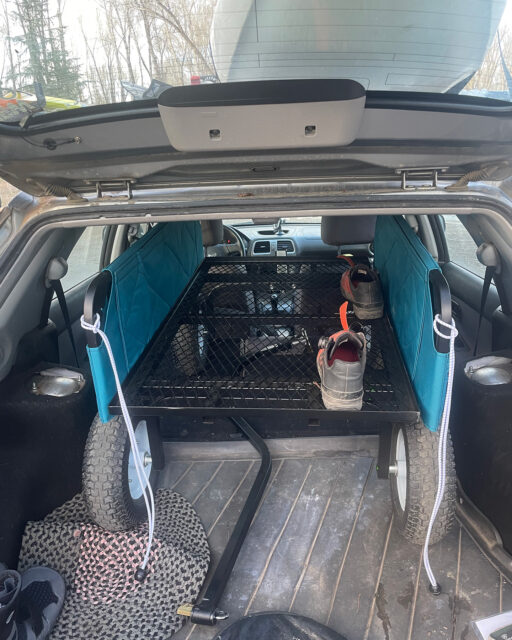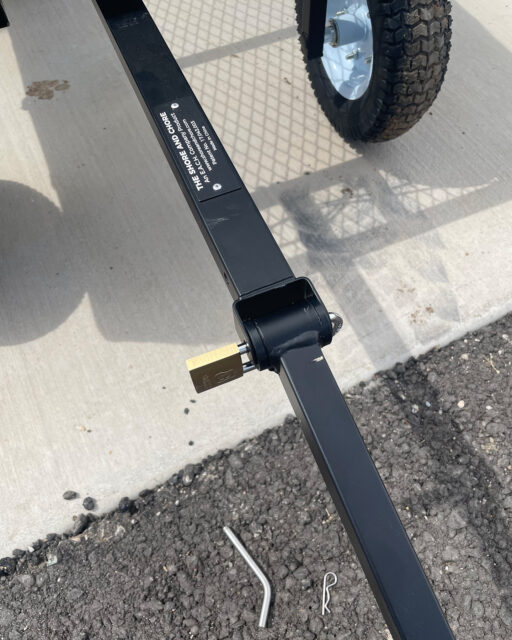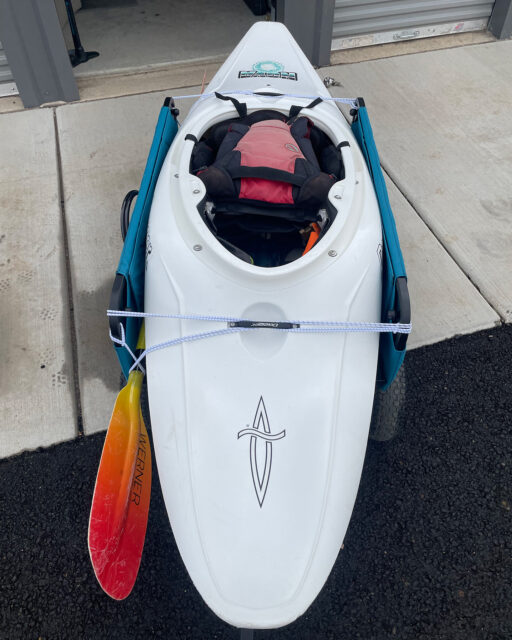 Since I needed to leave this cart behind at river access points with my bike, I also wanted a way to lock it up, given its high value. My best solution was to replace some of the hardware with locks so that the cart was locked to my bicycle, and I'd then lock the bicycle to a rack. Shore and Chore did mention that narrow cable locks can also be used to go through the cart's grated bed and lock everything up.
Overall, I've been really happy with this cart. It allows me to tow things around without the use of my car, whether that be running errands or self-shuttling a mellow and familiar section of river. It is designed and built very mindfully, and feels like a product that will last me many, many years. I do think the burly build and very high weight capacity might be a bit too much for some folks, who might be better off with a lighter alternative. However, I could also see the Shore and Chore cart being an all-in-one kind of purchase for people who need to move around heavy, cumbersome objects safely and need a durable, trusty cart for the job.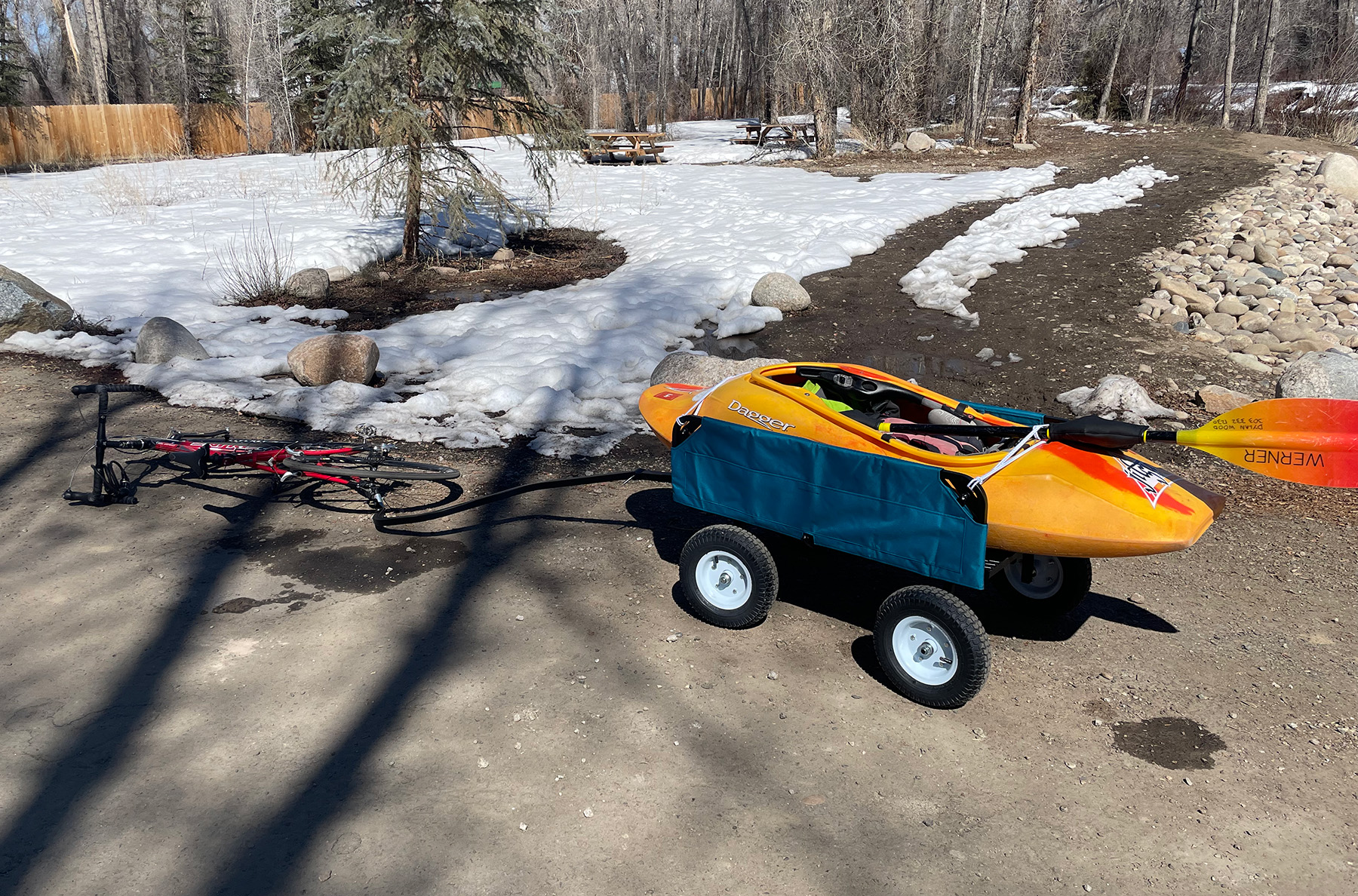 Bottom Line
The Shore and Chore Beach and Utility Cart might be just what you need to make your trips to the beach, the store, and your local river easier. And since it doubles as a utility cart with an impressively high weight limit, this cart can also come in handy for a lot of do-it-yourselfers and folks who regularly need to move heavy / bulky objects around without the use of a truck. With a lot of room and solutions for securing toys, equipment, and more, this cart can be practical for a wide variety of uses.
While its very burly construction might be slightly overkill for my intended use, I do appreciate how well-built and sturdy this cart feels, and despite its high price tag, it feels like a product you'll only need to buy once — I expect it to last me many years and countless miles.