Board: 2023-2024 Jones Storm Wolf, 162 cm
Test Locations: Chugach Powder Guides, Alyeska Resort, & Turnagain Pass, AK
Days Tested: 13
Available Sizes: 150, 154, 158, 162 cm
Stated Weight: 3.00 kg / 6.6 lbs
Blister's Measured Weight (162 cm): 3.30 kg / 7.27 lbs
Stated Dimensions (162 cm): 303-265-295 mm
Stated Sidecut Radius (162 cm): 8.8 meters
Rocker Profile: rocker / camber / rocker
Stated Flex Rating: 8/10
Core Construction: paulownia / bamboo + flax & basalt stringers + carbon, innegra, & fiberglass laminate
Base: Sintered 8000
Boots Used: K2 Ender, Nitro Select, K2 Orton
Bindings Used: Now O-Drive
[Note: Our review was conducted on the 22/23 Storm Wolf, which returns unchanged for 23/24, apart from the addition of a 150 cm length.]

Intro
Chris Christenson, a legendary shaper of surfboards for over two decades, collaborated with Jones to form their "Surf Series" snowboard collection consisting of the Storm Wolf, Storm Chaser, Mind Expander (including four different variants), Mountain Surfer, and the discontinued Lone Wolf. According to Jones and Christenson, the Surf Series is a collection of boards with an emphasis on glide and the freedom of the carve. As the name implies, the Storm Wolf is a hybrid of both the Lone Wolf and Storm Chaser — wider than the Lone Wolf yet longer and not quite as volume-shifted or as wide as the Storm Chaser.
As someone who's enjoyed a wide range of surf-inspired shapes, I was very curious to see where the Storm Wolf would slot into the mix, and many days in a variety of conditions, it's time to dive in:
What Jones Says about the Storm Wolf
"The Storm Wolf is a high-powered swallowtail that blends the all-mountain versatility of a directional freeride board with signature Surf Series turn performance. Surfboard shaper Chris Christenson and Jeremy Jones designed this new model by combining the shape and profile of the current Storm Chaser and the retired Lone Wolf, hence the name. The Storm Wolf features a Surf Camber profile, long sidecut, mid-stiff flex, 3D Contour Base 3.0, and Traction Tech 3.5 edges. The Surf Camber profile, long sidecut, and Traction Tech Edges keep you locked in railing turns at speed while the 3D Contour Base and tapered swallowtail shape help you break loose slashing gullies and transitions. To absorb chatter and punch through rough snow patches, the Storm Wolf construction includes new Flax/Basalt Power Stringers and an ECO-Plastic top sheet. New for 23/24 the Storm Wolf is a unisex model with the addition of one new size– 150cm"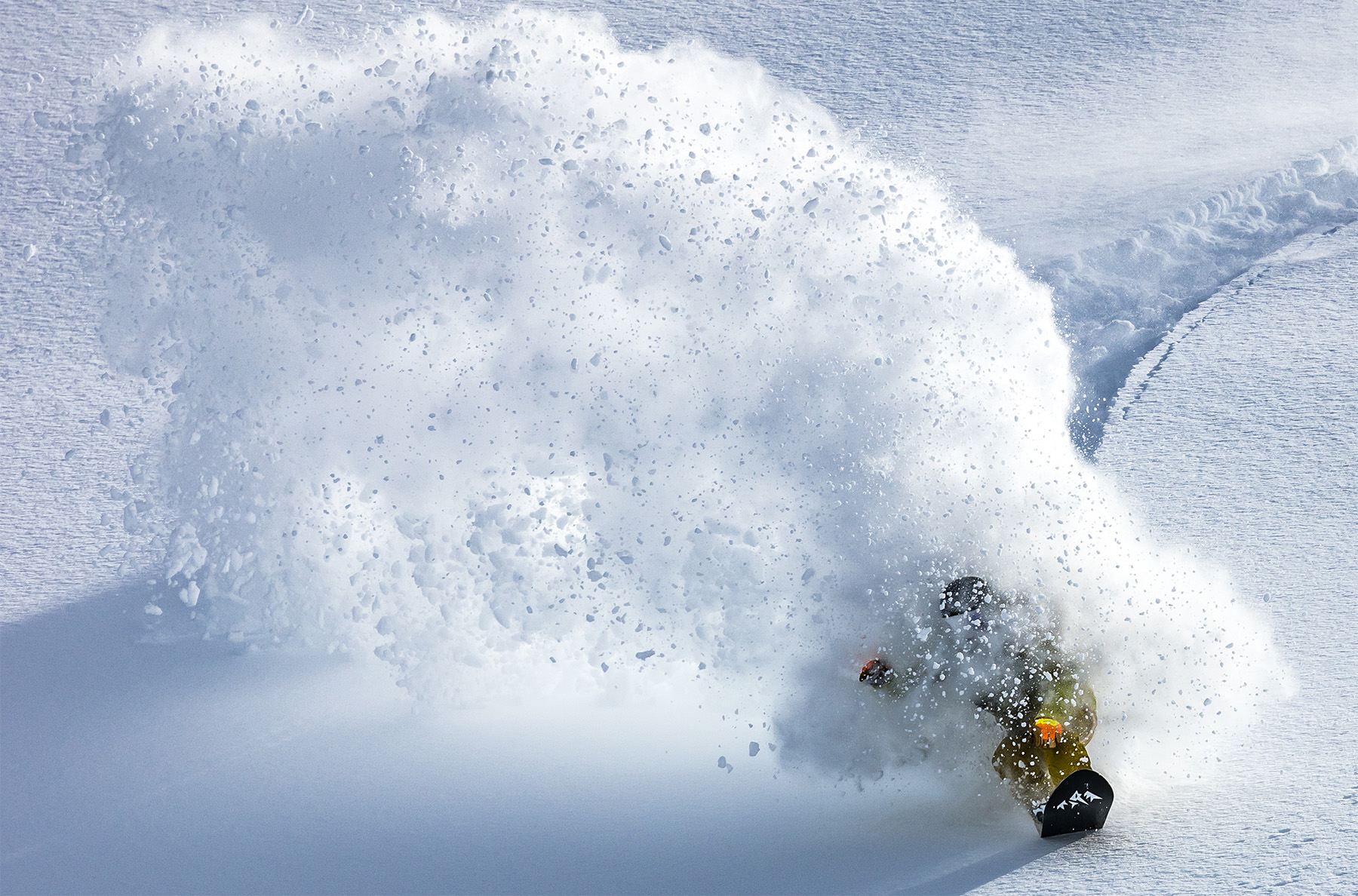 Construction
The Storm Wolf features a paulownia core with bamboo stringers placed along the pocket of the side cut. The core is laminated with carbon innegra fiber and fiberglass, with the addition of flax and basalt stringers to help improve damping and increase torsional rigidity. To keep with the Surf Series' key concept of glide, the Storm Wolf features a fast and durable sintered 8000 base. As an avid swallowtail rider, I am very pleased to see reinforced metal tips on the tail of the Storm Wolf. These ends of the swallowtail are vulnerable to damage from both riding and apres-ski activities (such as planting into the snow, etc).
Consistent with Jones' mission statement (see our podcasts & videos with Jeremy Jones for more), the Storm Wolf utilizes some less environmentally harmful practices and materials, including a 27% bio-based resin, oversized recycled edges, recycled ABS sidewalls, bioplastic top sheet made from castor beans, and naturally occurring flax and basalt fibers. The factory that manufactures Jones' boards also runs on 100% solar power.
The Storm Wolf, along with other Jones boards, goes through a process they call "Forever Flex" to avoid a break-in period and achieve consistent flex throughout the life of the board. It is my understanding Jones uses machines to mimic extreme riding to help stabilize the flex and rocker of their boards. I'll update this section if I notice any changes (or lack thereof) to the Storm Wolf's flex over time.
Shape
The shape of the Storm Wolf is a culmination of the Lone Wolf (a long, narrower, "big gun" surf-inspired board) and the Storm Chaser (a nimble, wider, and shorter powder slasher). The result is a well-balanced, mid-length, and hard-charging powder board that can also rail groomers. For me, this category of board is the "Goldilocks" type of swallowtail for most general riding. Longer and narrower shapes such as the Amplid Snowmellier or Jones Lone Wolf are excellent for those 18"+ (45+ cm) deep days, offering ample float for big, long turns in the alpine, but I have noticed they aren't as enjoyable in tighter terrain or on firmer and shallower powder days. On the contrary, shorter volume-shift boards (e.g., K2 Cool Bean, Season Forma, Rossignol XV Sushi, etc.) are extremely playful and maneuverable in tight terrain and better on firmer and groomer-like conditions, but often feel slow and sluggish when the snow gets deep. Overall, I have found "middle of the road" shapes such as the Storm Wolf, Amplid Surfari, Weston Japow, and Nitro Squash to be more versatile swallowtails, offering enough flotation and speed when it's deep while feeling stable and supportive when carving on firmer conditions.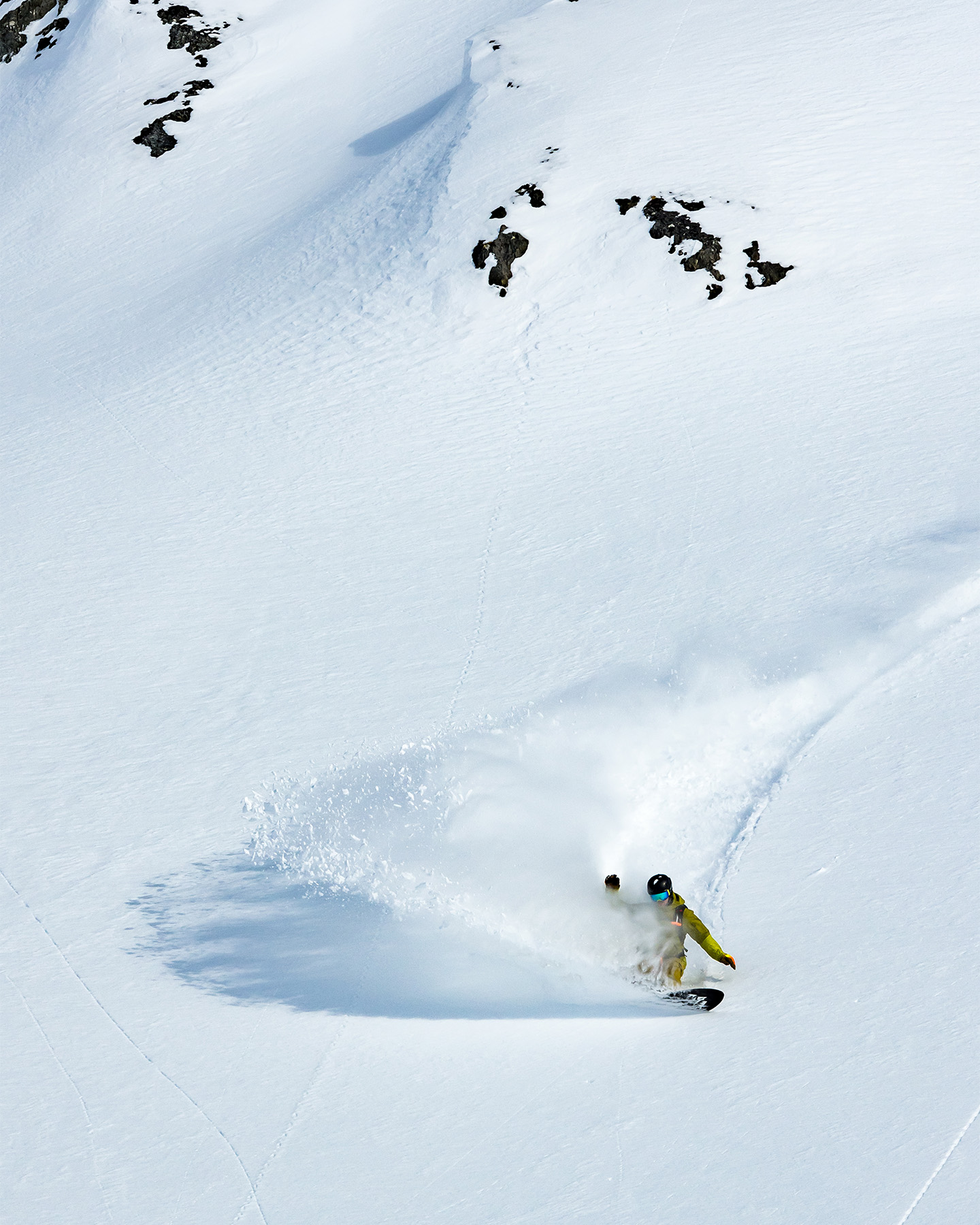 Several features make the Storm Wolf a standout, versatile swallowtail. First is its 3D contour base — a 7mm spoon-like bevel at the tip over the rockered section. This bevel keeps the nose feeling faster via the reduction of drag and makes turns feel smoother and surfier. The spooned nose isn't particularly noticeable, for better or worse, on groomers, but I have found it takes some getting used to when riding corn or shallow hot pow. The transition between the rockered, beveled tip and the traditional camber in the middle of the board can occasionally feel divey and catchy on deep, slower carves.
The combination of the Storm Wolf's 8.8-m (for the 162 cm length) progressive sidecut with 10 mm of taper complements the board's stiffer flex, with the purpose of being a hard-charging, high-speed swallowtail for railing long fall-line turns. I have found that the Storm Wolf struggles with skidding and switchbacking heelside turns perpendicular to the slope on firmer conditions, whereas the Weston Japow, Nitro Squash, and Season Forma seem to edge better in that scenario. Specifically, the Storm Wolf feels choppy and chattery, bouncing off edge on steep traverses and sideslips. I can't say exactly what causes this, but the Storm Wolf's torsional stiffness and/or serrated sidecut seem like the most likely culprits. While carving parallel to the fall line, there is no issue.
One of my favorite attributes of the Storm Wolf is the shape of its tail. Similar to the Forma, the Storm Wolf's tail does an exceptional job of keeping the board feeling level and fast through a variety of conditions, where deeper swallowtails like the Japow and Snowmellier seem to sink too much in shallower powder. This is most evident while riding 3-6" (7-15 cm) of fresh snow on a very firm subsurface. The tail of the Storm Wolf has enough volume to keep it from scratching the bottom in shallower snow yet still keeps the board flat enough on the deeper days to retain speed.
"Traction Tech 3.5," featured on the Storm Wolf, is the Jones version of MagneTraction, and in the case of the Storm Wolf, it consists of three "traction bumps" at each binding and in the middle of the sidecut. I haven't noticed any negative effects while riding powder and do feel it's generally helpful on icy conditions. Perhaps I'm just not quite used to it yet, but the Storm Wolf's serrated sidecut can occasionally feel catchy / inconsistent (something I've noticed with many boards with serrated sidecuts). On the plus side, in those instances, I may have washed out entirely without the added traction bumps.

Rocker Profile
The Storm Wolf features Jones' "Surf Camber," which consists of traditional camber underfoot and rocker under the tip and tail. I'm very pleased with the amount of rocker in the tip, as it does a great job of helping the board maintain speed and stay afloat in deep powder, and doesn't feel excessively chattery on firmer conditions. The camber underfoot seems well suited to the stiffness of the board when charging at higher speeds, instilling confidence. The stiffer tail offers enough stability to blast through crud and chop, feeling supportive; I have been very happy with how much support the tail of the Storm Wolf offers. Compared to the Weston Japow, the tail rocker of the Storm Wolf is more vertically exaggerated, yet the rocker length is considerably shorter. This longer section of traditional camber outside of the back binding and a shorter rocker section in the tail seem to help the Storm Wolf feel more supportive on firmer conditions, shallow powder, as well as when landing drops and jumps.
Flex Pattern
The Storm Wolf is one of the stiffer swallowtails I have been on, feeling comparable to the Season Forma in that regard, both of which are rated 8/10 on their respective brands' stiffness scales. In comparison, the Amplid Snowmellier and Weston Japow are closer to 6/10. The Storm Wolf has a directional flex pattern, transitioning from a slightly softer nose to a stiffer spine underfoot and into the tail. The softer nose allows the tip to lift and the tail to sink, which helps with flotation and stability at speed. The flex in the nose feels great in soft snow and powder, though it does chatter quite a bit on firmer crud and tracked-out groomers. I think the Weston Japow and Season Forma have a better flex transition from their softer noses to the more supportive spine between the bindings. Torsionally, the Storm Wolf also feels very stiff, taking quite a bit of ankle power to twist and flex (even when using stiff boots and stiff, carbon bindings).
The Storm Wolf is designed with high speeds and hard charging in mind and its flex pattern reflects that. It is extremely supportive at full throttle while railing an edge, but a little cumbersome when initiating turns at slower speeds on flatter terrain. A softer board such as the Snowmellier or Japow is easier to maneuver when casually cruising around.
FULL REVIEW
Powder
The Storm Wolf is a great all-round, intuitive powder board, excelling at a variety of depths and consistencies of snow. It is well-balanced in that it's stiff and stable enough to encourage high-speed roosts and is very capable of blasting through heavy, tracked snow — but still manages to feel fairly playful. The combination of its more moderate-flexing, beveled nose, stiff spine, and modest swallowtail makes it effortless to keep the nose on the surface but not too much to where it feels slow and plow-like. I was fortunate enough to take the Storm Wolf on a day with Chugach Powder Guides and rode on several pitches of deep (2-3 feet / 60-90 cm) dry powder. Overall, I was very pleased with how well it rode, feeling very dynamic when slashing, blowing up snow clouds, and popping off features. That said, in these all-time conditions, most of our group was wishing for something with more volume — for me that would be a longer swallowtail such as the Amplid Snomellier or Nitro Canon for the added flotation and speed. In a perfect world, for those extremely deep days, something longer would be preferable, though I wouldn't let that deter anyone from wanting to add the Storm Wolf as their only swallowtail board in the quiver — this board rips in pow, and the conditions on that particular day were pretty much all-time.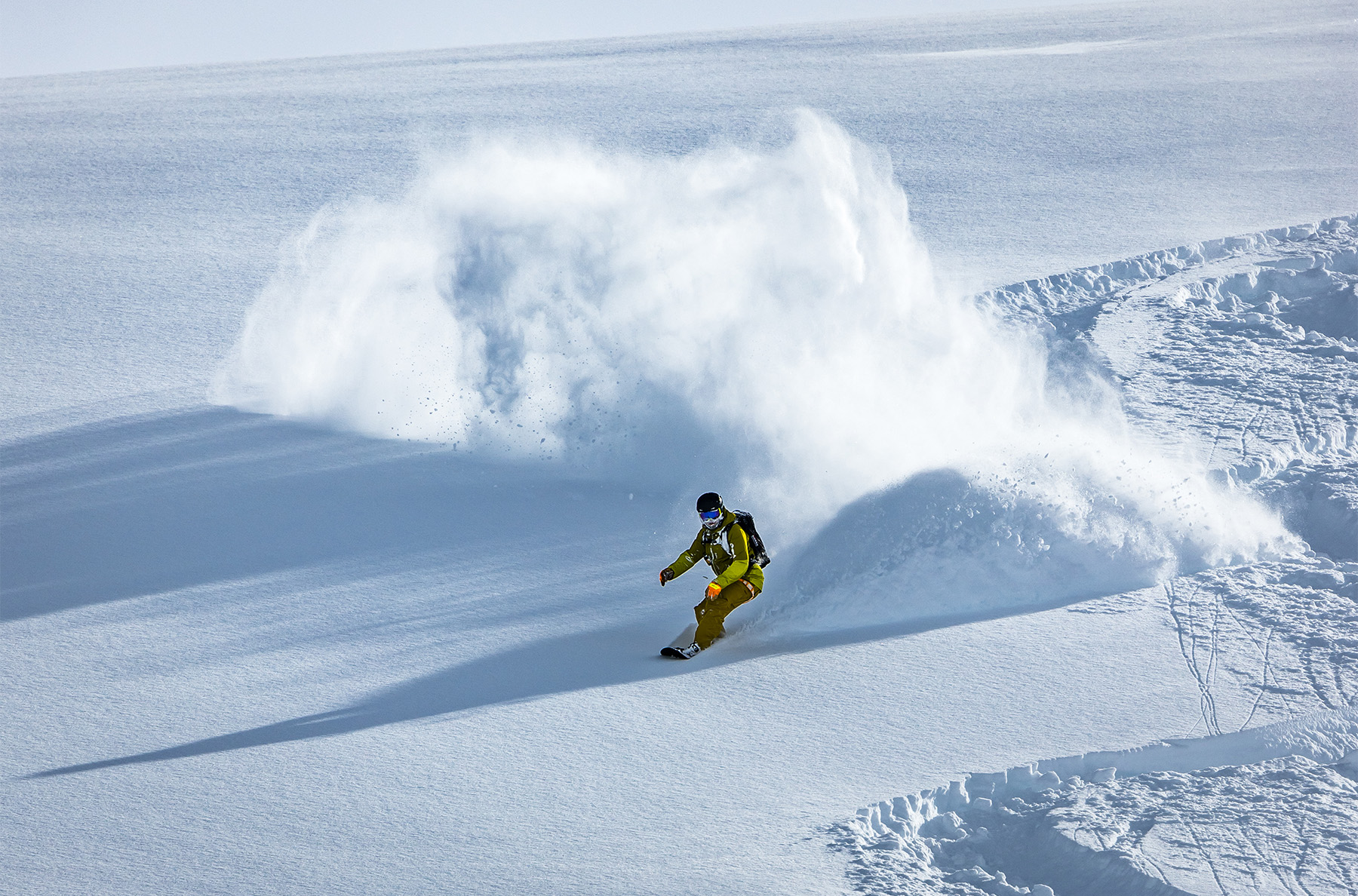 Soft Chop
As the pow day digresses into soft chop and tracked-out pow, the Storm Wolf does an excellent job making the most of it. Riding Alyeska Resort in the springtime is a great testing ground for chop performance… the snow can transition from dry pow in the morning to hot, wet, and heavy in the afternoon. Overall, I was very pleased with how the Storm Wolf performed throughout the day as the mountain became tracked, the snow set up, and the riding became more challenging.
The Storm Wolf has a stiff enough flex underfoot and through the tail to dissipate the bumps and chop while feeling extremely stable at higher speeds. Softer boards, such as the Weston Japow and Nitro Squash, seem to take considerably more leg strength to blast through tracks and seem more prone to bucking on the bumps. The Storm Wolf's softer, rockered nose does a fantastic job of staying on top when transitioning from tracked chop to pockets of untracked pow, making the Storm Wolf versatile throughout the day. Its tail feels unusually supportive for a swallowtail, making the Storm Wolf a personal favorite for all-day riding in soft conditions — feeling fast and stable regardless of how tracked the mountain gets.
Crud and Variable Snow
Swallowtail snowboards are not usually ideal candidates for firm, cruddy, and/or variable snow, but it's plausible to ride one through these conditions at some point throughout the day. The Storm Wolf handled pretty well on most soft, variable snow and dust-on-crust conditions, adequately biting into the firmer subsurface. Once again, the strong flex underfoot through the tail offered stability in crud and does not feel chattery underfoot. As mentioned above in the shape section, one drawback I have found with the Storm Wolf is the lack of control while skidding turns in chop when the board is not fully laid over on edge. Several times, I have found the board skipping downslope while either slowing down or beginning a traverse on firmer snow. I have not had this issue with the Season Forma, Nitro Squash, or Weston Japow, which may be due in part to those boards' smaller sidecut radii and generally softer torsional flex patterns. On icy conditions, I am still having a hard time predicting the Storm Wolf's edge engagement, due to its sidecut's Traction Tech bumps. Perhaps it's a user error and I am still unfamiliar with the Storm Wolf. However, as mentioned before, the unpredictable catch of the edges may be a better alternative than just washing out altogether.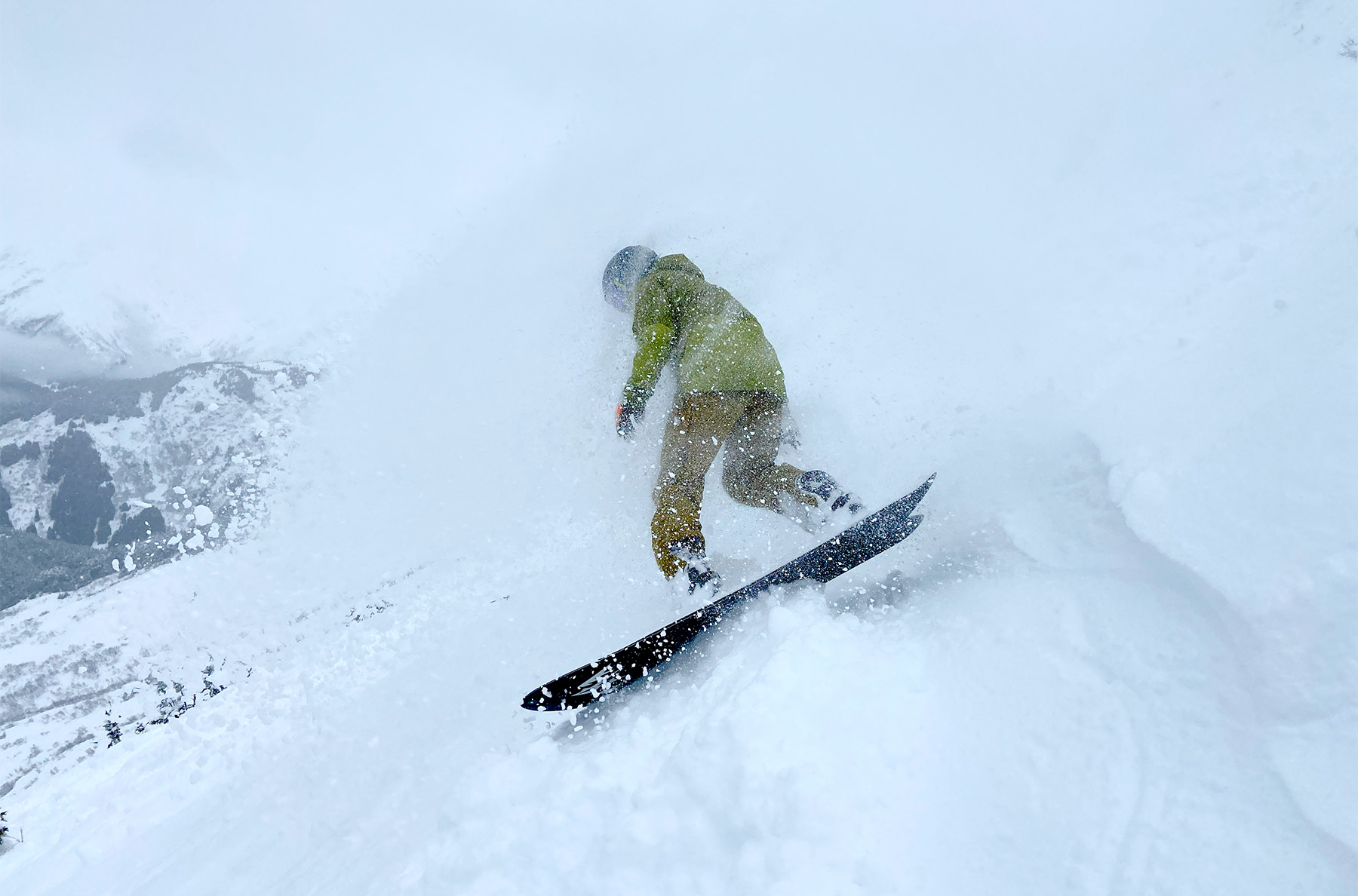 Groomers
In my experience, a great versatile swallowtail will be equally as fun on groomers as it is in pow (or at least close to it!). When it comes to high-speed groomer riding, the Storm Wolf is an excellent tool for trenching deep carves, feeling stable and locked into the snow. Specifically, the Storm Wolf tends to naturally fall into huge, arcing carves due to its shape. It is not the surfiest board at slower speeds nor super easy to throw sideways into a slash, especially in comparison to the Forma, Squash, Japow, or Sushi.
The Storm Wolf is more analogous to a jetboat — it needs the speed to get "on step" in order to feel maneuverable and slashy. At slower speeds, I've noticed it's a bit unpredictable and more difficult to initiate a carve. The takeaway is that the Storm Wolf likes to go fast whether it is on powder or groomers, feeling exceptionally stable while doing so.
Who's It For?
The Storm Wolf is for advanced to expert riders looking for a surf-inspired yet hard-charging swallowtail to rail big turns on groomers and in powder. You'd be hard-pressed to find a more stable platform for high-speed carving. For "cruisier" riders who stick to slower speeds and/or smaller turns, the Storm Wolf will require a bit of a learning curve, whereas other boards like the Weston Japow, Season Forma, and Rossignol XV Sushi will require less rider input. But the Storm Wolf is a great board to add to the quiver if you enjoy the art of the carve and going fast.
Bottom Line
Jones nailed it with the Storm Wolf when designing a surf-inspired, directional freeride board to ride at full clip in powder and groomers. Stiff enough to blast through tracks and feel stable, yet with enough snap and flex to feel lively for side hits — the Storm Wolf is a great tool for laying down big carves and blasting snow as high as possible.