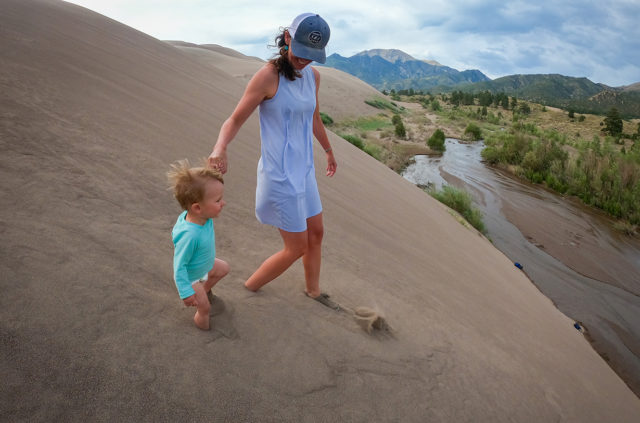 Dresses might not be everyone's apparel of choice, but for me, I've always loved them for their simplicity. And by simplicity, I mean I only have to reach for one thing in my closet to be fully dressed. Because sometimes reaching for a top and bottoms is too much work.
We've rounded up some of our current favorites below, some of which are pretty casual while others can work well for the occasional hike or commute by bike. As always, please let us know if there's a dress you're loving right now that isn't on our list.
[Note: for this roundup, dress lengths were measured from the top of the shoulder strap to the bottom hem.]
Fabric: Diem™ (100% polyester; 110 g/m²)
Measured Length: 34 in / 86.5 cm
Size Tested: Small
Reviewer's Height / Weight: 5'8", 125 lbs
MSRP: $79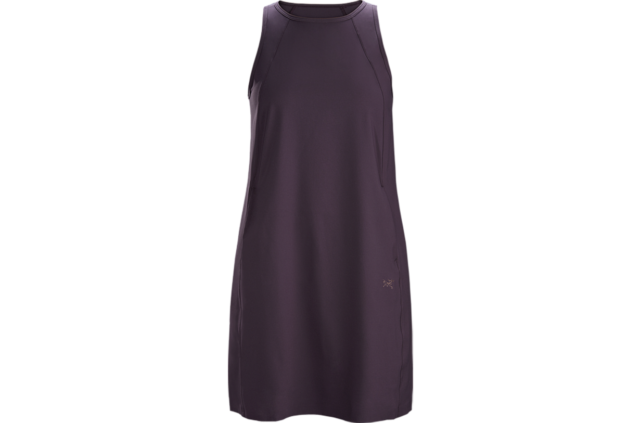 Kristin Sinnott: The Contenta Shift Dress is one of the lightest dresses I've ever worn — great for hot weather.
I appreciate shift-style dresses like the Contenta thanks to their simple lines, non-body-hugging design, and silhouette that flatters most body types. The Contenta Shift is no exception — its lightweight fabric drapes nicely and looks good once on. Shift dresses tend to be simple in design, but with its hand pockets hidden within the side seams (including one with a zippered inner pocket to secure small items) and technical fabric that breathes and moves with each step, the Contenta manages to blend the simple silhouette with a useful fit and feature set.
I recently wore the Contenta dress for a day of hiking at Great Sand Dunes National Park. After waiting way too long to get into the main entrance, we instead found an isolated trailhead and started our adventure only to battle two rainstorms. While I brought and wore a trench-length raincoat, the Contenta Dress's hem still peaked out below. The storm saturated the bottom-half of the dress, but before I even realized I was wet, the dress was already dry.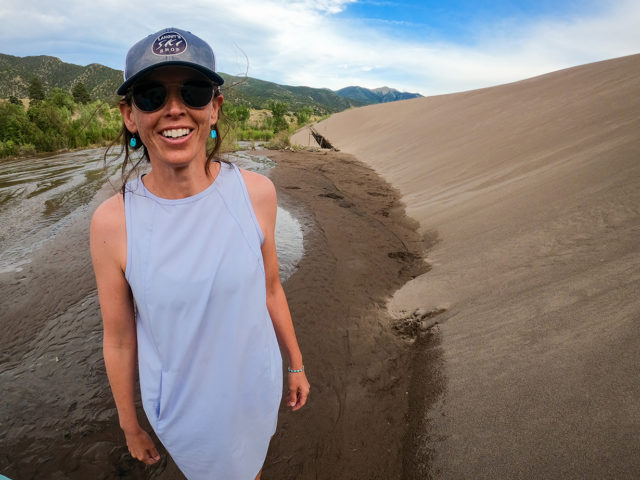 The Contenta worked well with a backpack, but on my 5'8" frame, the size Small is somewhat short for all the movements required when hiking on a trail (or sand dune). As a result (and because we planned to spend time in the river), I opted to wear a bathing suit underneath for modesty. Conveniently, the Contenta's quick-drying, lightweight fabric made it a great cover-up as well as a solid choice for hiking around on a warm day. At 96 grams for the size Small, this dress is lightweight enough to take just about anywhere, from hut-to-hut adventures to beach vacations to a day at the office.
The Contenta is easy to wash, dries quickly, and looks good even after days of consecutive use. With its flattering silhouette and not-super-expensive price point, I'd recommend it to just about anyone.
Fabric: 85% recycled polyester / 15% spandex; 179 g/m2
Measured Length: 36 in / 91.5 cm (the length can be adjusted)
Size Tested: Small
Reviewer's Height / Weight: 5'8", 125 lbs
MSRP: $75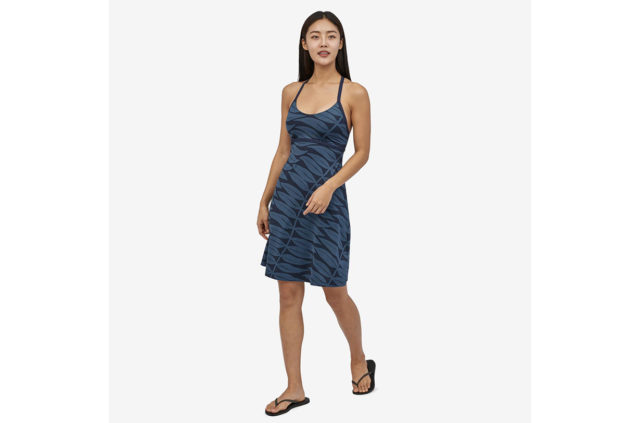 Kristin: I'm not typically a huge fan of dresses with built-in bras as they never seem to provide an ideal fit for me, but the Patagonia Sundown Sally Dress has been an exception to this. Its criss-cross straps allow a custom fit on the dress and they're the reason the built-in bra fits me just right. The removable pads occasionally need adjusting, especially after coming out of the wash or if you're a nursing mom like me, but once you get them to your preferred location, they stay in place.
The Sundown Sally Dress is a bit lower-cut than average but not so low that I feel uncomfortable wearing it without a cover-up. Do note that I am not overly endowed so large-busted folks out there might want to consider this when purchasing since the dress could be more revealing than they'd like.
The Sundown's criss-cross straps tie in the mid- / lower-back area and when hiking, I didn't really notice them. I did notice the tie / bow when sitting in a car seat for extended periods of time. It wasn't painful or annoying but it was present. Overall, the empire bodice and a-line silhouette make for a flattering look. The Sundown's recycled polyester / spandex fabric is soft and offers plenty of stretch, while also wicking moisture well, keeping odor minimized, and minimizing wrinkles — all great for traveling and the occasional hike, while also just being super easy throw on and look presentable for any occasion.
Fabric: Buttah™ (90% poly / 10% spandex)
Measured Length: 35 in / 89 cm
Size Tested: Small
Reviewer's Height / Weight: 5'8", 125 lbs
MSRP: $85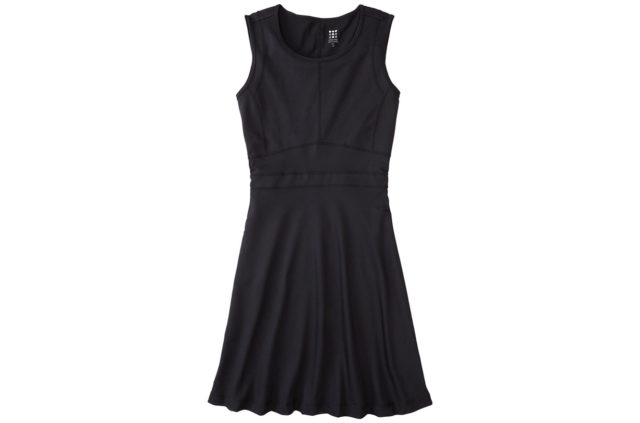 Kristin: Had I owned this dress while I was still biking to work, I probably would have worn it on a daily basis. Alas, I am no longer a bike commuter (work from home / stay at home mom!), but that doesn't mean I love the Dream Dress less than I would have in my previous profession.
The Dream dress is part of Title Nine's "SwiftSnap" performance dress collection, all of which feature a brilliantly placed snap that turns each dress into a jumper. When worn as a dress, the snap is not visible, but with a quick closure, it transforms to the perfect commuter jumper.
The other thing I love about this dress — the hidden pocket that is so well hidden that I didn't find it until my third day wearing it. The zippered pocket is located in the seam on the right side and is large enough to fit my cell. I only store my cell here if there are no other options as it's not the most comfortable spot for it, but I love it for smaller items like my wallet or keys.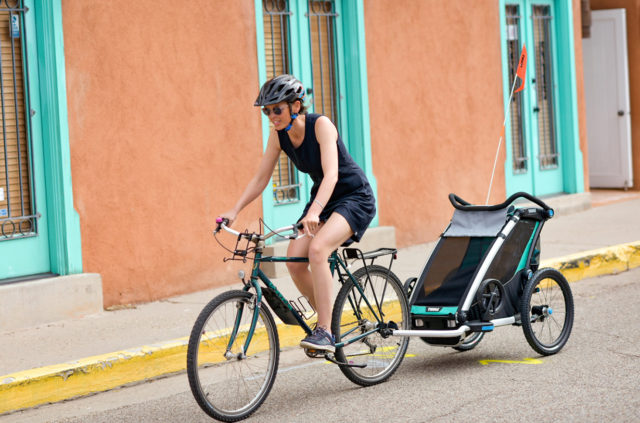 The Dream Dress's scoop-neck tank provides full coverage up top and ample room in the armholes for full mobility. I found the size Small to have a little extra room in the chest and while it fits fine and looks good, it will likely fit larger-chested women even better. The Dream's fabric is soft and stretchy, wrinkle-resistant, and feels less lycra-y than the Patagonia Sundown. If you like the sound of the dress that can convert to a jumper when you want to get active, the Dream Dress is an excellent choice.
Fabric: 48% Tencel / 48% Organic Cotton / 4% Elastane
Measured Length: 35.75 in / 91 cm
Size Tested: Small
Reviewer's Height / Weight: 5'8", 125 lbs
MSRP: $85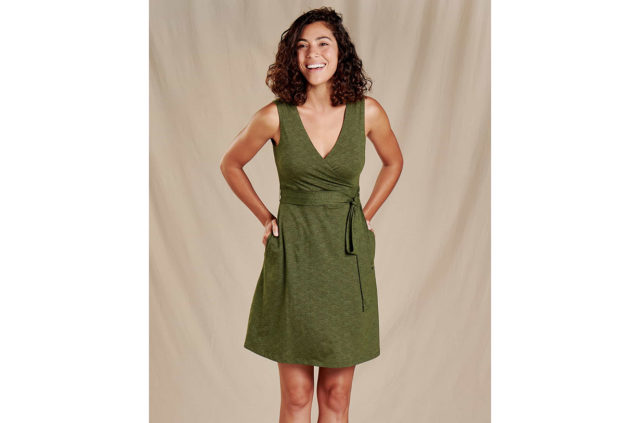 Kristin: Unlike the name implies, the Cue Wrap Sleeveless Dress is not actually a true "wrap dress" as there is no wrapping or unwrapping involved in getting it on / off, but it doesn't matter since the cross-body style top still makes it easy to put on and get off. This also makes it a great dress for nursing, since I can pull each side separately without revealing or exposing myself.
The A-line design of the Cue Wrap Sleeveless Dress will fit most people nicely, especially given that its long, attached belt can be worn tied in various ways. The belt is long enough to wrap around my waist 2 times and still tie, or it can be just be pulled back once and tied, which is my preferred method.
The Cue Wrap Sleeveless Dress has hand pockets located in the side seams and while they are fairly hidden, the extra fabric in that area can make the dress flare out a little. After washing (the dress shrunk slightly after washing in cold water and drying on low heat), the dress hits 2 inches above my knee, which is a length I tend to prefer. The size Small was a little short for me particularly in the torso, and as a result, the skirt portion falls a bit higher than I like, making my hips look larger.
While there are better options for active hiking, biking, etc., the Cue Wrap Sleeveless dress is worth a look if you want a casual, everyday dress that is very comfortable.
Fabric: 96% Organic Cotton / 4% Elastane
Measured Length: 36 in / 91.45 cm
Size Tested: Small
Reviewer's Height / Weight: 5'10″, 118 lbs
MSRP: $59.00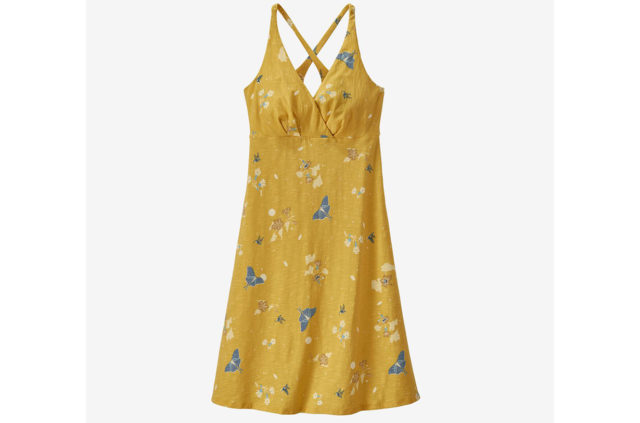 Maddie Hart: Like Kristin, I have always been a big fan of dresses in the summer. After a long run or day in the sun, I love the comfort and airflow dresses provide, all while looking cute. The Amber Dawn dress is a classic, casual summer dress, ideal for patio sitting, gardening, or heading out for a casual date.
I loved the Amber Dawn's cross-back-style straps, which create a bit for support. The dress falls right above my knees, which I think is the perfect length. The Amber Dawn Dress features a loose cut through the skirt until the top, where there is a small elastic band just under the breast paired with a wrap-style top. This dress does not have a built-in bra, and with its cut, I felt more comfortable pairing it with a bra or bralette. The top is a lower V cut, which for me was totally fine since I am small chested, but it will show a bit more skin if you are more chesty. Due to my small chest size, I did find the top to fit a bit funny; there was slightly too much room, which led to the fabric bunching and gaping in a rather weird way. This problem was not bad enough to deter me from wearing the dress, but I now just wear a bralette for a bit of added coverage. With that in mind, if you are small chested, I would consider sizing down. The dress may be slightly shorter, but with the moderate cut of the lower body, the size down should not be an issue.
After washing the dress and air drying it, there is no sign of it shrinking. I opted for air drying due to it being made primarily of (organic) cotton, but throwing it in the dryer may shrink it slightly to make the top fit slightly better (I almost always air dry my clothing anyway).
The Amber Dawn Dress is a fun, lightweight, casual summer dress that also pairs very well with a jean jacket or a flannel on the nights that get a bit chilly. Even with the few fit complications, I have found myself wearing this dress a ton. The length is perfect for enough coverage while bending over or kneeling without being too long.
I also want to point out that, like much of Patagonia's apparel, the Amber Dawn Dress is Fair-Trade Certified sewn and made with organic cotton, free of synthetic pesticides, herbicides, or GMO seeds.