Intro
I love the look of a well-designed skirt and the "I hate hot weather" side of me loves them for their great ventilation. While they have historically been more casual or formal pieces, there's been a trend over the past several years of brands taking the classic silhouette and pairing it with technical fabrics to make surprisingly versatile garments. Many of those same brands also make similar skirts but with built-in shorts (or as some call them, skorts), which can also be extremely comfortable, breathable, and as good looking as a skirt.
We've rounded up some of our favorite skirts and skorts that provide plenty of mobility, are surprisingly functional for active pursuits, and / or are just great for après time.
Fabric: Nimblene™ (86% poly / 14% spandex), UPF 50
Measured Length: 17"
Size Tested: 4
Reviewer's Waist Size: 26"
Reviewer's Hip Size: 31.5"
MSRP: $69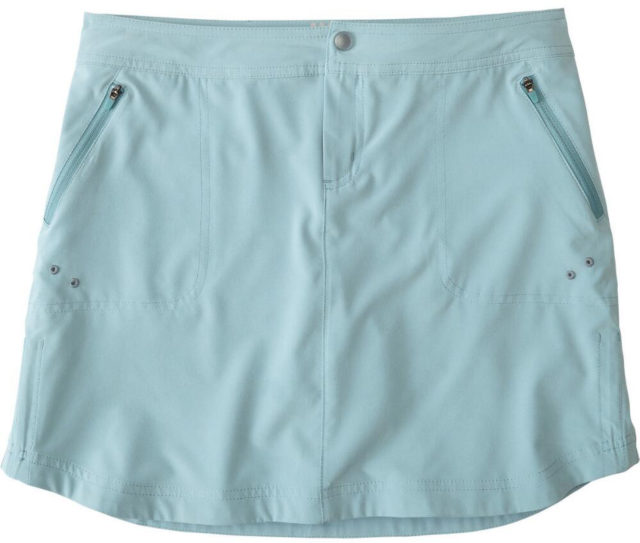 Kristin Sinnott: Title Nine markets the Rogue Skort as "amphibious" — designed to work well on hikes while also draining and drying quickly after an impromptu swim. Given that, I initially got this skort for hiking but very quickly realized it was more than just an athletic skirt that I'd only want to wear out on the trail.
The Rogue's built-in mesh shorts are tight in the right places and not excessively tight in others and the fabric is fast drying — both the outer skirt and the liner. The snap and zip closure, combined with the drawstring waist, makes it easy to customize the fit, while also not looking overly technical. I find I have to use the drawstring closure when hiking as the skort sits loosely on my hips when just using the snap (I have it in a size 4, my typical size for Title Nine). When I add a pack with a waist belt, the skort gets pushed down a little and the drawstring is needed to keep it in place.
The Rogue's zippered hand pockets keep the skirt looking streamlined when not in use yet make the skort a practical choice for most activities, whether in or out of town. I've worn this skort on several hikes and love how easy it is to access my (pretty large) phone while also not being annoying against my legs. The slight A-line design gives the skirt a nice little flare and allows for enough range of motion for just about any sort of hiking.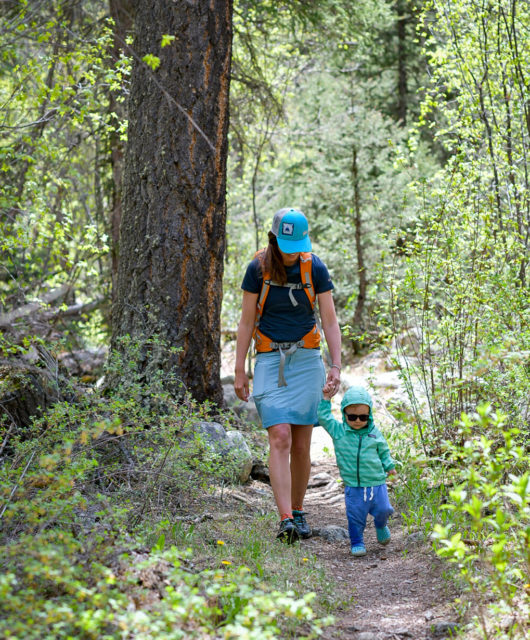 I recently wore the Rogue Skort on a hike with lots of water crossings, dust, and logs blocking the trail. It was easy to brush off the dirt, and the built-in shorts allowed me to hike the skirt up to my waist as I straddled the logs while still maintaining a level of modesty. And Title Nine's notes about its "amphibious" design seem rational — after submerging half the skirt during a creek crossing, I was pleased with how quickly the outer skirt and built-in shorts dried.
The Rogue Skirt is not ideal for biking as it's a little too narrow at the hem and the fabric isn't stretchy enough to allow full range of motion in the saddle. I wore it for a long ride on my commuter bike and anytime I sat down (it's a single-speed and I was towing my son's trailer, which meant getting in and out of the saddle a lot), it took some effort to readjust the skirt so I could pedal freely. But as long as you don't plan to do a lot of biking, this skort is great. The Rogue Skirt is one of my favorite warm-weather bottoms to hike in as it is more breathable than my other hiking shorts and the skirt looks great on or off the trail.
Fabric: Buttah™ (90% peached polyester / 10% Spandex)
Measured Length: 16"
Size Tested: Small
Reviewer's Waist Size: 26"
Reviewer's Hip Size: 31.5"
MSRP: $65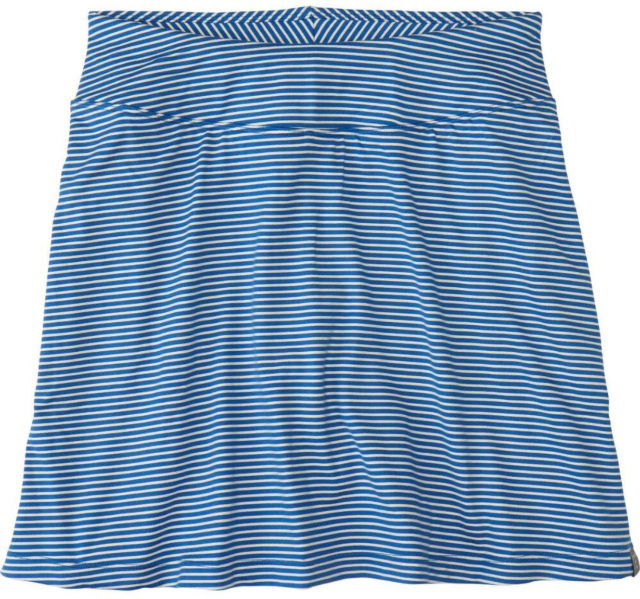 Kristin: For me, a good skort is one that looks nothing like a skort — meaning it could easily pass for just a regular skirt. The Dream Skort (as well as the Rogue Skort) is just that. It looks like a standard cotton skirt but the poly / spandex blend fabric makes it ideal for a number of activities — not purely casual wear.
Chasing around a toddler keeps me busy most days and when I'm out in public it's nice to have options that provide coverage but that aren't shorts or pants. The Dream's built-in mesh shorts provide plenty of coverage and they do so without adding a lot of extra weight or warmth. The shorts have a pocket on the right leg that fits my cell and the fold-over closure has ensured that it won't slip out. The skirt itself is A-line / bell-shaped and has enough material that the contents of the pocket aren't super obvious.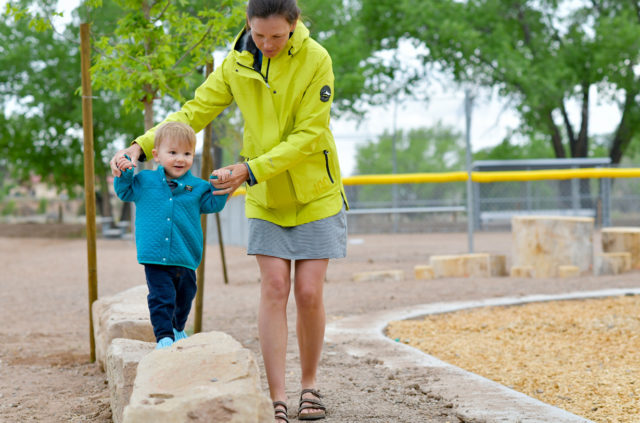 I wore the Dream Skort on a few short runs and was happy that the built-in shorts didn't ride up, didn't create any hot spots / chafing on my thighs, and even managed to keep me cool. The Dream Skort is not as ideal for running as the Stio Women's Second Light Skirt due to the Dream's heavier fabric, but it can be done. And the Dream Skort definitely stands out here in that it's one of the best options in terms of looking extremely similar to a "regular," casual skirt. If you're looking for a skirt that doesn't look technical but that doesn't feel out of place on the trail, the Dream Skort is a great option.
Fabric:
Body: 91% Polyester / 9% Elastane
Lining: 88% Polyester / 12% Elastane
Measured Length: 16.5"
Size Tested: Small
Reviewer's Waist Size: 29"
Reviewer's Hip Size: 35"
MSRP: $59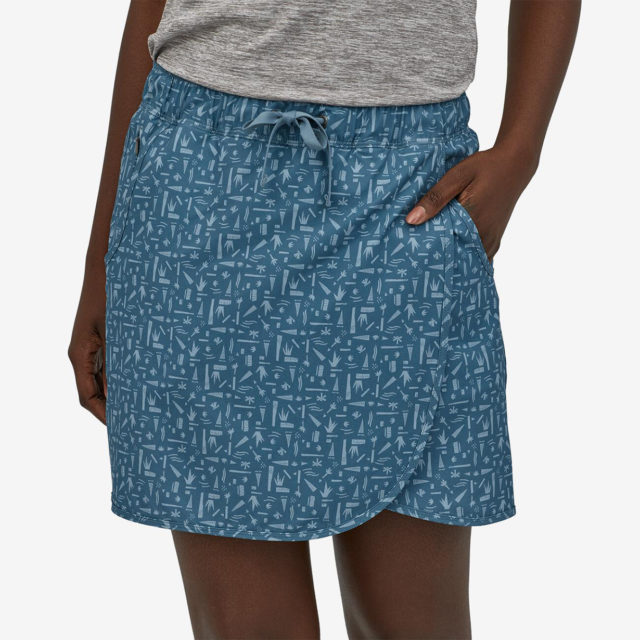 Maddie Hart: The Fleetwith Skort became a go-to of mine for everyday activities. From walking the dog to family hikes to biking to the store, the Fleetwith has proved to be both cute and functional.
I found that the Fleetwith does run a bit on the larger size, and this is a trend I noticed in the reviews on Patagonia's site. I am normally a Small in most shorts or skirts, but I think an Extra Small would have fit better in the waist of the Fleetwith. Fortunately, thanks to its drawstring, I was able to tightly secure the Fleetwith skirt and still wear it without any major slippage.
The Fleetwith Skort has two open hand pockets with an additional zippered pocket on the right. The zippered pocket is perfect for car keys or my phone to ensure they don't fall out. The built-in shorts on this skort fit me very well, with the leg holes not being too tight around my thighs. Due to the skirt being a bit too big, the shorts did ride up a bit when I would walk; this was not a huge problem, but since the skort has a slit in the front to allow for better mobility, if any wind would blow the skort up, it looked like I was not wearing longer shorts underneath. This could be avoided with a smaller size, so I would recommend sizing down for many people.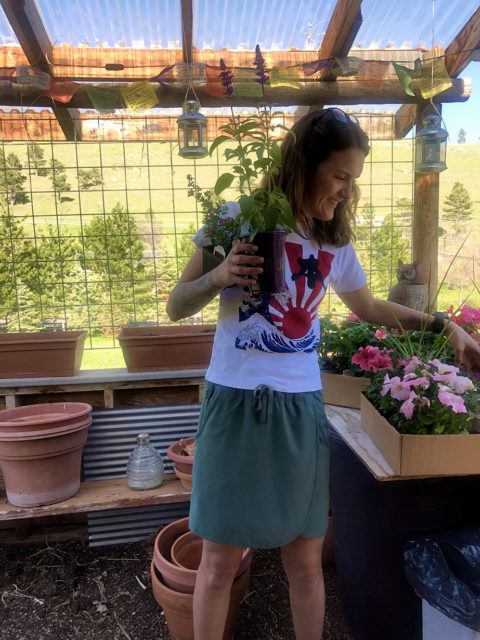 The slit in the front did make the skirt very comfortable for activities such as biking around town, hiking, or gardening. I never felt restricted in the skort, which meant I could just throw it on in the morning and go through my day without needing to change for different activities. The Fleetwith Skort isn't designed for running and I think that makes sense, given its longer cut, but it has been great for casual bike rides around town or moderate hikes. I am a big fan of this skort and plan to get another in a size down and different color due to how functional and fashionable it is. Oh, and I have gotten a ton of compliments on this skort!
Fabric:
Body: 96% Nylon / 4% Spandex
Liner: 92% Polyester / 8% Spandex
Measured Length: 16"
Size Tested: 0
Reviewer's Waist Size: 29"
Reviewer's Hip Size: 35"
MSRP: $65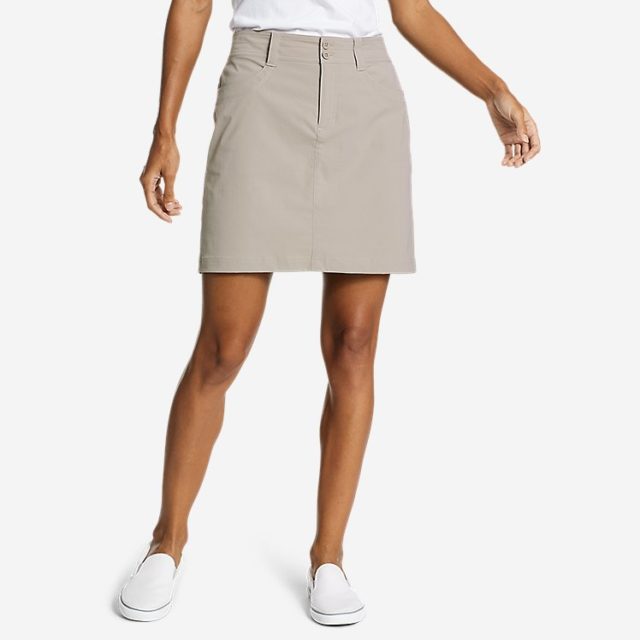 Maddie: If you're a fan of the way Khakis look, meet the skirt version of the classic pants. The Sitescape Horizon is definitely more of a casual, everyday skort, but its breathable, fast-drying fabrics make it more comfortable than many of the more traditional options in that category.
I wouldn't run or bike in the Sitescape, but for everyday life activities, it's great. There are no slits, but the skort still allowed for plenty of mobility for casual use, making it great for walks, mellow hikes, chores, and gardening. This skort has two buttons at the top and a zipper, creating a more formal look than many of the options here, while the more casual-looking color options and fabric mean that it looks totally normal when just strolling around town. The Sitescape Horizon Skort has two pockets that are big enough for my phone, keys, or a snack. This skirt also has belt loops, which I enjoyed — the black version I have looked great with my favorite floral belt.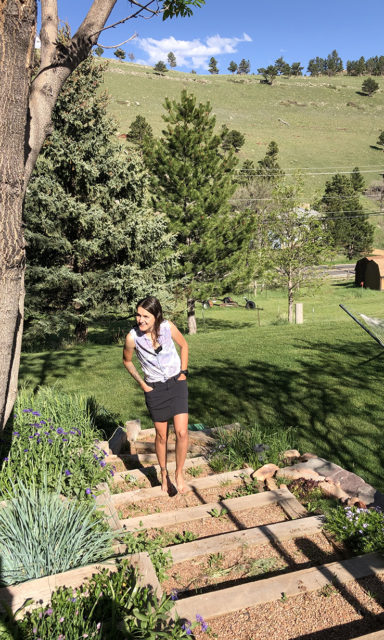 I'd say the Sitescape Horizon fits pretty true to size — the size 0 was not too tight or loose and I am normally a 0 or 2 in jeans, depending on the brand / specific pair. The one thing I didn't like about this skort was the way it tended to crease; the fabric at the bottom of the fly zipper would crease after sitting and not lay flat after getting up. This was not a big deal, but was a bit unflattering (and if that's a deal-breaker for you, Eddie Bauer makes a slightly shorter, pull-on version without a zipper). Aside from that, the Sitescape Horizon Skort is a great option for running errands or everyday life.
Fabric: 100% Tencel®
Measured Length: 17"
Size Tested: Small
Reviewer's Waist Size: 26"
Reviewer's Hip Size: 31.5"
MSRP: $60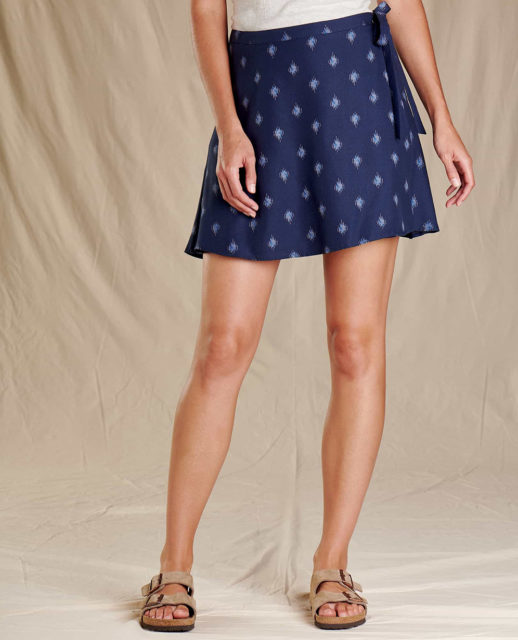 Kristin: Toad and Co has a pretty impressive resume in terms of sustainability, from partnering with the Renewal Workshop to keep their garments out of a landfill as long as possible, to using recycled, organic, or otherwise less harmful fabrics in the vast majority of their garments. Of course, sustainability without good design isn't very effective, but fortunately, Toad & Co has historically done a great job of combining both and the Hillrose Wrap Skirt is an excellent example.
The Hillrose Wrap Skirt uses a Tencel fabric that's made from responsibly forested eucalyptus trees and that has a buttery, soft hand feel, it comes in a classic silhouette, and offers neutral to playful prints. All of this makes the Hillrose Wrap Skirt a great choice for those looking for a casual skirt.
A wrap skirt in the true sense of the name, the Hillrose Wrap Skirt fully detaches, which makes it — in my honest opinion — the easiest style of skirt for après time. I've long thought that wrap-style skirts were the easiest and most discreet way to change out of exercise clothes (well, to change out of your bottoms, at least) without hiding in an outhouse or contorting yourself into various uncomfortable positions in your car.
The Hillrose Wrap Skirt is secured with a button and a fabric tie at the waist and has two hidden hand pockets. There are two button options for the waist so there is some adjustability within the sizing, which is nice as the fabric is not stretchy. At 5'8", 125 lbs, the size Small sat mid- to high-waist on me — great when paired with any style top from crop to alum to boxy. If you want a more relaxed fit, I wouldn't hesitate to size up.
If you're tired of changing in cars post-ride, wearing your bike shorts to the bar, or are looking for a classic wrap skirt that's less environmentally harmful than many of the traditional cotton options, the Hillrose Wrap Skirt is a great option.
Carve Designs Peyton Skirt
Fabric: 100% Rayon
Measured Length: 30"
Size Tested: Small
Reviewer's Waist Size: 26"
Reviewer's Hip Size: 31.5"
MSRP: $68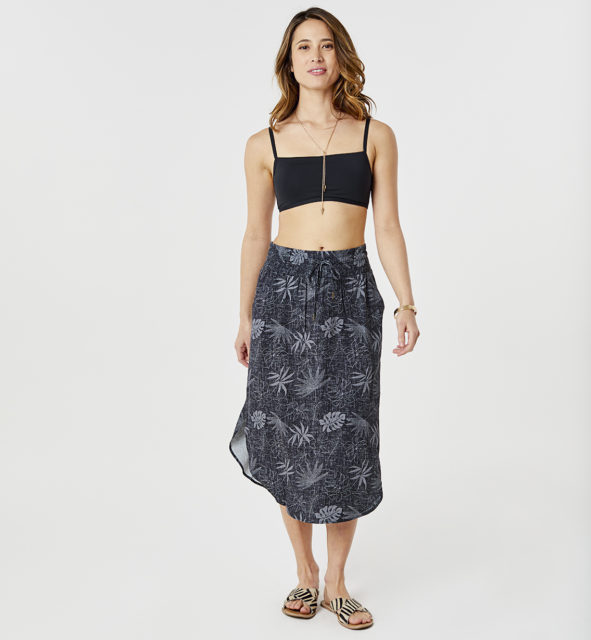 Kristin: The longest option in this roundup, the Peyton is a calf-length skirt with a tulip hem and side slits. The slits help with mobility and range of motion while also providing good leg coverage, though this obviously isn't a skirt for particularly active use. I'm not usually a calf-length skirt person (it has to do with the way they highlight my so-called "voluminous" ankles … that's another story), but the Peyton is an exception. Instead of looking frumpy, the Peyton's relaxed cut and drapey fabric let it flow and move with me, and the side slits make it feel a little shorter than it appears.
The Peyton's 2.5"-wide waistband with a drawcord allows the skirt to be worn high on the waist or down on the hips. The rayon fabric has a soft hand feel and is light and airy — perfect for warm days. If you typically throw on sweats or yoga pants when you're looking for something comfortable to wear, this might be a great alternative for you. From the office to the beach to your couch, the Peyton is an easy choice.
Fabric: Meridian™ Stretch Mini-Ripstop (100% nylon, 20 denier, DWR & PU finish)
Measured Length: 13" front / 14.5" back
Size Tested: Small
Reviewer's Waist Size: 26"
Reviewer's Hip Size: 31.5"
MSRP: $89 (on sale for $66.75 as of publishing)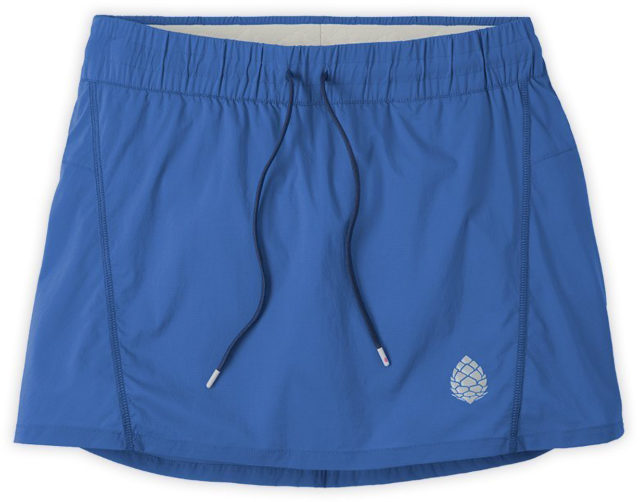 Kristin: To be completely honest, the first time I tried on this skirt (which is actually a skort) I was ready to pass it off to another reviewer since the built-in shorts felt way too tight around the cuffs. But after a little adjustment (I hiked them up), I found myself really enjoying the fit.
The Second Light's built-in shorts have a grippy cuff so that, once in place, there's little movement or readjusting needed. That has made them one of, if not the best option here for running, hiking, or any very active pursuits. The overskirt has a straight front and a longer cut in the rear, giving the Second Light Skirt a different look than many other technical skirts. The cut and built-in shorts are great for active use, and they're aided by its extremely lightweight fabric that allows it to drape nicely and easily flow with each stride. From running to hiking, I've found the Second Light Skirt to be excellent.
The 100% nylon fabric has a more technical look and feel to it than other skirts I tested, and it also makes a slight swishing sound when running. That took a little getting used to, but after 10 minutes or so, I completely forgot about it. And since the fabric is so light, breathable, and slightly stretchy, its performance while running and hiking in hot weather outweighed the slightly more techy look and feel. On top of all that, the skirt has a DWR finish that has done a great job of repelling water. Overall, the Second Light Skirt is a very technical skirt that could potentially replace your favorite running shorts, but do so with a more casual look.