The North Face Flight RKT Jacket
Reviewer: 5'10", 155 lbs
Size Tested: Medium
Blister's Measured Weight: 85 g
Fabric: 100% 10-denier nylon ripstop with DWR (Durable Water Repellent) finish
Stated Features:
Ultra-light and stowable running shell
Water-resistant and windproof
Reflective
Elasticated hood, cuffs, and hem
Zippered stow pocket on chest
Drop tail hem
Pockets:
1 Chest pocket (zippered)
MSRP: $160
Test Locations: Mt. Shasta, CA; Wilmington, VT; Portland, OR
Days Tested ~45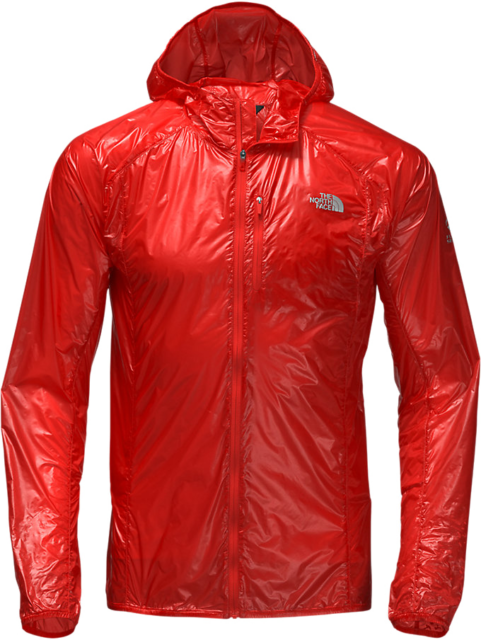 Intro
The market for ultralight packable windbreakers is becoming larger, with a number of companies attempting to make the lightest and most packable jacket possible.
For their offering in this category, The North Face collaborated with ultrarunner Rob Krar to make a race-ready, water-resistant, windproof, and extremely light shell. The resulting jacket, the Flight RKT, is one of the lightest and most packable windbreakers out there.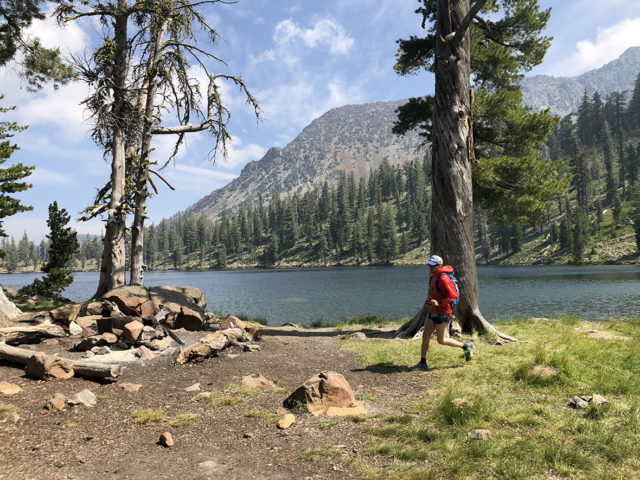 While the Flight RKT Jacket is intended for trail running, its low weight, packability, and weather resistance also make it an attractive choice for a number of other activities — from mountain biking, thru-hiking, or really any activity where weight is important. But the Flight RKT's high-performance fabric and feature set seem as though they come at a price (both in terms of performance and cost), so the question remains: what do you gain and lose by going so light?
Fit
The Flight RKT Jacket is a performance layer that clearly focuses on minimizing weight, but its fit is a bit less representative of that than I suspected. I was surprised by the relatively loose fit of the Flight RKT Jacket in comparison to other lightweight layers I've used, like the Patagonia Houdini jacket and vest.
The size Medium Flight RKT Jacket fits fairly close to my 5'10", 155 lb body in the torso but allows enough room for layering — I've even comfortably worn a down vest underneath it. However, when compared to a shell like the Patagonia R1 TechFace Hoody or the Patagonia Torrentshell, the Flight RKT is definitely slimmer. So the RKT isn't extremely slim, but you can expect it to be a bit tighter than most rain jackets and waterproof shells.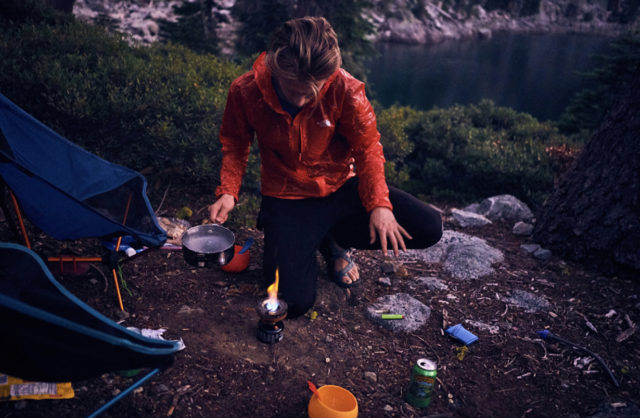 There is plenty of room in the arms of the Flight RKT — they're a bit baggy, but I find this to be a huge plus because it provides great range of motion in the shoulders, a key to making the jacket so versatile. The extra room in the arms also makes the jacket not feel restrictive when wearing it while running or hiking.
The only drawback to the baggier arms is the fact that, when riding fast on a bike, they flap pretty intensely. However, this is more of a minor nuisance than a serious problem, and it isn't an issue while running.
In terms of length, the Flight RKT feels pretty average — it falls about six inches below my hips. The hem is also elastic so the jacket doesn't ride up while running.
Materials
The material of the Fight RKT Jacket is one of its most defining features. It uses a 10-denier ripstop nylon that's extremely thin, to the point of being see-through. This is what makes the Flight RKT so light and almost makes it seem fragile (more on that later).
The Flight RKT's fabric is also coated with a DWR (durable water repellent finish), which makes the jacket bead water and gives it enough weather resistance to take on runs where there might be a bit of precipitation in the forecast.
If it is raining heavily I will typically opt for the fully waterproof Patagonia Light Flyer Jacket because the Flight RKT's DWR has a tendency to wet out after more than ~30 minutes in heavy rain.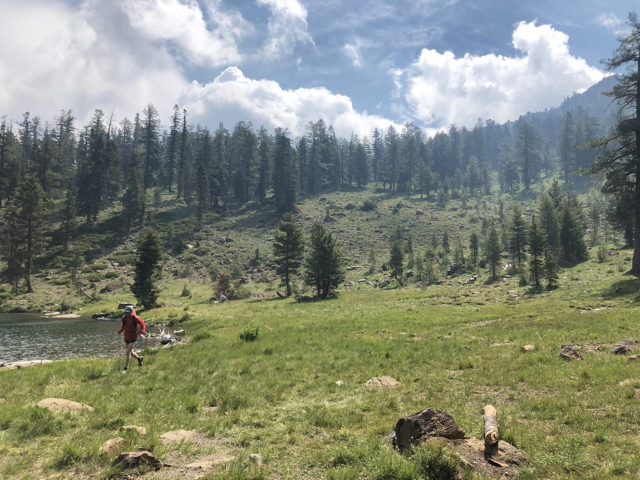 One other interesting thing about the Flight RKT is that I think it looks a bit like a candy wrapper because of how transparent the fabric is. The transparency of the fabric really puts into perspective just how light the jacket is.
As far as comfort is concerned, the Flight RKT's material feels pretty comfortable against the skin. However, when it got wet on the outside or I started to sweat on the inside, it began to stick to my skin, which I found to be a drawback. Compared to the Patagonia Houdini's fabric, the Flight RKT's fabric is smoother and I think it is more comfortable when dry, but when things get wet or sweaty, the Houdini's fabric is a bit more comfortable.
Features
Similar to most super lightweight jackets, features on the Flight RKT jacket are slim.
The Flight RKT features a zippered chest pocket on the left side, which doubles as a stuff sack. When stuffed into the pocket, it is about the size of a fist, making it super easy to throw in a pack or your pocket on runs.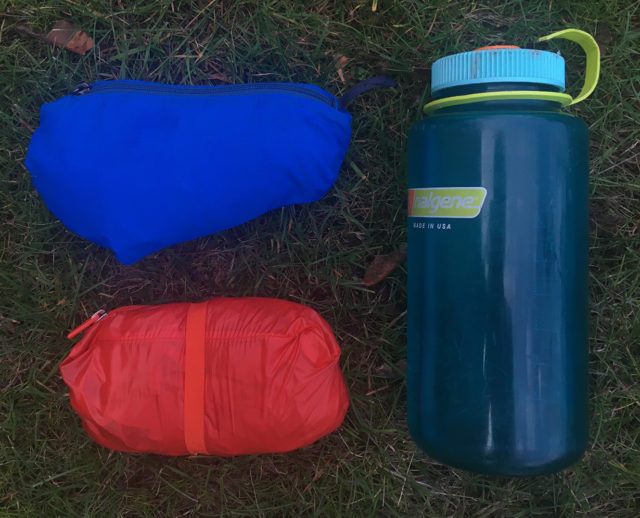 The Flight RKT also features elastic on the hem, cuffs, and hood. The elastic around the hem and wrists keeps the jacket in place and helps seal in warmth, making the jacket much warmer than I would have anticipated based on material alone.
Along with the elastic, the Flight RKT also has reflective logos on the front, back, and by the wrists. The logos are pretty small, so this isn't a jacket that's designed specifically for running at night, but some added reflectivity is always nice.
Weight
As mentioned above, this jacket is light. Like, really light.
The size Medium Flight RKT jacket I have measured in at 85 grams. The feather-like weight of the Flight RKT Jacket makes it feel like nothing when wearing it and makes it essentially disappear when packed away.
The Flight RKT Jacket is a bit lighter than comparable jackets like the Patagonia Houdini Jacket or the Arc'teryx Incendo Jacket, which each weigh at least 15 g more. Although any jacket weighing under 150 g is pretty damn light, for someone who is looking to reduce every gram, the Flight RKT should definitely be considered.
For reference, here are some weights of similar pieces:
74 g Patagonia Houdini Vest, size Medium (measured weight)
85 g The North Face Flight RKT Jacket, size Medium (measured weight)
102 g Patagonia Houdini Jacket (stated weight)
125 g Arc'teryx Incendo Jacket (stated weight)
175 g Patagonia Storm Racer Jacket, size Medium (measured weight)
180 g Outdoor Research Helium II Jacket (stated weight)
201 g Patagonia Alpine Houdini Jacket, (stated weight)
Weather Resistance
I have been pleasantly surprised by the durability of the Flight RKT's DWR, and by how well the jacket keeps me dry. I have now gone on five or six long runs (~10 mi) in the rain with the Flight RKT Jacket and it has kept me mostly dry on all of them. That said, the fabric does stick to my skin once it gets wet, so when wearing a short-sleeve shirt underneath, that does get annoying.
As I noted above, I'd still take a fully waterproof jacket for runs when I know I'll be encountering a lot of precipitation (the Patagonia Storm Racer is a great option for this). But for all other windy or slightly wet runs, the Flight RKT has become my go-to shell.
As far as wind is concerned, the Flight RKT jacket does a good job of sealing out the majority of wind in gusts up to roughly around 15 mph. With any stronger gusts, the seams have a bit of air leakage, but this tends to not be a problem for me as the Flight RKT jacket does a good job of keeping in warmth and the small amount of air that permeates the seams is barely noticeable.
Breathability and Warmth
Seeing as the Flight RKT Jacket is comprised of a single layer of 10D ripstop nylon, it is not very breathable. This is a huge benefit for trapping heat on cold days, but it also means that you have to manage that trapped heat by unzipping the main zipper since that is the only ventilation that the Flight RKT jacket offers.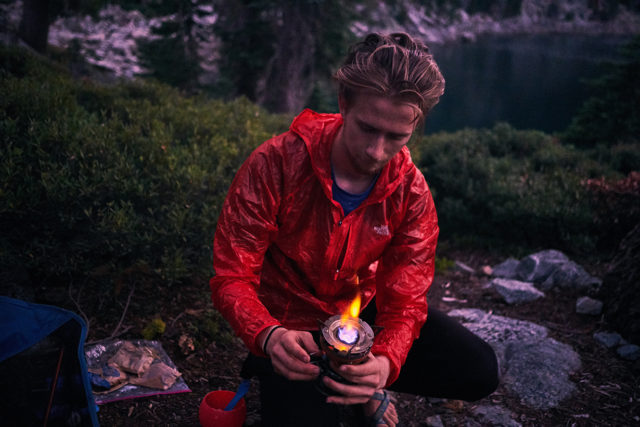 I wear the Flight RKT jacket zipped up about ¾ of the way on the majority of my runs. That gives me enough breathability to not overheat, but also keeps my core and arms comfortably warm.
Durability
Based on the thinness of the Flight RKT's fabric, durability seemed like it would be a definite downfall to this jacket. And I'd still recommend that anyone who uses it treats it a bit more carefully than they would a heavier, thicker piece.
But after more than 45 days of use in conditions ranging from rain to hanging around a campfire, the Flight RKT Jacket is still in great shape. [Editor's Note from Luke Koppa: I've burned plenty of holes in jackets with thicker fabrics, so I'd definitely be careful with the Flight RKT jacket around fire. Jaden is apparently much more responsible than I am.]
The Flight RKT has held up surprisingly well to a summer of use where I took it on nearly every hike, long run, and bike ride I went on. I was sometimes running through bushes or scrambling up granite, and I had worried that the jacket might get ripped or catch on a thorn, but it never happened.
I took a number of falls while wearing the Flight RKT jacket while running and biking as well, and it even withstood those. I am still somewhat skeptical of how it will hold up in the long term, and I also still wonder if I've gotten lucky. So, I'll update this review if I run into any durability concerns down the line.
Who's It For?
If you're looking for an extremely light and packable jacket for runs where rain or wind are a possibility, the Flight RKT Jacket is worth a look. It's lighter than most running jackets on the market and is ultra-packable, making it a jacket that you can pretty much always justify bringing on a longer excursion.
Although the Flight RKT is marketed to be a running jacket I can also attest to the fact that it works great for hiking and biking, too. If you are a hiker that prioritizes low weight, the Flight RKT jacket seems like it would be a great option due to its water resistance, and again, extremely low weight.
If you are a biker who doesn't like to ride with a backpack or even hip belt (and therefore can't store a bulky shell), the Flight RKT could work well for windy and slightly rainy rides on both the road and the trails. It can fit easily into a jersey pocket and would serve as a great emergency layer as well. However, the important thing to remember is that the Flight RKT is extremely thin, so if you're prone to a lot of falls or frequently brush up against a lot of rocks / branches, you might be better served by a burlier shell.
Bottom Line
As a layer for running, The North Face Flight RKT jacket excels due to its low weight, packability, and versatile weather resistance. These same features also make it a great option for activities ranging from biking to through-hiking, provided that low weight is a priority, and long-term durability is not.
The Flight RKT is worth a good look for those who are looking to minimize weight and are willing to compromise on features like waterproofing and durability. Overall, the Flight RKT Jacket is one of the best options we've used in the ultralight windbreaker market.