Intro
In the past two decades, wool has become one of the go-to options for warm-yet-breathable layers. But, as someone who sweats a lot, I have struggled to find wool layers that provide the right blend of warmth, breathability, wicking, and odor resistance.
When I first saw Voormi's products, I was impressed by their sleek look and was eager to see how their design and materials compared to other wool and synthetic fabrics I've tried. Voormi uses a variety of different wool blends and fabric constructions and makes some pretty bold claims about their products' performance.
I put a few of their products to the test to see how they would hold up against my sweaty, outdoor adventures in the mountains around Crested Butte, the Front Range of Colorado, and the San Gabriel Mountains of California. I will explain a bit about the materials used for each garment, as Voormi varies their fabrics between their different pieces.
Fabric:
Body: 73% Wool / 25% Polyester / 2% Lycra
Mesh: 70% Wool / 30% Polyester
Size Tested: Small
Blister's Measured Weight: 200 grams
MSRP: $129.00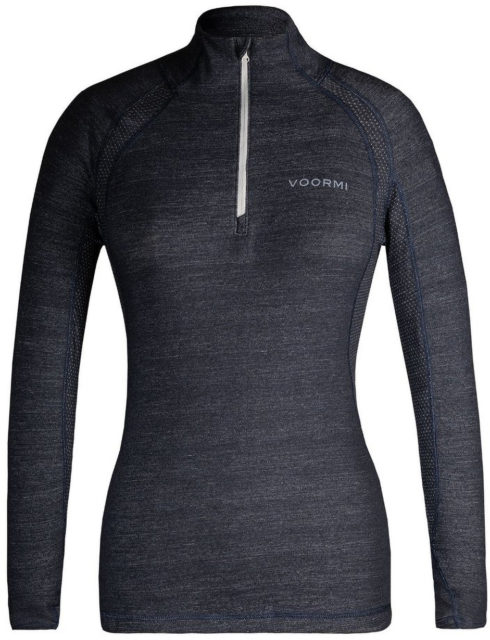 On those mornings where it is a bit brisk, a midweight ¼ zip is one of my favorite types of layers for staying warm while being active. While this baselayer top from Voormi became one of my go-to layers for running, it also served as a great layer for skiing and even a casual date.
The 1/4 Zip Baselayer Top is made of Voormi's "Dual Surface Precision Blend." Essentially, the interior wicking yarns are designed to pull moisture away from your body and disperse it to the outer-facing surfaces of the fabric. Once the moisture is in the outer layer, the idea is that the moisture will evaporate, keeping the fabric dry all day long.
Given that most baselayers use a single layer / type of yarns, I was interested to see how this layer would serve under different layers during a variety of activities. It quickly became my go-to for my busy, activity-filled days. I would throw it on in the morning as my baselayer when I would head up to Mount Crested Butte to skin a few laps under a slightly heavier coat. Even when I would start to work hard and sweat, I never got damp with sweat on my back or arms when in this layer. This was a huge perk when I would then jump back on the bus and head straight to class, being dry and warm for the drive back.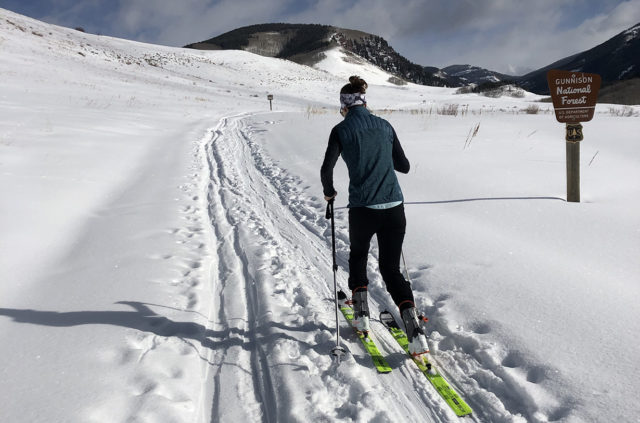 I also found myself gravitating towards this baselayer top as an everyday layer. The color and marled look of the fabric is beautiful IMO and the fit is very flattering; the stitching around the shoulders and armpits where there is a slightly different fabric (more breathable, open-knit) turned out to also be very flattering. The stitching around the wrists has begun to show some loose threads; I assume this is normal from wear and occasionally getting stuck on velcro. But the stitching is not pulling enough to cause any major issues.
Aside from this, the baselayer shows essentially no other side of major wear, even though I have been wearing it a lot this year. Compared to my other baselayers, this Voormi baselayer is a nice mix of warm and breathable. The mesh on the sides allows for very good ventilation while the rest of the fabric helps to keep me warm on colder days. In terms of warmth, I'd say it's similar to other "midweight" baselayers in the ~200 g/m2 range. This makes it a great layer for skiing, running, or everyday wear for anyone who needs a new do-it-all baselayer.
Fabric: 52% Wool / 48% Polyester
Size Tested: Small
Blister's Measured Weight: 129 grams
MSRP: $129.00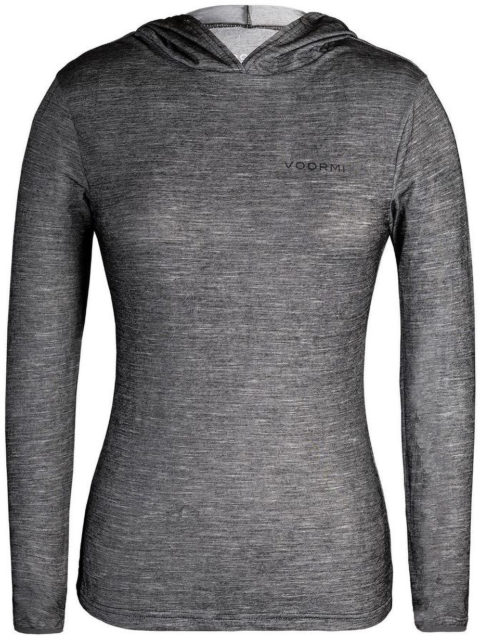 This "ultralight" River Run Hoodie is designed for spring and summer outdoor activities. Voormi states that it is super lightweight and made to act as a light barrier against the elements, including the sun.
This River Run Hoodie is made of Voormi's 100 g/m2 "Dual Surface Ul" fabric; this is the lightest fabric in the Voormi Lineup. The material is super lightweight (30-50 g lighter per square meter than the lightest fabrics from some competitors such as Icebreaker and Smartwool) and designed for warm-weather adventures, but can also be a great baselayer in colder temps. Like the ¼ zip baselayer top, the fabric is designed to pull moisture away from your body and distribute it to the outer facing fabric where it can dry.
I am one of those people who believes that, if it is warm, you wear a t-shirt. So, I was skeptical about wearing this hoodie on a 60°F / 15°C slightly overcast day, and even more so on a 60° slightly drizzly day running on Teocalli Ridge. Both days, I never got hot (while 60°F may not sound warm, that's usually warm enough for me to get pretty sweaty). What was more impressive was on the drizzly day, I wore this as my only top layer and I finished the run with my top being mostly dry. In contrast, my polyester / spandex shorts were pretty damp by the end of the adventure. But on both days, I stayed at a very comfortable temperature.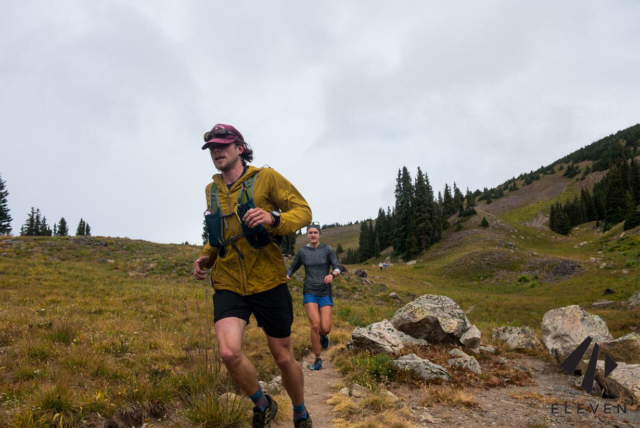 I tend to get really hot when I run; with this layer, I would roll up the sleeves if I needed my arms to be a bit cooler but it was never really a concern. The River Run Hoodie also has small loops sewn into the fabric that slide over your thumbs as thumb loops. I really liked this design since other pieces with thumbholes built into the sleeves tend pull too much on my shoulders due to my long arms. I also really like the River Run Hoodie as a lightweight layer to throw in my pack on long adventure runs; having a super light layer that can go under a rain jacket or that you can throw on top if the temps drop is great to have. It can be folded to a pretty small size and fits well in most packs, making a great addition for long runs or hikes in the high country. Not to mention this is a great layer for biking or fishing, protecting you from the sun and dry from perspiration.
Fabric: 52% Wool / 48% Polyester
Size Tested: Small
Blister's Measured Weight: 76 grams
MSRP: $70.00
This lightweight shirt is designed to be the do-it-all tech tee, and I'd say it serves that role very well. It's become one of my go-to shirts when I would have events to attend after runs. The Dual Surface UI fabric (same as the River Run Hoodie) makes it a great warm-weather running shirt, but it also does not look like a "running shirt." This shirt allowed me to go from my run to class or everyday life without feeling like I needed to change.
This is one of the most functional shirts I own. I was really impressed by how well it resisted odor, as well as how it stayed dry during sweaty runs. Like the River Run Hoodie, this tee breathes and dries really well and is ideal for warmer temperatures. For example, I ran a hard hill workout in this shirt, finished, changed bras, threw back on the top (which was essentially dry), and felt sweat-free and clean to continue on with my day. As a human who is constantly on the move, this shirt became a favorite. I'd highly recommend this shirt to any outdoor enthusiast looking for a great-looking top they can wear from the trails to the office to the brewery, all without smelling like you've been on the go all day long.
Fabric: 57% Wool / 21% Polyester / 16% Nylon / 6% Lycra
Size Tested: Small
Blister Measured Weight: 177 grams
MSRP: $100.00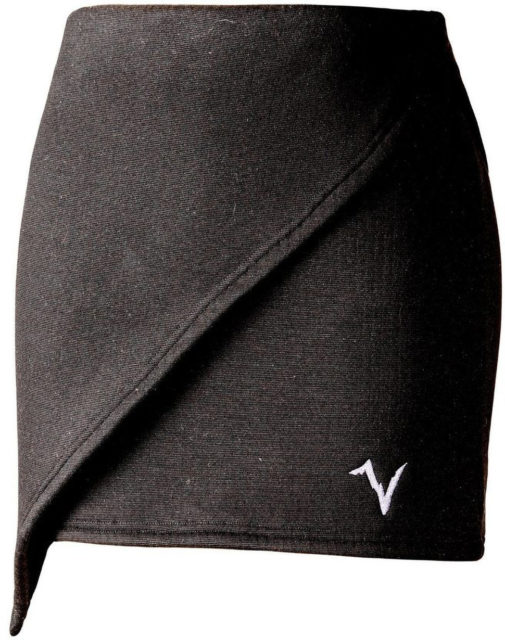 The Solstice Skirt quickly became a staple in my winter wardrobe. It is cute, fashionable, and has a flattering cut, but it's also warm and functional enough for walking and biking around town in colder temperatures. Voormi classified this skirt as a "midlayer" due to its weight and warmth.
The skirt is made with Voormi's "Surface-Hardened Thermal Wool," which consists of 21.5-micron wool reinforced by outer-facing nylon fibers. The fabric is then finished off with a durable water repellent coating, helping to make it a great top layer for winter and shoulder-season weather.
Even on super cold Gunnison mornings when I would walk or bike to school, the skirt would keep my upper legs and butt super warm. I found this skirt looked casual enough for everyday wear but could also easily be dressed up with a nicer pair of tights and a dressier shirt for more formal events. I love garments that can serve for a multitude of events and activities, and the Solstice skirt delivers on that. My only issue with the skirt was that, with the fabric of certain tights or leggings, it tended to ride up a bit. This never was a huge concern as it never rode too high, but it did lead me to have to resituate myself after walking across campus. With smoother tights, I did not experience this issue.
This skirt does run on the small side. I am normally a 0 or a 2 in pants, and the size Small Solstice Skirt fit very well. It was not too tight through the waist, but hugged my legs and butt in a really flattering way. It was on the shorter end lengthwise (about mid-thigh), so those who prefer longer skirts may want to size up. This is a great casual skirt for keeping warm on cold winter days without compromising looks and is a functional layer whether you're heading to the office or running errands in town.
Final Thoughts
With sustainability at the forefront of many minds, buying less is often worth more. Even though Voormi is on the higher end of the price spectrum, the Voormi products I've been using were versatile for both outdoor and everyday adventures, and have been holding up very well so far. That means buying fewer clothes to serve more roles, which is always a plus. With the pieces from Voormi, I could travel from the trails back to daily life without feeling the need to change, whether due to comfort or fashion.
I was very skeptical that these pieces would not smell with minimal washing, as Voormi claims, but I have actually been very pleased with how odor-free they are. Even after sweating profusely while running in all the tops, they all held essentially no odor for around 6-8 wears. I was able to wash them less often and never worried about smelling bad when I would throw them on after a few wears. If you have a busy life and laundry is not something you have time for, or are finding ways to reduce water usage, odor-resistant wool garments like those from Voormi can be a big help.
I would love to see Voormi make some sports bras with their fabrics. While running in their tops, I would've been totally dry if it was not for my cotton mix sports bra which gets wet with sweat.
Overall, I was very impressed by the Voormi products I was able to try. All the garments are fashionable and functional, making for great apparel during epic trail adventures or running errands around town. The wool blends not only impressed me in terms of odor resistance, but also how well they moved moisture away from my skin and kept me feeling dry.