The most honest, accurate, and useful Buyer's Guide in the world.
Our 23/24 Winter Buyer's Guide is — by far — our biggest guide ever, and also the best guide out there: 300+ skis, 70+ boots, plus plenty of snowboards, splitboards, touring bindings, climbing skins, helmets, goggles, apparel, and more.
But what makes our guide the most trustworthy is what you won't find in it: there are zero advertisements from any of the ski or snowboard companies we review, so you aren't getting any paid-for reviews, just — as always — our honest, unvarnished opinion after many days of testing each product.
You can now pre-order the print and digital editions of the 23/24 Guide.
Same as last year, you can order the print edition and get the digital edition at no extra cost, or go digital only.
Of course, the super smart move is to become a Blister Member or a BLISTER+ member, which gets you the guide and a whole lot more.
Our 23/24 Cover Photo
This year's cover photo was shot on Feb 15, 2023, right in the middle of our Blister Summit, which is particularly fitting, since the skier pictured is Blister reviewer & Summit director, Kristin Sinnott. (Our Summit photographer, Taylor Ahearn, captured the ethereal image of Kristin, in addition to grabbing hundreds of great photos of Summit attendees.)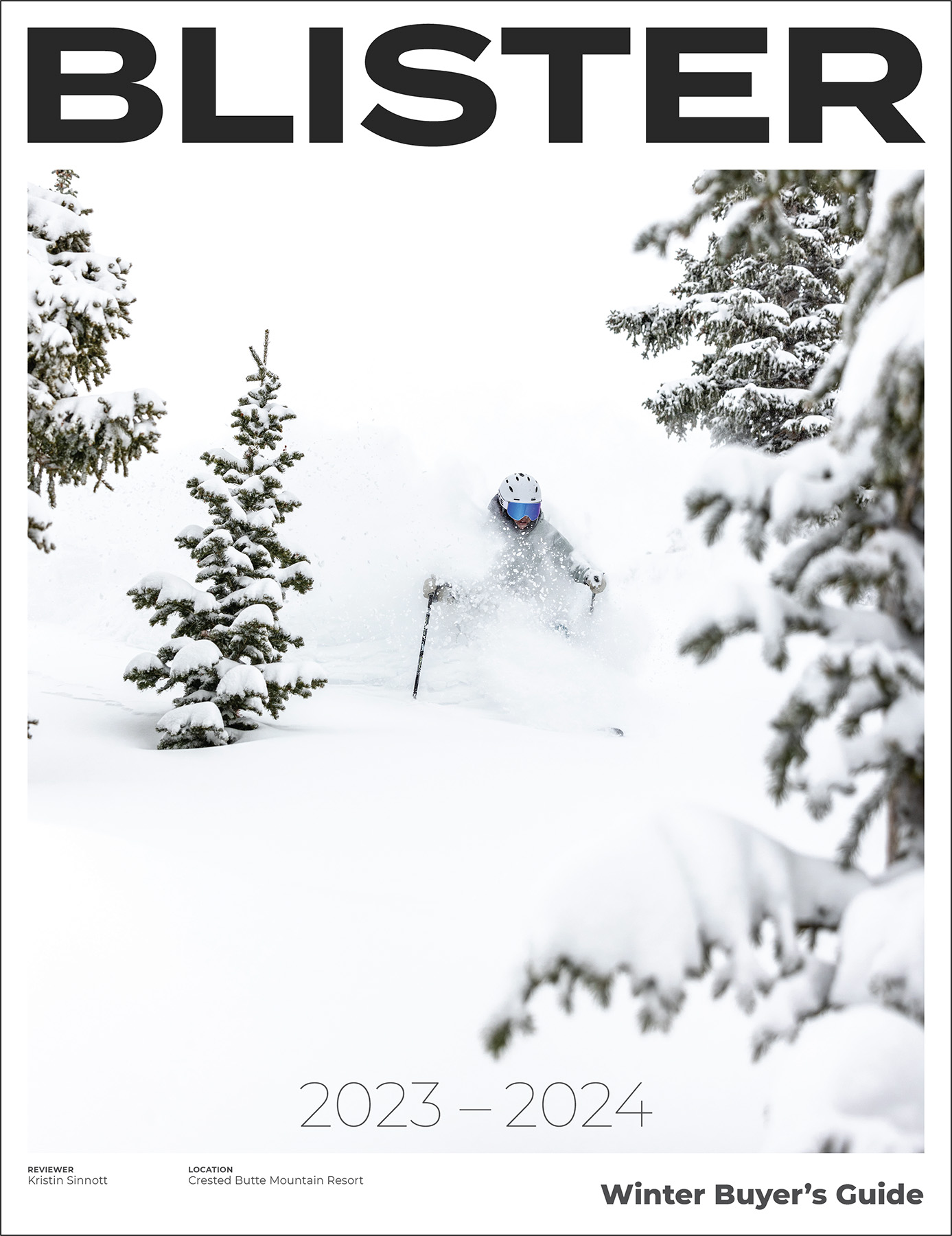 We've gotta get back to work, but pre-order your copy now to be the very first to read the guide when it comes out this September.
GET THE GUIDE — OR THE GUIDE & MUCH MORE
"After 50+ years of skiing, and almost as many years of reading those other reviews, I can say hand on heart, that this is the most comprehensive, honest, and reliable review publication I've ever come across."
"You guys are like my ski bible, so thanks again for cutting through the bullshit within the ski industry."
"This catalog — and all you do for all of us addicted to skiing — is amazing! This is the Holy Bible folks, the Holy Bible!"
WHY THE BLISTER GUIDE IS BETTER
We Test Product Year Round
Other publications do their product testing in a few days. We literally test year-round. Nobody puts in as much time on equipment as we do, so no other Buyer's Guide can match the accuracy of our gear reviews and our product comparisons.
$$ No Conflicts of Interest $$
Unlike many other buyer's guides, we don't take any advertising money from the ski or snowboard companies we review. So what you get from us is the most honest, accurate, and useful product descriptions and comparisons you will find.
We Won't Insult Your Intelligence
Bad cliches and unhelpful product reviews aren't our thing. Instead, you'll get the info you need to make informed buying decisions, including our own verified product specs, and honest, accurate descriptions of how products perform & compare.
Want the Guide + A Whole Lot More?