Breathability
The Power Shield Pro fabric itself has proven to be very breathable, but the jacket and pants are also constructed to maximize breathability—their cuts involve few seams, and none of the seams are taped.
All in all, the Knifeblade kit is about as good as it gets in the breathability category for water proof / water resistant products. It breathes better than any Gore-Tex, eVent or NeoShell jacket I've worn, and better than every water-resistant soft-shell I've ever worn.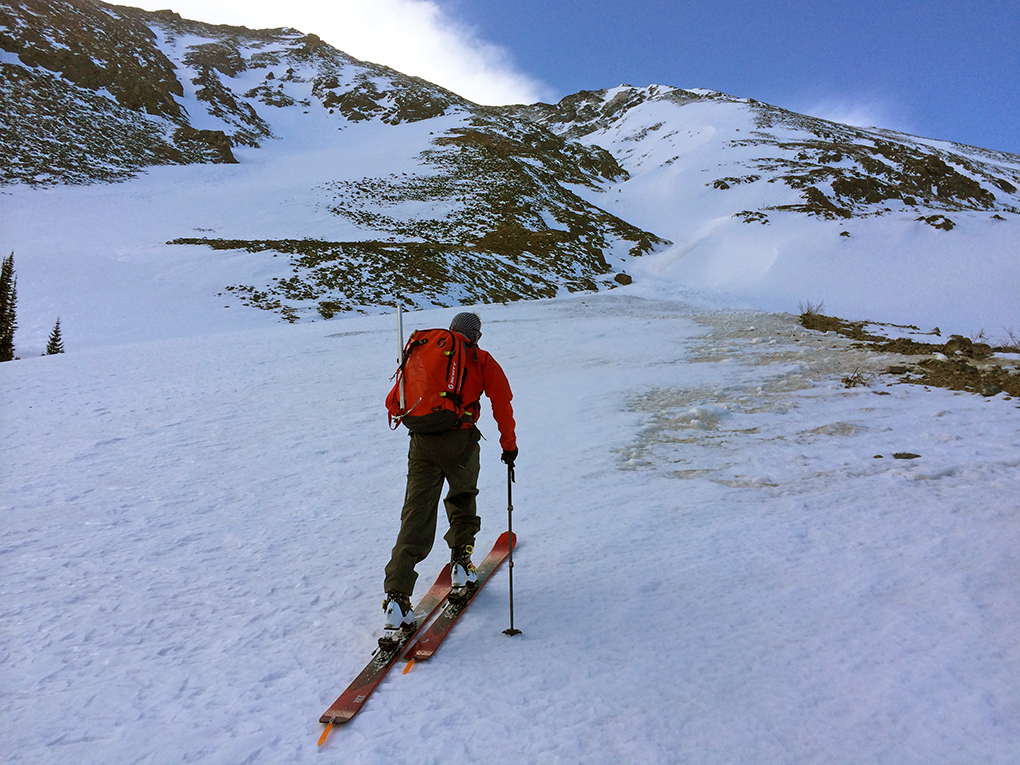 On strenuous hikes or in warm weather, I still find myself shedding layers beneath the Knifeblade. There are more breathable soft shell setups out there, but they're made without waterproof / breathable (WPB) membranes, or with extremely minimal WPB membranes that don't offer nearly the same level of storm protection as the Knifeblade.
For practical purposes, in terms of maximizing both breathability and weather protection, the Knifeblade kit is the best soft shell setup I've ever used.
In Colorado, I wear the Knifeblade jacket in most backcountry scenarios from November through May. I tend to wear the pants more in the spring because I prefer to wear hardshell pants the middle of winter.
Weather Protection / Waterproofing
The Knifeblade jacket and pants, while they offer an impressive balance of breathability and protection, don't match the kind of weatherproofing you'll get from a true hard shell.
However, the Knifeblade's membrane is much burlier than your typical soft shell; it can withstand higher hydrostatic pressures, but it is not quite as good as air permeable hardshells.
Patagonia's website says Power Shield Pro has a waterproof rating between 3,000 and 5,000mm, and in my experience, a 10k rating is what you'll need to stay completely dry in most conditions. But if you sit down in the snow for too long, or if it is snowing hard with big wet flakes, or if it's raining, you may get wet in the Knifeblade setup.
The Knifeblade's face fabric is a tight-weave nylon that's treated with a DWR (durable water repellent) finish. It has proven to be quite durable, and the DWR has performed to industry standards. I'm not seeing any signs of wear after a solid 40+ days in the jacket and pants, and the DWR is still keeping the fabric performing well.
As mentioned above, the seams on the Knifeblade are not taped. So I've paid close attention to see if I could notice any wind passing through the seams of the jacket or pants. So far, I haven't, even in some extremely windy conditions in the high alpine of Colorado.
That being said, there are undoubtedly conditions where wind will get through.
Features
The Knifeblade jacket and pants are both light on features; the jacket doesn't have a powder skirt, and the pants don't have built-in gators. There are only a total of four pockets between the two, and the whole silhouette is minimal.
The jacket features a standard adjustable hood, and uses Patagonia's Touch Point cord lock system, which is my only gripe. I found that the Touch Point cord locks didn't provide enough holding power. While touring in very high winds (40-60 mph), the Touch Point hood adjustments would often slip and fail to keep the hood up.
The pants have a useful suspender system and a high waist that is very comfortable to use with a pack's hip belt or a climbing harness.
On a few deep days while touring, I wished the pants had snow gators, but on the whole, I think they are fine without them. In a pinch, you can crank down the cuffs with the elastic cord lock system.
Bottom Line
Until I started using the Patagonia Knifeblade kit, I really wasn't a fan of soft shells. Now I am a firm believer that a soft shell jacket or pair of pants can be very practical staples of an outerwear collection.
If you need an ultra-breathable outerwear kit for high-output activities in cold, drier conditions, I highly recommend the Patagonia Knifeblade jacket and pant.