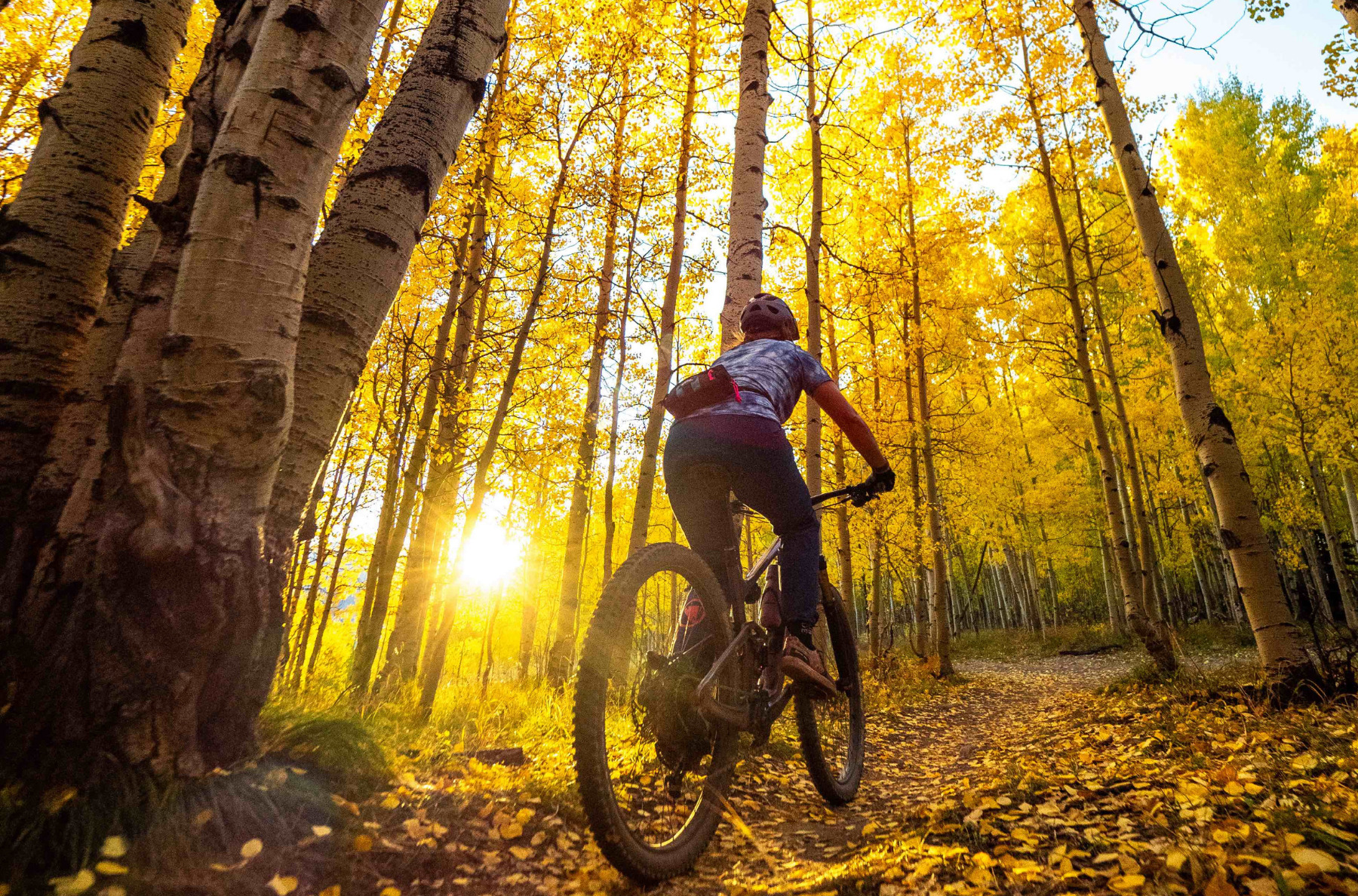 Intro
The variety of mountain bike shorts and pants is wide-ranging these days, with something for just about everyone depending on what you're prioritizing. We've reviewed plenty of mountain bike shorts and pants over the last couple of years, and this summer we spent a bunch of time in a new group of women's bike shorts and bike pants. You can check out our women's and men's bike short roundups from 2021 (Part 1 & Part 2) and 2022, and our bike pant roundup from last year, as many of the options are still current. For this roundup, we've got eight new pairs to add to the mix.
Fabric: ecoMove: lightweight yet durable, 4-way stretch, quick-dry fabric made from recycled polyester/spandex
Inseam Length: 10.8" / 27 cm
Pockets: Two front hand pockets, zippered hip pocket, side pocket
Blister's Measured Weight: 243 g
Reviewer: 5'9", 167 lbs / 175 cm, 75.7 kg
Size Tested: 8
MSRP: $108
Kara Williard: Previously known as the MTB Curvy Short, Shredly produced their Limitless Short in a variety of inseam lengths and patterns this season with a couple of minor changes.
The Limitless Short is designed from a super stretchy material, making it one of the more comfortable options here. With a super-wide, yoga-style waistband, the Limitless Short feels really good around the waist, especially during long rides. It provides a snug, compressive fit but without digging in or feeling uncomfortable over time. I spent time in the previous MTB Curvy Short, and while I liked it quite a bit, I prefer the fit of the new Limitless 11". It feels just a bit roomier in the thighs while still being comfortable everywhere else.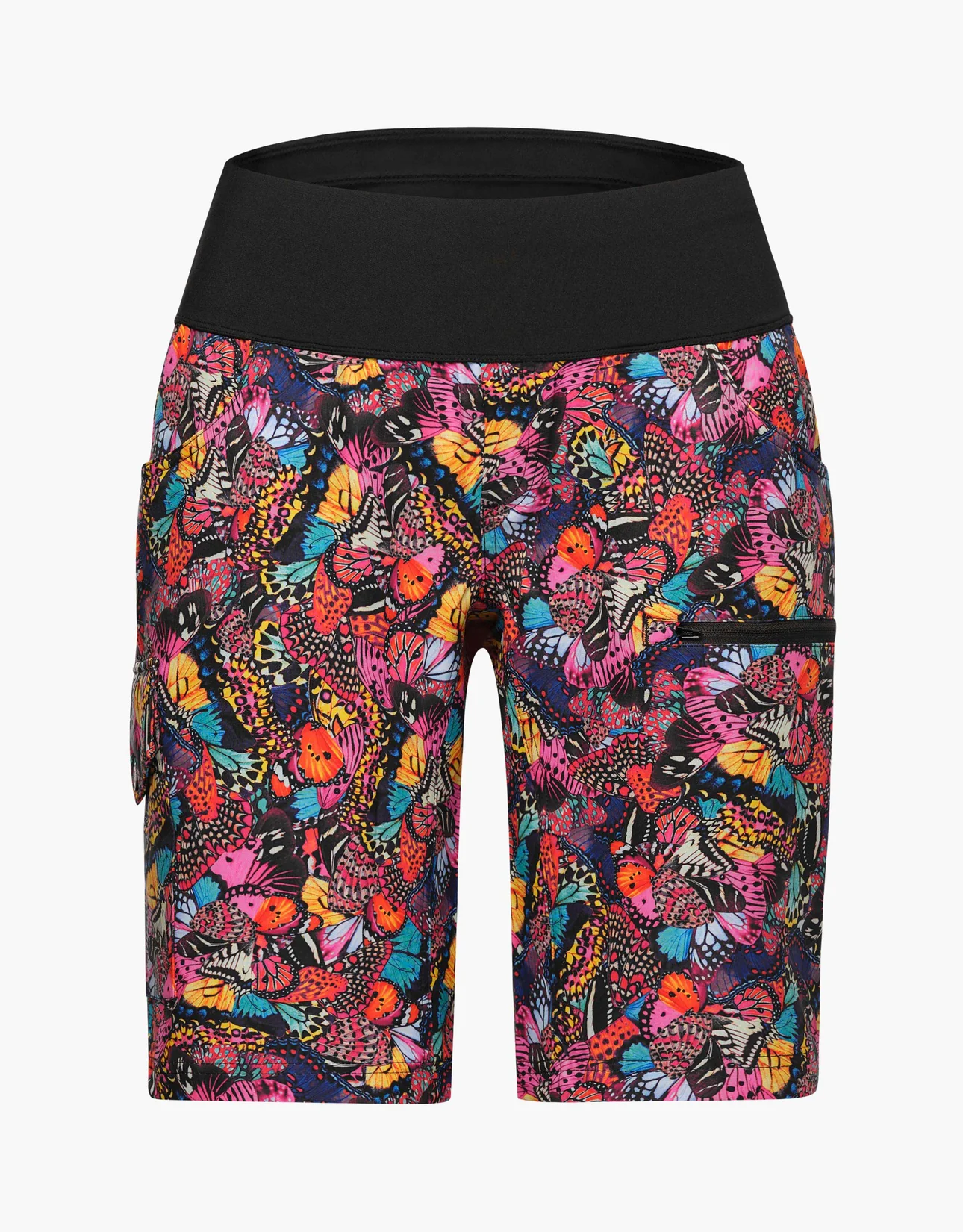 The material throughout the short is quite stretchy but also maintains good support and elasticity without stretching or feeling too loose after more than one use between washes. Shredly has upgraded this short to their "ecoMove" fabric which is a mix of recycled polyester and spandex. The material itself is thick enough to provide protection, but still somewhat breathable. It's also pretty quick drying, though it doesn't repel water as well as options like the Velocio Ultralight Trail Short or Endura Singletrack shorts (more on those below).
The short itself is pretty fully-featured, with two front hand pockets large enough for my phone, in addition to a large zippered hip pocket and a small side pocket. Without any snaps or buttons at the waist, this is definitely my favorite short to wear when I want to feel comfortable as well as confident without the waistband or other aspects of the short digging into my skin.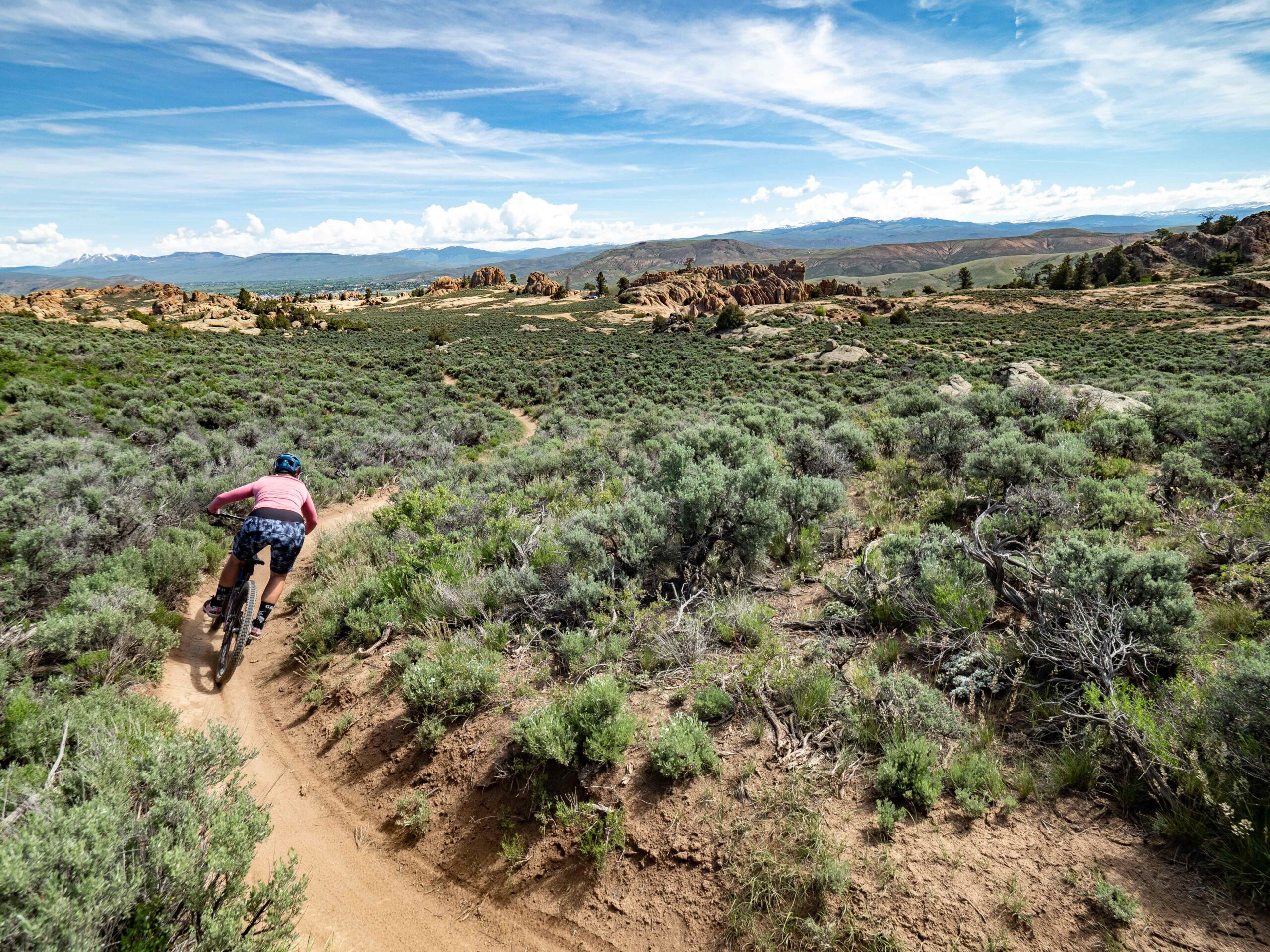 With an 11'' inseam, it's one of the longer options here, but Shredly does make this short in both a 7" and 14" inseam if you prefer to go towards one extreme or the other. I find the wide waistband and overall style of the shorts to be flattering and cute, though not very baggy as compared with options like the Endura Humvee Short or the Velocio Trail Access short. Size-wise, Shredly has offered a pretty consistent fit in the Limitless 11'' compared with other Shredly shorts and for a baggier fit, I would likely just opt for a size up, knowing that the compressive and stretchy waistband leaves a lot of potential for sizing up or down depending on which look you are going for.
If you are looking for a well-rounded, durable, cute, but more than anything comfortable mountain bike short, the Shredly Limitless is a great option.
Fabric: 79% Polyamide, 21% Elastane
Inseam Length: 11.5" / 29 cm
Pockets: Two front hand pockets, two side zippered pockets
Blister's Measured Weight: 136 g
Reviewer: 5'9", 167 lbs / 175 cm, 75.7 kg
Size Tested: Large
MSRP: $159
Velocio entered the mountain bike apparel market this summer, and has built a fairly comprehensive lineup of women's and men's mountain bike clothing. The staple short within the lineup is the Trail Access Short, but I have been spending time in the slightly lighter version, the Ultralight Trail Short. I quickly found it to be one of my favorite shorts of the season, and very reminiscent of one of my all-time favorite bike shorts, the 7Mesh Slab Short, though I find the Velocio Ultralight to be just a bit more durable as well as offering some useful details and features.
The Ultralight Trail Short is built of a technical, CORDURA face fabric that feels robust and protective, as well as water-resistant. The CORDURA fabric is milled in Italy, and the shorts themselves are built in Lithuania. The fabric has just enough give and stretch to feel extremely comfortable and flexible while pedaling.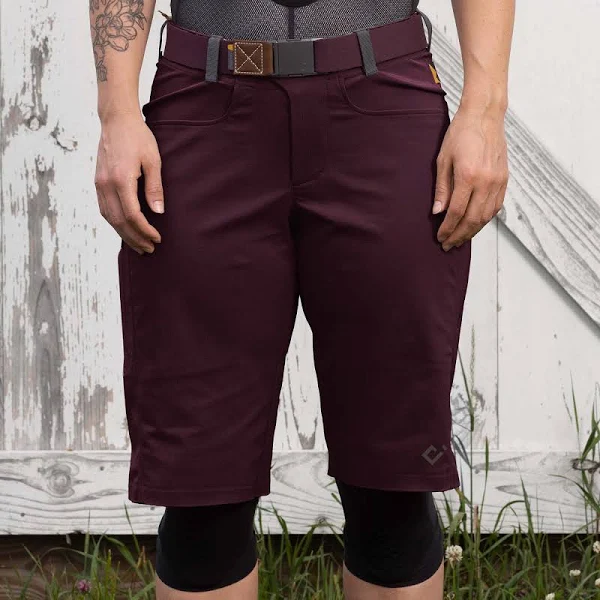 Plus, the shorts are super lightweight and breathable, feeling plenty airy and cool even on the hottest of days.
The details are well-thought-out, which is an aspect of Velocio clothing I have grown fond of having spent loads of time in their gravel and road apparel. The quality is also evident, though the price is also a bit steeper than you'd find for your average bike short. Once you read into the details, most of that cost seems justifiable, and the quality and longevity are also evident.
The pockets, particularly the hand pockets are quite roomy, as are the zippered side pockets. The shorts come with an Arcade stretch belt, which is a really nice touch, and also the perfect belt to accompany a pair of mountain bike shorts, should you need it. There are minimal seams and certainly a smooth and continuous fit without any rub points or areas that create friction, even when spending several hours on the bike. After long days in the short, it has proven comfortable and remarkably smooth against the skin, offering one of the better ride qualities among the options listed here, as it's a short that you kind of forget about while wearing. It's extremely lightweight, but so far, has proven durable.
Always worth noting, Velocio provides a guarantee on all their items: try any of their products and if you are not 100% satisfied, you may return them within 30 days. Offers like this certainly help justify the cost, and after spending plenty of time in the saddle, there is a lot to be said for the on-bike feel of the Ultralight Trail Short.
Fabric: 90% Polyamide, 10% Elastane
Inseam Length: N/A
Pockets: 269 g
Blister's Measured Weight: 2 zippered thigh pockets
Reviewer: 5'9", 167 lbs / 175 cm, 75.7 kg
Size Tested: Large
MSRP: $199
Much of what I said about the Ultralight Short above carries over to the Trail Access Pant, though testing the Trail Access Pant allowed me to see what the heavier fabric of the Trail Access Short would feel like compared with the Ultralight Short.
Overall, I have been quite impressed with the Trail Access Pant, and it quickly stood out as one of my favorite mountain bike pants, mainly due to how lightweight and breathable it is while still being plenting durable and protective.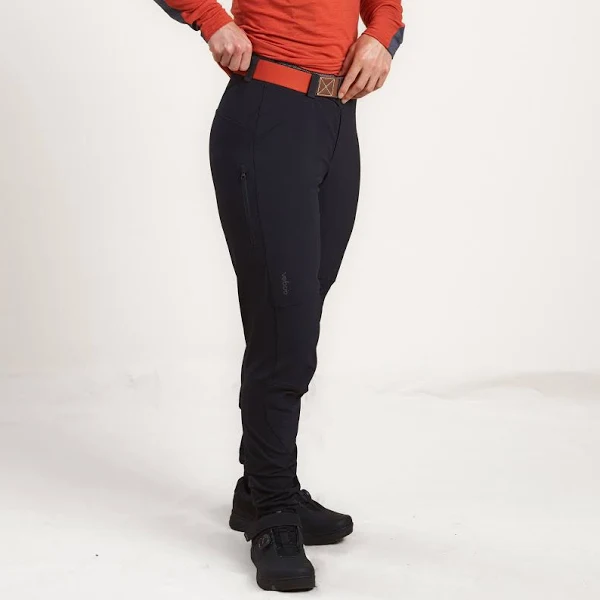 The Trail Access Pant is built from a similar soft-shell-esque face fabric to the Velocio Ultralight Short, but this version is just a tad thicker and built with more polyamide and less elastane than the Ultralight Short. The result is a mountain bike short that moves really well but also doesn't get overly stretched out or baggy with use.
It is also one of the more breathable and comfortable pants to wear in warmer temps, which proved a big deal, given that I mistakenly wore pants several times this summer and found myself overheating in most pairs, aside from the Trail Access Pant (the only exception being the Endura Burner Lite Pant, below).
Most notably, these pants fit knee pads underneath quite well. Add that to the high-quality fabric, and a really comfortable fit, and the Trail Access Pant is accompanying me on an upcoming bike trip to Nepal. I have put the fabric to the test on bikepacking adventures and even a couple of falls and an unfortunate instance of velcro rubbing one spot on the thigh from one of my bikepacking bags for over 40 miles, it has maintained its quality and was barely scuffed despite the wear and tear.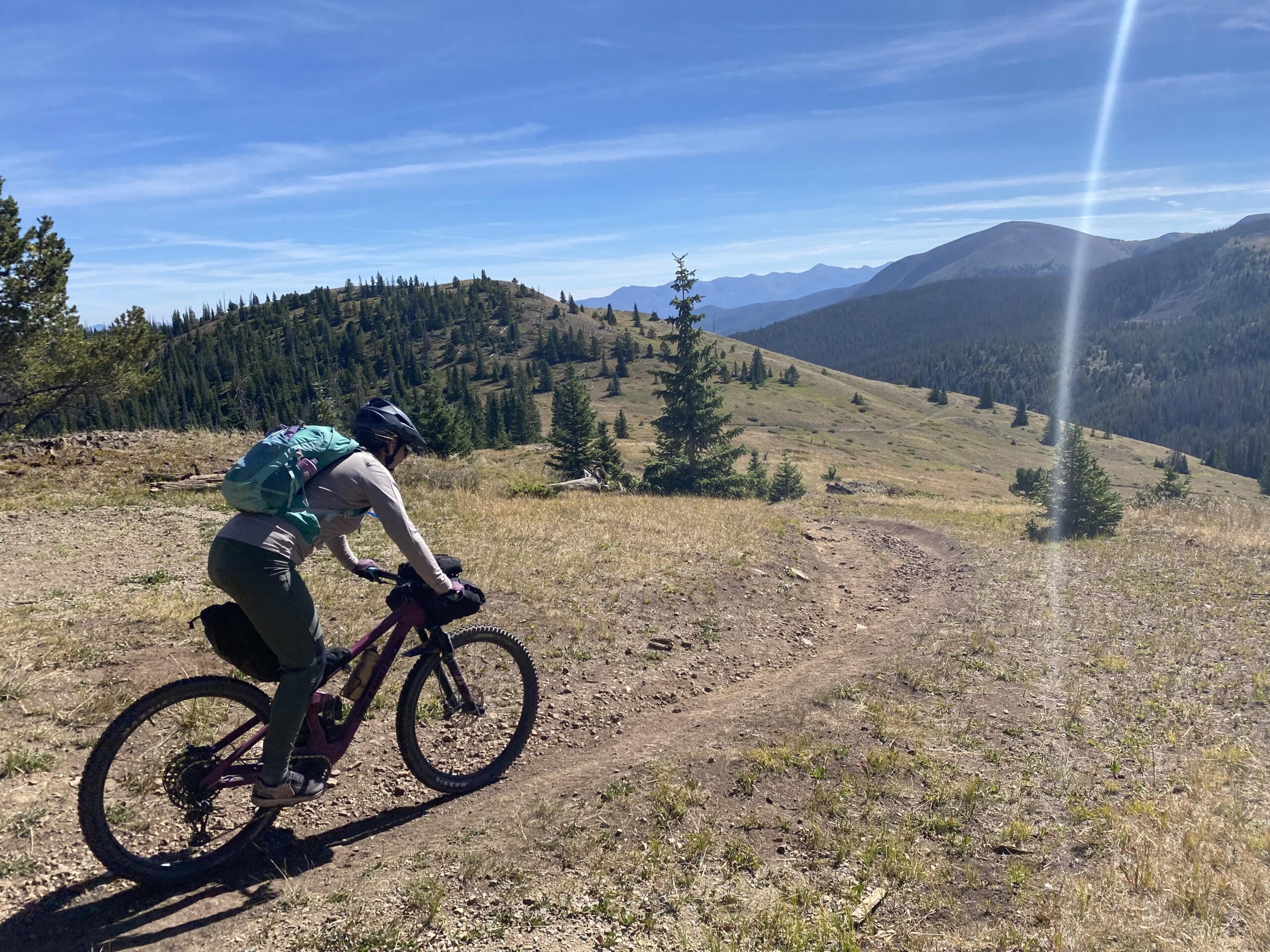 While the main fabric of the Trail Access Pant isn't quite as light or breathable as the Ultralight Trail Short, I find it to be on the lighter side among all the bike pants I have tested. Yet, it's also fairly wind and water-resistant and feels like a burly pant to wear on a ride where you know you might be facing various elements. The knee and inner ankle area also uses a slightly burlier fabric than the rest of the pants, for extra abrasion resistance in those higher-wear areas.
Fit-wise, I have found Velocio to typically run a bit on the small side in their gravel and road pieces, but have been quite pleased with the more relaxed fit of their mountain bike apparel. The Large fits quite comfortably, allowing enough space for knee pads, as mentioned above, but also not feeling too baggy or loose. That said, the fit runs rather slim; the lower legs especially in the calves and ankles I found to be a pretty close fit. Despite this slim fit, it's still quite comfortable in the hips, at the waist, and around the thighs and knees, allowing for a spacious enough fit where it counts.
The Trail Access Pant also comes with an Arcade stretch belt, and I found wearing it to be necessary as the pants do stretch and loosen up at the waist throughout the day. The reinforced fabric around the butt and knees is great, but also adds a nice design touch, since I really like the two-tone look of the Dark Olive and Black colorway.
Among one of the most comfortable, lightweight, and protective bike pants I have spent time in, the Trail Access Pant is a great investment if you want one super versatile bike pant that will last a long time.
Fabric: Durastretch Pro+™ 4-way stretch 92% Polyester 8% Spandex fabric
Inseam Length: 11" / 28 cm
Pockets: 2 small stash pockets and 2 zippered thigh pockets
Blister's Measured Weight: 252 g
Reviewer: 5'9", 167 lbs / 175 cm, 75.7 kg
Size Tested: 10
MSRP: Currently on sale for $49.95 (usually $100)
Cognative MTB was a new-to-me brand upon receiving their Women's Guide Trail shorts, but I was pretty quickly impressed by the comfort, features, and breathability of the shorts. It's a pretty standard mountain bike short, though a little shorter in the inseam than options like the Shredly Limitless or Endura Singletrack Lite. The Guide Trail short stands out for its supremely stretchy material that feels soft and smooth against the skin, and never feels abrasive or restrictive even on long rides.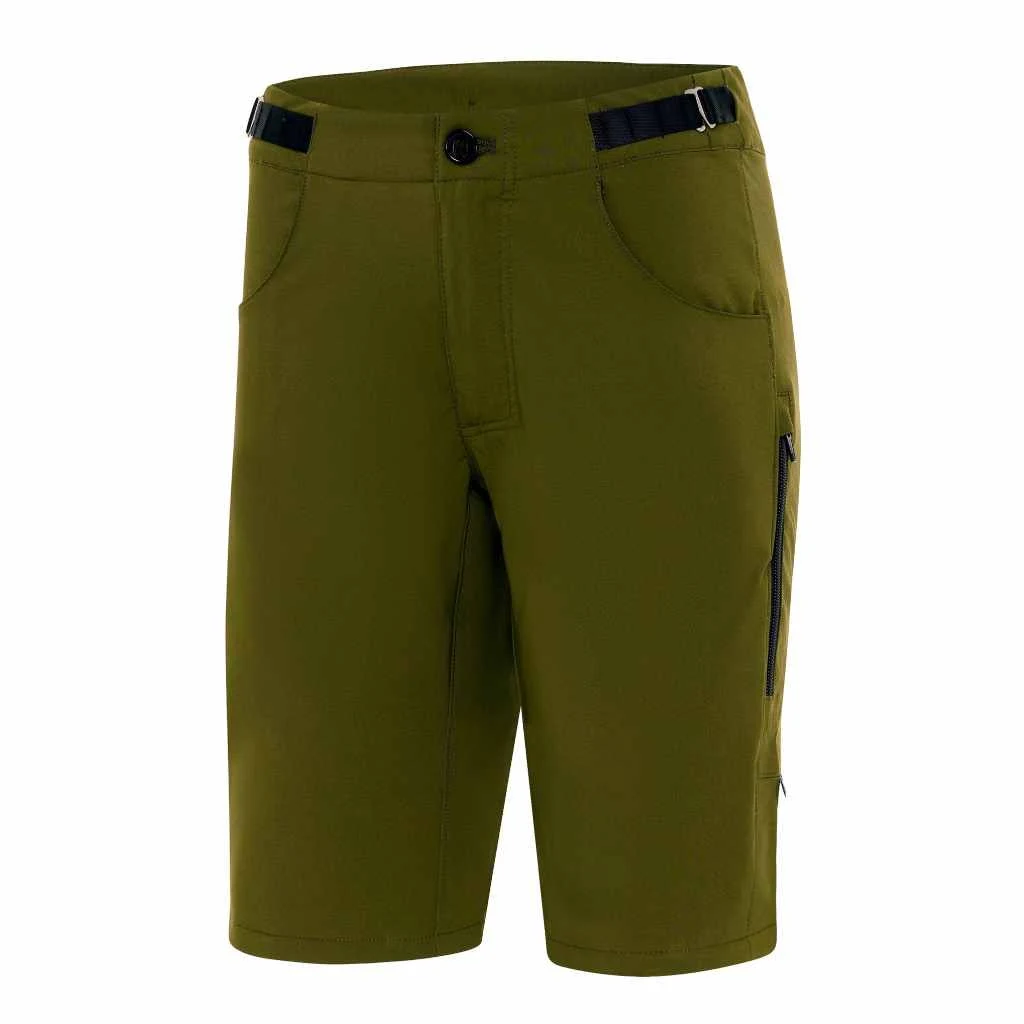 It's also quite breathable and moisture-repellent in terms of water-resistance, though not nearly as moisture-repellent as options like the Velocio Ultralight Trail Short or Endura Singletrack Lite Short. In addition, there is plenty of pocket space, including zippered storage for my pretty large phone. The fit of the Large is pretty loose and relaxed, but the hook and webbing waist adjustment helps close things up at prevent any gapping at the waist. I found the fit around the thighs and butt to be just right, and comfortable, but not too baggy.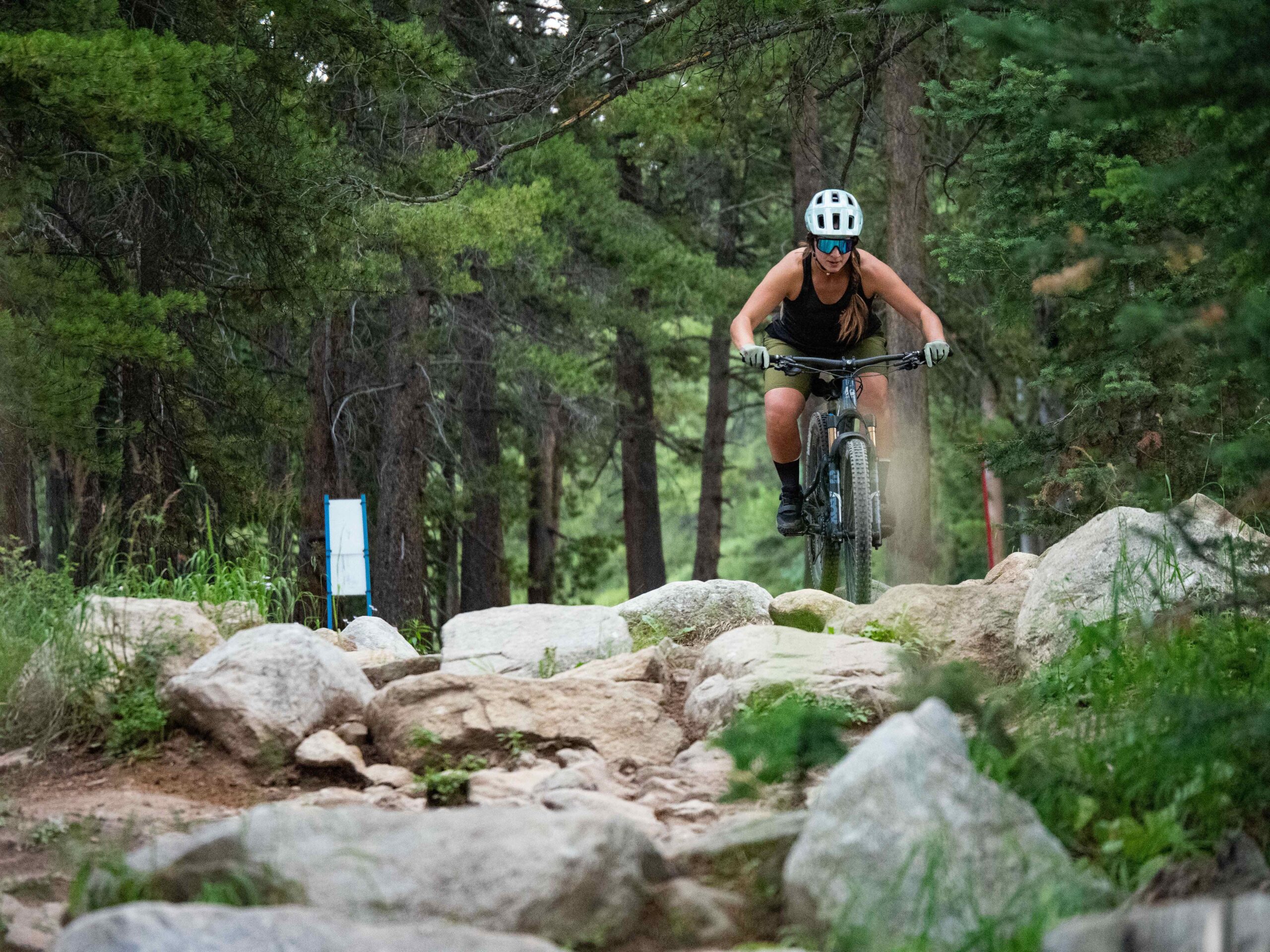 The details are well-designed, and the fit and comfort on the bike are excellent, making the Cognative MTB Guide Trail shorts one of the best options you can get for $100. After plenty of time in the shorts over the last year, I have also been quite impressed by the durability, as the material has no obvious signs of wear or pilling.
All in all, Cognative MTB has designed a practical and comfortable short, and given that it's on sale right now, it's worth a look if you want a versatile mountain bike short at a great price.
Fabric: Fabric 1: 12% Elastane, 88% Nylon / Fabric 2: 100% Polyester
Inseam Length: N/A
Pockets: Two zippered hand pockets
Blister's Measured Weight: 268 g
Reviewer: 5'9", 167 lbs / 175 cm, 75.7 kg
Size Tested: Large
MSRP: $149
Endura nailed it on this bike pant, as I spent a ton of time in the MT500 Burner Lite Pant this summer. As far as bike pants go, the Burner Lite is by far the most breathable and works well for offering protection on hotter days.
The material itself is smooth and comfortable on the skin and doesn't rub at all, which can be a bit of an issue in other bike pants, especially on hot days. It's also equipped with some great holes for venting behind the knee. The Burner Lite Pants are super stretchy and comfortable, in addition to being quite water-repellent and quick-drying.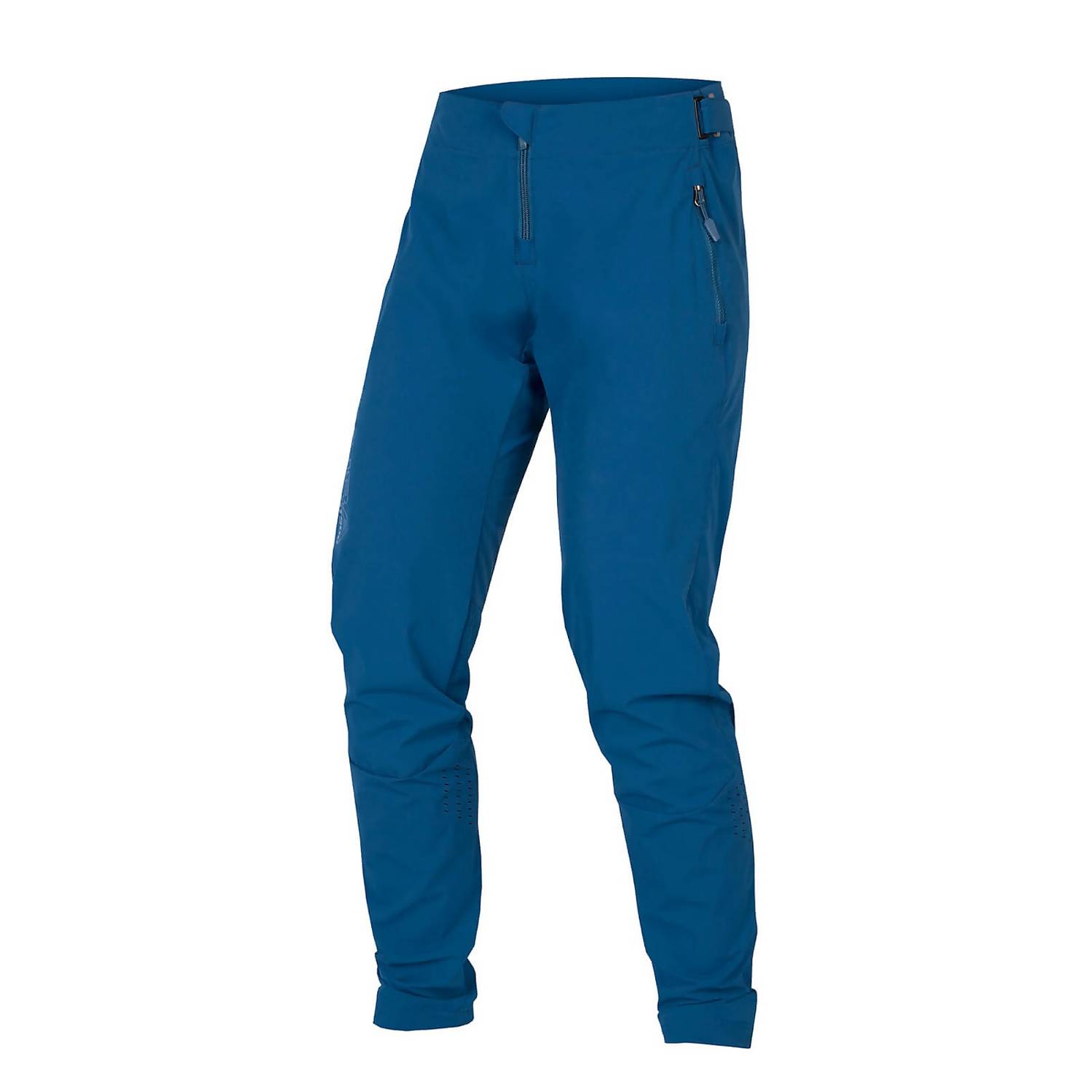 The relaxed fit, especially through the legs and thighs makes it really feasible and still comfortable to wear with a pair of knee pads, and the relaxed fit also attributes to sustained comfort as there is no bunching or rubbing at the knee or thighs. I find the material to glide smoothly on the skin, and since it'a so breathable and lightweight, it also doesn't create much perspiration, so the Burner Lite Pants can feel good all day even when temperatures are rising.
And despite all this, I have also found it to be extremely durable. From snags to rubbing on bikepacking bags, to just a lot of use and abuse this summer, the pants still look like new. The design in regard to features and waist closure is quite simple, but it all works quite well. With two generous zipped hand pockets (large enough for my phone), and a simple button closure with velcro adjustment at the waist, this is by no means a feature-laden pant, but it has everything I find necessary while keeping a lightweight and simple design. It's the lightest bike pant I have spent time in, which again, makes it a great option for hot days.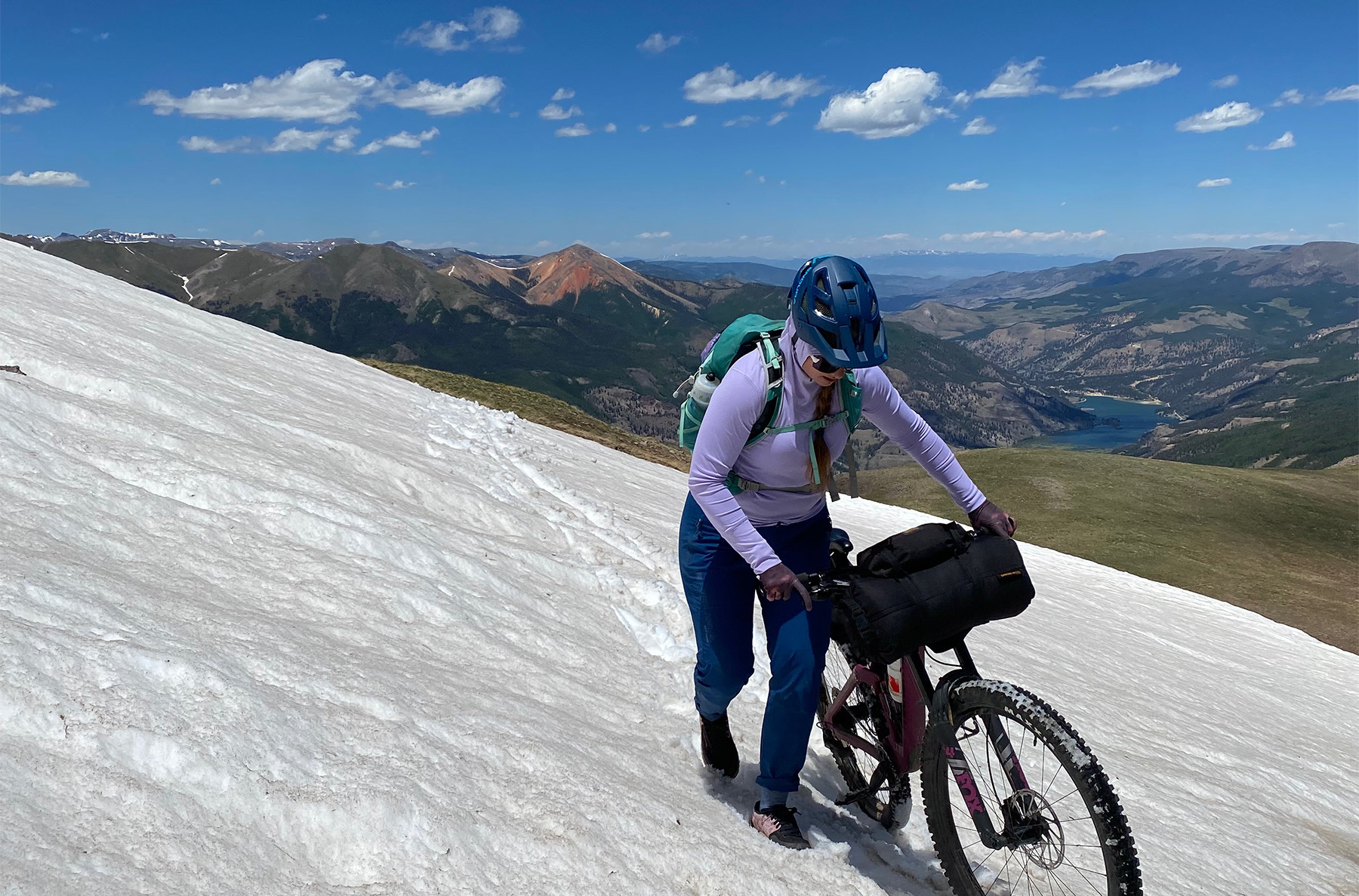 I found the Velocio Trail Access Pant to be a bit better in terms of protection, particularly on cold or windy rides, as well as a bit more water-resistant while still being highly breathable. The Burner Lite pant is a lighter, slightly more breathable option that still offers decent protection. The Burner Lite Pant is also a more relaxed fit throughout, particularly in the thighs, knees, and around the lower leg / calves. If you want the protection of bike pants but are in fear of overheating or feeling too sweaty, the Endura Burner Lite pant is an excellent choice.
Fabric: 85% Nylon, 15% Elastane
Inseam Length: 13.5" / 34 cm
Pockets: Zippered hand pockets and rear security pocket
Blister's Measured Weight: 217 g
Reviewer: 5'9", 167 lbs / 175 cm, 75.7 kg
Size Tested: Large
MSRP: $119
The Endura Singletrack Lite Short feels like a pretty classic and ideal mountain bike short that splits the difference between practical and protective but also comfortable and stylish. For someone who is looking for a well-rounded mountain bike short that provides most everything, the Singletrack Lite is a solid option, and at a good price.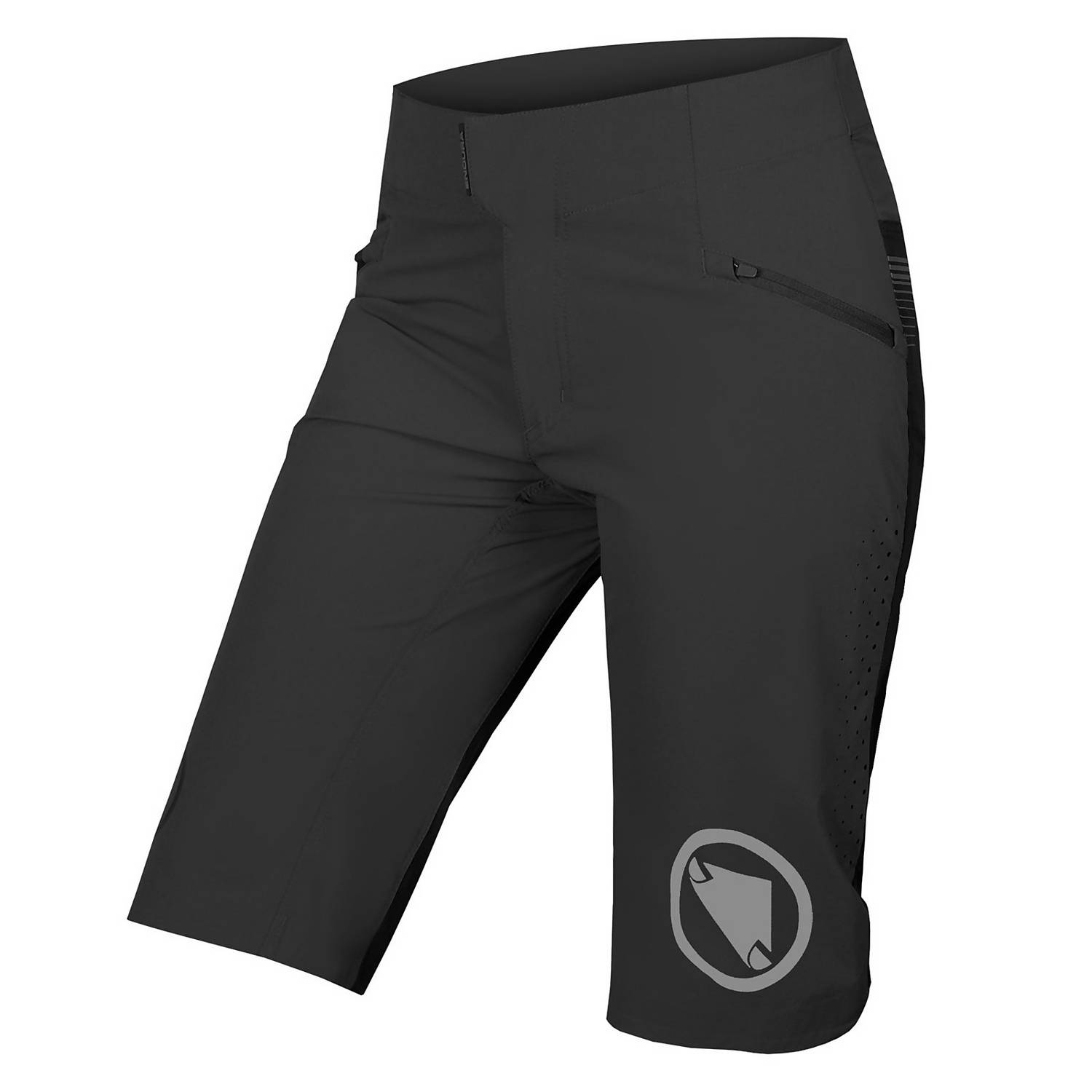 With a slightly thicker material than the Velocio Ultralight Trail Short, the Singletrack Lite Short has proven robust and resistant against snags or worse yet, falls. The Singletrack Lite Short is also not nearly as breathable as the Ultralight Trail Short, nor as quick-drying, but it still does a fairly good job of repelling water and doesn't get overly soaked, as I can attest to after wearing it on a couple of wet rides this summer. It is a tailored short that I wouldn't classify as a super baggy mountain bike short, but it is still baggy enough to wear with knee pads without any weird gaping between the short and the knee pad.
Fit-wise, I have found a Large in Endura models such as the Humvee short and Humvee Lite ¾ to be super baggy and loose, whereas when compared with the Singletrack Lite short, a size Large offered a perfect fit. It's not nearly as relaxed or baggy as Endura's Humvee shorts, but it does offer plenty of stretch. The waist also has velcro adjustments, which I found useful, as the short tends to loosen up a bit between washes.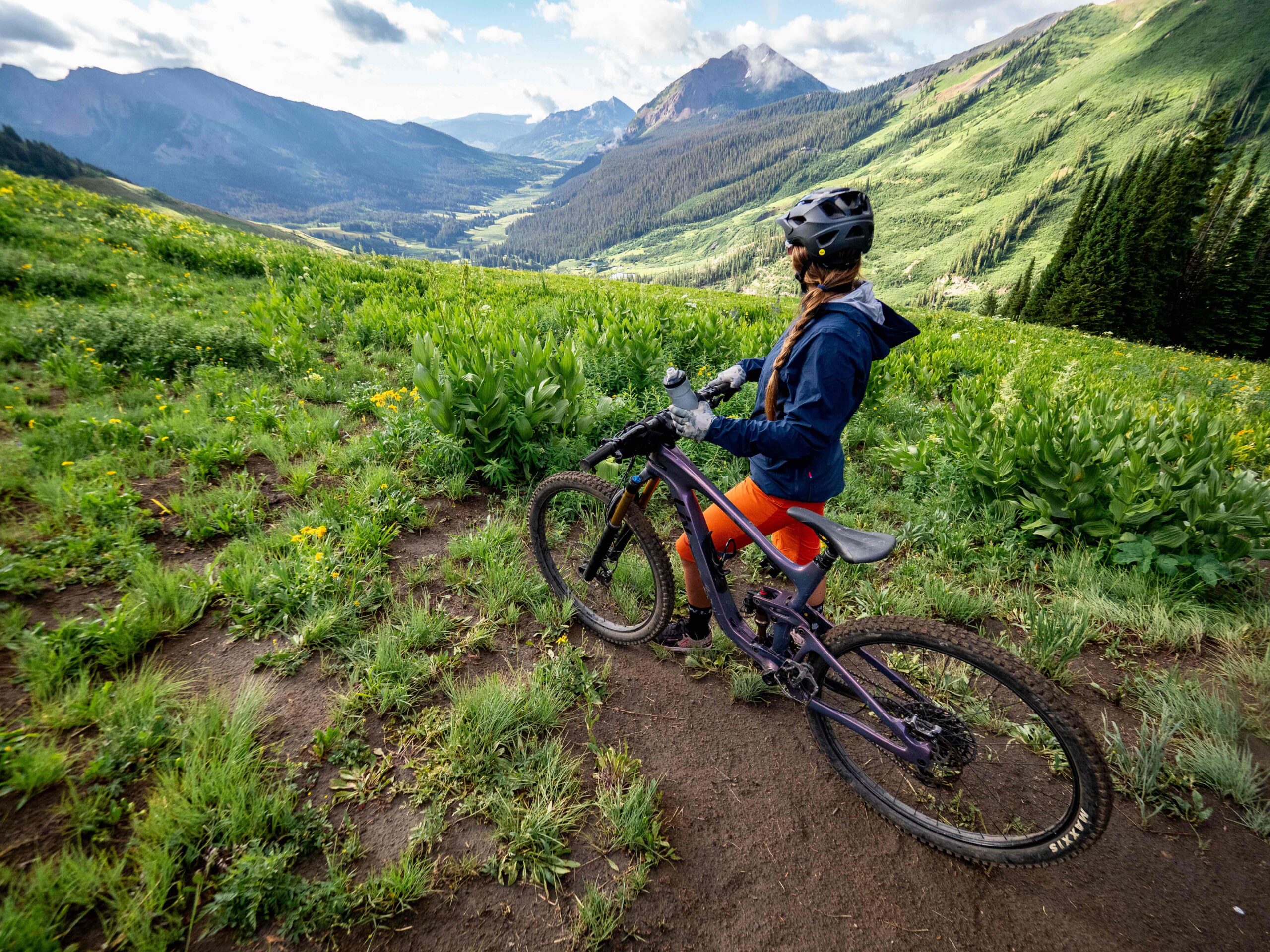 The Singletrack Lite short is a comfortable, durable, and technical short that offers a nice balance of protection to breathability. And while there are shorts that are a little more stretchy, or a little lighter and more breathable, the Singletrack Lite is well-situated in the middle of what I am looking for out of a good short that will last a long time.
Fabric: 100% Nylon, Liner: 100% Nylon
Inseam Length: 10" / 25 cm
Pockets: Zippered hand pockets, cargo pockets, large rear pockets, 2 zippered thigh vents
Blister's Measured Weight: 476 g w/ liner
Reviewer: 5'9", 167 lbs / 175 cm, 75.7 kg
Size Tested: Large – regular
MSRP: $99
The Endura Humvee Short with Liner has been around for a really long time, and hands down, it makes perfect sense as a first-time mountain bike short, especially since it's equipped with a chamois, all for less than $100. I spent some time in a pair a few years back, and it was good to refresh my memory on why this is a great short for someone looking to invest in a short and chamois without breaking the bank. It's a pretty simple short, yet it still offers plenty of pockets, and two zippered thigh vents which are great, especially considering that the material itself isn't all that breathable.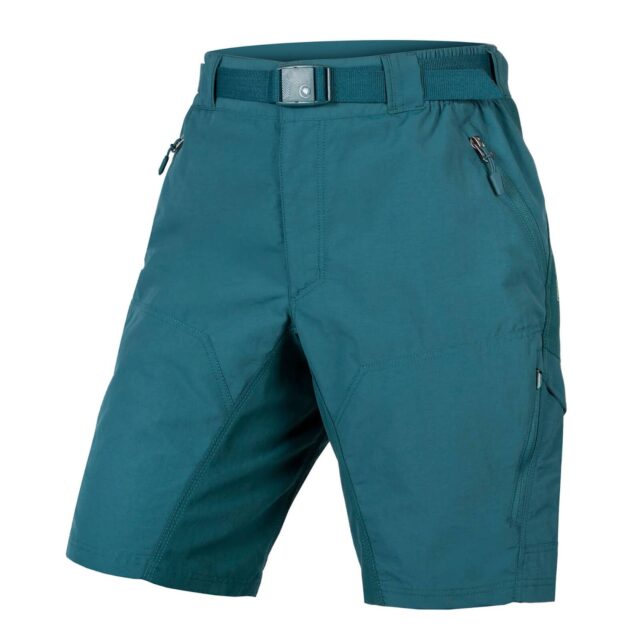 Another note on the material, this is not a stretchy nor flexible short, especially compared with most of the options listed here. The material doesn't offer much give, and during long pedals, it can actually feel a bit restrictive, despite how loose it is. It's also a slightly abrasive material which I found to cause a bit of chafing during long pedals. I think the non-stretchy aspect of this material makes sense given the price point, and it's certainly a very robust fabric that will likely last forever, but when compared with most of the alternatives, it doesn't come across as a super comfortable bike short. This short is timeless in the sense that it's super burly, pretty loose, has all the features you need, etc., but when compared with all the other options out there, it definitely isn't going to give you the most comfortable or technical fit or fabric.
In regard to fit, the Humvee Short is your average baggy mountain bike short, offering a loose and comfortable fit. The liner that the short comes with snaps in, helping to keep it in place as well as offer a sort-of "2-in1" short. I found the liner to be a little tighter and more awkward fitting than other Endura chamois I have spent time in. The Humvee outer short, though, is super baggy and loose, especially in the waist, butt, and thighs. The pocket space on this short is also crazy impressive, with six pretty functional pockets, most of which are zippered.
I think shorts like the Humvee certainly have a place, and I think it's excellent to have such an affordable short that will seemingly last forever, but if you are prioritizing comfort and stretch, I would look elsewhere.
Fabric: Short: 95% Nylon, 5% Elastane. Liner: 84% Elastane, 16% Nylon
Pockets: Front hand pockets and zippered back pocket
Blister's Measured Weight: 528 g w/ liner
Reviewer: 5'9", 167 lbs / 175 cm, 75.7 kg
Size Tested: Large
MSRP: $110
Much of what was said above in the Humvee Short can be transferred to the three-quarter length version, a baggy, knicker-style short. It also has a slightly different material composition, providing a bit more stretch, as well as a lighter and more breathable feel.
The result is a super protective short which I found optimal for bike park riding or techy descents. The Humvee Lite ¾ is perhaps even a bit baggier than the Humvee Short, and I found it to move better on the bike, without as much bunching or rubbing around the thighs. And while it's still not a super stretchy or smooth material, the Humvee Lite is quite a bit more comfortable due to its stretchier feel and more breathable material.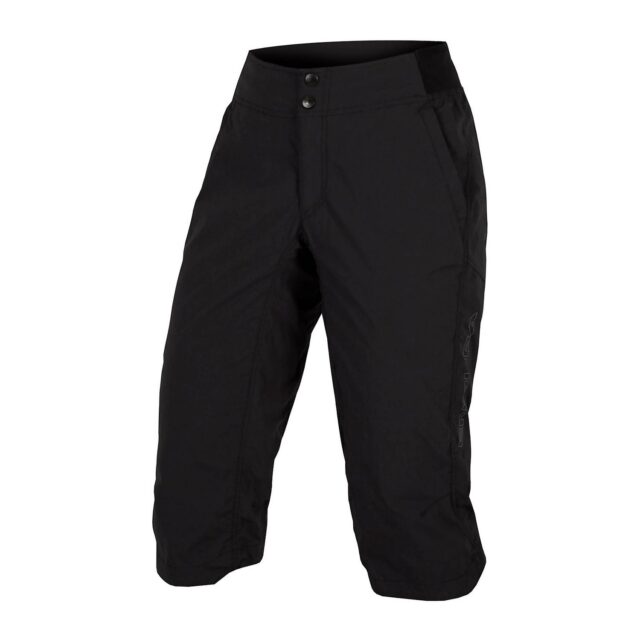 The Humvee Lite ¾ is equipped with a similar chamois to that of the Humvee Short, which again, is a great addition for the price. Both of these Humvee shorts come equipped with Endura's "Series 200" chamois, which is on the slightly thinner side but still offers some decent protection for shorter rides. While I still don't find the chamois to fit quite as well as Endura's many a-la-carte chamois options, it works pretty well, especially if you are using it for a more downhill-oriented ride, which again, seems like the right choice in this short, especially considering how heavy and robust the Humvee Lite ¾ is.
It's a pretty heavy and burly short, as well as super baggy. The Large is one of the roomier shorts I have spent time in. If you are looking for the protection and coverage of the Humvee Lite, but don't want a super loose and baggy short, I would recommend sizing down.
The Humvee Lite ¾ is built with front hip pockets and a zipped back pocket. The hip pockets are quite specious, but the short is also loose enough for me to be concerned with losing items out of these pockets.
I think the Humvee Lite ¾ is most optimal for someone who is looking to prioritize protection above all else, but still wants a quality short without breaking the bank.