The winner of our Gear Giveaway this week will get a sleeping bag, sleeping pad, and pillow from Zenbivy!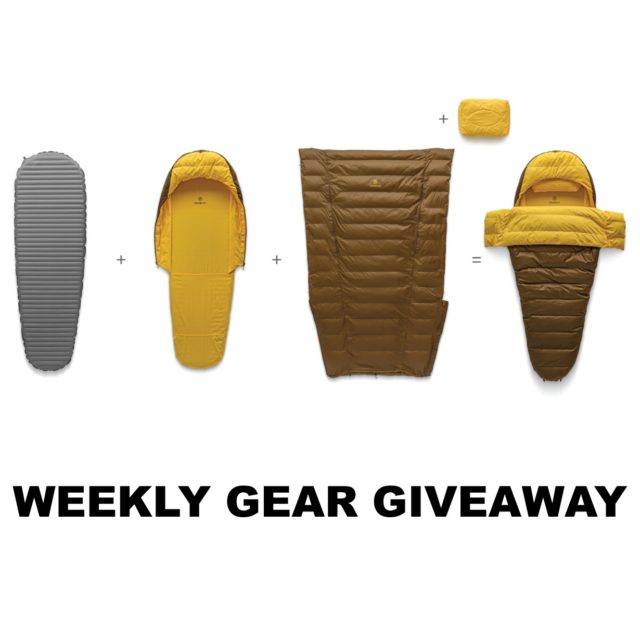 If you're not familiar, Zenbivy makes a variety of sleep systems designed to make your nights in the outdoors as comfortable as possible. It starts with their original Zenbivy Bed — an insulated layer that you can use both as an open, quilt-style layer or cinched like a traditional, mummy-style sleeping bag. You can then attach the blanket / bag to the sheet / hood that is wrapped around the Zenbivy Flex Mattress — an air / foam hybrid pad with a stretchy, soft upper material and a cold-weather-friendly R-value of 5. To round it out, you'll also get one of Zenbivy's ultralight, packable, yet soft pillows.
Our reviewer, Kristin Sinnott, recently started using the Zenbivy system and has come away with some very positive initial impressions, most notably regarding the secure integration between the pad, sheet, and blanket, and the versatility of being able to use it like a quilt or traditional sleeping bag. In her words, "it definitely feels more like sleeping in a bed than most other options I've used."
Enter before Friday, August 7th for your chance to win!
(Winners will be chosen at random and announced next Friday in our Blister Newsletter. Must be 18 or older. Winner will get a Zenbivy Flex Mattress, one of their Zenbivy Beds, & one of their pillows.)
By entering, you'll receive our bi-weekly Blister newsletter, where we'll (a) announce each week the winner of our previous Gear Giveaway, (b) provide a roundup of the news and our highest-profile reviews of the past few days, and (c) offer sneak peeks of the products we're currently reviewing. It's good times for sure, so don't miss out. You'll also be kept up to date on what's new at Zenbivy.