While they're not for everyone, many riders prefer the combo of flat pedals + flat shoes for a variety of reasons. Compared to their clipless counterparts, flat-pedal shoes tend to grip and walk better when off the bike; they can often be more comfortable during longs days on and off the bike; many of them are less expensive than their clipless counterparts; and some people just want to be able to get their feet on and off their pedals as easily as possible (whether that's to do cool tricks, or for most of us, to avoid eating dirt).
Despite their relative simplicity compared to clipless shoes, the flat-pedal shoes of today are more varied than ever, and there are several important factors to consider when choosing your next flat shoe. In this roundup, we're comparing several of the different flat shoes that we've been using over the past few seasons and highlighting what makes them stand out, where they excel, where they do not, and hopefully help you figure out if they'd work well for you.
As always, this is by no means a complete guide to the whole category — and we will be reviewing more shoes from more brands in the future. These are simply the shoes that a few of our reviewers have been using a lot, and we're curious to hear in the comments about your favorite flat shoes, and why you like them.
[And if you want to read about which pedals our reviewers use, and why, check out this article.]
Rubber Compound: Stealth Mi6
Upper: synthetic leather & woven fabric
Size Tested: 9.5
Measured Weight per Shoe: 422 grams
MSRP: $150
Pedals Used: DMR Vault
Test Duration: 2 years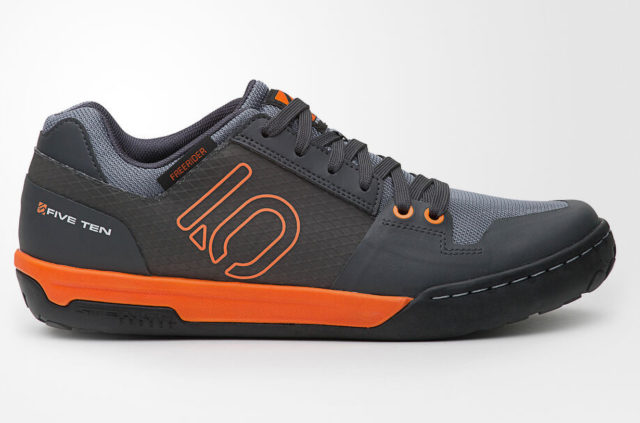 Ben Sims: The Five Ten Freerider Contact is touted as Five Ten's most grippy flat-pedal shoe, and it's filled that role for a few years now. To back up that claim, it uses the brand's softest rubber, the Stealth Mi6 compound. They then form that soft rubber, under most of the sole, into a smooth lack of a tread that resembles a racing slick. The effect is similar. So let's dispense with any ambiguity upfront — the Five Ten Freerider Contact is extremely adept at keeping your foot on the pedals.
But does that automatically make it the ultimate all-mountain flats shoe? Not necessarily. As with everything in gear, there are tradeoffs that make this shoe better for some than others, and vice versa.
For reference, I've ridden the Freerider Contact for the better part of three seasons, dating back to June of 2018. In that time, I've come to appreciate that I can trust the shoe to keep my foot planted firmly in the concave embrace of my also-very-grippy DMR Vault Brendog pedals. Despite our easy-going aesthetic, I find that mountain bikers are a finicky bunch when it comes to equipment. We tend to discover what we like and search endlessly for whatever else it may be that causes those familiar and comfortable feelings while riding our bikes. It's no different for me and my preference for shoes and pedals. The Freerider Contact / Vault combination of shoe and pedal has been my go-to for a while now (and easily my favorite that I've ever tried), and I'm relatively loath to test anything that takes me away from that combo.
With my confession out of the way, I'll say that the Five Ten Freerider Contact does have some shortcomings. Just as I enjoy the comfort and walkability of the Five Ten Trailcross LT (see below), the Freerider Contact is on the other end of the spectrum. On at least a dozen occasions I've completely lost grip while walking in them on loose gravel or on wet dirt. I'm not happy to admit that crashing while walking on sketchy ground is almost as prevalent as crashing while riding on sketchy ground when I wear the Freerider Contacts. The fairly stiff sole and smooth tread underfoot make it especially difficult for the shoe to affect any sort of mechanical grip in those conditions. However, in dry conditions on rocks (particularly those without a layer of dirt / dust on them), the shoes do have solid grip, much like a soft, smooth-soled climbing shoe would.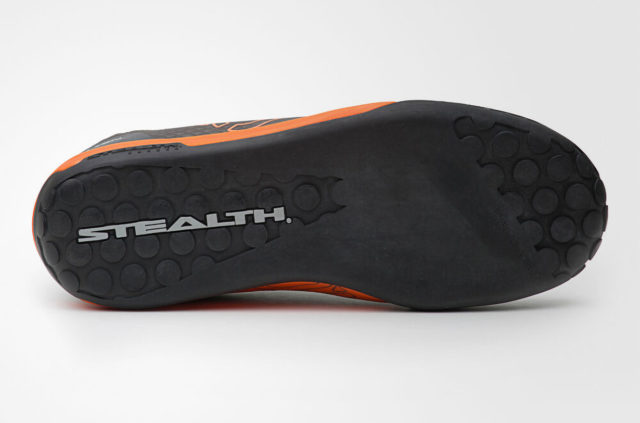 My feet also get pretty hot in the Freerider Contact. Combine that heat with a distinct lack of ventilation, and you get sweaty feet. In fact, on some occasions I can see condensation droplets on the inside of the translucent plastic side panels on the shoe. A quality pair of wool socks does mitigate this issue to a degree. The Freerider Contact also has a tendency to take a while to dry if it gets wet. I've ridden through puddles or creeks numerous times where it took a considerable amount of time for the shoes to dry; sometimes they were even damp the next morning.
[David Golay: I've also spent a lot of time in the Freerider Contact, and while I totally agree with everything Ben has said so far, I want to add an extra note on his last point. I mostly ride clipless through the summer months in Washington state, and switch to flats for the winter. I go into more detail as to why in our Which Mountain Bike Pedals, and Why? Article, but as a shoe I'm mostly wearing in wet PNW winters and / or when building trail, a major selling point of the Freerider Contact is its partially rubberized, mostly synthetic upper. As Ben described, the perimeter of the upper has a rubbery coating that's nearly waterproof, but the top of the tongue and toe box is a more standard synthetic woven fabric. The result is that they strike a really good balance of water resistance when stepping in shallow puddles and the like, without being total sweatboxes. This does mean that they're also really slow to dry once you do get them wet, but for my use, it's a really nice middle ground.]
After those issues, why would anyone want the Five Ten Freerider Contact? In three words: grip, predictability, durability.
The Freerider Contact is among the most grippy I've ever used as a flat-pedal rider. This is somewhat dependent on the pedal that a rider uses, but the shoes also need to have a distinct combination that allows for the pins and pedal shape to work well. The softer Stealth Mi6 rubber is very soft and tends to really hold onto the pins. But equally or arguably more important, the Freerider Contact's lack of tread underfoot means that the shoe is free of obstruction to the pins and the pedal shape. The sole sort of forms into the pedal while the pins push into the soft rubber.
The feeling of prodigious grip also translates into pedaling itself. It's pretty easy as a recovering roadie for me to use the "scrape the gum off your shoe" technique while trying to keep my pedal stroke efficient on fire roads and smoother climbs, and the Freerider Contact certainly helps with that.
The amount of grip, combined with the smooth tread, also make for a very predictable feeling of foot placement and repositioning of the foot. As I said, there isn't any tread interfering with the rider moving or twisting their foot a certain way. For me, this is a welcome feeling in technical downhill terrain where I might need to correct my foot position without losing contact with the bike. As Luke Koppa discusses below in his reviews, foot-placement adjustability can be a bit subjective, since some people prefer a less sticky outsole that makes it easier to move your feet around on the pedals. But for me, the Freerider Contact offers my ideal blend of pedal grip and predictable foot adjustability.
The Freerider Contact has also laughed off plenty of impacts, scrapes, and just general hard use. I'm certain it saved me from a broken toe or three on infamously rocky Dakota Ridge in Golden last summer, thanks to its fairly high rubber toe cap. And the sole itself, soft as it is, has held up surprisingly well. After 2.5 seasons it's definitely worn down a bit and the rear center pin of the Vault is starting to get a bit deep in the rubber, but I've not worn through it yet. I've heard outside reports of sole durability being a concern, but I haven't had any issues in over two years now. And in this reviewer's opinion, shoes are like tires — the rubber is meant to wear. The fact that I'll likely get at least 3 full seasons out of the Freerider Contact — again, which uses Five Ten's softest bike rubber compound — is quite impressive.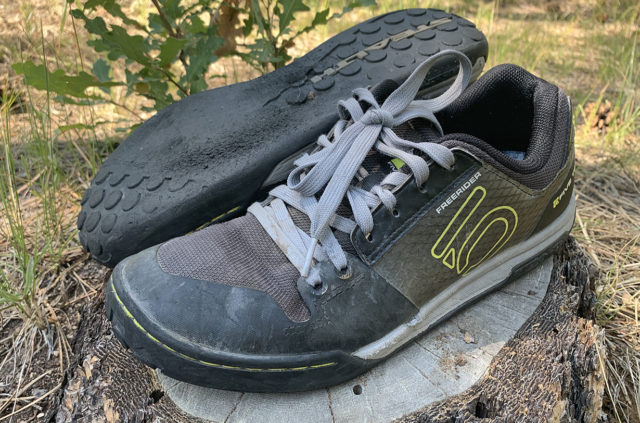 The Freerider Contact is clearly built in the more traditional aesthetic of a skate-style flats shoe. But to me, this isn't an unwelcome aspect of the shoe. This tougher, more substantial style of building the shoe also lends a certain heft and lateral stiffness to the shoe when using your feet to steer the bike. That said, on the scale, the shoe really isn't that much heavier than other flats shoes, coming in at 422 grams per shoe for a US Men's size 9.5.
The Freerider Contact should be on your shortlist if a more substantially constructed, exceptionally grippy, and pretty durable shoe is what you're after. Perhaps even doubly so if the smooth sole and very soft rubber add to the appeal. But if you need sure-footedness or a higher level of comfort off the bike, or perhaps something that is more breathable and dries quicker, there are much better options.
Rubber: Rubber Kinetics DST 4.0
Upper: "welded microfiber" w/ D30 impact-protection inserts around heel collar
Size Tested: US Men's 10
Measured Weight per Shoe: 443 g
MSRP: $150
Pedals Used: RaceFace Chester, Deity Deftrap
Test Duration: 1.5 years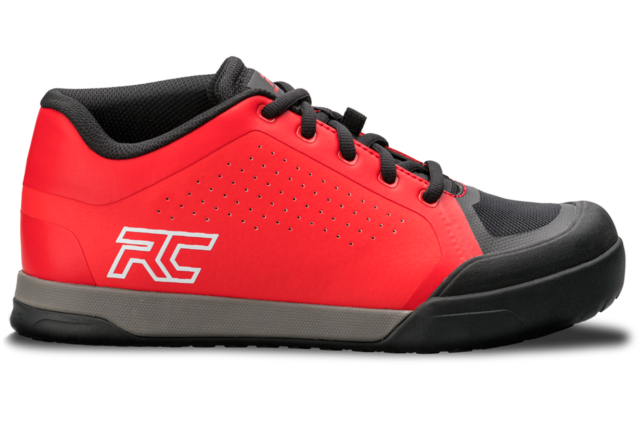 Luke Koppa: Ride Concepts is still technically a relative newcomer to the bike-shoe market, but they've quickly established themselves as serious contenders and the founders of Ride Concepts already had a lot of experience in the mountain bike and mountain bike shoe industries before they started their own brand.
Their Powerline is a mid-height, flat-pedal shoe that features a unique construction compared to shoes from most other brands, as well as Ride Concepts's stickiest rubber, "Rubber Kinetics DST 4.0."
When I first saw the Powerline, I initially thought it was just a gravity shoe that I'd only use in the bike park. But Ride Concepts include it not only in their "Downhill / Gravity" section, but also their "Enduro / All-Mountain" and "Trail / Cross Country" sections. Having now spent a season and a half riding it, with most of that time outside of the bike park, I think they actually have some solid rationale behind that broad-ranging placement.
First, this is the only mid-height shoe here, and that's worth highlighting. But the Powerline doesn't just have extra fabric, Ride Concepts also added some D30 material around the asymmetrical ankle collar (higher on the inside, lower on the outside). D30 is often found in many knee and elbow pads due to its ability to remain flexible in most scenarios but firm up and protect you in the case of a high-force impact. While I can't objectively say that the Powerline's D30 inserts at the ankle were noticeably more protective than a non-D30 material (mostly cause the other shoes I use are all low-cut), I've learned to trust that material in other products. And from a subjective standpoint, the Powerline's ankle collar just feels very nice, pliable, and comfortable.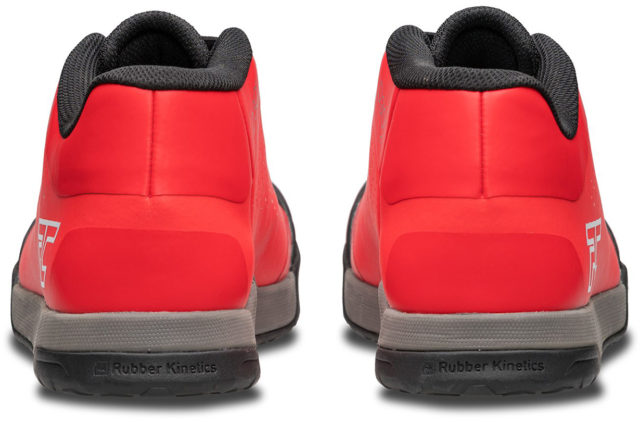 And there's more D30 material in the Powerline, specifically under the ball of the foot and under the heel of the insole. Ride Concepts says the goal of this was to absorb impacts and decrease fatigue in those high-impact areas, and I'd say the Powerline, overall, does do a very good job of muting out impacts. For additional protection, the Powerline has a very substantial rubber overlay around the toe box, and it's the shoe I trust most when I want to use my feet to really test the theory of whether or not trees do, in fact, move.
That said, some of the Powerline's impact absorption could also simply be due to the Powerline's stiffer, fairly thick midsole — it's a bit stiffer longitudinally than any of the other shoes I reviewed here (Five Ten Sleuth, Five Ten Sleuth DLX, DZR Shift). The Powerline is far from an unbendable 2×4, particularly around the ball of the foot, but it does feel more efficient on the pedals and doesn't feel quite as comfortable while hiking up steep hills vs. the softer shoes I've been using. The other side effect of this is that the Powerline offers the least amount of pedal feel / sensitivity of the shoes I used, though I quickly adjusted to that and I can still feel quite connected to my pedals in the shoe.
[David Golay: I got a couple days in the Powerline and really want to echo what Luke said about the impact absorption of the shoe — it's outstanding. When I read about the D30 inserts in the insole, I thought it sounded gimmicky, and to what extent they deserve credit for the cushioning is hard to separate from the rest of the shoe overall. But whatever the cause, the Powerline really does stand out in this regard.]
The Powerline also stands out due to its upper. It uses a water-resistant, leather-esque synthetic material through most of the upper, with more breathable mesh used for the toe box, tongue, and lining. On one hand, the Powerline is the best shoe I used in terms of initially resisting water absorption when, for example, brushing past dew-covered vegetation or stepping in shallow puddles. On the other hand, it's also probably tied with the Sleuth DLX in terms of being the slowest to dry once I get it fully soaked (again, of the four shoes I'm reviewing here). While it'll repel moisture for a bit, once that moisture gets inside the Powerline, it is quite slow to evaporate.
While it doesn't dry super quickly, I have been surprised by how rarely my feet get hot in the Powerline. The mesh tongue and toe box are right over the top of my foot, and I think they're a bit part of what makes this shoe breathe / vent better than I'd expect. Especially for a mid-height shoe with solid protection and decent weather resistance, I think the Powerline breathes quite well.
Another surprising thing about the Powerline was how light it felt. When I first saw it, I thought it'd be really heavy, mostly based on handling similarly big-looking shoes like the Five Ten Impact. But at 443 g per shoe for a US Men's size 10, the Powerline is not drastically heavier than my other low-cut shoes, and it actually feels lighter on my feet than the Sleuth DLX, which I guess might come down to fit, since the Sleuth DLX is objectively lighter in the same size. The main point is that the Powerline does not feel as heavy, clunky, or bulky as I would think, given its increased coverage.
Now, one of the biggest considerations when picking a flat-pedal shoe is the outsole grip. Overall, the Powerline's traction on the pedals is quite good, but given that it uses Ride Concepts's highest-grip rubber compound (DST 4.0), I was a bit surprised that it didn't feel even stickier than it does.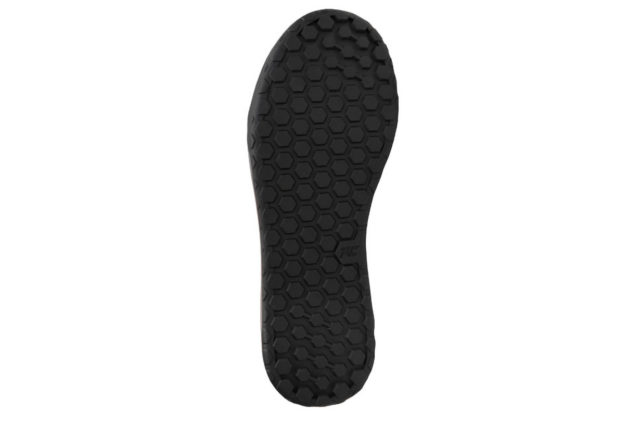 I did many rides with the Powerline on one foot and the Sleuth DLX (which uses Five Ten's Stealth Phantom rubber) on the other to really get an idea of the differences, and that was interesting. Particularly, the Powerline's rubber seems more sensitive to temperature — when I was riding it in temperatures around 30°F / -1°C, the Sleuth DLX's Stealth Phantom rubber felt substantially stickier. But then I got back in the Powerline in more "typical" biking temperatures (basically anything over 45°F / 7°C), and the differences were more subtle. The Stealth Phantom on the Sleuth DLX is still better overall in terms of sticking to my pedals / pins, but I wouldn't say it's a night-and-day difference.
As I touch on below in my review of the Sleuth DLX, I've actually ended up preferring the Powerline for most of my rides because it does not grip quite as much, but still grips as much as I personally want. I like that I can shift my foot position a bit more easily in the Powerline, while still not running into issues of my feet frequently bouncing off the pedals in rough terrain. Again, there are plenty of people who just want a really sticky rubber, and I think those people should still look to Five Ten's Stealth Mi6 and Stealth S1 / Phantom compounds. But if you're like me and actually prefer a bit less grip in exchange for easier foot adjustments, the Powerline's DST 4.0 rubber compound offers a really appealing combo.
There's a chance that the Powerline's hexagonal tread pattern also plays a role here, since its hexagons are smaller but with more open "channels" or "slots" between them, compared to Five Ten's Micro Dotty pattern. Maybe that's also why I find it easier to shift my feet around on my pedals / pins, but I think it mostly comes down to the rubber (the Stealth Phantom rubber just feels like it doesn't "let go" of the pins as readily).
One aspect of the Powerline's hexagonal tread pattern that is noticeable is how it performs off the bike. While its lugs are similarly short around the middle of the shoe (i.e., pedal area) vs. the Five Ten Micro Dotty tread, the Powerline's lugs feature deeper channels at the end of the toe and heel, with the goal of increasing grip in those spots when walking off the bike. The Powerline still isn't amazing when walking on loose conditions like mud and gravel (e.g., most of my trail running and hiking shoes are notably better), but it is a bit more reliable than the Five Ten Sleuth DLX, so I think the Powerline's tread design goals were achieved to a certain degree.
As for fit, the Powerline feels a bit wider through the midfoot and toe box than the Five Ten Sleuth and Sleuth DLX, and the Powerline did a great job of securing my low-volume ankle and instep while still allowing enough space for my wider midfoot. Maybe it's just the fit, or maybe it's the shoe's overall construction, but the Powerline is extremely comfortable on my feet.
After roughly 50-60 days of riding, the upper of the Powerline looks almost new, apart from some superficial scuff marks. Its sole definitely looks like I've been riding with it for almost 2 seasons, but the outsole wear is about the same as the Stealth Phantom sole on the Sleuth DLX after a similar amount of use. There are plenty of little pin-prick marks, but all of the lugs are still structurally sound and the thickness of the Powerline's rubber hasn't worn down very much at all so far.
Overall, the Powerline is a very solid option for people who (1) want some of the added protection of a mid-height shoe, (2) don't want that to come with a bunch of extra weight, bulk, or extremely poor breathability, and (3) don't demand the absolute highest-grip rubber. If you know you love, for example, Five Ten's ultra-sticky Stealth Mi6 or Stealth S1 / Phantom rubber, the Powerline's DST 4.0 rubber isn't going to completely match that grip. But if you're alright with trading a bit of grip for easier on-the-fly foot adjustments — and the rest of the Powerline's design sounds appealing — it definitely warrants consideration. While I initially thought it'd be a niche shoe in my quiver, the Powerline has become my go-to for most of my rides.
Rubber: Stealth Phantom
Upper: suede leather
Size Tested: US Men's 10
Measured Weight per Shoe: 420 g
MSRP: $120
Pedals Used: RaceFace Chester, Deity Deftrap
Test Duration: 1.5 years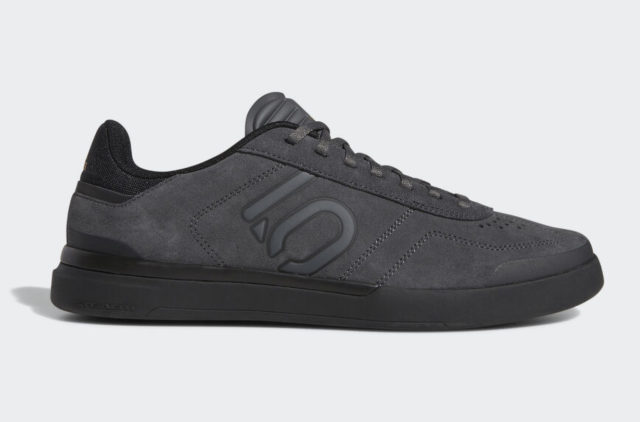 Luke Koppa: My first pair of bike shoes were the standard Five Ten Sleuth (see below). They were fine to start, but I soon wanted more grip after bouncing through a few too many rock gardens with my feet not exactly "glued to the pedals."
For those who like the concept of casual-looking shoes that perform better on the bike than your average sneakers, like the regular Sleuth, but who are looking for better overall performance on the pedals, the Sleuth DLX is worth a good look.
As so many people have noted, Five Ten's high-end Stealth rubber compounds are excellent, and while the regular Sleuth uses the notably less grippy / more durable Stealth C4 compound, the DLX version gets Stealth Phantom. Stealth Phantom is almost identical to the Stealth S1 rubber you see on their less-casual-looking shoes like the Five Ten Freerider and Freerider Pro, with the main differences being that Phantom comes in different colors, it doesn't scuff up your floor, and is a tiny bit stiffer / less sticky (reportedly 1 durometer difference between the two).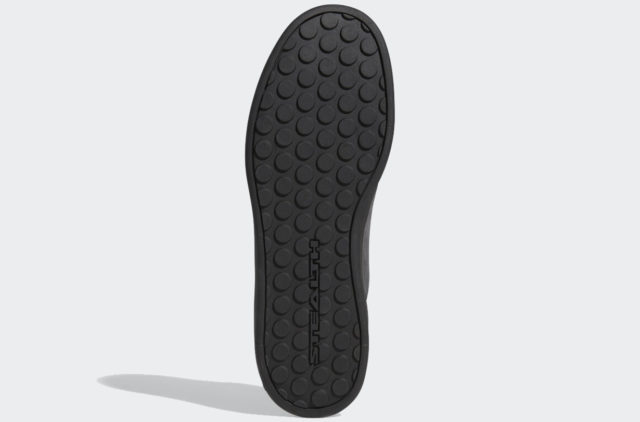 Functionally, I've found the Phantom rubber on the Sleuth DLX to be identical to S1 — i.e., it's very grippy. It's a very significant bump-up in terms of grip vs. the Stealth C4 rubber on the regular Sleuth and the rubber on the DZR Shift, and slightly softer / stickier than the Ride Concepts Powerline's DST 4.0 rubber. The Sleuth DLX uses Five Ten's classic "Micro Dotty" tread pattern, which I've found to be excellent in terms of keeping my shoes on the pedals, though it's definitely not great for things like trying to walk up mud, snow, or loose gravel (it's great on packed dirt or rocks).
When I first started using the Sleuth DLX, I loved how well it gripped the pedals, thanks to its rubber, tread pattern, and fairly soft longitudinal flex through the midsole. But as I kept biking — and particularly when I switched to some pedals with more grip (Deity Deftrap) — I've found myself sometimes wishing it was easier to adjust my feet on the pedals without taking my feet all the way off them.
This very much comes down to personal preference, as evidenced by Ben's preference for the ultra-grippy Freerider Contact, but as someone who now places a slightly higher priority on easy foot adjustment over absolute maximum grip, I've ended up preferring Ride Concept's slightly less sticky DST 4.0 rubber on most rides. With that said, for days in the bike park or on trails that I know are very rocky, I'll still often pick the Sleuth DLX over the Powerline and just try to focus on really dialing in my foot placement at the top of the trail.
As I just alluded to, the Sleuth DLX is not a super stiff shoe — it's a bit softer than the Powerline but stiffer than the very flexible Sleuth and DZR Shift. I don't notice this a whole lot, but it does make me more prone to picking the Powerline for longer days of pedaling.
I'd say the Sleuth DLX falls slightly on the "more cushioned / less pedal feel" end of the spectrum, though it's far from some super burly shoe like the Five Ten Impact. It offers slightly more pedal / ground feel than the Powerline, but notably less than the regular Sleuth and DZR Shift.
In terms of protection, the Sleuth DLX is on the more minimal side of things, though I haven't had any real complaints in terms of it feeling loose / sloppy / unsupportive. Its fairly thick suede upper and pretty small, internal reinforcements at the heel and toe have kept my feet protected for the most part, but I'd opt for the Powerline (or Five Ten's Freerider collection) if I frequently kicked a lot of rocks. Apart from sole stiffness and vanity (aka, aesthetics), I think this will be an important factor if you're deciding between the Sleuth DLX and, say, the Freerider Pro or original Freerider.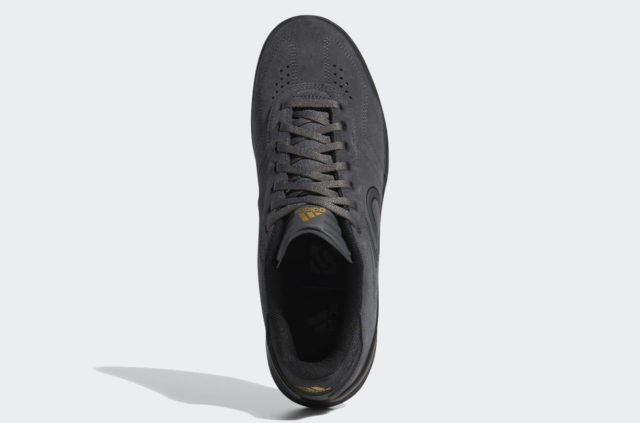 On that note about the suede upper, the Sleuth DLX is not a super breathable, water-resistant, or quick-drying shoe. That suede (and internal cloth lining) will soak up a good bit of water and they don't seem to want to part with it very quickly. There also aren't any drainage holes.
For the moderate summers in Crested Butte, where temperatures rarely get above 80°F / 26.7°C, the Sleuth DLX's breathability never really bothers me, and it's a bit better than the original Freerider in that regard, thanks to its thinner, less-reinforced upper. But it's worth noting if your local riding spots tend to be substantially hotter, or if you're on the other end and consistently ride in wet conditions.
The fit of the Sleuth DLX is also worth touching on. I am very happy with a US Men's size 10 for nearly all bike shos, but the size 10 Sleuth DLX is significantly longer than any other size-10 bike shoe I've tried. Fortunately, its laces extend very far toward the toe and I'd say the shoe is slightly narrower than average, so I've still been able to get a secure fit (particularly when I use my thicker socks). But there have been a few instances (e.g., when I opted to jump off my bike while going quite fast) where I wish my foot wasn't able to slide forward in the shoe. My main point: I always urge people to try on shoes before buying, when possible, and this is particularly important with the Sleuth DLX.
I'm guessing I've put somewhere around 60 days on a bike and a few dozen more just walking around in the Sleuth DLX, and it's held up quite well so far. The upper shows no signs of wear, and the sticky outsole only has some pin-prick-type holes underfoot, which have had zero impact on performance. For how grippy they are, and for how much I've been walking around in them, I'm impressed by the Sleuth DLX's durability.
The Sleuth DLX won't be for everyone — you can get similar grip with more protection, support, and / or a stiffer sole by going with the Five Ten Freerider or Freerider Pro. But if you're not a fan of the more "classic-looking" flat-pedal shoes, prefer a slightly softer sole, want to save a bit of money, and / or plan on frequently using your flats shoes around town, the Sleuth DLX is the best "transitional" mountain bike shoe I've used.
Rubber Compound: Stealth Phantom
Upper: mostly mesh, with minimal synthetic overlays
Size Tested: 9.0
Measured Weight per Shoe: 391 grams
MSRP: $140
Pedals Used: DMR Vault
Test Duration: 3 months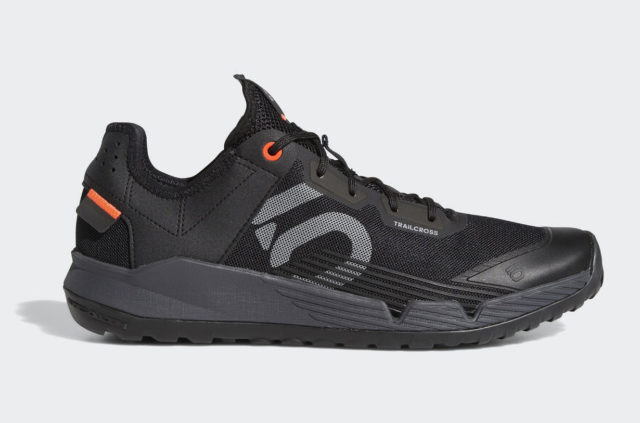 Ben Sims: The Five Ten Trailcross LT definitely stands out in the flat-pedal shoe market. Designed as a lightweight, more hiking-friendly alternative to skate-style shoes, the Trailcross LT presents an attractive list of features. Breathable. Lightweight. Quick-drying. Grippy. Sure-footed. These are all terms used by Five Ten to describe the shoe. And the byline on the Five Ten website doesn't parse words either, saying that the Trailcross LT's are, "bike shoes that are as comfortable on the pedals as they are hiking the trail."
As someone who is frequently off the bike in my bike shoes, that all sounded awesome to me. And after spending a few months riding in the Trailcross LT, I found that the shoe was, in effect, everything that Five Ten said it was. What I also found is that, in many mountain biking situations, that wasn't exactly what I wanted. I'll explain:
First, a quick note about sizing. I almost always wear a US Men's 9.5 in shoes and boots, and prefer a mondopoint 26.5 in ski boots. The Five Ten rep urged me to size down a half size to 9.0 for the Trailcross line. I'm glad I did — the 9.0 Trailcross LT feels like it could even be a smidge large for my foot, particularly with the thinner riding socks I typically wear in the warmer weather that best suits these shoes.
Onto performance — as an off-bike bike shoe, the Trailcross LT excels. It's light and moderately supportive, much like a quality trail-running shoe would be. In fact, I'd even say you could run or workout in them without being too let down by their construction. While walking up and down trails, and on rocks in particular, the Trailcross LT is comfortable and very grippy. This is in huge contrast to the Five Ten Freerider Contact, which is almost a safety liability when walking on trail, particularly on anything loose or slippery. I think this mostly comes down to the Trailcross LT's tread pattern — it features lines of lugs (rather than the traditional "dots") running across the bottom of the toe and heel, while maintaining Five Ten's classic dot pattern underfoot.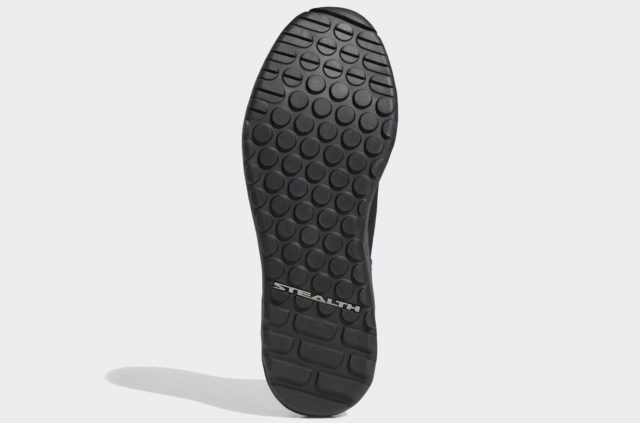 I tested the drying ability of the Trailcross LT after riding through a creek and standing water on the trail and found that, indeed, it was far superior to any other skate-style bike shoe I've owned. The breathability was also as-advertised — my socks weren't damp after a normal ride like they typically would be in other shoes I own. I've even worn the Trailcross LT to the park with my kids and to the pub with friends when I didn't have anything bike-related in my day. All in all, they are light, moderately supportive, breathable shoes.
But some issues started creeping up while on the bike. During what felt like an insignificant rock scrape on the outside of my left foot, I looked down to see some concerning wear on the upper, bordering a full-on tear. This wasn't all that surprising, given the construction — the Trailcross LT isn't a magic shoe that is way more breathable than other shoes while also matching their durability. Also, the occasional toe impact was much more noticeable in the Trailcross LT than in other flat-pedal shoes I've worn, to the point where I made a mental note to be more careful in the Trailcross LT. I also found that the mesh upper wasn't as supportive or secure as traditional skate-style shoes, with the Trailcross LT flexing during changes of direction on the bike. Like many flat-pedal riders, I tend to steer the bike with my feet a bit, and having a flexy connection to the bike isn't helpful there.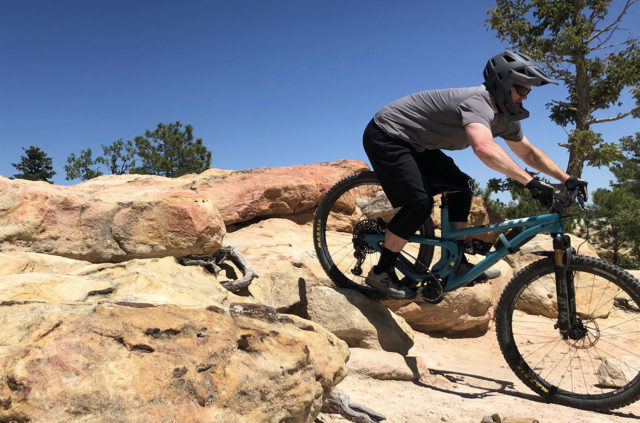 That said, the Trailcross LT's Stealth Phantom sole was superb both on and off the bike. Five Ten continues to nail the rubber on their shoes and the Trailcross LT is not an exception. All Five Ten shoes I've used seem to perfectly straddle the fine line between having a shoe that grips my pedals / pins tenaciously while allowing me to reposition my foot (or bail!) as needed. It's definitely not as ultra-sticky as the Freerider Contact, with its Stealth Mi6 compound and lack of tread underfoot, but the Trailcross LT is still quite good when it comes to grip.
The Trailcross LT's sole stiffness is also well-attuned to the intended purpose of this shoe. I found that I could transfer power to the pedals with almost the same amount of efficiency that I could in the Five Ten Freerider Contact. I also haven't noticed any premature rubber wear that some riders mention with the higher-end Stealth soles.
So, there's a lot to like about the Trailcross LT and I can see lots of riders appreciating the more comfortable and lightweight nature of this shoe. The off-bike personality of this shoe, combined with the grippy sole, make it a versatile option for less aggressive riders / those who ride less bumpy trails, off-road bikepackers, or just riders who prioritize breathability over protection and support. That said, if you don't care as much about breathability and off-bike performance and instead prioritize protection, bike control, and / or sole stiffness, you'd likely be better off with a more "traditional" flat-pedal shoe like the Freerider Contact or Ride Concepts Powerline.
Rubber: Stealth C4
Upper: cotton plain weave + suede leather
Size Tested: US Men's 10
Measured Weight per Shoe: 368 g
MSRP: $80
Pedals Used: RaceFace Chester, Deity Deftrap
Test Duration: ~5 months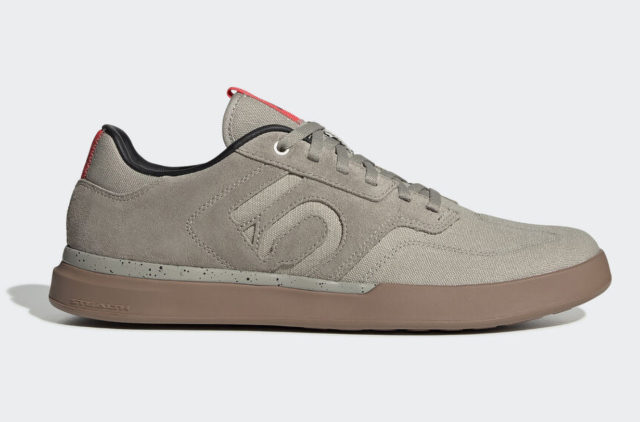 Luke Koppa: As I just mentioned, the Five Ten Sleuth was my first bike shoe. It caught my eye, quite literally, because it didn't look like the massive, bulky skate shoes that my friends had affectionately nicknamed "dinostompers" when they were popular for casual use in some circles many years ago. Mostly, I just didn't want to look like I was wearing Osiris shoes. If you love that look, I have zero problem with that, they're just not for me.
But beyond my obviously fragile ego, the Sleuth seemed appealing cause it was also supposed to perform better on a bike than your average sneaker. After spending many miles in it — and then trying several other options — I'd say it does live up to that claim, but to a notably lesser degree than the Sleuth DLX.
This mostly comes down to the two shoes' outsoles and midsoles. The regular Sleuth's Stealth C4 rubber compound is notably harder / less sticky than all the other outsoles here, apart from the DZR Shift. The Sleuth also features much smaller and more tightly spaced "dots" for its tread, but I think the rubber compound is the biggest factor affecting its grip.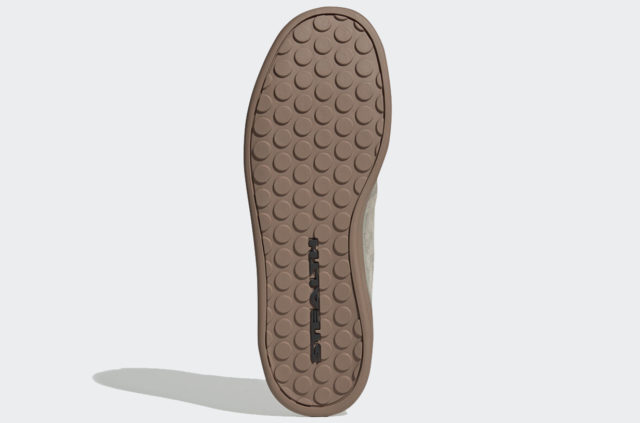 The Sleuth does work notably better on a mountain bike than, say, a Nike SB Stefan Janoski (my go-to casual shoe). I think using a pair of actual skate shoes like that one is a great call for those who aren't yet ready to buy a dedicated pair of bike shoes. That said, the Sleuth grips the pedals / pins better, it offers a bit more heel and toe protection, and its extended laces provide a more secure fit than most of those shoes. Particularly if you're not planning on spending a lot of time on rough trails and / or want a shoe that will truly see 50/50 use on and off the bike, that makes the Sleuth worth a look.
With that said, for those who ride a lot of bumpy terrain, pedal a lot in flat-pedal shoes, and / or who just prioritize grip over looks, I'd recommend at least bumping up to something like the Sleuth DLX. The Sleuth DLX provides a subtle increase in protection and sole stiffness / efficiency, but more importantly, it's dramatically better in terms of grip.
In terms of fit, the regular Sleuth feels very similar to the Sleuth DLX when it comes to width (slightly on the narrower side), but the regular Sleuth I have is much more "normal" in terms of length — it's as long as I'd expect it to be. (I tested both the Sleuth and Sleuth DLX in my standard US Men's size 10.) That said, I'd really recommend trying on any of these shoes, because having a poor-fitting vs. properly-fitting shoe when you're hurtling down a rock garden could be the difference between impressing all your friends and leaving a rock-shaped impression in your chest.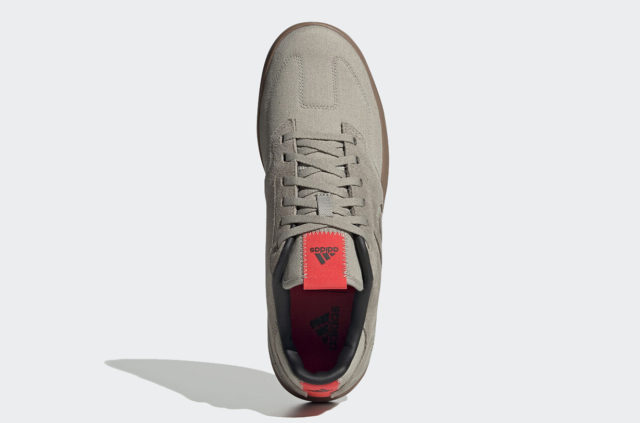 The Sleuth's suede / cotton upper and fabric lining make it pretty breathable (more so than the full-suede DLX), though it doesn't offer much protection from impacts and still doesn't dry exceptionally quickly. There are some thin, laminated reinforcements at the toe and heel, but I'd trust all of the shoes here, apart from the DZR Shift and Five Ten Trailcross LT, more in terms of keeping my toenails intact. (Or, more accurately, not doing more damage than what years of ski boots have already done.)
As for durability, after about 30 days on the bike and many more than that off the bike, the Sleuth's upper looks great but its sole is showing more wear than I'd expect, given its firmer / less grippy rubber compound. Particularly, the Sleuth's small dots on its tread have many small chunks missing from them, though the height / thickness of the dots hasn't worn down. I was surprised to see those little chunks missing, and while I haven't noticed a difference in grip so far, it's worth noting if you were expecting the C4's decreased grip to come with a substantial increase in long-term durability.
So, in summary, the Five Ten Sleuth is a solid choice for those who don't need the grip, protection, and / or stiffness of more expensive, bike-specific shoes, and who would rather go with something that looks more normal on the street but that'll still out-perform most shoes that aren't at all designed with biking in mind. Particularly if you're just getting into biking and / or don't ride really bumpy trails, at $80, the Sleuth is a pretty good deal.
Rubber: Vulcanized Rubber
Upper: cotton plain weave
Size Tested: EU 43
Measured Weight per Shoe: 294 g
MSRP: $69
Pedals Used: RaceFace Chester, Deity Deftrap
Test Duration: ~5 months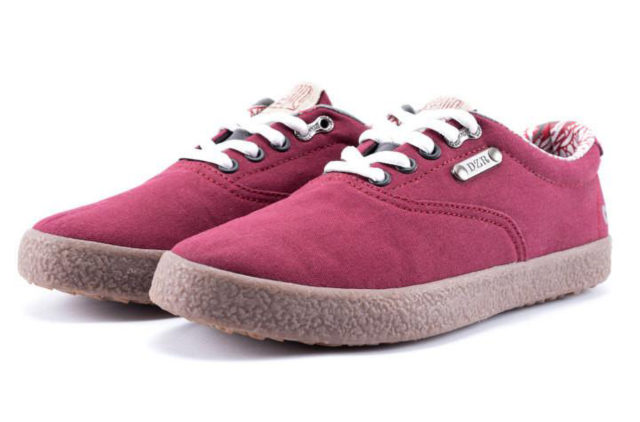 Luke Koppa: The DZR Shift is definitely an outlier here. DZR's shoes are primarily targeted at bike commuters, and most of their shoes are casual-looking clipless options. But the Shift is one of their few flat-pedal shoes, and given that it looks *ahem* just a little bit like a very popular skate shoe from another brand, I was curious to see how it'd perform on rougher mountain trails.
The Shift has a silhouette that will look very familiar to those who like to roll around on decks with four wheels, with a cotton upper, vulcanized rubber sole, and a literal bike-chain tread pattern. This makes it easily the least "biking-looking" shoe here, but it also comes with some performance downsides when riding off pavement.
First, the Shift's rubber is the least sticky of the shoes here, falling a bit below the Sleuth's C4 rubber in that regard. The Shift's chain-pattern tread also features a lot of open space, which creates a much "looser" pedal feel in that I can pivot my foot around very easily while maintaining shoe-to-pedal contact. If I was super cool and tweaking out tables and doing tailwhips, that could actually be pretty nice. But alas, I suck. And since I suck, I'd prefer any of the other shoes here for my typical trail riding (which always includes at least some rocky sections), since I find the Shift too prone to getting knocked off my pedals on any sort of rough trails.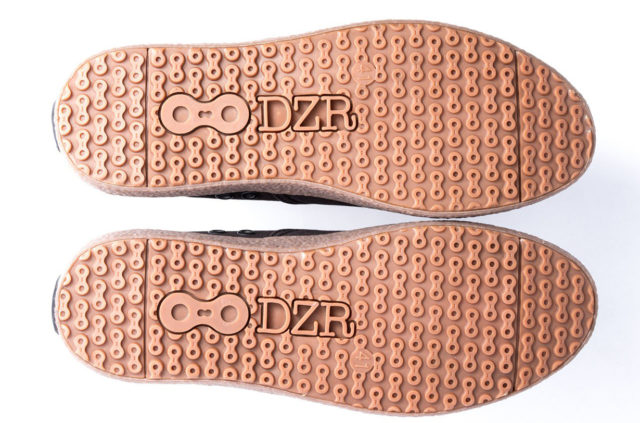 Like the regular Five Ten Sleuth, I will say that the Shift's on-pedal grip is a bit better than most actual skate shoes, but it's not as noticeable of a difference. One upside seems to be that, after around 30 days of riding and many more walking around, the Shift's outsole is holding up the best, with the least visible wear of all the shoes I've been using.
Another noteworthy aspect of the Shift is its midsole and pedal / ground feel. The Shift's midsole and outsole are extremely pliable and feel very thin underfoot, particularly under the ball of the foot. On the bike, that means I have a very accurate idea of where my feet are on the pedals, and even where the pins are under the shoe. This does help to slightly counteract the outsole's poorer grip, though it's still a very different feel vs. a shoe with a grippier, more bike-focused rubber compound.
Ironically, that thin, unsupportive midsole / outsole combo is also why I don't really like using the Shift off the bike on trails (you can feel most of the rocks you step on), though it feels very normal while walking around on pavement thanks to its flexible midsole and smooth heel-to-toe transition during each step.
The Shift's cotton upper is quite breathable and dries pretty fast, with its main downside on the bike being support and protection. The Shift's laces only cover a small portion of the shoe, and it was hard for me to dial in a very snug fit. Again, this wasn't an issue while riding (or walking) on roads, but it wasn't ideal on rough trails. And the Shift's thin upper, wide ankle opening, and lack of a substantial toe bumper make it the least protective shoe I reviewed.
It's probably not totally fair to even include the Shift here, given its road-oriented design, but it was actually very interesting to try on rougher trails. If you mostly want a casual-looking shoe that's gonna perform well on bike pedals while riding on the road, the $69 Shift is awesome; I really wish I had found it back when I didn't have a car and was getting everywhere by bike. If you do that and occasionally ride off pavement, particularly on trails that aren't very rough / bumpy, the Shift still warrants consideration. But if you're looking for a dedicated mountain bike shoe or a mountain bike shoe that you'll also use for walking around town, I'd opt for a grippier, more protective, and more cushioned option like the Five Ten Sleuth and Sleuth DLX.