The winner of this week's Gear Giveaway will get Sweet Protection's Switcher Helmet & Interstellar Goggles!
The Switcher is Sweet's most ventilated helmet and we've come away very impressed by it. Like all of Sweet's helmets, it has an extremely easy dial-style adjustment for a secure fit; a genuinely useful magnetic buckle closure, and is of course certified to ski / snowboard safety standards. On top of that, it features 22 vents that you can open or close in a matter of seconds.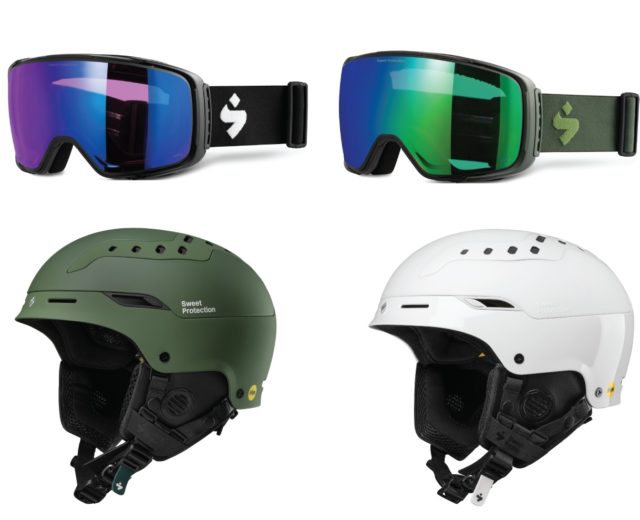 New this year, the Interstellar is their flagship goggle that features plenty of interesting tech: Sweet's high-contrast "RIG" lenses; a combination of magnets and latches for easy lens swapping without getting fingerprints all of the lens; lenses designed to withstand harsh impacts (hopefully you won't need to test that…); and GORE vents in the lenses to equalize pressure to prevent deformation between the two layers of the lenses. We've used Sweet's RIG Lenses on their Firewall Goggle and came away very impressed by their versatility, and we expect the Interstellar to offer the same.
Enter before Friday, January 31st for your chance to win!
Eligibility & How To Enter
To be eligible, follow us on Instagram or like us on Facebook, then sign up here to win:
(Winners will be chosen at random. Must be 18 or older.)
By entering, you'll also receive our bi-weekly Blister newsletter, where we'll (a) announce each week the winner of our previous Gear Giveaway, (b) provide a roundup of the news and our highest-profile reviews of the past few days, and (c) offer sneak peeks of the products we're currently reviewing. It's good times for sure, so don't miss out. You'll also be kept up to date on what's new at Sweet Protection.