The winner of this week's Gear Giveaway will get Houdini's top-of-the-line shell, the Rollercoaster Jacket!
We've had two reviewers spending a lot of time in the Rollercoaster kit and we've come away very, very impressed so far. If you're not familiar with Houdini, they're a Swedish brand that was started by climbing and skiing guide, Lotta Giornofelice, and they aim to create high-performance products with versatile functionality, clean aesthetics, and minimal environmental impact.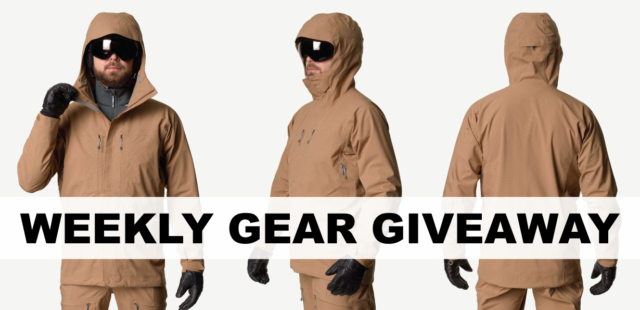 The Rollercoaster Jacket uses their 3-layer Atmos laminate, which is a waterproof and breathable fabric with an excellent hand feel. Plus, it's 100% made of polyester (70% of which is recycled in the face fabric), so you can send the jacket to Houdini after it's finally done for and they'll recycle it. In our experience, the Atmos fabric on the Rollercoaster has been fully waterproof and extremely comfortable.
On top of its excellent fabric, the Rollercoaster's fit seems absolutely dialed — plenty of range of motion without a bunch of extra fabric. Houdini rounds out the jacket with plenty of functional pockets, easy-to-use underarm vents, and a clean look.
Enter before Friday, February 28th for your chance to win!
(Winners will be chosen at random and announced next Friday in our Blister Newsletter. Must be 18 or older.)
By entering, you'll receive our bi-weekly Blister newsletter, where we'll (a) announce each week the winner of our previous Gear Giveaway, (b) provide a roundup of the news and our highest-profile reviews of the past few days, and (c) offer sneak peeks of the products we're currently reviewing. It's good times for sure, so don't miss out. You'll also be kept up to date on what's new at Houdini.