This week we've got a very special giveaway — the chance to win two spots at our upcoming Blister Summit, a room for two at Elevation Hotel during the Summit (4 nights), and lift tickets at Crested Butte Mountain Resort for 3 days of skiing for 2 people.
The Blister Summit is the first ski event of its kind, and we're extremely excited to bring it back this season with even more brands.
From February 20-23 ("Summit A") and February 24-27 ("Summit B"), we will be hosting a consumer-focused ski test where participants will be able to demo current and new-for-next-year products from brands including Renoun, Rossignol, Dynastar, 4FRNT, Folsom, Salomon, WNDR Alpine, Wagner, Moment, Atomic, Line, Glade, Mammut, Mountainflow Eco-wax, and more.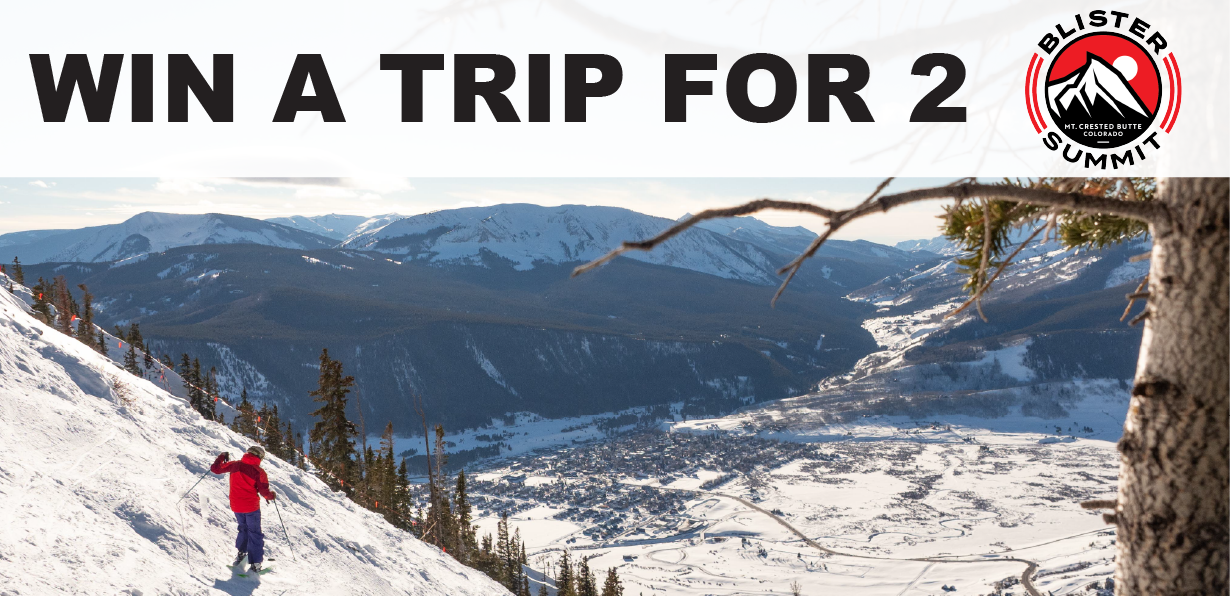 In addition to being able to try a bunch of cool skis, participants will also be able to:
Meet — and ski with — company founders, CEOs, product designers, professional athletes, & artists
Attend panel sessions with some of the leaders in the outdoor industry (check out our Blister Summit videos from last season for more).
Check out BLISTER HQ
Meet Blister reviewers like Luke Koppa, Jonathan Ellsworth, Kristin Sinnott, Kara Williard, Eric Freson, Drew Kelly, Sasha Anastas, & Dylan Wood
You can learn more about the Summit here, and don't worry if you've already purchased your registration — if you have and you win this giveaway, we will reimburse your registration payment.
Enter before next Friday, January 14th for your chance to win!
(Winner will be chosen at random and announced next Friday, January 14th in our Blister Newsletter. Must be 18 or older. The winner will get to choose whether they want to attend Summit A (Feb 20-23) or Summit B (Feb 24-27). The winner will receive the following: two complimentary tickets to the Blister Summit, granting access to all ski demos and panel discussions; a room for 2 at Elevation Hotel for the duration of the Summit (4 nights); and lift tickets for three days of skiing for two individuals at Crested Butte Mountain Resort.)
By entering, you'll receive our bi-weekly Blister newsletter, where we'll (a) announce each week the winner of our previous Gear Giveaway, (b) provide a roundup of the news and our highest-profile reviews of the past few days, and (c) offer sneak peeks of the products we're currently reviewing. It's good times for sure, so don't miss out.