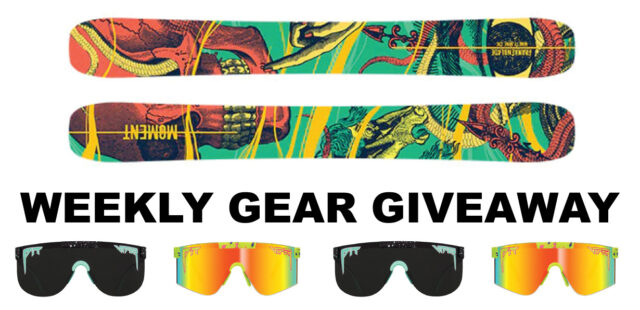 Only produced once in a blue moon, Moment's Blades are made just like their regular skis, just… shorter. To quote Moment, "The solid bamboo core accepts real alpine bindings, so you can mount up a pair with Pivot 18s for huckin' your meat or some ultra-light titanium tech bindings for your next rando-race. The Franken Blades also make the mountain twice as big, so every lap counts as double on your vertical feet tracker. Don't wait for the apres. Be the apres." Moment sold out of blades within hours this year, so this is your last chance to get a pair for the foreseeable future.
On top of that, you'll get a pair of Pit Viper's 2000 (1993 colorway) and Elliptical (Thundermint colorway) sunglasses, so whether you like Pit Viper's original look or prefer the new aviator-esque silhouette of the Elliptical, your eyes will be protected as you storm down the mountain on your 99-centimeter planks.
Enter before Friday, April 8th for your chance to win.
*In case there's any confusion: This is NOT an April Fool's joke. One lucky winner will be getting blades and shades*
(Winners will be chosen at random and announced next Friday in our Blister Newsletter. Must be 18 or older.)
By entering, you'll receive our bi-weekly Blister newsletter, where we'll (a) announce each week the winner of our previous Gear Giveaway, (b) provide a roundup of the news and our highest-profile reviews of the past few days, and (c) offer sneak peeks of the products we're currently reviewing. It's good times for sure, so don't miss out. You'll also be kept up to date on what's new at Moment & Pit Viper.