The winner of our Gear Giveaway will get a handlebar, grips, hip pack, and a hat from Race Face!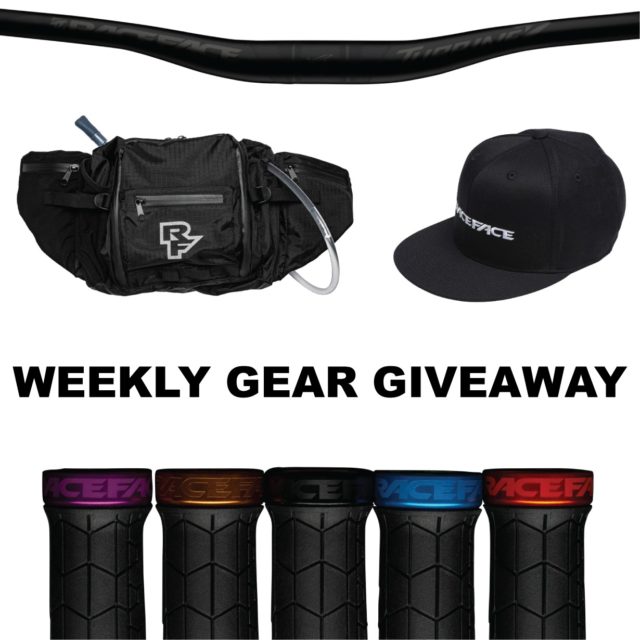 Their Turbine R 35 is a big, yet fairly lightweight aluminum bar that comes stock at 800 mm wide, but that you can always cut down to your preferred width using the included cut marks. Their "Getta Grips" use a proprietary rubber compound designed to be ultra-tacky, and come with the other features you'd expect, like a lock-on collar, tapered internal sleeve, 30 and 35 mm diameters, and plenty of color options. Race Face's Stash 3L and Stash 1.5L hip packs are each designed to offer minimal, stable storage options for hydration and essentials, and the winner will get to choose between the 3L and its included hydration bladder or the super slim 1.5L. Finally, to round it out, you'll also get Race Face's Classic Logo Fitted Hat.
Enter before Friday, August 21st for your chance to win!
(Winners will be chosen at random and announced next Friday in our Blister Newsletter. Must be 18 or older. This particular contest is limited to the U.S. & Canada.)
By entering, you'll receive our bi-weekly Blister newsletter, where we'll (a) announce each week the winner of our previous Gear Giveaway, (b) provide a roundup of the news and our highest-profile reviews of the past few days, and (c) offer sneak peeks of the products we're currently reviewing. It's good times for sure, so don't miss out. You'll also be kept up to date on what's new at Race Face.