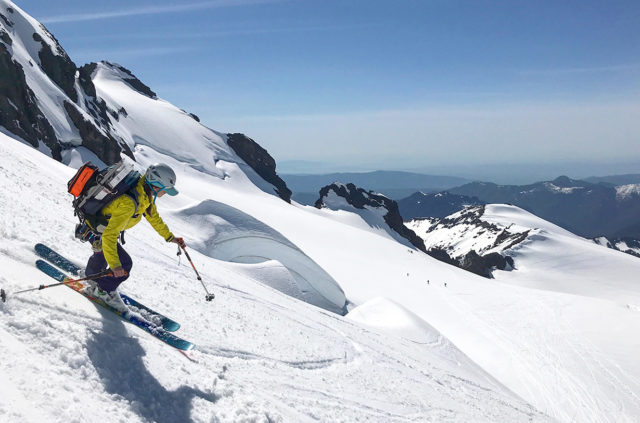 Vitals: 5' 3", ~115 lbs. | Years skiing: ~5 | Current Residence: Seattle, WA
I'm from central North Carolina, so I didn't really learn to ski until I was an adult. My family may have gone on a few long weekend trips when I was younger, but my feet swam in rental boots and I got cold wearing mostly cotton, so I didn't get very far off the bunny slopes. Instead, I spent most of my time in dance, swimming, and gymnastics. In college, I cheered at games and competed with my university's spirit program (Go Tar Heels!).
After moving to Seattle, I got really into hiking and found it to be a great balance after years of sports that centered around aesthetics and an audience. And once the snow started to fall, I figured ski touring was the best way to keep those adventures going all year-round. At the time, my skiing was a lot more "pizza" than "french fry" and the only thing I knew about avalanches was that they were a type of Chevy truck, but I thought it was a good idea to buy a brand new tech touring setup (mostly bought online without any advice or guidance), avy gear, and my AIARE class.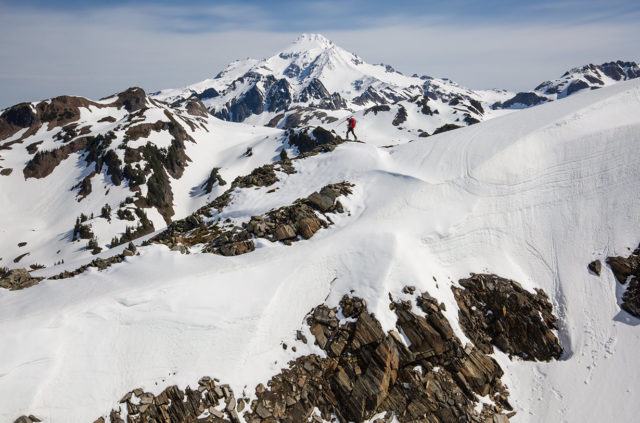 After that, I got really lucky. First, I won a season pass to Stevens Pass at a ski movie showing. Then, I ended up on the same chairlift as one of my Tinder matches who was a really good skier, waited patiently for me at the bottom of runs, and made a mean lasagna that was heaven after a long ski day. He dragged me down the hardest runs at the resort (I got so good at side-slipping that year), and I convinced him to get a pair of Craigslist frame bindings and his avy certs so we could explore terrain out of bounds. Since then, we split our time pretty evenly between resort riding and touring throughout the North Cascades. I've progressed enough to ski just about anything, but not with the kind of speed and style where people ask if I have a race background or compliment my technique.
Over the past few seasons, I've thrashed that first tech setup, rented a lot of demos, pummeled my bootfitter with questions, and finally figured out why people say alpine gear skis better. Getting educated on gear definitely helped me set myself up for success when I was trying to keep up with better skiers or find a setup that encouraged better form.
My day job is in brand management and apparel product development, which really influences the way I interpret product lines and see brands trying to design and market products with different customer segments in mind. I also work primarily in women's categories and do a lot of volunteer work as an ambassador for PNW Outdoor Women, a group of 40,000 members dedicated to all forms of outdoor recreation. Having studied female consumers and been plugged in to the women's outdoor community, I think there's a lot that can be done to improve gear selection and the shopping experience for women.
As Blister's okay-est skier, I feel particularly qualified to leave a few tips for intermediate and progressing women, as I've learned some important lessons after being in your shoes:
Stay in the driver's seat when it comes to your gear purchases. A gearhead in your life might know a ton about skis and construction, and they're a fantastic resource, but they ultimately can't tell you what feels best under your feet. As a female gear nerd, I spend a lot of time talking to men about what to buy their wives/girlfriends/daughters, and I really doubt that many are finding gear they love.
If a review is done well, it really doesn't matter if the reviewer is more advanced than you. As an intermediate, I discounted most skis that were well liked by Blister reviewers since the writers were much stronger than I was, but after a lot of demoing and agreeing with the other women reviewers, I've realized that ability level doesn't matter much as long as the reviewer knows what they're talking about – especially if you get the right size ski for you.
Don't get scared off by skis labeled for "advanced" and "expert" skiers. Women are more hesitant to call themselves expert skiers and tend to avoid skis with more advanced ratings, but if your turns are consistently parallel and you're dabbling off piste, there aren't many women's skis where you'll find yourself outmatched. Particularly for Blister's ski reviews, if a ski is really only best suited for experts, we'll make that clear.