Age: 47 | Vitals: 5'10," ~175 lbs. | Years skiing: 30+ | Crested Butte, Colorado
Background:
I grew up in the Chicago area, and my first loves were soccer, basketball, and football. In high school, I was a varsity athlete in football, basketball, and track, and I played football in college (wide receiver) until I was sidelined by an injury.
My first time on skis came during my junior year of high school. The second time was a year later. I started making ski trips out West with some friends during college, but it wasn't until I moved out west after five years of grad school at the University of Chicago (and a few years of teaching philosophy) that I began to get in a whole lot of days skiing.
Of all our reviewers, I definitely got the latest start. I didn't grow up racing or hitting rails in the park — I was shooting jump shots and running fade routes. But for a couple of decades now, I've been getting around 100 days a year on the mountain, happily making up for lost time.
When there's no new snow, I am quite happy zipperlining bumps, carving up groomers, or touring.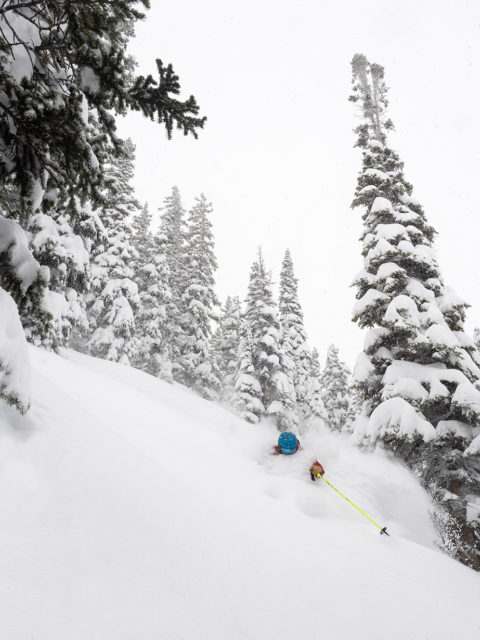 I also ski trees a lot, but these days, I find myself seeking out more open lines that don't require you to check your speed the way tight trees do. Fast is fun.
On deep days, I love making turns in open terrain, jumping off whatever I can find, mostly just feeling grateful for it all.
Sometimes skiing is about testing your limits, and sometimes it's about the pure enjoyment of the turns and the snow and your surroundings. And one of the best things about skiing is that those challenging personal tests, and those moments of pure gratitude and joy, often occur on the very same day.
Some Favorite Skis:
ALPINE:
Moment Blister Pro, 190 cm; Rossignol Black Ops 118, 186 cm; J Skis Masterblaster; Nordica Enforcer Free 104, 186 cm; Fisher Ranger 102 FR, 184 cm; 13/14 Volkl Mantra, 184 cm; 13/14 Moment Belafonte, 187 cm; 13/14 Volkl Katana, 191 cm; 16/17 Line Supernatural 108, 186 cm; 16/17 Salomon X-Drive 8.8, 184 cm; 14/15 Praxis Protest, 187 cm; 16/17 Blizzard Bonafide, 180 cm; 18/19 Blizzard Brahma, 180 cm; HEAD Supershape i.Titan, 177 cm
TOURING:
4FRNT Raven, 184 cm; Volkl V-Werks BMT 109, 186 cm; Blizzard Zero G 95, 185 cm