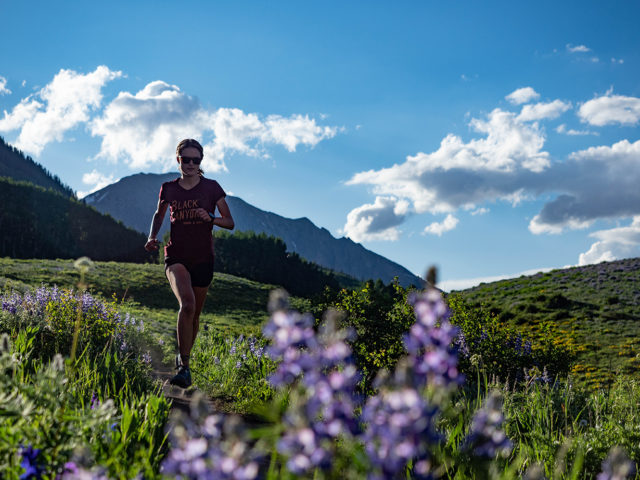 Vitals: 5'10, 115lbs
Running Background, style, and general preferences
Growing up as a freeride skier and equestrian, I thought running was for the birds. But when I moved to Montana for school at Montana State University and lacked the outlet that horses provided for me, I felt an empty hole that needed to be filled. I began running as a way to avoid gaining the freshman 15 and found a new love in the process. After my first race, I could not get enough. I quickly ventured into the world of ultra-running and there has been no looking back. This will be my fourth year running and third year racing, so I am still learning as I go.
I now live in the Gunnison Valley while I finish up my degree at Western Colorado University. I run every day, and sometimes even twice a day! I love the escape it gives me from my busy life.
I run predominantly on trails for my daily training, with runs usually ranging from 6-18+ miles. The trails I normally use consist mostly of dirt and rocks, sometimes hosting looser scree. On my weekend long runs in the summer, I love to explore the high mountains around Crested Butte, which often have more intense and variable terrain, including loose rock, snow, and river crossings.
I am currently training for the Tahoe Rim Trail 100, with the fast-approaching date of July 20th. In preparation for this race, I have been logging between 70-95 mile weeks. I normally run on varied terrain including both flat and steep trails, but my training is usually logged on trails. After Tahoe, I plan on recovering and training a bit more for some Colorado races in the fall, including the Grand Traverse, Crested Butte Ultras, and the Sage Burner.
I tend to prefer less-cushioned, lighter shoes. I have large bunions and my pinky toes often get very gnarly, so I look for shoes that give my toes enough room but that still hug my narrow feet. I tend to prefer shoes with a heel-to-toe drop ranging from 5-9 mm. Since I usually opt for less cushion, I like shoes that have a rock plate or added protection in the midsoles.
Some Shoes I've Clicked With: Salomon Sense Ride, Adidas Terrex Agravic Boa, Nike WildHorse 3